Air Conditioning or Cooling Car Seat Cushions are the latest in technology to keep you cool and comfortable, especially for those long drives in the hot summer sun.
The main benefit of a cooling car Seat cushion is that you do not have to use an air conditioner which saves you on energy, or which can be beneficial if you do not have an air conditioner in your car.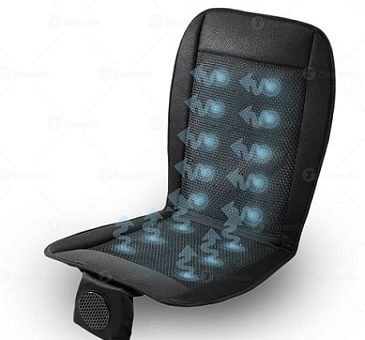 ---
How a Cooling Car Seat Cushion Works
There are different types of cooling car seat cushions from electrical and fans, to cooing gel and mesh designs. So depending on the design they will all work differently and have different levels of effectiveness.
Then there is also price range to consider, while a moisture-wicking and airy mesh cooing car seat cushion may be your cheaper option, a fan or air conditioning cooling cushion is the more expensive option, though may be more efficient.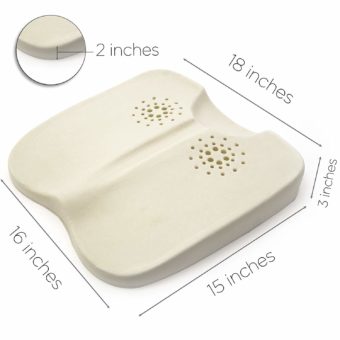 So here are a few of the options that you can consider when choosing the best type of Cooling Car Seat Cushion for your Car.
Breathable A breathable or ventilated car seat Cushion is usually made from either mesh or very porous materials which allow for better airflow. This type of Car Seat Cushion aids your body in breathing and reduces sweat build up creating a cooler environment. Likewise, there is better ventilation and spreading of cool air throughout the seating of your car, and heat is carried away from your body with a ventilating material Cushion for your car seat.

Moisture Wicking – Materials that cool and wick away moisture will pull away from hot air from your body and evaporate sweat which will leave you much more comfortable and cool in general. So, in turn, a Car Seat Cushion that is made from breathable or moisture wicking materials are in an inexpensive option that will keep you cool by pulling away heat and moisture which causes overheating in the first place.


Fan – On the more expensive side yet much more effective when it comes to cooling we have the air conditioning and fan options in car seat cushions. These, however, work with energy from your car and are usually remote operated, meaning you can choose between different cooling or fanning levels. The powerful fan distributes cool air to all areas of your body and eliminates sweat and hot air fast and effectively.

Gel Cooling – Lastly we have the cooling Gel cooling technology for your Car seat Cushion, which normally comes paired with memory foam or air foam filling for comfort. The cooling gel prevents warm air from building up by using the physics of conduction. The Cooling Gel transfers heat from your body to the Gel itself to instantly make your body feel cooler.

---
Benefits of a Cooling Car Seat Cushion
Pain Relief – If you are suffering from back, joints, shoulder or lower limb pain, the cooling technology in your cooling car Seat Cushion can help to relieve and reduce pain in a similar way as heated cushions.

Fights Fatigue – sweating and heating up in your car can make you feel hot and bothered, not to mention tired and irritated at best. A cooling car seat cushion will help to re-energize you and to keep awake, as well as provide a comfortable and alert feeling.

Comfort – Sweat, wetness, heat, and humidity can all become extremely uncomfortable and irritating. Therefore cooling seat cushions will aid in keeping your comfortable in general when driving.

Reduces Sweat and Odor – Most cooling technology Seat cushions have the ability to wick away moisture and hot air which in turn becomes sweat and moisture, fan cushions will disperse hot air, thus preventing sweat build up which in turn increases heat and can cause bad odors. Thus the cooling technology will keep you and your car seats dry and odor free.

Hypoallergenic – With good ventilation, there are fewer risks of dust and allergy causing particles building up in your car seat and car, which in turn means less allergic reactions, if you are allergy prone.

Cleaner – Less sweat, heat, and moisture, in general, is also cleaner and ventilation keeps clean and crisp air from dispersing creating a safer and cleaner environment in your car.

Less Energy – With the case of a ventilating or moisture wicking car seat cushion you do not need to use any form of energy. Likewise, a fan or air conditioning Car Seat Cushion uses much less energy than you car air conditioner overall.

---
Features of a Good Cooling Car Seat Cushion
Size – make sure that the size fits your car seat.

Cover Materail and Fill – Cooling Gel; memory foam, mesh cover, Microfiber cushion and cover, elastic foam fill.


Washable Cover – cotton, velour, mesh.

Support – memory foam, back andtailbone support.

Cooling Materails – Gel and Mesh, Cooling fan.

Durability – wear and tear resistant, weather and sun resistant.

---
Reviews: The Best Cooling Car Seat Cushions
Here are some of the best of the different types of Car seat Cooling Cushions available;
---
1
The Plixio is the top and most favored brand when it comes to Gel Cooling Car Seat Cushions. This model is ideal for back and tailbone support and pain relief with Cooling Gel and Memory foam
Helps to alleviate back and hip pain with the ergonomic design that supports your lower back and tailbone for orthopedic pain relief.

memory foam fill with cooling Gel top layer, for cool and moldable comfort.

The bottom is anti-skid and there is a washable cover with a carry handle for portability.

The cover is made from breathable mesh.

Versatile enough to use on your car seat, office chair or even a lounging chair.

Ideal design if you suffer from back pain or hemorrhoids.

---
2
The Zone Tech is a fan/air conditioning function cooling car seat cover that will fit most car seats comfortably.
Keeps your seat and car cool.

A smart design that circulates air through the tiny spaces in the microfiber and mesh material of the cushion through breathable layers to keep your body cool.

Easy temperature control with a dial.

Fits an RV, SUV, car and other car seat shapes easily.

Very easy to use, just plug into your cigarette lighter adapter for the fan to work.

Versatile enough to use on an office chair or lounge chair as well

---
3
A favorite option among many is the Snailax heating and cooling car seat cushion which give you the best of both worlds when it comes to cold or hot weather and soothing pain relief.
There are four fans that evenly distribute cool air through the strategically placed vents of the seat cushion.

The ventilated design with air vents in the layers of the cushion helps with breathability.

heating function, with two heated pads for back and seat heating and two levels of heating that can be easily set.

Fully remote control operated and uses your car adapter to function.

A universal size to fit most car seat easily and comfortably.

---
4
The Big Ant Breathable car seat cushion has a ventilating design and materials to keep you cool and comfortable while driving.
A Big Ant bottom design covers the entire car bottom seat available in black, beige or brown color options.

Breathable design and materials that keeps you cool.

A non-slip rubber bottom to prevent slipping and a luxury comfort cover.

Comes with plastic chucks and metal hooks for easy attachment to your seat.

Elastic sponge and breathable heat insulating cover cloth.

Weather and wear-resistant with strong compression.

---
5
From Clever Yellow, I have chosen their cushioned and supported car seat cushion with a breathable mesh top layer for cooling and ventilation.
A U-Shape wedge cushion that supports your back and lumbar area and improves your posture.

Ergonomic Coccyx cut out design, to reduce tail bone pain and discomfort.

A frim and non-flattening design with Molded Clever Foam and a breathable and ventilating mesh top.

The adjustable strap gives you a secure stay in place fit.

Can be used on almost any chair or car seat type.

---
Index Table: Top Rated Cooling Car Seat Cushions
---
---