Looking for silky soft sheets that are cool to the touch, that are more breathable than cotton and much softer than linen, as well as more sustainable than bamboo, well let me introduce you to the best Eucalyptus sheets.
In this article, we will explore the many wonders of some of the best natural eucalyptus sheets and options available.

---
Eucalyptus Sheets
Eucalyptus sheets are usually made from eucalyptus lyocell which is a generic term used for the cellulose fibers that are converted from eucalyptus wood into a pulp and then fabric.
So basically, eucalyptus Lyocell consists of eucalyptus pulp that is spun into a textile and made into fabric for your sheets.
You may also find eucalyptus Tencel, which is a branded form of Lyocell that is well known because it only uses sustainable production processes.
Are Eucalyptus Sheets Eco-Friendly – They are indeed quite eco-friendly in terms of a raw material as well as the manufacturing process sued. You just need to find a company that sources from a more responsible partner. Eucalyptus requires less water than other plants, is sustainable, and uses a closed used process for making sheets, where water and solvents are recycled and reused.
Eucalyptus Vs. Bamboo – Bamboo sheets can consist of Viscose which is a chemically enhanced fabric, or Lyocell which is more natural. Thus, bamboo is not always the most eco-friendly option. Eucalyptus is naturally more cooling and softer than bamboo in sheets.
Eucalyptus VS Cotton – Cotton requires many pesticides and chemicals to grow, and eucalyptus is generally a much cleaner and more eco-friendly fiber. Eucalyptus is also much more lightweight and breathable as a fabric for sheets than cotton.
---
Eucalyptus Sheets are Cooling
One of the best benefits of Eucalyptus sheets is that they are cooling and very breathable.
They have an inherent ability to wick away moisture and breathe much more than any other fabric.
Even when you run your hands across a eucalyptus sheet, you will feel that it is quite cool to the touch.
---
Features of a Good Eucalyptus Sheet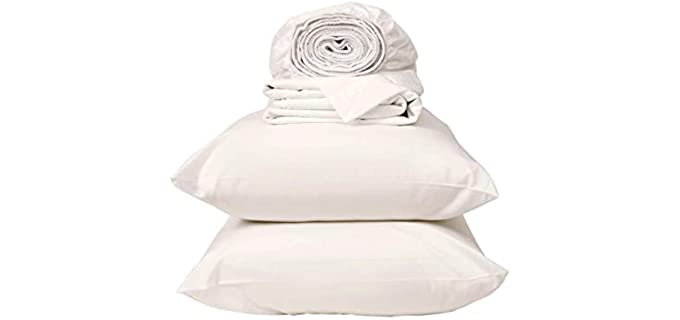 Materials – The Eucalyptus sheet models that we have chosen all consist of 100% pure eucalyptus. The Eucalyptus may either be Tencel or Lyocell in process. However, still pure eucalyptus.
Design – Most sheets come in a set with a flat sheet, deep pocket fitted sheet and two pillowcases. These sets are ideal for giving you all that you need to make your bed with sheeting and pillowcases fully.
Colors and Sizes – All the models do offer you some color options, as well as different sizes for single, double, queen, king, and Californian king-sized beds, with the standard pillowcases.
---
Reviews: The Best Eucalyptus Sheets
In our list, we have some of the most exceptional Eucalyptus infused sheets from which you can choose:
---
1
---
2
From Sheets and Giggles, we have a 1005 pure Eucalyptus Lyocell sheet set that is ideal for all seasons.
The sheets are 100% pure eucalyptus which is one of the most eco-friendly materials.
The sheets are cooling and comfortable, with a 400 thread count and luxury sateen weave.
They come as fitted sheets with extra deep pockets and are available in many colors and sizes.
---
3
From Linenwalas, we also have the perfect eucalyptus sheets.
The sheets are a four-piece set with a fitted sheet, a flat sheet, and two pillowcases.
They are cooling and come in more sizes and colors, from which you can choose.
The eucalyptus sheets are 100% lyocell and have a moisture-wicking property to keep you cool and dry.
Ideal for hot sleepers that tend to sweat quite a bit during the night.
---
4
From Stylinen, we have 100% organic Eucalyptus sheets that are simply ideal.
The set includes a fitted, flat sheet and two pillowcases for your convenience.
They are 100% pure Eucalyptus Tencel Lyocell sheets that have a silky soft and very breathable texture.
The sheets are a deep-fitted pocket and flat sheet option.
Ideal for all seasons and very breathable.
---
5
The Sijo eucalyptus sheets are a premium quality design.
They are 100% pure Australian eucalyptus sheets with Lyocell and Tencel and a silky soft weave.
You get three pieces, a fitted sheet, and two pillowcases.
There are more colors and size options available from which you can choose as needed.
The sheet set is easy to take care of and very cooling and breathable.
---
6
The Sweave Eucalyptus sheets are comfortable and certified natural, and organic.
They are crafted from Pure Eucalyptus Tencel with the highest quality Tencel Lyocell.
The sheet set us naturally cooling and very breathable.
You get a complete four-piece set with a flat sheet, fitted sheet, and two pillowcases.
There are also more colors and sizes available to you so that you can choose from your favorites to suit your home decor.
---
7
From the Olive and Crate store, we have the perfect Eucalyptus sheet set.
The set comes in many colors and sizes to suit your needs and preferences.
The Eucalyptus sheets are a soft sateen weave that is cooling and breathable.
You get a deep pocket design fitted sheet that is moisture-wicking and ideal for night sweats.
The Deep-pocket fit gives you a much better-fitted sheet option that will not easily slip off your mattress.
---
8
The Buffy Eucalyptus sheets are silky soft, and cooling.
They are 100% eucalyptus Tencel Lyocell sheets that are naturally dyed and have a very soft texture.
There is a set with a flat sheet, fitted sheet, and two pillowcases in each purchase.
You can also choose from more colors and sizes that are available.
The sheet set us completely natural and free from any synthetic materials, chemicals, or dyes.
---
Index Table: Top Rated Eucalyptus Sheets
---
---