Some of the links in this post are affiliate links. This means if you click on the link and purchase the item, I will receive an affiliate commission at no extra cost to you. All opinions remain my own.
Do you also think your furniture is too ordinary or bland to match your expectations? Then Knot Pillows are exactly what you need!
Compact and enjoyable, these pillows are perfect for adding that punch of color and flair to your furniture and your room. They usually come in symmetrical and unorthodox patterns, which lets you have a creative touch in getting the best out of them.
But there are certain things you need to know about Knot pillows before buying them for yourself. And we have prepared the perfect buying guide for you below.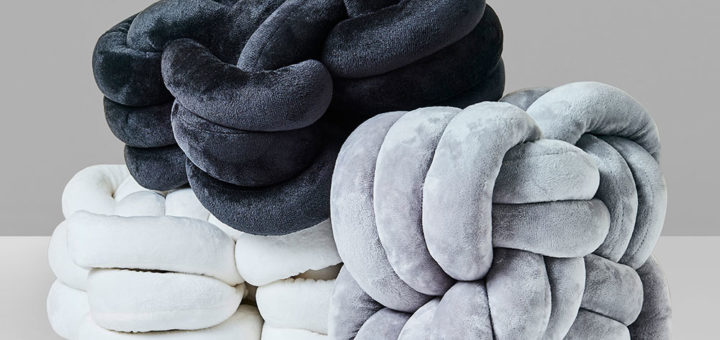 ---
Why Knot Pillows are must-have home essential
Some stand-out things make knot pillows a must-have in your home.

Home-Decor – Knot pillows are unique and elegant, and they provide a different touch to your interior.
Provides Creativity – These pillows usually come in all shapes and sizes, which in turn allows us to be creative with them
Long-Lasting – Knot pillows are known to be very durable and generally lasts for a very long time.
Compact – The overall small size of these pillows is perfect for placing them anywhere without much hassle or pre-planning.
---
Uses of Knot Pillows
Knot pillows are quite flexible, and you can use them for multiple purposes.

Cushions – You can use knot pillows to replace your old-fashioned cushions as these provide a much more variety and style.
Toy Pillows – Due to their soft material and unique design. these can also be used as toy pillows for your kids.
Decorative Hangings – These pillows are very lightweight and eye-catching, so they can effectively be used as decorative hangings
Throw Pillow – Knot pillows can easily be used as throw or toss pillows due to their sophisticated design.
---
Types of material used in Knot Pillows
Several different materials are used in making a knot pillow, and we have discussed some of the most crucial ones below.

Polyester – This is the most commonly used padding in knot pillows. Polyester has great longevity and provides a decent level of comfort.
PP Cotton – Pillows made from pure PP cotton tend to be more lightweight and soft than usual ones.
Spandax – Spandex provides the required flexibility and dirt resistance to the overall design of a knot pillow.
Velvet – Knot pillows made out of velvet are usually more expensive, but they provide a better look& feel.
---
Reviews: Best Knot Pillow
We have compiled a list of the best Knot Pillows you can gift yourself based on our research.
We hope you love the products we recommend!
So that you know, We may collect a share of sales or other compensation from the links on this page.
---
1
This knot ball pillow is made with a pure polyester blend and feels very soft on the touch.
The fabric quality is really good, and it will last you for a long time.
It is available in multiple colors, and you can choose one which suits your preference.
You can clean these pillows easily through a gentle machine wash.
---
2
The overall design of this pillow is very pleasing and eye-catching.
Made out of polyester and spandex, the quality of the Pillow is very good.
These pillows are very lightweight when compared to some other pillows.
The inner-spiral interlocking design gives this a very sturdy feel.
---
3
This pillow is 7.1 inches in size and is ideal for adults and children.
It is made with soft plush fabric that is soft to the touch.
The filling is PP Cotton of the highest quality.
It comes in a gray 2-line design.
---
4
This Knot ball pillow is made from high-quality materials for a soft plush feel.
It uses soft PP Cotton that is skin-friendly for both adults and children.
It is approximately 12 inches in size.
The Pillow is available in a variety of shapes and vibrant colors.
---
5
The size of this Pillow is very compact and small when compared to some other pillows,
These pillows are available in mint colors which look perfect on cabinets and sofas.
Intermesh design provides an overall good and sturdy feel.
The material used in these pillows is pure polyester blended with some spandex.
---
Index Table: Top-Rated Knot Pillows
---
---