A Bench, Typically a long seat made from wood or metal, as a patio or outdoor furniture, can be highly functional as well as aesthetically pleasing in your home.
The right cushion to fit your bench can make all the difference in finishing off this highly purposeful and decorative piece of furniture.
---
Bench Types and Uses
The bench has become very popular over the years, and today we find ourselves often naming a bench for every place that they are used in;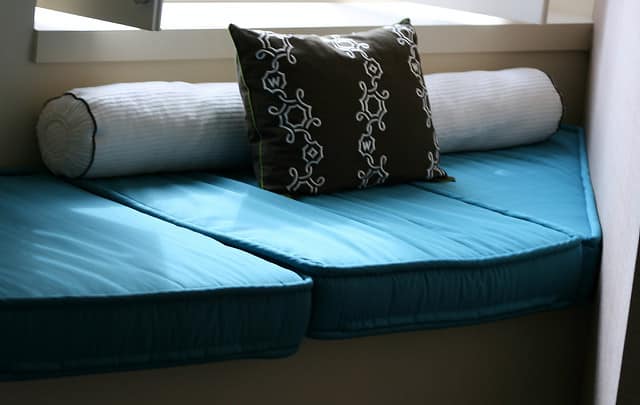 Park Benches – Outdoor public benches are used for picnics and playgrounds; these do usually not function well with a bench pillow.
Garden Benches – An outdoor bench in your garden, although there are waterproof and weather-resistant bench cushions available, I would still take care not to leave them on these benches after use.
Patio Bench – A bench on your porch or patio is usually safe for the use of a bench cushion, though I would opt for a more water-resistant and durable design.
Backless Bench – A Backless bench for sitting at dining tables, indoors, or outdoors for which a bench cushion is ideal.
Indoor Benches – Any bench you use inside your home is the ideal candidate for a bench cushion, and indoor bench cushions do not need to be weather resistant.
And so the list goes on, there is a Bench for every place, every occasion, and every practice.
This article will concentrate more on indoor and outdoor benches for comfort and decorative purposes in your home, targeting mainly the cushions and Pillows for these Benches.
---
Best Materials for an Outdoor Bench Cushion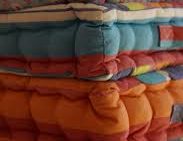 The right Cushion for your Bench is just as important as the bench itself unless you are just going to use it as a packing and storage space. Well, if not, there are plenty of highly decorative and comfortable Bench Cushions and Pillows that you can opt for.
Cover – The cover of your Bench cushion is critical because it needs to be stain and weather-resistant, particularly for an outdoor Bench, soft and comfortable, as well as highly durable.
Fill – Usually, foam from memory foam, cotton, polyester, and any other form of firm foam is durable and still comfortable to sit on.
When looking at the fabric in which your Bench cushion is covered, look for UV or Fades resistance that won't deteriorate or fade in the sun. Likewise, water-resistance or quick-drying materials are desirable, should the cushion get wet from rain or other circumstances.
If you want something indoors only, your options are less complicated, and you can just look for something durable, soft, and colorful to enhance your home style.
Some strong Indoor and outdoor materials to consider are;
Cotton – Cotton canvas, a plain-woven fabric that is inexpensive yet durable and weatherproof.
Duck Cloth – Duck cloth, similar to the canvas with a tighter weave and smoother in texture.
Textiles – Textilene, woven polyester fabric with a PVC coating that is mold resistant and very durable.
Olefin – Olefin Fiber, or polypropylene, is mold, sun, water, and weather-resistant, as well as extremely hardy, great for outdoor use.
Vinyl or PVC – Vinyl or PVC is hardy, easy to clean, and weatherproof.
Weather Resistant – Outdoor Curtain fabric, which is sheer and heavy and very easy to come by, as well as economical.
Some Filling Options that are ideal include;
Compressed Polyester or polyurethane foam – This fill is washable, quick-drying, hypoallergenic, and mold and mildew resistant is ideal for outdoor bench pillows.
Open Cell foams – Open Cell Foams are quick-drying and have antibacterial properties, and water can pass right through it; it also has a softer and cushier feel to it. Whereas Closed Cell foam does not absorb water at all, it is firm and durable, ideal for outdoor Benches.
Memory Foam – Memory Foamis a luxury comfort option that is ideal for indoor use only.
---
Features of Best Bench Pillows
The most important factor to consider when choosing the best Bench Pillow is where you will use it, indoors or outdoors, and if it will come into contact with wetness or sunshine. These are the factors that will determine the materials you need to look at.
After you have decided on this, all there is further is to make sure of the correct size and find a color fabric that tickles your fancy.
Water and weather-resistant fabric for outdoor bench pillow.
Size and color options.
Durable and comfortable foam fill.
Removable and washable cover.
Sturdy and durable design with high-quality manufacturing.
---
Reviews: Best Pillows for Indoor & Outdoor Benches
---
---
---
---
---
---
---
---
---
---
---
---
---
---
---
---
Lastly
Finding the perfect Bench cushion for your outdoor or indoor bench can be quite daunting as the options for these are not that vast.
I have chosen a few assortments and colors with different size preferences to give you more options, each of which comes with the highest quality construction and materials.
---
Index Table: Top-Rated Bench Cushions & Pillows
---
---