A Bench, Typically a long seat made from wood or metal, as a patio or outdoor furniture, can be highly functional as well as aesthetically pleasing in your home.
The right cushion to fit your bench can make all the difference in finishing off this highly purposeful and decorative piece of furniture.
---
Bench Types and Uses
The bench has become very popular over the years, and today we find ourselves often naming a bench for every place that they are used in;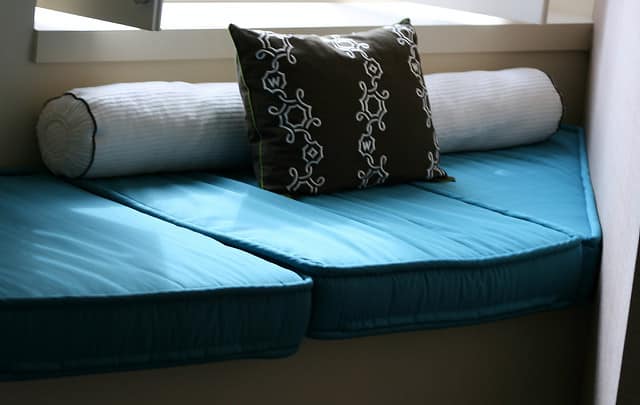 Park Benches – Outdoor public benches are used for picnics and playgrounds; these do usually not function well with a bench pillow.
Garden Benches – An outdoor bench in your garden, although there are waterproof and weather-resistant bench cushions available, I would still take care not to leave them on these benches after use.
Patio Bench – A bench on your porch or patio is usually safe for the use of a bench cushion, though I would opt for a more water-resistant and durable design.
Backless Bench – A Backless bench for sitting at dining tables, indoors, or outdoors for which a bench cushion is ideal.
Indoor Benches – Any bench you use inside your home is the ideal candidate for a bench cushion, and indoor bench cushions do not need to be weather resistant.
And so the list goes on, there is a Bench for every place, every occasion, and every practice.
This article will concentrate more on indoor and outdoor benches for comfort and decorative purposes in your home, targeting mainly the cushions and Pillows for these Benches.
---
Best Materials for an Outdoor Bench Cushion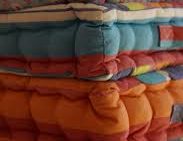 The right Cushion for your Bench is just as important as the bench itself unless you are just going to use it as a packing and storage space. Well, if not, there are plenty of highly decorative and comfortable Bench Cushions and Pillows that you can opt for.
Cover – The cover of your Bench cushion is critical because it needs to be stain and weather-resistant, particularly for an outdoor Bench, soft and comfortable, as well as highly durable.
Fill – Usually, foam from memory foam, cotton, polyester, and any other form of firm foam is durable and still comfortable to sit on.
When looking at the fabric in which your Bench cushion is covered, look for UV or Fades resistance that won't deteriorate or fade in the sun. Likewise, water-resistance or quick-drying materials are desirable, should the cushion get wet from rain or other circumstances.
If you want something indoors only, your options are less complicated, and you can just look for something durable, soft, and colorful to enhance your home style.
Some strong Indoor and outdoor materials to consider are;
Cotton – Cotton canvas, a plain-woven fabric that is inexpensive yet durable and weatherproof.
Duck Cloth – Duck cloth, similar to the canvas with a tighter weave and smoother in texture.
Textiles – Textilene, woven polyester fabric with a PVC coating that is mold resistant and very durable.
Olefin – Olefin Fiber, or polypropylene, is mold, sun, water, and weather-resistant, as well as extremely hardy, great for outdoor use.
Vinyl or PVC – Vinyl or PVC is hardy, easy to clean, and weatherproof.
Weather Resistant – Outdoor Curtain fabric, which is sheer and heavy and very easy to come by, as well as economical.
Some Filling Options that are ideal include;
Compressed Polyester or polyurethane foam – This fill is washable, quick-drying, hypoallergenic, and mold and mildew resistant is ideal for outdoor bench pillows.
Open Cell foams – Open Cell Foams are quick-drying and have antibacterial properties, and water can pass right through it; it also has a softer and cushier feel to it. Whereas Closed Cell foam does not absorb water at all, it is firm and durable, ideal for outdoor Benches.
Memory Foam – Memory Foamis a luxury comfort option that is ideal for indoor use only.
---
Features of Best Bench Pillows
The most important factor to consider when choosing the best Bench Pillow is where you will use it, indoors or outdoors, and if it will come into contact with wetness or sunshine. These are the factors that will determine the materials you need to look at.
After you have decided on this, all there is further is to make sure of the correct size and find a color fabric that tickles your fancy.
Water and weather-resistant fabric for outdoor bench pillow.
Size and color options.
Durable and comfortable foam fill.
Removable and washable cover.
Sturdy and durable design with high-quality manufacturing.
---
Reviews: Best Pillows for Indoor & Outdoor Benches
---
1
---
2
Do you own one of those long patio lounge chairs but are always struggling to find the right pillow? Well then, look no further; Ofit offers a range of stunning Quilted Micro Suede Chair Pads ideal for patio furniture and benches alike.
Manufactured from durable and comfortable polyester.
Quilted with a Micro-suede feel and filled with resilient and firm foam cushioning.
It is available in options for long patio chairs and Bench chairs, recommended for indoor or covered outdoor areas only.
Easy to attach securely to your bench or patio chair.
Easy machine-washable.
---
3
The Pillow Perfect Outdoor and Indoor bench cushions are covered in a durable and fade-resistant tweed material, available in five stunning and bright color options for you to choose from.
The package includes one bench cushion that measures 45 inches in length, 18 inches in width, and 2,5 inches in depth, the ideal dimensions for your average-sized bench.
The Tweed cover is fade-resistant and will not be harmed in any way by the sun's rays.
The ideal bench pillow for both indoor and outdoor use, available in different color options.
Manufactured with new and improved 100% polyester fiber filling for a cushier feel that is even more durable and resilient.
The attached ties help to keep your cushion securely tied to your bench without slipping.
Easy to care for, you can just spot clean with a damp cloth or hand wash and air dry the cushion and cover.
---
4
Something more extravagant and fun for the outdoor enthusiast. The Outdoor Bench Cushion from Comfort Classics features a gorgeous and outdoorsy leaf print and is completely weather resistant.
Tough and Durable Welt construction with a 100% Polyester filling that offers cushioned comfort and high durability.
It measures 17 x 46 x 2.75 inches and sports a stunning autumn color leaf print.
They are manufactured with quick dry comfort technology allowing your cushions to dry almost immediately after rainfall or washing.
The fabric cover is UV treated to withstand fading and deterioration from the sun, for longer-lasting durability and vibrant colors.
Easy to maintain and clean with mild soap and water, as well as quick drying.
The perfect tough and durable Bench cushion for outdoor and patio use.
---
5
You cannot exactly expect from a Bench cushion, but you can use these as Bench Pillows with a bit of creativity and imagination. The Pillow Perfect Outdoor Wicker seat Cushions are small and easy to stack next to each other; they will likewise be ideal if you have a smaller-sized bench.
It is manufactured from 100% tough and durable polyesters that offer a soft and cushioned feel.
You get these in a set of two that are suitable for both indoor and outdoor use.
Weather-resistant and will not fade or deteriorate in the sun so that you will have lasting comfort and vibrant colors.
Plush filling, also from 100% durable and soft polyester.
Each cushion measures 19 inches in length and width and a thick 5 inches in depth for extra comfortable padding.
They do not come with ties, so they are easy to use and pack away when you need them.
Available in a wide variety of rich and bright colors and prints for every taste and style.
---
6
A classic and premium quality Bench Cushion and Slip Cover from Classic Accessories. The Montlake comes in different sizes and neutral color options that are ideal to fit any bench and any home décor style.
Manufactured from premium quality Fade Safe solution-dyed fabric that can resist stains, keep water out and resist fading from the sun's rays.
The slipcover includes nifty click-close straps to keep your cushion securely where you want it.
The seams are double stitched with piping for added durability and a more sophisticated look.
It is stuffed with tough and highly resilient plush foam for extraordinary comfort and long-lasting durability.
Available in a few neutral color options and different size options for every requirement.
---
7
The Winsome Paige bench is a bench cushion in rich brown suede leather.
Faux leather cover that is easy to clean and durable.
It is filled with a soft sponge.
It comes in a soft espresso finish and is available in quantities of 1, 2, 3, or 4 packs.
Designed to fit your Windsome's bench or a similar-sized bench.
---
8
The plushest and comfortable bench pillow from pillow perfect.
Soft grey polyester cover with sealed seam closures.
It is filled with a plush cushioned sponge for comfort.
Easy care design and durable enough for outdoor use.
Filled with 100% fibber polyester.
---
9
A rich brown or orange and durable bench pillow from Klear Vu.
100% polyester cover that is durable and comfortable.
It comes with ties to keep the cushion in place.
Reliable and comfortably padded.
Available in a brown or orange color variation.
---
10
Available in a few different color options to choose from.
Comfortable and soft with Polypropylene and Polyester materials.
Very durable and ideal for outdoor use as well.
Gripper technology that prevents the pillow from sliding off.
Soft Tufted top design and a comfortable padded seat.
---
11
A decorative embroidered Bench Pillow for all occasions.
Available in a few neutral color selections to suit any home décor.
Plush and comfortably filled with a durable embroidered cover.
Burlap Non-Woven with a durable Polyfill.
---
12
A classic Vintage design Bench Pillow available in many neutral color selections to choose from.
Also available in different size options for the perfect fit.
Durable enough for patios and indoor use.
Double-stitched construction with a comfortable foam fills the inner.
The backing is water and stain-resistant, and the cover is smooth and comfortable.
---
13
This bench patio cushion is made of 100% Polyester canvas with decorative tufting.
It is durable and comes with ties for attachment to the furniture.
The cushion is water-repellent, oil-repellent, UV Resistant, and anti-microbial.
It is overstuffed for extra comfort and longevity.
---
14
This lounge cushion is made using 100% Polyester.
It is made with high-quality cloth that is resilient and long-lasting.
The filling is designed to absorb pressure and is environment-friendly.
It is water-resistant, breathable, UV resistant and durable.
---
15
This bench cushion comes in a 44×17 inch size.
It is covered in a heavy-duty polyester fabric that is designed to be heavy-duty.
The cover is water, stain, fade, and mildew resistant.
It is overstuffed with 100% recycled, post-consumer, soft polyfiber fill.
---
Lastly
Finding the perfect Bench cushion for your outdoor or indoor bench can be quite daunting as the options for these are not that vast.
I have chosen a few assortments and colors with different size preferences to give you more options, each of which comes with the highest quality construction and materials.
---
Index Table: Top-Rated Bench Cushions & Pillows
---
---