There are many reasons to invest in a pillow for floor seating.
A floor pillow can add both style and comfortable functionality to any home while providing an idyllic area for socializing with friends and relaxing with family or even on your own.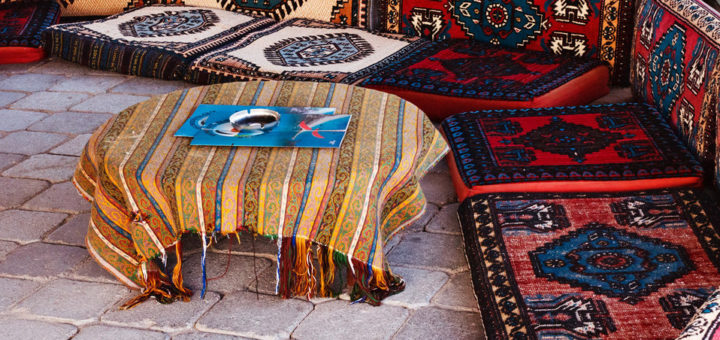 ---
How a Floor Pillow can Enhance Your Home
When it comes to floor seating pillows, there are a few styles to consider, I have gone into detail with these styles to give you a few options to choose from for your home.
Classic Floor Pillows
A classic large floor pillow in a complementary color will add elegance and a slightly more "dressy" feel to your home.
You can place these pillows by your coffee table for the kids to sit and play or even at the fireplace for an area to relax.
All Purpose Floor Cushions
For individuals like enjoy sitting on the floor to eat, meditate, watch television, or for whatever reason possible, there is nothing as versatile as an all-purpose floor cushion.
You get them in a variety of colorful designs, or even just solid colors, whatever matches the décor of your home.
Japanese Style Cushion – The Japanese style cushion is a floor seat for those who enjoy performing most of their activities, such as eating, reading, and meditating on the floor. Most Japanese-style cushions are handmade from non-allergenic natural fibers that are soft, comfortable, and durable.
Bohemian Style Pillow The Bohemian style pillow is extremely colorful and bright for all the free spirits out there. It is manufactured from durable, recycled, and more natural fibers that add Boho feels to your home while functioning as a perfect area for relaxing and meditation.
Meditation Pillow – Meditation is becoming exceedingly popular amongst many individuals today, although, for most, it can be quite uncomfortable sitting on a rug or the floor. So why not invest in the ideal meditation pillow designed specifically for this purpose.
Family Pillow – Now let us get to the family pillow, enormous, plush and comfortable for use for the entire family to lounge or even nap on. This type of pillow, usually called a pouf or bean bag, comes in every type of fabric and color you can imagine, with a range of different fills to choose from.
Kids Pillows – For your child's bedroom or play space, you can always try out a floor pillow or to for them to sit and play on or even to nap on. Keep it fun and colorful, inviting to little ones and stimulating their senses.
---
Health Benefits of Floor Pillows
Let's face it, sitting on a cold hard floor, or even on the carpet can be extremely uncomfortable while likewise causing strain and damage to our body in the long run.
A floor pillow is the next best thing to provide you with comfort and support while enjoying time, socializing, or relaxing.
Then there is also the inevitable improvement of your posture, when you are not reclining on a couch and improved strength and flexibility, which comes from sitting down and getting up from the floor.
All in all, you are getting some good exercise while relaxing comfortably and safely on the floor.
---
Reviews: The Best Floor Pillows and Cushions
We have chosen some excellent choices in various floor pillows and cushions.
We hope you love the products we recommend!
So that you know, We may collect a share of sales or other compensation from the links on this page.
---
1
The Dori Pouf from Cotton Craft is the best all-purpose floor pillow that you will find. The perfect size for any function.
Hand knitted cable style cover available in a range of bright and neutral color options for you to choose from.
Ideally, this is a small pouf or ottoman that is versatile enough for use as an all-purpose floor seat.
This pillow sizes at 20 inches in diameter and 14 inches in height.
Hand-knit with plush comfortable bean bag filling.
---
2
For a Japanise Style floor cushion, I have chosen the Eshow Tatami, manufactured from straw, that is not just an original Japanese style but likewise healthy to sit on.
Natural Corn Husk material that is environmentally friendly and healthy for your skin, and hypoallergenic.
A superior quality product manufactured by skilled artisans for unsurpassed perfection.
This pillow can be used as a yoga pillow, scatter cushion, or any form of seating.
There are different size options that you can choose this pillow in.
---
3
A stunning Bohemian style pillow from Cotton Craft, the Chindi features rich multi-colors that will blend in with any home décor idyllically.
The entire pillow is hand braided by skilled and creative artisans.
Manufactured from the purest jute fibers and other recycled multicolored fabrics.
A highly versatile pillow that will complement an array of décor and offer many functionalities.
Available in a few sizes to choose from.
---
4
The REEHUT Zafu is the ideal choice for yoga and meditation, a comfortable and organic-produced pillow that will transport you to a place of peace and reconciliation.
There are three sizes available in this pillow, all of which come with a convenient carry handle for easy transportation.
Inside is a core of buckwheat hulls within a sealed pouch for easy removal and insertion.
The YKK zipper is durable and covered, and the full zip cover in your choice of hemp or cotton is removable and machine washable.
It is an excellent choice for all yoga meditation styles and levels, promoting better posture and positioning while relieving stress on your joints and spine.
---
5
Fun, colorful, and comfortable, the Butterflycraze is the newest craze in kid's floor bedding, which likewise makes ideal floor seating in turn.
This is a pillow cover that you use as a standard pillow of your choice inside.
The cover is super soft, manufactured from premium fabrics that are gentle on little one's skin.
Fun, cute and comfy, while easy to maneuver and move around, just add the pillow.
Available in some excellent décor styles for any themed room.
Makes an excellent bed for sleepover parties or an overnight at the grandparents' house.
Easy to wash and maintain, a well as fade resistant.
---
6
We end off with the family floor pillow, I have chosen the Villa from Majestic Home Goods, primarily for its size, but just as much for its plush and
comfortable adjustable loft.

Easy to clean and maintain, you can spot clean or machine-wash the micro-velvet slipcover.
This pillow is filled to the brim with super soft and comfortable recycled and shredded polyester.
There are also replacement covers available should you need a new one.
All in all, this pillow is a perfect size and very comfortable and lush!
---
7


A large square-sized cushion is ideal for floor seating.

Made from 100% Chenille materials with plush filling.
Tufted detailing and scalloped edges.
Available in a few neutral color options.
Versatile and can easily be layered.
---
8


You can take this floor cushion from Collections etc., anywhere with you.

Handy carry handle for portability.
It is made from polyester fabric that is lightweight and durable.
Available in many color variations to choose from.
Firm yet comfortable seat.
---
9


A fun and funky flower-shaped floor seat cushion for little girls.

Available in a large or medium size.
Many different feminine flower colors are available.
Soft and plush.
Made with comfortable and durable microfiber.
---
10
A high-quality large floor seating pillow for adults.
It comes with a durable and soft corduroy cover and EPE pearl cotton filling.
Large size with a soft and comfortable loft.
Available in a few neutral color selections that you can choose from.
---
11
A patterned extra large triangle seat cushion for adults and children.
Filled with premium Mery foam and cotton and comes with a durable and breathable 100% cotton cover.
There are a few color and pattern selections to choose from.
The ideal thickness for floor seating with a firm feel.
---
12
This round pillow is made from Thickened cotton with a durable and resilient cotton cover ideal for children as a floor seating Pillow.
It is available in many colorful prints and solid color options.
When you purchase two or more pillows, you will also receive an additional gift with your purchase.
It also comes with a money-back guarantee should you not be satisfied with your purchase.
---
Index Table: The Top Floor Seating Pillows
---
---