Some of the links in this post are affiliate links. This means if you click on the link and purchase the item, I will receive an affiliate commission at no extra cost to you. All opinions remain my own.
Every child needs a good sleeping bag with a comfortable pillow for nap time at a daycare, preschool, or even a sleepover.
With so many options available, the choice may take much work. Kids sleeping bags and pillows come in various sizes and colors and with different themed characters.
In this article, we want to show you a few of the best kids sleeping bags that all come with their pillow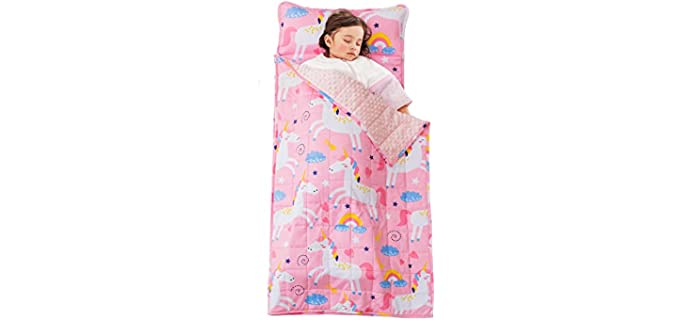 ---
---
Why Your Child Needs a Good Sleeping Bag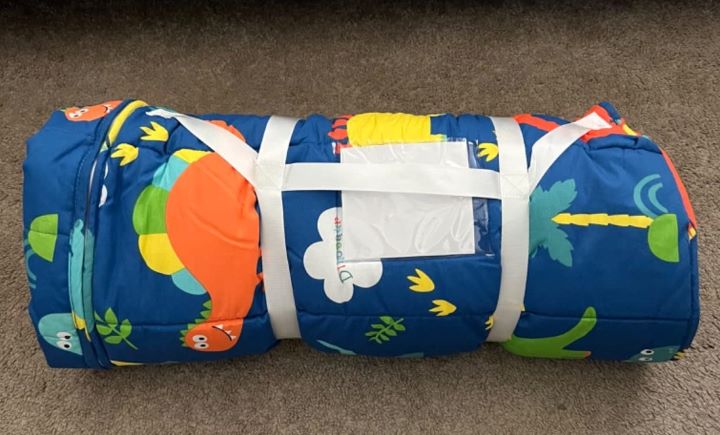 As a mother, having a good kid sleeping bag and pillow is always a good idea, as it can be used for many occasions.

Preschool or Day Care – Mini preschools and daycare require that you bring your bidding for your child to take a short nap during lunchtime. Some may ask that you bring a small mattress, a pillow, some majors, or a blanket. As you will see, many of the designs of the sleeping bags we have in our review section are nap pads that you can use at preschool or daycare for your child to sleep on comfortably that also comes with their pillow.
Sleep Overs at Home – Then again, sleepovers or having a friend over at home. When do you need an extra bed at home for your child's friend that would like to sleep over or come and visit? A kid sleeping bag and pillow is always an excellent idea for both to have loads of fun and to enjoy their sleepover at your home. Often our children want to lie in front of the television or maybe lie down and play video games. We're a sleeping bag, and a pillow can come in handy should they fall asleep or want a relaxing space to lie down.
Camping and Travel – One of the most used sleeping bag overalls is for camping and traveling. Having a full sleeping bag with a pillow for your child is much easier than doing the two separately. Most kids sleeping bags and pillows fold up quite compactly and come with Velcro straps. So they are portable, and they take up little space.
---
Choosing The Best Kids Sleeping Bag and Pillow
When choosing the best kids sleeping bag and pillow, consider your child's age first. Most sleeping bags are designed for children around two to three years and up to six. And most of them are not intended for much older children, from the colors and designs available in kids sleeping bags and pillows. Most are aimed at younger children with fun characters such as Disney and Marvel.
You need to look for a sleeping bag that is good quality, such as Polyester or cotton, with a comfortably sized cushion. And also, that is easy to fold up and roll compactly so that it is easy to store or travel with.
---
Features of a Good Kids Sleeping Bag with Pillow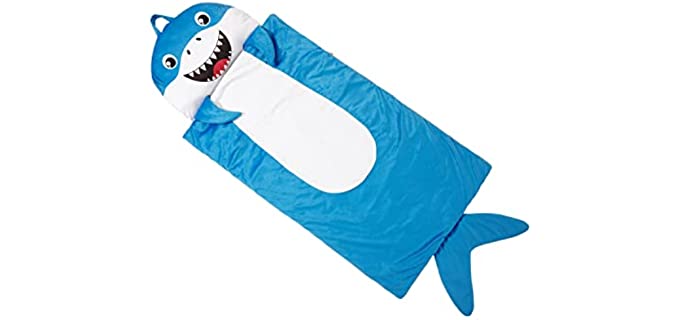 Materials – The Kid's sleeping bag can consist of Polyester or cotton for the cover and a pillow cover with a microfiber or polyester fill.
Design – Kids' sleeping bags come in many fun colors and designs with their favorite characters on them
Sizes and Options – Most kids are sleeping bags, and pillows are suitable for children between three and six years of age. They may be available in more colors and prints for boys and girls.
---
Reviews: The Best Kids Sleeping Bags with Pillow
Here are some of our favorite kids sleeping bags with their pillows;
---
1
We have a daycare nap bed from Silvio, which is the perfect sleeping bag and pillow for younger kids and toddlers.
It is a portable bundle with Velcro straps that you can easily roll up.
The sleeping bag and pillow are machine washable, easily stored away, and relatively compact.
It is the perfect two-in-one design with a weighted blanket and a pillow included, consisting of natural cotton.
There are colored and printed options available for both boys and girls.
---
2
From Nickelodeon, we have a napping and daycare kids' sleeping bag and pillow all in one.
Peace from the boy's pups' rules nap mats or the girl's team Skye nap mat.
The sleeping bag comprises 100% Polyester and is ideal for sleepovers, daycare, and travel.
The kid's sleeping bag is easy to carry and comes with a carry handle.
It rolls up compactly and has a Velcro closure tab for easy storage.
---
3
We have the Bluey Sisters Napmat from Jay Franco, a kid sleeping bag with a pillow.
The sleeping bag is super soft and travel-friendly. It is the perfect size for younger children and toddlers. And it comes with a comfortable pillow.
It comes from the Bluey collection, which you can complete your bedroom with.
The high-quality sleeping bag and the fun design make for an ideal gift.
---
4
Here, we have one for the boys from their favorite Marvel Comics.
The sleeping bag and pillow sit to have a Spiderman theme.
This complete three-piece slumber set is the perfect gift for your child.
The pillow and the sleeping bag consist of soft and luxurious polyester fabric.
---
5
Then again, we have the girls' Disney Frozen Three-piece sleepover seats.
The set comes with a sleeping bag, a comfortable pillow, and an eye mask for your daughter.
Its high-quality and durable design will ensure many years of fun sleepovers.
The sleeping bag and pillow seat are the perfect sizes for younger children and toddlers.
---
6
From the brand Kids Nap, we have the buddies range, which comes in various characters and sleeping bags that you can choose from.
The sleeping bags are ideal for preschool sleepovers, and it is a highly portable design.
The kid's sleeping bag and pillow are machine washable and quick drying.
Its hygienic design offers a cocoon that your child can snuggle in comfortably.
---
Index Table: Top Rated Kids Sleeping Bags with Pillow
---
---