A newborn baby sleeps at least 16 hours a day, with this in mind any parent would want to create the safest and most comfortable sleeping area for their little one.
Although a head pillow is not something that a baby would need until a much later stage, there are a few other pillow options to make babies sleep time more comfortable.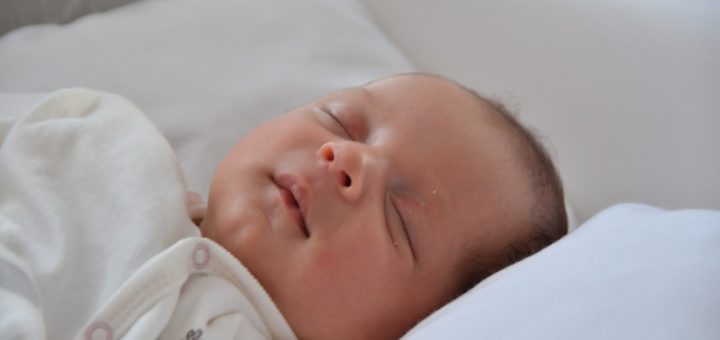 ---
When are Pillows Safe for Baby
Although you may think your precious little one will benefit so much more from a pillow cradling their sweet little head, and why not you use a pillow yourself, it's a DEFINITE NO GO!
Babies and adults are so much different, and a baby by no means require a pillow, in fact, it can be very dangerous.
On average there are over 32 infant deaths a year caused by pillows or props in babies crib. A pillow can block a baby's nose and mouth causing them to suffocate.
In the first couple of months your baby cannot move or roll around much to help themselves out of an award or dangerous position, therefore, less is best when it comes to their sleeping space. Even heavy blankets and soft toys should be avoided in the first few months.
The only pillow types that I would recommend with caution for newborns and young infants are a wedge pillow or sleep positioners.
It is safe to start giving your baby a pillow to sleep on from around 18 months, as soon as the baby starts sleeping in a toddler bed or their own bed.
---
Pillows and Positioners Safe For Infants
Positioning Pillow
A positioner as they are called or sleep positioner can be found in many shapes, there are those who accommodate side sleeping, and those for back sleeping. A sleep positioner basically just has edges restricting your baby from rolling and keeping them in a safe sleeping position.
Wedge Pillow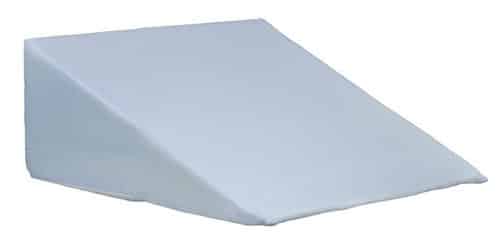 The Wedge pillow, basically what I used for both my babies you can choose to place on or under your mattress at the top of the crib. This is a pillow that has a wedge shape and narrows down to the end, which slightly elevates your baby when sleeping. The elevated level helps with acid reflux and promotes better breathing, particularly when a baby is congested.
The Headshaping Pillow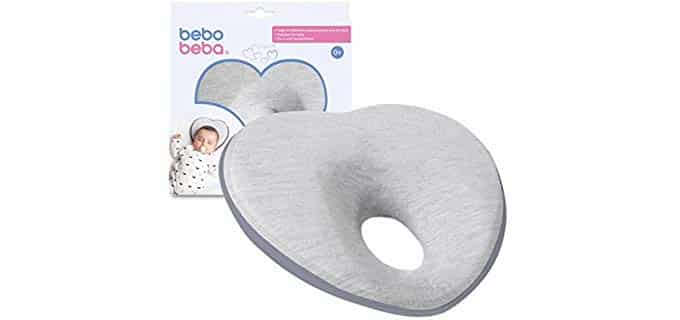 This pillow is designed to cradle and support your baby's head to reduce pressure on a certain side that can cause a deformed head, referred to them as a flat head syndrome in babies.
---
Safe Sleeping Tips for Baby
A few tips that are ideal for baby to sleep safely;
Never place a small or newborn baby directly on their side or tummy the safest position is on their back or slightly to the side.

Do not sleep with a newborn or small baby in your bed or on a sofa.

The safest is for your baby to sleep is in their crib.

Never cover a baby's face with a blanket.

Try to avoid stuffed toys, pillows and loose blankets and bedding.

Babies have a greater chance of overheating than getting too cold, so make sure the temperature is just right, and rather avoid trying to keep baby too warm.

A flat waterproof mattress is always your best option.

Try to keep your baby's cot or crib in your room for the first six months at least for better peace of mind and safety.

---
Reviews: The Best Baby and Toddler Pillows
1
We start with one of the latest innovations in pillows for babies, the Newborn Head Shaping Pillow. This pillow helps to prevent flat head syndrome in babies by perfectly positioning their heads and cradling their necks when the baby is in either the crib, car seat or stroller.
Ideal to use for newborn babies and safe to use in the crib, car seat, and stroller.

This pillow helps to position your baby's delicate head properly so as to prevent flat head syndrome.

The cover is made from 100% soft organic cotton that is light and breathable, and will not overheat.

Naturally antibacterial and hypoallergenic memory foam filling that is ideal for sensitive skins and noses.

---
2
If you have a baby that struggles with reflux or has indigestion often, particularly babies who tend to bring up their milk, this pillow can be a true lifesaver. This pillow positions your baby on their side which will prevent them from choking and aid in reflux and gastric issues.
Manufactured with soft and resilient memory foam that is completely breathable, hypoallergenic, and antibacterial.

The cover is made from 1005 soft velvet that is ideal for infant sleeping.

An excellent baby shower gift that comes beautifully packaged.

Ideal for babies from newborn up to six months.

---
3
I absolutely love this design from Babymoov for newborn and younger babies. This is a cushion that prevents flat head syndrome, as well as a body positioner that prevents baby from rolling, creating a comfortable cocooned space for baby to sleep in.
You can use the Babymoov pillow with all your baby gear, crib, car seat, pram stroller, and even rockers.

It is designed by a pediatrician to effectively prevent plagiocephaly, which is a flat head syndrome in babies.

The ergonomic headrest and body support with padded edges create a snug and comfortable little nest which is the ideal position for a newborn or young infant to sleep in.

This pillow is safe for newborns up to around four months old.

Filled with soft and resilient memory foam and covered with a light and breathable fabric cover.

---
4
The Baby sleep positioning pillow fro Estink has a multipurpose design to keep baby from rolling and to aid in digestion and acid reflux.
Manufactured from durable and firm foam with a breathable mesh cover that is completely damp proof and ametabolic, preventing any bacteria or organisms from growing in the pillow.

A great portable size with a non-slip handle so you can create a safe sleeping environment for baby anywhere.

The handrails are breathable and provide constant airflow, to eliminate the risk of suffocation and to overheat while sleeping.

Very easy to wash and dry, this pillow will keep its shape.

---
5
If you are looking for the best, of the best pillow for your toddler, this is it, no comparison, no competition, the Dreamtown Kids Pillow wins hands down. Though I stress this, this pillow is NOT SUITABLE FOR BABY UNDER 2 YEARS!!
Completely non-toxic and not treated with flame retardants or any other chemicals.

The pillowcase is woven from a cotton and Polycotton recycled blend that is completely hypoallergenic.

The unique synthetic fill and cotton cover will resist mildew and mold as well as mites.

It is designed with the recommendation of a certified chiropractor to be the ideal size and fillfor toddler and children's heads.

It is tested to be 100% safe and antibacterial.

Easy to wash and care for.

---
6
Safe, non-toxic, completely natural, and designed with top chiropractic and pediatrician influence, what more can you ask for in the perfect pillow for your toddler. I would recommend this one for toddlers around 18 months and older, depending on the stage of their development.
This pillow is designed with influence from some of the top chiropractors and pediatricians as well as individually inspected for quality and just the right amount of support.

A super soft organic cotton shell that is dust mite resistant and hypoallergenic.

The polyester fill washes extremely well and will not lose its shape, while being super soft and supportive for little heads.

Completely chemical, flame retardant and toxin free, with a poly cluster filling that contains no GMO's, pesticides or fungicides.

---
In Conclusion
There are so many different opinions and statements when it comes to sleeping safely in younger babies.
General head pillows are only advised for toddlers from around 18 months and older. Sleep positioners and wedge pillows have been introduced as being safe, but there are likewise some controversies surrounding them.
As a mother I used a Wedge Pillow under my babies mattress for slight elevation, to help with breathing and acid reflux, and nothing else, this seemed the safest way for me.
The choice in what type of pillow and when to use it is up to your own personal choice, taking into account that which studies have shown to be true. I believe a baby should only need to use a pillow once old enough to sleep on their own bed.
---
Index Table: The Best Pillows for Babies
---
Please Rate this Article:
---
---