A newborn baby sleeps at least 16 hours a day; with this in mind, any parent would want to create the safest and most comfortable sleeping area for their little one.
Although a head pillow is not something that a baby needs until a later stage, there are a few other pillow options to make babies' sleep time more comfortable.
---
When are Pillows Safe for Baby
Although you may think your precious little one will benefit so much more from a pillow cradling their sweet little head, and why not you use a pillow yourself? It's a DEFINITE NO GO!
Babies and adults are so much different, and a baby by no means requires a pillow; in fact, it can be very dangerous that a baby won't have a pillow.
On average, there are over 32 infant deaths a year caused by pillows or props in babies' cribs. A pillow can block a baby's nose and mouth, causing them to suffocate.
In the first couple of months, your baby cannot move or roll around much to help themselves out of an award or dangerous position; therefore, less is best when it comes to their sleeping space. Even heavy blankets and soft toys should be avoided in the first few months.
I would recommend the only pillow types with caution for newborns and young infants are a wedge pillow or sleep positioners.
It is safe to start giving your baby a pillow to sleep on from around 18 months, as soon as the baby starts sleeping in a toddler bed or their own bed.
---
Pillows and Positioners Safe For Infants
Positioning Pillow
As they are called or sleep-positioner, a positioner can be found in many shapes; some accommodate side sleeping, and those for back sleeping. A sleep-positioner has edges restricting your baby from rolling and keeping them in a safe sleeping position.
Wedge Pillow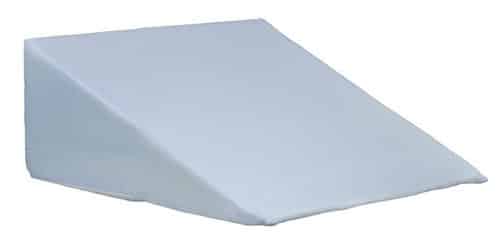 The Wedge pillow, basically what I used for both my babies, you can choose to place on or under your mattress at the top of the crib. This pillow has a wedge shape and narrows down to the end, which slightly elevates your baby when sleeping. The elevated level helps with acid reflux and promotes better breathing, particularly when a baby is congested.
The Headshaping Pillow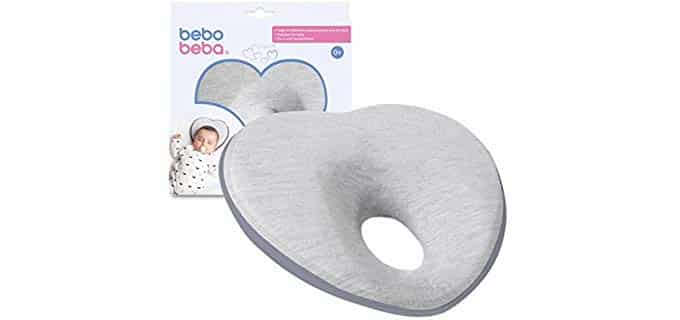 This pillow is designed to cradle and support your baby's head to reduce pressure on a certain side that can cause a deformed head, referred to as a flat head syndrome in babies.
---
Safe Sleeping Tips for Baby
A few tips that are ideal for baby to sleep safely;

Never place a small or newborn baby directly on their side or tummy; the safest position is on their back or slightly to the side.
Do not sleep with a newborn or small baby in your bed or on a sofa.
The safest is for your baby to sleep in their crib.
Never cover a baby's face with a blanket.
Try to avoid stuffed toys, pillows, loose blankets, and bedding.
Babies have a higher chance of overheating than getting too cold, so make sure the temperature is just right, and preferably avoid trying to keep the baby too warm.
A flat waterproof mattress is always your best option.
Try to keep your baby's cot or crib in your room for the first six months, at least for better peace of mind and safety.
---
Reviews: The Best Pillows for Babies and Toddler
---
---
---
---
---
---
---
---
---
---
---
---
---
---
---
---
---
---
---
---
In Conclusion
There are so many different opinions and statements regarding sleeping safely in younger babies.
General head pillows are only advised for toddlers from around 18 months and older. Sleep positioners and wedge pillows have been introduced as safe, but there are likewise some controversies surrounding them.
As a mother, I used a Wedge Pillow under my baby's mattress for slight elevation to help with breathing and acid reflux, and nothing else; this seemed the safest way for me.
The choice in what type of pillow and when to use it is up to your own personal choice, taking into account which studies have shown to be true. I believe a baby should only need to use a pillow once old enough to sleep on their own bed.
---
Index Table: Top Rated Pillows for Babies
---
---