Usually, when your toddler starts to outgrow their crib, it becomes necessary for a toddler or "big kid" bed, including a good toddler pillow.
There are many arguments about when and how toddler pillows should be used and the best options, so we will consider everything to make the most informed decision for you and your toddler.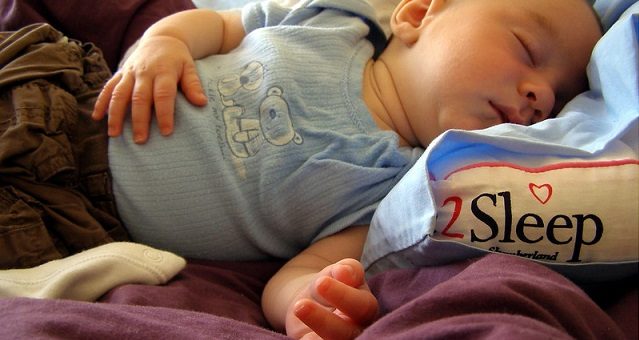 ---
Should You Get Your Toddler a Pillow
First of all, the main question is, should you be getting your baby or toddler a pillow in the first place?
As you will see, there are plenty of warnings about pillows, cot bumpers, and stuffed animals in the bed or crib of a baby as they can cause suffocation risks, and at a later stage can aid your older baby is trying to climb out of a crib and injure themselves. However, I do not think that a flat pillow can be used for climbing or be a suffocation risk for an older baby or toddler that can move around independently.
Babies generally do not need a pillow until they are a certain age. So I would generally not recommend a pillow for a baby under two years old or that still uses a crib.
However, this is debatable, and of course, entirely up to the development and abilities of your baby.
According to studies, the safest and best time to use a toddler pillow is when they are at least two years old and use a bed rather than a cot or crib.
Then again, you also need to consider materials and pillow covers that are hypoallergenic, natural, and safe from potent smells and allergens for toddlers.
Some materials and fills deem to be better than others for your toddler.
Besides just pillows for sleeping, you may also find yourself needing a good pillow for travel to use for the trip itself, and at the destination, in this case, you can look at some toddler travel pillows, that are ideal.
---
Safe Sleeping for Toddlers
So how exactly do you secure your toddler for safe sleeping in their crib or bed?
Most children over two years of age can sleep with a pillow without any risk, so most pillows are safe for them. With Younger toddlers, you will need to implement a few additions and ensure that pillows' selection suits their size and needs properly.
Bed Safety – Bed rails or bumpers designed specifically for adult beds or toddler beds are the best way to secure a toddler when they first start to sleep in their bed.
Pillow Safety – A Flat and firm pillow design will be ideal for them and fully support their neck and shoulders in any sleeping position.
Minimal Bedding – Try to use less bedding and stuffed toys in their bed that can cause clutter, discomfort, or suffocation risks. Rather opt for a single warm and thick blanket and one stuffed toy for their comfort.
Bedside Pads – For additional security, you can also place a fall mat or bedside pad next to the bed of your toddler to prevent injuries should they still accidentally fall out of bed. Or you can use them for training your toddler to sleep without rails, for your peace of mind.
---
Features of a Good Toddler Pillow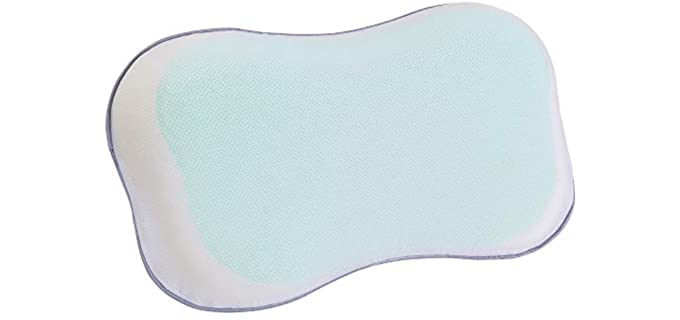 Cover – The Cover of the Pillow should consist of lightweight in breathable materials such as cotton or bamboo. Also, make sure that it is removable for washing. Most Pillow covers for toddlers will be hypoallergenic and dust mite resistant which is ideal. I would also recommend that you purchase an additional waterproof cover, especially for toddlers if the cover is not already waterproof.
Fill – Rather stick to synthetic fills such as memory foam and fibers, as many toddlers tend to be allergic to feathers, or buckwheat and hemp may be too hard. Though you do not want a very soft fill, I recommend polyester and microfiber. However, latex and memory foam are the best foam fills, and they also come in a solid or shredded option.
Support – Your toddler pillow should be a medium-firm loft that is not too soft or hard for optimal support and have a very low loft or design.
Size – A toddler does not need a standard or larger sized pillow. Generally, you get smaller-sized pillows designed specifically for toddlers that perfectly fit toddler beds. The best size would be around ten by 18 or 14 by 16 inches for a toddler. These sizes also ideally fit in a toddler-sized bed.
---
Reviews: The Best Toddler Pillows
Listed below are some optimal choices in pillows for toddlers.
We hope you love the products we recommend!
So that you know, We may collect a share of sales or other compensation from the links on this page.
---
1
The Keababies toddler pillow is rated as one of the best available toddler pillows.
It has an ergonomic design and is tested for proper spinal support for toddlers.
The pillow is durable and fully washable.
It is a natural cotton pillowcase with foam fill.
---
2
The Dreamtown pillow for toddlers and kids is another top favorite.
It is a Chiropractor recommended ergonomic pillow.
The size is ideal for toddlers, and it has a perfectly fitting white pillowcase.
It has a polyester and cotton blend design.
---
3
The Little One's Pillow is a delicate and ideal pillow for toddlers.
It has a natural organic cotton shell that is safe and hypoallergenic.
The pillow is super soft and has a supportive firmer fill.
It is tailormade for toddlers and the perfect size and shape.
---
4
The Little Sleepyhead Store brings you their favorite toddler pillow.
It has a hypoallergenic natural cotton cover.
The pillow has a firm enough fill and is a perfect size.
It is also quite portable.
---
5
From Coop Home Goods, we have a premium toddler pillow.
The pillow is the perfect size at 14 by 19 inches.
It has a low memory foam fill and a soft touch bamboo cover,
The pillow is Greengard certified and adjustable as your child grows.
---
6
The WavveUziz toddler pillow is also a good choice.
It has a memory foam fill and contains cooling gel to prevent overheating.
The pillow is the perfect toddler size at ten by 18 inches.
It also has an ergonomic curved design for proper support and a soft washable cover.
---
Index Table: Top Rated Toddler Pillows
---
---