Some of the links in this post are affiliate links. This means if you click on the link and purchase the item, I will receive an affiliate commission at no extra cost to you. All opinions remain my own.
Hoodies or Hooded Jackets are often one of the most casual clothing pieces worn in and out of the house to provide all-over warmth and comfort against cold and wind.
The Hooded Pillow is a new design that aims to provide the cozy warmth and comfort of a hoodie with a comfortable sleeping aid. This comes in either the form of a neck pillow or a comfortable travel pillow.
---
What Exactly is a Hooded Travel Pillow and Why is it Necessarry
Well, to put it plainly, a Travel Hooded Pillow is essentially a hood with a traveling sleeping aid. You will either have a normal-sized pillow, neck pillow, or inflatable pillow with an attached hood and usually a pillowcase from a T-shirt or hoodie jacket material.
The Hooded Pillow is the ideal Pillow to have when you need to get some shut-eye on a long trip, and here is why;
Light Shield – The Hood on the Travel Hooded Pillow has two drawstrings, just like a standard Hooded Jacket, so that you can adjust the hood around your head to shield your face and eyes from unwanted wind or light, and create a cozy little cocoon for yourself.
Accomodates Ear Phones – Most Hooded Travel Pillows have an oversized Hoodie that is ideal for accommodating your earphones during a long flight or trip.
Comfortable – Commonly, most Hooded Travel Pillows are made from a soft blend of cotton and polyester, basically used in sweat tops, and the pillow will either be inflatable or filled with foam, polyester, or any other filling options for comfort and support.
---
What is So Great About The Hooded Travel Pillow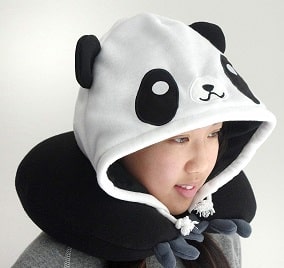 Some Benefits of the Hooded Travel Pillow Include;
Privacy and Darlness – Well, I would say the ideal behind the Hooded Travel Pillow is exactly that, a unique traveling pillow that gives you privacy, comfort, and some blockage from disturbing light.
Comfortable Napping – When you are on a very long flight, bus trip, car trip, or even a train, you might want to take a nap.
Limits Noises – Lights, noises, and other things may cause a disturbance, and you may want to shield your face from other passengers or, maybe, keep warm.
Head and Neck Support – The Hooded Travel Pillow offers you excellent support for your head, neck, and shoulders to sleep comfortably on, while the hoodie creates a sense of safety and shielding and keeps your face and neck warm and cozy.
Space Saving and portable – Most Travel Pillows are inflatable for easy use and storage, particularly when traveling and limited on space, and with the addition of a Hoodie, what could be more perfect?
---
Some Features of the Hooded Travel Pillow
Most Travel Pillows are extremely comfortable and offer superior contours to support your head, neck, and shoulders, particularly in a seated position.
The Hoodie on your Hooded Travel Pillow is designed to block out light, noise, germs, and other passengers' stares.
Hoods on travel Pillows are large enough to accommodate headphones or earphones so you can enjoy your favorite music while encapsulated.
Most Hooded Travel Pillows are inflatable and come with a travel case for easy storage and transport.
The Drawstrings on the hoodie are designed to be easily adjustable for a customizable fit.
Most fabrics used on Hooded Travel Pillows are soft Sweat top material that is lightweight and cozy.
Fillings such as micro-beads, foam, or air, give you firm and comfortable support.
There are plenty of designs and shapes, and colors to choose from to suit your requirements.
---
Reviews: The Best Available Hooded Travel Pillows
Here are some excellent choices in brands of Travel Pillows which also feature a handy hoody;
We hope you love the products we recommend!
So that you know, We may collect a share of sales or other compensation from the links on this page.
---
1
---
2
A fun Character Hooded Pillow is available in different animal characters and color options.
Soft and warm with a comfortable and supportive neck pillow.
Some lovely designs are available that make for the ideal gift.
Warm and plush for wintertime.
---
3
A soft and comfortable Unicorn Hooded Pillow with coral fleece lining and cotton fillings.
Available in four different colors with the unicorn design.
Soft and fluffy, ideal for colder weather conditions.
Offers good neck and head support.
---
4
The Grand Trunk Hooded Travel Pillow comes in the original Sweat Top material and is available in a black, peacock green, slate grey, or crimson red color to suit your mood.
A travel neck pillow that offers superior comfort and support with the addition of a completely closable hood.
The pillow is filled with high-quality and supportive memory foam.
The filling is adjustable to suit your comfort and support needs.
The shell has a soft fleece-like lining and a sweat top fabric Hoodie with an adjustable drawstring.
An adjustable cord lock at the chin area for easily customizable comfort.
---
5
Genuine Picks offers you a high-quality memory foam neck pillow with a fully adjustable hoodie and a handy carry bag for your convenience, ideal for business travels, and will make an excellent gift.
A premium quality memory foam neck travel pillow with viscoelastic memory foam for just the right density to eliminate tension in the neck and shoulders.
It offers superior pain-free rest during travel or even just at home or the office.
The velvet exterior is manufactured from high-quality hypoallergenic material with a zipper closure for easy washing.
A practical and easily adjustable hood with comfortable straps.
Memory foam is likewise highly resistant to dust, mites, mold, fungus, and bacteria.
---
6
One for the Children and youngsters at heart. Hoodie Pillow pals come in a range of fun character designs, such as the Rocket-ship, Bee, Pig, Owl, Dinosaur, and Puppy, in colors for boys and girls.
The ideal travel pal with a napping tool's added versatility and comfort.
Covered in Plush Minky polyester for luxury soft comfort and coziness.
Ideal for car trips, camping, movie nights and sleepovers, and even long family trips.
Plush and comfortable with some fun and colorful designs.
---
7
The High Sierra is a comfortable memory foam hooded traveling pillow.
Filled with premium memory foam.
Attached is a hood to keep light and disturbances out.
The fabric is designed to block out light.
Warm and comfortable design.
---
8
A neck supportive travel pillow with an additional hood.
Filled with soft and pliable microbeads from polystyrene.
A practical hoodie that covers your entire head.
Excellent design for neck support and pain relief.
Adjustable and comfortable design.
---
In Conclusion
So, get comfortable and block out the world with your next trip or a short nap in one of our highly comfortable and cozy Hooded Travel Pillows.
---
Index Table: The best Hoodie Travel Pillows
---
---