When you need excellent back support and pain relief, a lumbar travel pillow may be just what you need, particularly for lower back and spinal support.
Lumbar pillows can provide so much comfort and pain relief; why not invest in a smaller, more compact traveling-size lumbar pillow as well to have comfort at your fingertips wherever you are.

---
What is a Lumbar Pillow
There are so many benefits to a Lumbar Support Cushion or Pillow, here are only a few;
Sitting For Long Periods of Time – One of the top benefits of a Lumbar Pillow is to provide spinal relief and support as well as a back support for individuals who sit for long periods. Your office chair or the chair at home where you spend many hours may not offer you the back support you need and may also cause damage to your spine because of improper posture. Hence, a Lumbar Pillow will ensure you have the correct posture and support to prevent fatigue and pain in your back and lumbar area as well as your neck and shoulders.
Comfort In Your Car – When you drive for long distances or are on the road most of your day, investing in an excellent lumbar pillow, particularly a travel size one, maybe just what you need. Car seats are not designed to provide the best support and cause back pain and body pain, and improper spinal support. A right travel-sized lumbar pillow that fits your car seat will provide you with comfort and support and help to fight pain and fatigue caused by long hours on the road.
In your Bed – If you like to sit up and read or watch television in your bed, a lumbar support pillow will help to support your back and spine and provide a comfortable seating position.
Nursing Mothers – Nursing mothers know that nursing a baby can take some time and sometimes not in the most comfortable positions. Having a good lumber pillow at hand when you need it, particularly a travel-sized pillow, can help alleviate strain from your back and lumbar area. Therefore, give you and your baby a more comfortable and calming bonding space.
---
How a Lumbar Pillow Works
A Lumbar Support Pillow is designed to improve your posture and give you the most comfortable seated position. A Lumbar Pillow is useful for having pain in your back or not and is a healthy and helpful accessory to have when you tend to sit for long periods of time.
Once you have your Lumbar Pillow, you might want to know how to enjoy its full effects. Well, it's so easy to use, but you should appropriately use it for it to perform its full function. If you are seated in your chair, you will place your Lumbar support Pillow vertically across the back of the chair, making sure it fits against the lower part of your back.
Many models come with a strap that you can tie around your chair to keep it from slipping. Your lumbar pillow should keep your head, shoulders, and hips in perfect alignment when seated to maintain your spine's natural curvature. Make sure to place it just below the curve of your back to keep your posture straight.
A lumbar travel Pillow usually comes in a smaller and more compact size or with a carry bag and/ or handles for easy portability.
---
Features of a Good Lumbar Travel Pillow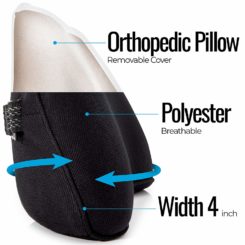 Size – the correct size to fit the chairs or car seat that you are going to be using, yet still compact enough, or even foldable for easy transport and portability.
Materail – Strong and durable cover and a firm and supportive memory foam, gel, or foam fill.
Washable – The cover should be removable and washable.
Closure – Look for secure closure on the pillowcase or cover, such as a zipper, which is your best option.
Durability – Make sure that the design is durable and good quality.
Portability – Portability features such as a carry bag, handles or foldability will come in handy in any travel Lumbar Pillow or Cushion.
---
Reviews: The Best Lumbar Travel Pillows
Here are some of our top picks in Lumbar travel pillows for you to choose from;
---
1
---
2
The Relax Support Lumbar Pillow is available in different firmness options and can be used on your office chair, sofa, and even the car seat for full lumbar support.
Excellent lumbar and lower back support and pain relief.
Additionally, it is filled with premium memory foam, and you can choose between a medium, firm, or soft loft.
Additionally, it fits any type of chair, including your car seat and sofa chair.
Small and compact so you can take it anywhere you go.
Available in a few different color options.
---
3
One of your best Lumbar Pillow options when it comes to portability is the AirComfy, with its convenient travel bag and inflatable design.
It offers comfortable support and pain relief.
You can adjust the size to be firm or soft according to your personal preferences.
Inflatable design deflates to be more compact and fits in its included carry bag for traveling and portability.
Ideal to use in a car or plane for lumbar support and comfort.
---
4
The Thermarest is a Die-Cut foam self-inflating small and compact Lumbar support pillow that offers dense lateral support and comfort.
Available in a blue or purple color variation to choose from.
Offer full lumbar and Dense Lateral support.
Completely Self Inflatable design.
Filled with Comfy dense Die-Cut Foam.
It is covered in a durable and comfortable polyester cover.
Small and compact making it ideal for traveling.
---
5
The Samsonite Half Moon is a highly innovative and supportive soft foam Lumbar support pillow with a portable design and adjustable straps.
It offers exceptional comfort and support to align your spine, improve your posture, and reduce pain.
It comes with a removable soft plush cover that is fully washable and reusable.
There are adjustability straps to fit your lumbar pillow to any chair of your choice.
Easy to travel with and offers superb support on any seat type. Therefore, perfect for long hours of traveling.
Features moldable foam that eventually takes on the contours of your body.
Highly durable design from the finest quality materials.
---
6
A Convex-shaped Lumbar support travel pillow ideal for different chairs and set types.
It offers excellent support and back pain relief.
Also, it contains a memory foam filler with a cooling gel.
Also, the cover is removable and machine washable.
---
7
An ergonomic-shaped Lumbar support Pillow ideal for traveling.
Filled with premium memory foam and that contours to your natural curves.
Additionally, the cover is designed with mesh for breathability.
Supportive and comfortable, offering excellent pain and pressure relief.
---
8
An ergonomically designed back pain relief cushion with a belted design to fit all seat and chair types.
Moreover, perfect for traveling and use on your car seat.
The memory foam supports and cradles your back and keeps its shape.
Larger and thicker design for additional support and comfort.
---
9
Constructed using resilient memory foam to provide optimized firmness for lumbar support.
Additionally, the pillow has a well-ventilated washable mesh cover to keep it clean.
Also, you can strap it anywhere you travel with the sturdy strap attachment it comes along.
Improve your posture and spine alignment with the proper support of your back.
The pillow is designed never to flatten out to give you years of support.
---
10
Get this nonwrinkle super supportive travel roll for back pain relief while you are on the road.
The pillow is made using breathable high-density foam for extra comfort.
Additionally, it has a removable polyester cover that you can wash.
The built-in strap fastens around any chair or seat, even if you are traveling by plane or car.
Also, while you get the lumbar support you need, it'll help you with posture correction.
---
11
The physiotherapist specifically designs the lumbar support cushion to fit the contours of your back.
Hence, it will be perfect for providing you back support and relax you throughout your travel time.
Moreover, it is constructed using hyper foam, which is extra dense to give dynamical rebounding.
Additionally, it comes with a hard-wearing polyester rayon cover, which removable & washable for lasting usage.
---
12
Relive any back pain with this adjustable self-inflatable lumbar support pillow.
The pillow is made to fit in a suitcase in the minimum space while being deflated. Hence, extra space for other essentials.
Additionally, the material is puncture-resistant to make it last long without any worries.
Also, you have full control over how much you want to inflate the pillow as per your needs.
Moreover, it is perfect for people who travel a lot since it is lightweight to roll and carry.
---
Index Table: Top Rated Lumbar Travel Pillows
---
---