Some of the links in this post are affiliate links. This means if you click on the link and purchase the item, I will receive an affiliate commission at no extra cost to you. All opinions remain my own.
Do you experience back pain? Do you find it difficult to get comfortable when you travel? You're not alone. Back pain is one of the most common ailments, and it can be made worse by sitting in a cramped airplane seat or car seat. Luckily, there are ways to make your travels more comfortable. One of them is using a lumbar travel pillow.
A lumbar travel pillow is a small pillow that supports your lower back. It can help reduce pain and improve your posture while seated. If you're looking for relief from back pain or want to be more comfortable on your next trip, consider using a lumbar travel pillow.
Here's what you need to know about them.
---
---
What is a Lumbar Pillow?
There are so many benefits to a Lumbar Support Cushion or Pillow; here are only a few;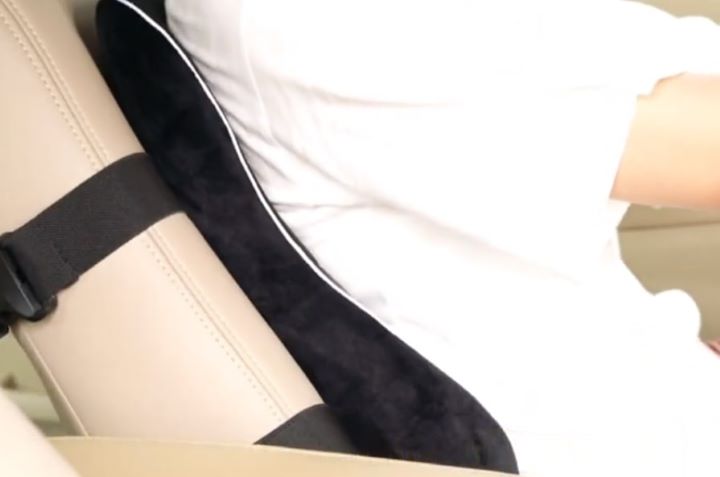 Sitting For Long Periods of Time – One of the top benefits of a Lumbar Pillow is providing relief to the lower back pain and support to individuals who sit for long periods. Your office chair or the chair at home, where you spend many hours, may not offer you the back support you need and may also cause damage to your spine because of improper posture. Hence, a Lumbar Pillow will ensure you have the correct posture and support to prevent fatigue and pain in your back, lumbar area, neck, and shoulders.
Comfort In Your Car – Excellent lumbar pillows are the best when you drive long distances or are on the road most of your day. However, investing in car seat cushions & pillows is also a good idea. Car seats are not designed to provide the best support and cause back pain, body pain, and improper spinal support. The right travel-sized pillows that fit your car seat will provide comfort and support and help fight pain and fatigue caused by long hours on the road.
In your Bed – If you like to sit up and read or watch television, a lumbar support pillow will help support your back and spine and provide a comfortable seating position.
Nursing Mothers – Nursing mothers know that nursing a baby can take some time and sometimes not in the most comfortable positions. Having a good lumber pillow at hand when you need it, particularly a travel-sized pillow, can help alleviate strain from your back and lumbar area. So, could you give yourself and your baby a more comfortable and calming bonding space?
---
How to Use Lumbar Pillow Properly
A Lumbar Support Pillow is designed to improve your posture and give you the most comfortable seated position. It is helpful for pain in your back or not and is a healthy and useful accessory to have when you tend to sit for long periods.
Once you have your Lumbar Pillow, you should know how to enjoy its full effects. Well, it's so easy to use, but you should appropriately use it to perform its full function.
If you are seated in your chair, you will place your Lumbar support Pillow vertically across the back, ensuring it fits against the lower part of your back.
Many models come with a strap that you can tie around your chair to keep it from slipping. When seated, your lumbar pillow should keep your head, shoulders, and hips in perfect alignment to maintain your spine's natural curvature. Could you place it just below the curve of your back to keep your posture straight?
These pillows usually come in smaller, more compact sizes or carry bags and handles for easy portability.
---
Features of a Comfortable and Durable Travel Lumbar Pillow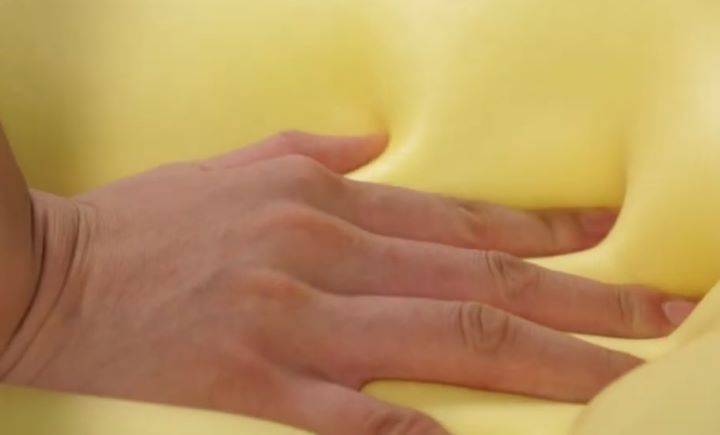 Size – The correct size to fit the chairs or car seat you will be using, yet still compact enough or even foldable for easy transport and portability.
Material – Strong and durable cover and a firm and supportive memory foam, gel, or foam fill.
Washable – The cover should be removable and washable.
Closure – Look for secure closure on the pillowcase or cover, such as a zipper, which is your best option.
Durability – Ensure the design is durable and quality.
Portability – Portability features such as a carry bag, handles, or foldability will be useful in any Lumbar Pillow or Cushion.
---
How We Test and Score Travel Lumbar Pillows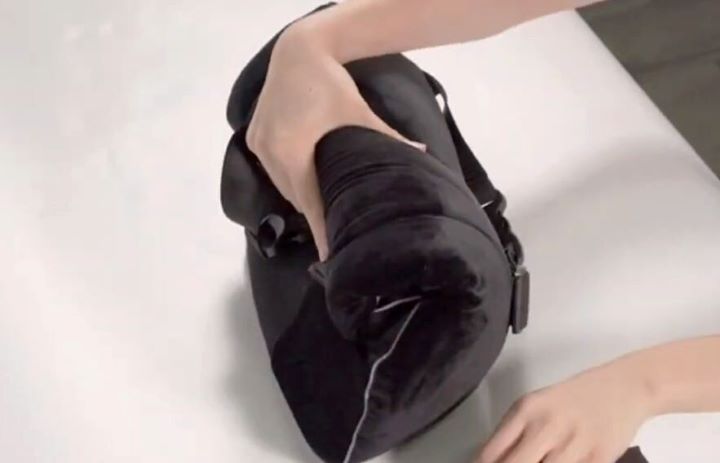 These reviews are based on intense research, analysis, and feedback from our experts and real users from different digital platforms.
We spent 28 hours trying, testing, and scoring these Travel Lumbar Pillows for different key parameters and then shortlisted the best products in the market, saving you time and effort.
We used the following parameters for our tests and analysis.
Maintain Posture – We researched how useful the pillows are in reducing pain and maintaining posture while seated.
Portability – We checked how easy and portable to carry the pillows.
Comfort – We checked how comfortable and safe the pillows were.
Durability – We researched how long users can use these pillows without any reported changes in their quality or design.
Non-Toxic – We researched the pillow's material to ensure it did not cause any allergies and was safe to use.
---
Frequently Asked Questions (FAQ) About Travel Lumbar Pillow
---
Reviews: The Best Travel Lumbar Pillows
Here are some of our top picks in Lumbar travel pillows for you to choose from.
We hope you love the lumbar travel pillows we recommend!
We may collect a share of sales or other compensation from the links on this page.

---
1
---
2
The Relax Support Lumbar Pillow offers different firmness options and can be used on your office chair, sofa, and even the car seat for full lumbar support.
Excellent lumbar and lower back support and pain relief.
Additionally, it is filled with premium memory foam, and you can choose between a medium, firm, or soft loft.
Additionally, it fits any type of chair, including your car seat and sofa chair.
Small and compact, so you can take it anywhere you go.
Available in a few different color options.
| Rating Category | Weight % | Score |
| --- | --- | --- |
| Maintain Posture | 25% | 100 |
| Portability | 25% | 100 |
| Comfort | 20% | 90 |
| Durability | 20% | 95 |
| Non-Toxic | 10% | 90 |
| Total Score | 100% | 96 |
---
3
One of your best Lumbar Pillow options when it comes to portability is the AirComfy, with its convenient travel bag and inflatable design.
It offers comfortable support and pain relief.
You can adjust the size to firm or soft according to your preferences.
The inflatable design deflates to be more compact and fits in its included carry bag for traveling and portability.
Ideal to use in a car or plane for lumbar support and comfort.
| Rating Category | Weight % | Score |
| --- | --- | --- |
| Maintain Posture | 25% | 100 |
| Portability | 25% | 95 |
| Comfort | 20% | 90 |
| Durability | 20% | 95 |
| Non-Toxic | 10% | 90 |
| Total Score | 100% | 94.75 |
---
4
The TETON Sports is a Die-Cut foam self-inflating small and compact Lumbar support pillow that offers dense lateral support and comfort.
Available in an orange/microfiber color.
Offer full lumbar and Dense Lateral support.
It Completely Self Inflatable design.
Filled with Comfy dense Die-Cut Foam.
It is covered in a durable and comfortable polyester cover.
Small and compact making it ideal for traveling.
---
5
The Samsonite Half Moon is a highly innovative and supportive soft foam Lumbar support pillow with a portable design and adjustable straps.
It offers exceptional comfort and support to align your spine, improve your posture, and reduce pain.
It comes with a removable soft plush cover that is fully washable and reusable.
There are adjustability straps to fit your lumbar pillow to any chair of your choice.
Easy to travel with and offers superb support on any seat type. Therefore, perfect for long hours of traveling.
Features moldable foam that eventually takes on the contours of your body.
Highly durable design from the finest quality materials.
---
6
The ideal lumber pillow for people who are always traveling!
The lumbar support pillow with a unique three-dimensional structure is designed to support your lower back.
It helps relieve pressure, distributes, and reduces the burden on your back.
Also, it keeps the spine in the optimal S-shape; resting is a stable posture.
Perhaps the best travel lumbar pillow out there is inflatable; therefore, it barely takes up any place in the luggage.
---
7
An ergonomic-shaped Lumbar support Pillow ideal for traveling.
Filled with premium memory foam that contours to your natural curves.
Additionally, the cover is designed with mesh for breathability.
Supportive and comfortable, offering tremendous pain and pressure relief.
---
8
An ergonomically designed back pain relief cushion with a belted design fits all seat and chair types.
Moreover, perfect for traveling and use in your car seat.
The memory foam supports and cradles your back and keeps its shape.
Larger and thicker design for additional support and comfort.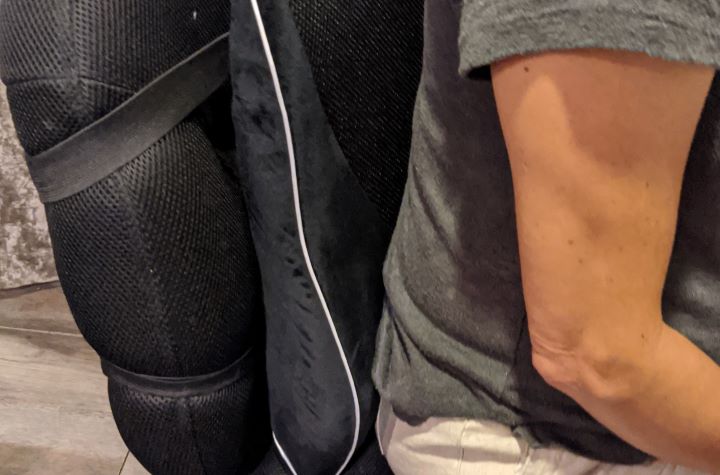 ---
9
It is constructed using resilient memory foam to provide optimized firmness for lumbar support.
The pillow has a well-ventilated washable mesh cover to keep it clean.
Also, you can strap it anywhere you travel with the sturdy strap attachment it comes along.
Improve your posture and spine alignment with the proper support of your back.
The pillow is designed never to flatten out to give you years of support.
---
10
Get this non-wrinkle super supportive travel roll for back pain relief while on the road.
The pillow is made using breathable high-density foam for extra comfort.
Additionally, it has a removable polyester cover that you can wash.
The built-in strap fastens around any chair or seat, even if you are traveling by plane or car.
Also, while you get the lumbar support you need, it'll help you with posture correction.
---
11
The physiotherapist specifically designs the lumbar support cushion to fit the contours of your back.
Hence, it will be perfect for providing back support and relaxing you throughout your travel time.
Moreover, it is constructed using hyper foam, which is extra dense to give dynamic rebounding.
Additionally, it comes with a hard-wearing polyester rayon cover, which is removable & washable for lasting usage.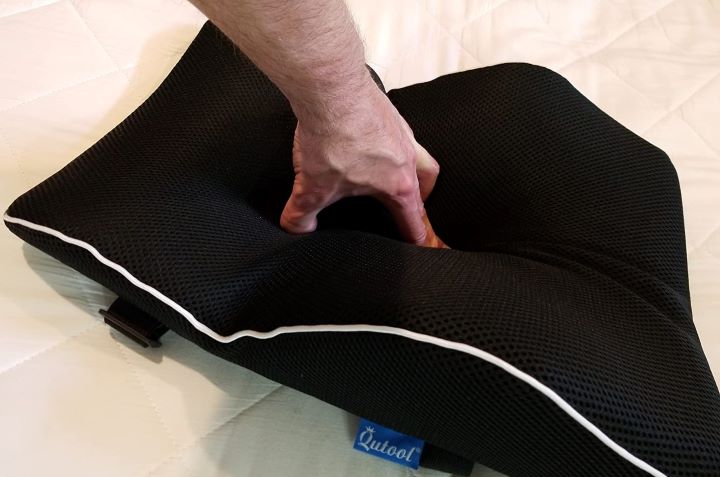 ---
12
This Amazon's Choice product is one of the best options for ensuring support and comfort for your lower back when you travel.
It features the signature TEMPUR material in this back pillow that contours around your unique shape for ultimate comfort.
Besides, the adaptive material of the pillow never loses its shape, providing proper support and alignment for years on end.
And the anti-allergen is breathable and can be removed and washed, making it easy to keep clean.
---
Index Table: Top Rated Travel Lumbar Pillow
---
---