Charisma is a premium bedding and bath brand that manufactures some of the most luxurious bedding and towels.
Down alternative pillows, in their finest quality, Egyptian cotton with high thread counts as well as down and Charisma down alternative pillows.
---
Who is Charisma
Charisma is a company that manufactures and designs towels, bed linen, and pillows with the aim of having the softest and most luxurious-feeling bedding that you will find.
They use materials such as Egyptian cotton along with other technologies and materials to create the most luxuriously soft and most exquisite quality bedding and Down Alternative pillows and duvet inners.
Charisma's main market is the customer with an eye for detail, and that has more discerning and classy taste.
---
What do Charisma Offer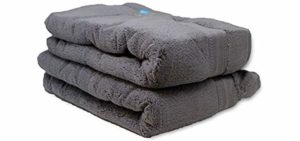 Bath Collection – The Bath Collection from Charisma Includes hand towels, face cloths, towels, and bath sheets that are all made from the finest quality Egyptian cotton with the highest thread count to be extremely soft and luxurious. There are different variations and colors to choose from, along with the choice of a ribbed or plain towel, and different edging and pattern styles.
---

Bedding – The Bedding collection consists of Duvet Covers and pillowcases available in many color and pattern options to choose from for every individual's specific taste and also in size options from single, to double, queen and king-sized beds. The bedding range is also made from the finest Egyptian cotton, or Polyester In very high thread counts, from 310 up.
---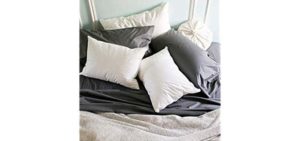 Sheeting and Pillow Cases – Charisma manufactures and designs sheets from fitted to flat in all size options, as well as continental, standard, queen and king, sized pillow covers from the highest thread count pure Egyptian cotton. Once again from a 310 thread count and up, with the choice of a crisp cotton feel or a sateen finish feel. The sheeting and pillowcases are available in a large selection of color options that you can choose from.
---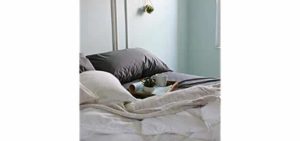 Duvet Inners – Charisma also manufactures Duvet inners similar to their pillows with an Egyptian cotton outer shell from a high thread count and a soft and plush down alternative inner.
---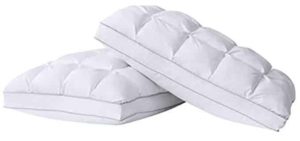 Pillows – One of their most sought after pillow types is the Gel Down alternative chamber fill design pillow which features a cotton and polyester blend pillowcase with a thread count of 400 and Down alternative Gel-infused filling I a chamber like design that is cooling and give soft and plush comfort and support. An alternative to this model there is also the model filled with 50% Suprelle Cocoon fibers and 50% down made from genuine goose down feathers, and covered with a 100% double layered 300 thread count cotton cover. This pillow likewise features compartments fills to keep the fill from clumping.
---
Features of a Good Charisma Down Alternative Pillow
310 up to 400 thread count Egyptian Cotton fabrics are used in the sheets, pillowcases, and bedding.
Down and Suprelle Cocoon fiberfill or an Alternative Down Gel fill in their pillows.
Down alternative fill duvets.
Bedding sets in pure 310 thread count Egyptian cotton.
Pillows are stitched in compartments.
The Chamber pillow has a segmented and extra stuffed side for firmer support as well as a more loose and non-segmented side for soft comfort ideal for those who sleep on their stomach.
---
Reviews: The Best Charisma Down Alternative Pillows
Here are our favorite models and designs when it comes to superior and luxury Charisma Down Alternative Pillows. Also, we would like to inform you that we shall earn a small commission from each purchase made through the links in the article.
---
1
A Luxury compartmented pillow filled with a down synthetic and down feather blend and covered in a soft and luxury cotton cover.
Filled with 50% Suprelle Cocoon fiber and 50% genuine soft and plush Down feathers.
Also, it features a 300 thread Count 1005 cotton sateen finish cover.
They are available in a medium and firm density pillow option as well as different sizes.
It comes in a pack of two pillows.
The pillows have a compartmented structure to keep the fill from clumping.
---
2
One of their favorite models is the Gel Fill Down alternative pillow for its unique cooling capabilities.
There are two chambers; the one side has comfort chamber cushions with added filling for better support while the other has a free-flowing chamber that is ideal for soft comfort and stomach sleepers.
The pillow face is made from 400 thread count blended cotton and polyester.
The fill is completely hypoallergenic and plush with a gel infusion to cool.
The pillow is completely machine washable.
---
3
The Charisma King Coverlet Set is a stylish and elegant Duvet cover set consisting of three pieces made with a high thread count polyester and satin blend.
Consists of a king coverlet and two king shams.
You can choose bed size options.
It is made from tightly woven polyester and satin with a high thread count.
Many color and pattern options are available in this brand.
---
4
This is a stunning Down alternative plush blanket throw from Charisma in a Grey color option.
The Gray cover is made from 100% pure, tightly woven polyester.
It is filled with plush and soft polyester for an alternative down feel.
Also, it is completely machine washable and quick drying.
The Polyester cover and fill are durable and hypoallergenic.
Soft brushed microfiber feel and inner.
There are other colors and patterns available in this brand and range.
---
5
Similar to the previously mentioned Gel Down Alternative Filled Pillow from Charisma, this is their standard twin pack pillow.
You will get a standard-sized firm pillow that comes in a twin pack.
It has a cooling gel down alternative fill.
A 40% cotton and 60% polyester fiber cover that has a 400 thread count.
Additionally, it has a hotel quality design with a satin corded edge.
Filled with a hypoallergenic Gel down Alternative for firm support and comfort as well as cooling design.
---
6
This is the luxury soft and sateen bed sheets and pillowcase sets from Charisma.
Available in different sizes, patterns, and color options to choose from.
Manufactured from the finest quality pure 100% Cotton Sateen.
There is a 310 thread count cotton sateen used for the manufacturing of every item.
Sheets, fitted sheets, and pillowcases available.
Machine washable and becomes softer with every wash.
---
7
Sleep peacefully in this cozy blanket which has a 100 percent cotton make.
You can choose from different colors to suit your room aesthetic.
Also, you can wash the blanket in the machine for quick and easy maintenance.
Moreover, the blanket will get softer after each consecutive wash.
---
8
Get this ultra breathable sheet for your bedroom for an instant change.
It has a percale cotton blend to make it lightweight and suitable for warmer weather.
Additionally, the weave is matte to give it cross air circulation through the night.
Moreover, the long-staple cotton creates softer and tighter sheets that last longer.
---
9
Experience a better sleep on this extra soft microfiber sheet.
Additionally, the polyester used is brushed to impart extra softness.
The six-piece set will give your bedroom a breezy makeover.
The care instructions include machine wash in cold water for maintenance.
---
10
The bedsheet has a brushed microfiber fabric for a silky-soft feel.
Experience a luxurious sleep for longer hours on a better-fitted bedsheet.
Additionally, it is fade and shrink-resistant for more extended durability.
Moreover, the wash instructions are to wash it in cold water. That's it.
---
Index Table: Top Rated Charisma Down Alternative Pillows
---
---