If you are looking for straight-up one of the best pillows in the world, then the "My Pillow" brand is a name to remember.
Unfortunately, being such a high class and sought after brand, the "My Pillow" is quite expensive.
So for those of you who want the experience of a "My Pillow" without a price tag, here are a few excellent alternatives!
---
About the "My Pillow"
Let us first look at exactly what makes a "My Pillow" so special;
"My Pillow" is an extensively advertised trademark in bed pillows manufactured in Chanhassen, Minnesota. This pillow became famous as a result of plenty of television infomercials, and because of its great success in sales and performance.
What is in The "My Pillow"
The "My Pillow" is filled with high-quality polyurethane foam that is shredded into different sized shapes and pieces. These irregular and small shaped pieces, allows the pillow to be easily reshaped to comfort to your body's contours.
Similarly, these irregularly shaped fillings help the pillow to maintain its shape, which results in enhanced comfort and support, which by far surpasses that of most other pillow brands on the market.
---
Benefits of the "My Pillow"
So How will the "My Pillow" or a similar alternative benefit you?
According to sources, this pillow type should help you with migraines, insomnia, snoring, and even fibromyalgia and restless leg syndrome.
Regardless, no pillow brand on earth is a medical device or a cure for any ailments. However, the use of the "My Pillow" or a similar alternative can provide more comfortable, supportive and restful sleep.
On the other hand if the "My Pillow" is not exactly your cup of tea, but you are looking for something similar, then carry on reading!!
---
What to Look for in an Alternative Pillow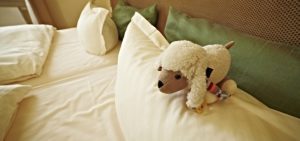 The main thing to look for in a pillow that replicates the "My Pillow" is irregular shaped shredded fillings, whether it be foam, polyurethane, or even buckwheat. The main purpose of the "My Pillow" is to reshape to conform to your body's contours, without permanently losing its original shape.
Then, there is also the cover, look for something in a cotton or natural fiber that is removable, and hypoallergenic.
---
Reviews: The Best "My Pillow" Alternative Available Today
Here are some great options for alternatives to the "My Pillow"
---
---
2
The Official Memory Foam Pillow from NapYou, is another quality brand that closely imitates the "My Pillow."
One of the most comfortable pillows that you will ever own, that likewise offers exceptional support for your back and neck.
It is manufactured from the finest quality Organic Cotton and Polyester.
The Organic Cotton cover is removable and washable, has a soft feel and enhanced breathability.
Inside there is CertiPUR-US certified foam, manufactured without ozone depleters, flame retardants, mercury, and other toxic materials.
This pillow is designed durable yet extremely comfortable and reliable.
---
3
An excellent choice in adjustable loft pillows is the WonderSleep premium, truly an enjoyable experience to sleep on. You can look forward to uncompromised comfort and support, in this plush memory foam, breathable and hypoallergenic pillow.
It shredded memory foam filling that can be removed or added to adjust the firmness of the pillow for a comfortable night's rest.
The premium fabric covering ensures that your pillow stays cool and comfortable during the night.
The shredded memory foam offers personalized support for your head, neck, and shoulders, relieving pain and tension.
This pillow is similarly mite resistant while being hypoallergenic.
---
4
You can snuggle up with the Snuggle-Pedic Ultra Luxury pillow, with its memory foam filling and luxury bamboo cover.
The ideal, hypoallergenic, and adjustable loft combination, for safe and sound sleeping.
Filled with shredded memory foam for superior support and comfort.
Adjustable loft to give you the best customizable sleeping position.
The cover is hypoallergenic and superbly breathable and cooling.
Manufactured from the highest quality Polyester, Lycra, Viscose, and Bamboo fibers.
---
5
There is just none in comparison when it comes to the Casapre Adjustable bamboo and memory foam pillow, I personally prefer this pillow to a "My Pillow" any day.
The hypoallergenic bamboo cover is stitched and designed to offer superior support in itself, while similarly featuring cooling abilities.
The zipper is likewise designed for easier adjustability of the loft of the pillow.
Inside there is shredded memory foam handcrafted to be more breathable and supportive.
These pillows are guaranteed chemical-free and resistant to dust mites and allergens.
---
6
The Pure Comfort Rachel features it all, shredded memory foam, bamboo cover, and all CertiPur certified.
A fully adjustable loft pillow with a mix of shredded Visco elastic memory foam, which can be added or removed to your liking.
The CoolTech construction allows for better ventilation keeping your pillow fresh at night.
No toxic substances, or odor as with other memory foam pillows.
Hypoallergenic and dust mite resistant, the cover is similarly removable and washable.
---
7
A Premium Centi-PUR certified Memory filled pillow with a cooling bamboo cover from Clara Clark, much similar to the My Pillow Brand.
It comes in a two-pack king size option.
Memory foam-filled pillow with a cooling bamboo cover.
Soft and breathable.
Reduces neck and back pain.
---
8
The EnerPlex Never Flat Pillow is filled with shape-holding shredded memory foam that is completely adjustable.
It comes in options for head, body, and knee pillow sizes.
It is filled with Certi-PUR certified memory foam that is shredded for adjustability.
It is covered with a breathable and cooling bamboo cover.
Premium quality design.
---
9
A true My Pillow alternative with luxury design and premium materials for comfort and support.
Available in a standard, queen, or King-sized option.
It is filled with memory foam that is adjustable and soft.
A premium cooling Bamboo cover.
Hypoallergenic and dust mite resistant.
Ideal for all sleeping positions.
---
10
This pillow is made using small shredded pieces of high-quality gel foam filling, that allows for better adjustment.
It comes with a zipper to allow you to adjust the filling according to your requirements and maximize comfort and convenience.
It comes with a breathable and cooling cover that provides optimum ventilation as well as temperature control.
This moldable pillow is CertiPUR-US Certified and designed to reduce neck and shoulder pain.
---
Lastly
If you are looking for a premium pillow, but not quite the "My Pillow", these are some excellent alternatives.
In the end, the magic combination is; Shredded memory foam, and a hypoallergenic, cooling bamboo cover.
---
Index Table: 'My Pillow' Alternatives
---
---