I know the feeling, trying to find a comfortable position to sleep in when you are pregnant in your third trimester, it's a nightmare, not to mention trying to breastfeed with a conventional Pillow.
I came across the Brand Boppy, a very popular brand that sells some of the most exquisite pregnancy and nursing pillows that are so amazingly versatile. Whether you are pregnant, nursing or even bottle feeding, or just someone looking for something comfortable to sleep, Boppy has something for every individual.
---
The Boppy® Pillow in a Nutshell
Boppy sells pillows that are in the conventional C shape for nursing and positioning your infant on, as well as pregnancy pillows for more comfortable sleep positioning, and likewise cradle pillows for infants, and trolley pillows.
The recommended use for the original C shaped Boppy pillow is for breast or bottle feeding your baby, although you can similarly prop your baby in this pillow for tummy time, or as a sitting aid.
If not anything, Boppy pillows are versatile, and there is one for every requirement, the C shaped Boppy pillow being the most popular and the most versatile for moms.
---
Some Uses of The Boppy® Pillow
Like I have mentioned Boppy Pillows are Very versatile, so here is a list of uses for every type of Boppy Pillow that I have included in this article;
The Original C-Shape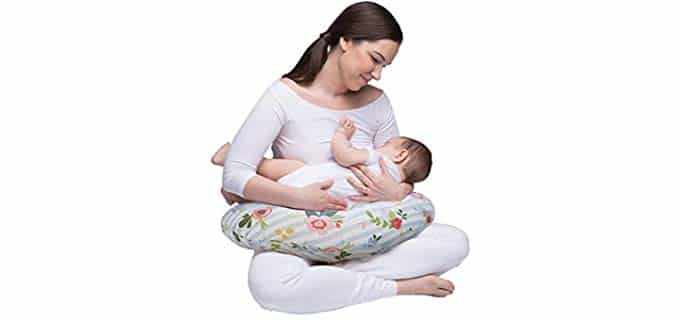 Use as support for breastfeeding your baby; it fits comfortably around any sized waist.
Use as support for bottle feeding your baby, in the same position as nursing.
You can prop your baby on the pillow for tummy time as soon as they can lift their own head.
Ideal for supported sitting during the early stages of learning to sit.
Makes an outstanding and comfortable pillow for mommy to sit in with back support.
Also, an admirable choice as a pillow for your head.
A great "butt" pillow after giving natural birth when everything down there feels like a train wreck.
Perfect for snuggling with your baby to support your arms and baby.
Great to use when a baby suffers from acid reflux or is congested.
Take your Boppy to the delivery room before the baby comes to get comfortable.
Boppy Pregnancy Body Pillow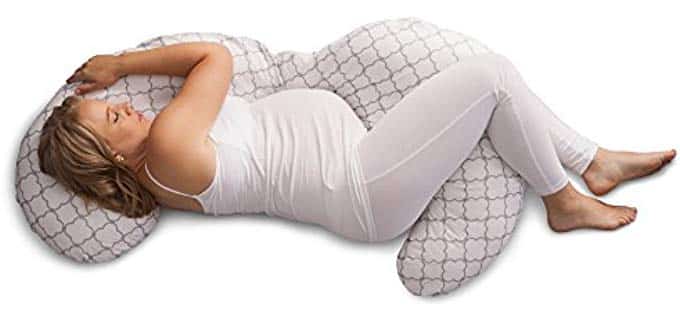 This comes in two shapes the long head to toe support body pillow or the medium width.
The long body pillow can be used to support your entire body when sleeping and can be placed in any position you desire; it likewise makes an excellent pillow for sitting up, and even for cradling baby or breastfeeding.
The medium-sized body pillow can be used at your back for back and leg support or front for belly bump and knee support, and similarly, as a shoulder and neck supporting head pillow.
Both these pillows are not only ideal during pregnancy but can provide relief and comfort for any individual.
The Boppy Baby Newborn Lounging Pillow
This is a small pillow in which you can place a young infant while they are awake with elevated sides to keep them from rolling out.
Ideal for playtime before the baby is old enough to move around. This pillow is portable so that there is a safe play space for babies everywhere that you go.
---
Characteristics of the Boppy Pillow
Soft and comfortable ergonomic contours.
Perfect supportive shape.
Removable and washable slipcovers in a variety of colorful designs.
Versatile use.
Pillow is likewise machine washable.
The Pillow cover is manufactured from Polyester and cotton blended for a soft and smooth feel.
Water-resistant.
Keeps its shape, highly durable.
---
Reviews: The Best Boppy® Pillows
We hope you love the products we recommend!
So that you know, We may collect a share of sales or other compensation from the links on this page.
---
1
This is a versatile and comfortable pillow for nursing and ideal to teach baby to sit in from the Boppy pillow range.
The Boppy nursing pillow can support your baby from 0-12 months in sitting, tummy time, and many other positions.
Offers a comfortable sitting position for nursing with the best back support
The pillow and pillow cover is completely machine washable and easy to zip on and off.
The ideal gift for a baby shower or a new mom.
The cover is manufactured from soft and comfortable cotton and Polyester.
---
2
The Lovely Boppy New Born Lounger can be used anywhere in your home for the baby to spend some awake time in, safely, comfortably under your wakeful eye.
He Newborn lounger can hold a baby from newborn up to when baby can start rolling around and sitting up.
The ideal space for early playtime and awake time.
Soft and comfortable with protective sides to keep baby safely and snugly cradles.
Completely portable and easy to handle so you can have a safe space for baby without any hassles.
There are no batteries, assembly, or inflation required and comes with an easy carry handle.
The Newborn Lounger is very easy to clean and fully machine washable for your convenience.
---
3
The Boppy Nursing Pillow is available in some absolutely stunning and creative cover designs; I have chosen this lovely one with blue and pink posies, ideal for a boy or girl.
A very versatile pillow for breastfeeding, bottle feeding, propping, tummy time, sitting time, and just for you to sleep comfortably during pregnancy.
The miracle middle stretch panel fits most waists easily and absolutely loves those mommy curves.
Cute and colorful design cotton and removable polyester slipcovers with an easy on and off zip closure.
The pillow and cover are machine washable.
Enjoy tummy time with this pillow and easily aids your baby when they start to sit.
---
4
This is the best thing since sliced bread!
well for pregnant women that is, and even if you are not. A complete body pillow designed by Boppy to support you at night, allowing more comfortable and a better night's rest.
The one-piece pillow is offering total body support from head to toe.
This pillow can be used in multiple ways for comfortable sleeping and even sitting.
A unique contoured shape with a removable and machine washable slipcover for further convenience.
Can be used to cradle baby in and positioned to use for breastfeeding.
Extremely versatile, comfortable and therapeutic.
---
5
Similar to the before-mentioned pregnancy full body pillow, the Pregnancy Support pillow offers the same ideal support but is just a much smaller version.
Use it behind you for back and leg support, in front, to support your baby bump, or as a head pillow for neck and shoulder support.
A medium-sized pregnancy pillow for just the right amount of support and double comfort.
A unique contoured shape that cradles your body in any sleeping position.
Filled with soft and comfortable virgin fibers with a machine washable, Jersey grey slipcover.
The ideal size for travel offering you much sought after comfort and relief.
---
6
A stunning nursing and positioning pillow for a little boy. The Boppy Nursing and Positioning pillow come complete with a colorful slipcover with whale pictures on it.
Versatile, water-resistant, and comes with very cute cotton and polyester blend cover with little whales on it.
This pillow can be used in several positions for nursing and bottle-feeding with ease and comfort.
Likewise, this pillow is ideal for cradling your baby in, for tummy time, and as a supportive seat when a baby learns to sit.
Covered with a soft and comfortable Polycotton slipcover that is easy to remove and completely machine washable, along with the pillow.
---
7
This pillow comes in a beautiful Cotton Notebook Pillow allover design.
It provides relief to the arms and back of the mother by lifting the baby to an ergonomic position for feeding.
The pillow provides support to newborns through their entire first year and is multi-purpose.
It offers a removable cover and is machine washable.
---
8
This Boppy nursing pillow is made of a premium quality Cotton blend and comes in a beautiful Grey Taupe Leaves design.
It lifts up the baby to reduce the strain on your arms and shoulders during feeding.
It is designed for toddlers and newborns aged 1-12 months to suit all their needs.
This pillow comes with a zipper for easy usage and is also suitable for machine wash.
---
9
This beautiful Lounger pillow comes in a soft mink fabric for the baby's comfort.
It is embellished with an embroidered crown for a royal princess look and comes in a baby pink shade.
The pillow also features a convenient handle for easy transport.
It is machine washable and high-quality.
---
10
This Boppy pillow is designed especially for side sleepers with its unique design.
It allows you to stay on your side with the two connected pillow for back and front support.
The compact design saves bed space, and the multi-usage design eases the discomfort caused by a baby bump.
It comes with an ultra-soft jersey cover with a zipper for easy on and off and is suitable for machine wash.
---
In Conclusion
Boppy is a brand that overs many innovative pillow designs for pregnant, nursing, and bottle feeding mums to make their lives just so much more convenient and comfortable.
I have chosen a variety of pregnancy, positioning and nursing pillows that are ideal to have for every new mother.
---
Index Table: Top Rated Boppy® Pillows
---
---