For many decades the white Noise Sleeping Machine is has been a compact and popular device used for individuals who struggle to fall asleep or who have insomnia.
The White Noise Sleeping Machine comes in many varieties with many additional sounds and functions today to help improve your sleep or focus.

---
How the White Noise Machine Works
The White Noise Machine describes many mechanical devices and models, from fans to machines that play tracks such as white noise and soothing sounds or music.
These devices are all meant to drown out unwanted noises or noise pollution, help you focus and relax, or get a good night's rest.
White Noise Sleeping Machines, on the other hand, have a more particular function to soothe you to sleep and usually come with auto-shut-off functions and other soothing sounds from which you can select.
---
White Noise Vs Pink Noise
White Noise and Pink Noise can help you focus, meditate, relax or sleep.
Sleep disturbances caused by noise pollution can have some health consequences on our biological systems.
Outside noises can affect the quality and the duration of your sleep, which in turn may affect your performance during the day.
White and pink noise create a buffer by blocking outside noises and masking them with more soothing sounds.
White and Pink Noise can help you enjoy a more solid and peaceful sleeping experience.
As you will see, most of the devices included in my review list include white noise and pink noise options.
But then again, what is the difference between the two?
White Noise – White noise is a noise containing all frequencies across the audible sound spectrum in equal measures. White Noise spans multiple sound bands, sometimes referred to as broadband noise. Many people liken white noise to the static from a radio or television. White noise is known to reduce crying in infants and counteract symptoms of ADHAD and improve your sleep.
Pink Noise – Pink Noise is frequencies of noise that are all audible to the human ears, whereas white noise is not. Pink Noise usually includes deep and soothing sounds, mostly naturally occurring sounds. These sounds include the ocean, rainfall, rustling leaves, strong winds, and a heartbeat in some cases, among many others.
---
Features of a Good White Noise Sleeping Machine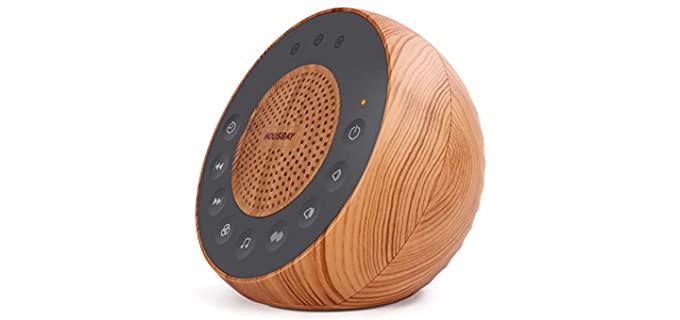 Design – The White Noise Machine is a compact and small design that you easily place on a bed side counter or on and office desk.
Options – Most of the white noise sleeping machines offer you at least 6 up to 40 different sounds. They are natural sounds, white, brown, and pink noise sounds. Most of the white noise sounds are fan based.
Power Options – The white noise sleeping machines may use AC or USB power options, there are some models that are battery operated.
Settings – Other setting include auto on and off timers, as well as volume control, and memory settings.
---
Reviews: The Best White Noise Sleeping Machines
These are some of our top rated White Noise Sleeping Machines that are available today;
---
1
---
2
The Big Red Rooster white noise sound machine is perfect for kids, adults, and the elderly.
The white noise sleeping machine has six soothing sounds: rain, the ocean, thunder, and white noise.
It helps to mask background noises and to improve sleep and concentration levels.
The sleep machine has a plugin or battery power option,
It is portable and ideal for travel.
---
3
For HoMedics, we gave the perfect white noise sleeping machine for you.
The white noise sleeping machine is a portable design that you can take anywhere.
It has six relaxing sounds that are soothing and natural such as rain, the ocean, brooks, and a summer night,
It has a small and compact size for travel and small spaces.
The sleeping machine has an auto timer that shuts off automatically.
---
4
We have the ideal white noise sleeping machine from Jack and Rose for kids, adults, and seniors.
The design is easy to use and portable.
The white noise sleeping machine gas 16 soothing and natural sounds, with a non-looping playlist.
It has a timer, as well as a fully functional memory function.
---
5
Another addition from Magicteam is their white noise sleeping machine with 40 natural soothing sounds.
The sounds include natural rain and ocean sounds, bonfires, crickets, and many other soothing sounds.
The machine has a safety memory function and an auto-off timer.
It uses AC or USB as a power source.
This is the larger model that is not quite portable.
Ideal for all ages and needs.
---
6
The Houseboy white noise sleeping machine offers you 31 soothing sounds.
It is a 5W large stereo sound machine with an auto-off setting and adjustable volume.
There are seven white noises, seven fan sounds, and 17 nature sounds from which you can choose.
It has superior sound quality and volume control.
Ideal for adults and children.
---
7
The LectroFan us a High Fidelity white noise was sleeping machine.
It has a unique non-looping fan and white noise sound.
There is an automatic sleeping timer that you can set so that the machine can power down automatically while you are asleep.
The white noise sleeping machine has ten fan sounds and ten ambient noise variations, including White, Pink, and Brown noises.
There is very precise volume control, and it is powered by AC or USB>
---
8
The Marpac Dohm classic is The Original White Noise Sleeping Machine.
It has soothing natural sounds that are from a real fan.
The white noise sleeping machine has a quality design and offers a customizable, adjustable sound experience.
It is easy to use and has an electrical cord included, as well as very clear instructions for use.
---
Index Table: Top Rated White Noise Sleeping Machines
---
---