Fashionable, decorative, and stylish home furnishings play a key role in designing and making your home feel like home.
Decorations provide color, texture, and aesthetically pleasing properties to every household to give the home an aspect of being complete; in other words, a finishing touch.
One such decorative piece could be a pillow with button detail, which gives interest to many furniture pieces in your home, such as your bed, chairs, or even a sofa.
---
Button Pillows and Cushions for Decoration
A cushion or Pillow has multi-functional purposes; they are for comfort, support, and decoration. So why not choose cushions and pillows that are aesthetically pleasing, decorative, and practical.
The bed pillow buttons could be added as closure or on the Pillow side as a decorative detail. You may sleep on the underside of this Pillow or use another pillow to sleep on, while the buttoned Pillow serves as an adornment.
Small Pillows and cushions decorated or closed with buttons and buttoned details look ideal on your sofa, recliner, or even chairs and add a touch of vintage and classic style to your home.
Likewise, it is easy to take an old pillow or cushion or pillowcase and decorate it with a few buttons lying around the home.
---
Pillow Covers With Buttons
As I have mentioned before, one of the closure types used for many pillow covers is buttons. Most Pillowcases have a foldable or envelope fold closure, while others come with a more secure zipper closure or button closure.
Technically, the buttons are more for embellishment than anything else, but they still function as a closure system.
---
Choosing a Button Detail Pillow
Decoration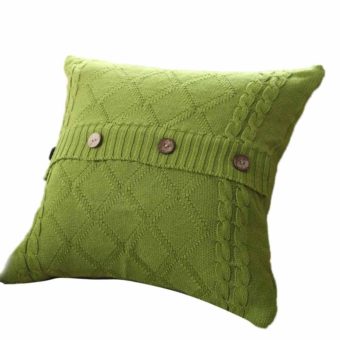 When choosing a Pillow or Cushion with Button detail solely as a decorative piece, your options are much more vast. You can opt for any color scheme, texture, or embellishment that suits your home style.
Fabrics such as velvet, satin, tweed, and silk are gorgeous and appealing. Embroidery, tassels, and buttons likewise make for some stunning trimmings and adornments for further creativity.
The size will solely depend on the use of the Pillow, and where you will be placing it, you can use full-sized pillows with decorative casings on your bed, or you can opt for scatter cushions, bolster pillows, or even larger cushions.
---
Sleeping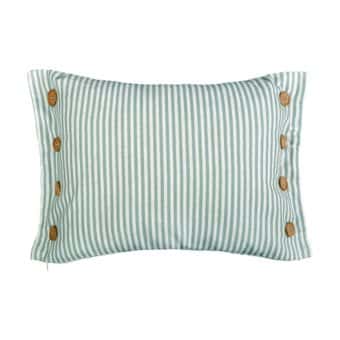 When looking at a button detail pillow for sleeping, I recommend having two sets, one to sleep on, and decorating your bedroom. Otherwise, you can use a Pillow with button details or closure for sleeping; if the buttons do not bother you, you could always turn the Pillow around.
When it comes to sleeping on a pillow, the fill is important, like a decorative pillow. You will need to choose the firmness and adjustability of your Pillow from what your personal preference is. There are great options such as feathers, memory foam, latex, buckwheat, microbeads, or just foam chips to choose from. Cotton is always an affordable and good choice in pillow casing for sleeping on as it is cooling, durable, breathable, and easy to care for.
---
Reviews: Best Button Pillows and Pillow Cases
To help you choose the best one for yourself, check out these top Button Pillows and Pillow Cases.
We hope you love the products we recommend!
So that you know, We may collect a share of sales or other compensation from the links on this page.
---
1
---
2
This pillowcase measures 18×18 inches in size and comes as a pair of 2.
It comes decorated with three stylish buttons on the front that give off an old-school, vintage vibe.
The cover is made of durable, soft, and environment-friendly Linen fabric.
It comes equipped with a zipper for convenience and is resistant to fading and stains.
---
3
Colorful and decorative cotton covers for standard and larger-sized throw pillows.
Available in different color selections with the center three-button décor details.
Premium Vintage design and durable construction.
Easily machine washable and removable cover with a secure closure.
---
4
A Knit Throw Pillow cover made from 100% Cotton with skin-friendly fabric.
High-quality softcover is available in a few color selections with three-button decorative embellishments.
Ideal for 18X18 inch throw pillows and machine washable cover.
Knitted durable design for both indoor and outdoor use.
---
5
The Mukka Three piece is a complete Duvet Cover and Pillow Case Set, which features a convenient and highly ornate button closure system.
Available in three color options, you get two pillowcases with button closures to use with your favorite bed pillows and a duvet cover in the size option of your choice.
Manufactured from 100% microfiber and polyester, with a Linen, Cotton-Like Chambray brushed fabric that is hypoallergenic and breathable.
This material is much more durable, softer, fade-resistant, and wrinkles-free than cotton.
The button ties are on the edge of the pillowcases and a duvet cover, so they will not bother you when sleeping.
Easy to machine wash and tumble dry.
Available in three color options for your taste.
---
6
A stunning bolster Pillow in bright and bold color options, with many versatile uses. I love the indented button details, and the buttons are covered in the same fabric as the rest of the Pillow.
Features a corduroy fabric made from 100% polyester in a large variety of bright and bold color options for you to choose from.
Ideal for back support, reading in bed, sleeping on, watching TV, and offering excellent neck support.
You can likewise use this Pillow as an alternative for a headboard.
Very easy to wash, the cover is detachable and machine washable.
The filling allows the Pillow to offer firm support and completely retain its shape.
---
7
A fun printed vintage-style pillowcase for standard throw pillows with button details.
It is made from high-quality polyester and textured fabric blend.
Lovely colors and textures with button décor.
Hand and Machine washable cover.
Fits standard throw pillows.
---
8
A gorgeous knitted fabric pillowcase with button detail for your throw pillows.
Available in greens and neutrals.
Knitted fabric pillowcase made from soft cotton with button details.
It fits an 18inch to 18 inches sized Pillow.
Hand and Machine washable cover.
---
9
This decorative pillow comes in a dual-colored design in Orange and Beige.
The front is decorated with Coconut buttons for a classic look.
Its simple and elegant design and color scheme make it ideal for any surroundings.
The cover includes a hidden zipper for convenience.
---
In The End
Let's face it, buttons on any pillow make it so much more interesting, whether purely for decoration or a functional closing system.
---
Index Table: Top Rated Button Pillows and Pillow Cases
---
---