Fashionable, decorative, and stylish home furnishings play a key role in designing and making your home feel like home.
Decorations provide color, texture, and aesthetically pleasing properties to every household to give the home an aspect of being complete; in other words, a finishing touch.
One such decorative piece could be a pillow with button detail, which gives interest to many furniture pieces in your homes, such as your bed, chairs, or even a sofa.
---
Button Pillows and Cushions for Decoration
A cushion or Pillow has multi-functional purposes; they are there for comfort, support, and decoration. So why not choose cushions and pillows that are aesthetically pleasing and decorative as well as practical.
The bed pillow buttons could be added as a form of closure or on the Pillow side as a decorative detail. You may sleep on the underside of this Pillow or use another pillow to sleep on, while the buttoned Pillow serves as an adornment.
Small Pillows and cushions decorated or closed with buttons and buttoned details look ideal on your sofa, recliner, or even chairs and add a touch of vintage and classic style to your home.
Likewise, it is easy to take an old pillow or cushion or pillowcase and decorate it with a few buttons lying around the home.
---
Pillow Covers With Buttons
As I have mentioned before, one of the closure types used for many pillow covers is buttons. Most Pillowcases have a foldable or envelope fold closure, while others come with a more secure zipper closure or button closure.
Technically, the buttons are more for embellishment than anything else, but they still function as a closure system.
---
Choosing a Button Detail Pillow
Decoration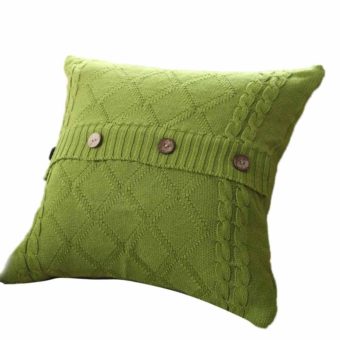 When choosing a Pillow or Cushion with Button detail solely as a decorative piece, your options are much more vast. You can opt for any color scheme, texture, or embellishment that suits your home style.
Fabrics such as velvet, satin, tweed, and silk are all gorgeous and appealing. Embroidery, tassels, and buttons likewise make for some stunning trimmings and adornments for further creativity.
The size will solely depend on the use of the Pillow, and where you will be placing it, you can use full-sized pillows with decorative casings on your bed, or you can opt for scatter cushions, bolster pillows, or even larger cushions.
---
Sleeping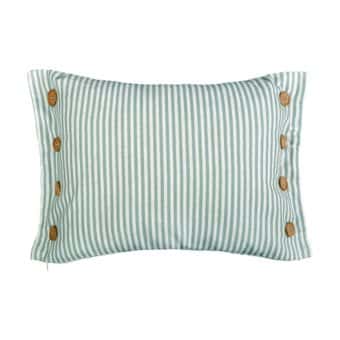 When looking at a button detail pillow for sleeping, I recommend having two sets, one to sleep on and one to decorate your bed. Otherwise, you can use a Pillow with button details or closure for sleeping; if the buttons do not bother you, you could always turn the Pillow around.
When it comes to sleeping on a pillow, the type of fill is important, like a decorative pillow. You will need to choose the firmness and adjustability of your Pillow from what your personal preference is. There are great options such as feathers, memory foam, latex, buckwheat, microbeads, or just foam chips to choose from. Cotton is always an affordable and good choice in pillow casing for sleeping on as it is cooling, durable, breathable, and easy to care for.
---
Reviews: Best Button Pillows and Pillow Cases
---
---
---
---
---
---
---
---
---
---
---
---
---
---
---
---
In The End
Let's face it, buttons on any pillow just makes it so much more interesting, whether it is purely for decoration or a functional closing system.
---
Index Table: Top Rated Button Pillows and Pillow Cases
---
---