Pillows were created for comfortable sleeping, but today they do so much more than that. There is a vast range of pillow types, shapes, sizes, and materials used to create them.
The Bolster Pillow can be a distinctive decorative piece, a support pillow and can be used in any area of the home.
Because of its versatility, a good pillowcase and replacement pillowcase for your Bolster pillow will be necessary at some or other point. Let's know more about some of the best bolster pillow covers.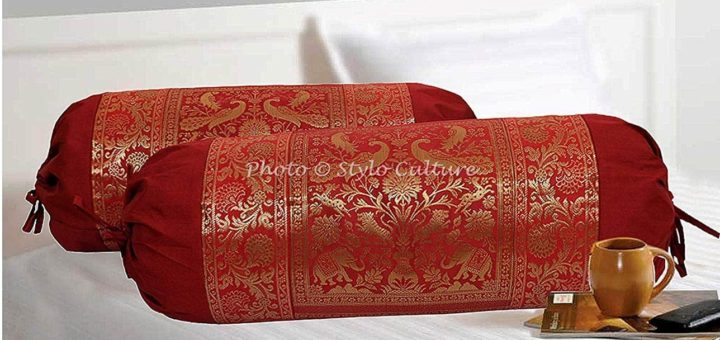 ---
The Bolster Pillow
The Bolster Pillow consists of a long narrow shaped pillow filled with a variety of fibers, which can range from down to cotton, and polyester, along with many others. Apart from that, the Bolster Pillow likewise comes in many sizes; therefore, choosing the right pillowcase to fit your Bolster pillow is quite important.
Bolsters, in general, are usually firm when it comes to their loft and sturdy pillows, they can be used for support, decoration, or just furnishings. Moreover, they also make for a good traveling pillow.
---
Functions of a Bolster Pillow
Sleeping – The Bolster pillow can be used as a knee, body, or back support pillow while sleeping.
Nursery – The Bolster Pillow can be used by nursing mothers to support their baby on. In addition to this, the Bolster pillow is likewise ideal for creating a boundary or bumper on a bed or sofa to prevent baby from rolling off or can be used as a sleep positioner in your baby's crib.
Decoration – The Bolster Pillow is a decorative piece for any area in your home, pair it with a colorful and textured cover, and you can create interest in any area of the house.
Hugs – In many countries where men work a long way from home or are in the army service, their wives would hug a bolster pillow to reduce the feeling of loneliness.
Support – A Bolster pillow works exceptionally well as back support when watching television or sitting up, and even as knee support or to elevate your feet. Place your Bolster behind your neck or shoulders for neck and head support; the uses are endless in this category.
Floor Lounging – the Bolster makes an excellent pillow for lounging or lying down on the floor reading a book or watching television. It is likewise a great choice for children's rooms.
---
Features of a Good Bolster Pillow Case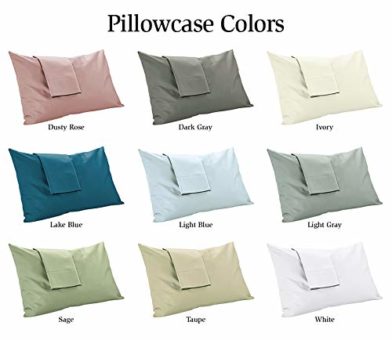 When choosing the best Bolster Pillow Cover there are two deciding factors Functionality, and Decoration,. Are you going to use your bolster pilloe for comfort on a regular basis or is it just decorative, or both?
Fit – Make sure that the pillowcase you choose is the proper fit for your Bolster Pillow. Also, when in doubt, rather go for the larger size. Measure your Bolster pillow and try to find a pillowcase that is the same or closely the same measurements.
Materail – The material will depend on the use of the Bolster Pillow, for a bolster pillow used for support or other functional purposes I would choose a comfortable and hypoallergenic material that is durable and has some stain and moisture resistance, such as cotton, microfiber or polyester. For decorative purposes only, you do not need to sweat the materials and can opt for anything that your heart desires. Depending on the style and theme of your home, you can opt for textures such as corduroy, velvet, satin, and even shaggy feel.
Washable – Particularly for a functional Bolster Pillow Cover, I would opt for a durable material and cover that can be removed easily, and that is machine washable. For decorative purposes, your Bolster Pillow cover will need less washing.
Closure – Make sure that the Closure for the Bolster Pillow cover is durable and secure, as well as allowing for easy removal of the Pillow cover when you need to wash your Bolster pillow cover. Therefore, buy accordingly.
Color – The color is your style and preference, there are as many colors available as material types and more, so depending on the decor of your area of placement, you can choose between bright and bold colors in solids or patterned and printed options. However, you can also go for plain solid colors with soft hues.
Durability – All in all as with anything else you want your Bolster pillow Cover to last, whether it is decorative or functional. Therefore, look for a good quality product that is made from hard-wearing and durable materials. Always opt for trusted and recommended brands.
---
Reviews: The Best Bolster Pillow Covers
Below are some of the best available and best quality functional and decorative Bolster Pillow covers available;
We hope you love the products we recommend!
Just so that you know, We may collect a share of sales or other compensation from the links on this page.
---
1
Super soft and plush Bolster pillow cover that will fit your Jackson Roll Bolster Pillow or a Bolster Pillow of around 17 inches X 7 inches in size.
Made from deluxe super soft and plush velour material that is durable and comfortable.
A durable zip closure.
Available in a few color options for you to choose from.
Will fit a Bolster pillow that is 17 inches by 7 inches in size or the Jackson Roll Model from Therapist's choice.
Score:
97.8
By Daniel Max
---
2
A premium durable and high quality Bolster Pillow Cover that will fit most bolster pillows of around 18 by 8 inches in size.
Completely hypoallergenic and moisture-wicking properties.
Bamboo is a natural and non-irritating material that is highly breathable and aid in cooling.
There is an easy to use a hidden zipper to remove your pillowcase.
Washable and quick-drying design.
---
3
The set contains one pillowcase for your Bolster pillow.
This Bolster Pillow likewise has a ten-year warranty for quality and durability.
It is designed with a four-inch hem.
It also features various beautiful covers.
---
4
This is a very elegant and stylish decorative Pillowcase with a maroon and gold color patterned design for your Bolster Pillow.
It features a Jacquard Brocade border in Gold with a maroon background color and poly dupion design.
The fabric is very durable and highly decorative.
It cylindrical shaped and will fit a 30 by 15 inch large Bolster pillow.
The cover is a super stylish and fashionable piece in your home.
It comes in a set of two Pillowcases.
Hand washable and removable pillow covers.
---
5
Alex Orthopedic is a soft and sheen luxury satin pillowcase from for your orthopedic Bolster neck Pillow.
Designed for the Alex Orthopedic cervical neck Bolster Pillow or to fit a 17 inch by 7 inch Bolster Pillow.
It slips on and off easily for regular washing.
The cover is ideal for a Bolster Pillow with a functional purpose.
Soft and sheer sating that is gentle on your skin, hypoallergenic, and moisture-wicking.
Very durable and long-lasting design.
Incredibly luxurious and appealing.
Available in a neutral color to fit any home décor.
---
6
The LitoTree Bolster Pillow Pillow Case is designed ideally for the LitoTree brand Bolster Pillows.
It is made from soft cotton and polyester.
Machine washable and quick drying ins a soft white color.
Because of the different size options, this pillow cover may also fit other brands of Bolster Pillows.
---
7
This pillowcase is made from all-natural organic cotton with a high 400 thread count for plush comfort.
The fabric is durable and breathable, as well as available in different sizes and color options.
Naturally hypoallergenic and breathable with moisture-wicking properties.
Eco-friendly organically sourced materials are used to make this pillowcase.
---
8
It is made from soft and breathable polycotton.
Washable and quick drying.
There is a convenient and safe zipper closure.
---
9
The bolster pillow cover is made up of high quality 100% cotton.
It fits a full round bolster.
The drawstring closure keeps the bolster from falling out.
Wash this cover and resue whenever required.
It comes in a soft white hue.
---
10
Made in the USA, this bolster pillow cover is perfect for every use.
It is made up of 100% cotton and feels very soft.
This high quality quilted pillowcase is cylinder-shaped and will fit your bolster pillow easily.
While washing the pillow cover, make sure to use cold water and dry on a low setting.
---
11
The lace borders are very elegant and complete the look of your bedroom.
Maintaining this decorative pillow cover is easy. Just wash it with cold water and hang it to dry.
It makes a perfect set of covers for your bedding or living room pillows.
The material features linen and is super soft to touch.
---
12
This beautiful cover is made up of silk and polyster.
It also features a red jacquard brocade border that adds more to its grace.
You can use it in your bedroom or living room and also gift to your family and friends.
It is handmade by expert artisans and makes every part of your room beautiful.
Do not wash it in a machine. Prefer having it cleaned by professionals.
---
Index Table: Top Rated Bolster Pillow Covers
---
---