I love the design and benefits of the Half Moon Pillow; there are just so many uses and features to it.
One thing that is idyllic about the Halfmoon pillow is its exceptional pain and strain relief capabilities and superb support for all sleeping positions and even seating.
---
---
The Half Moon Pillow and Its Benefits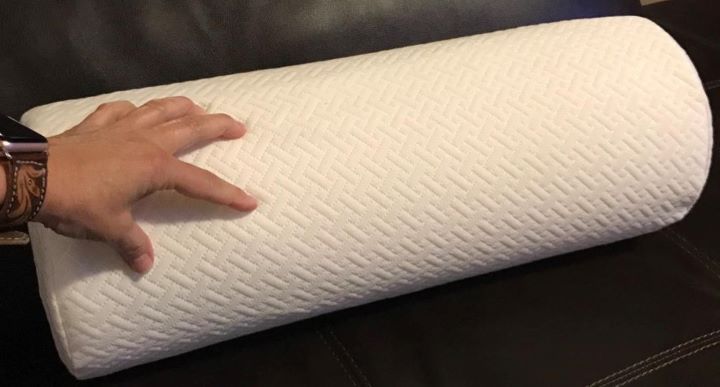 If you have neck, back, hip, or knee pain, among other health issues, or struggle with sleep disturbances and tossing and turning, the Halfmoon pillow may just as well be the answer you are looking for.
A Half moon Pillow is a Bolter pillow that looks like it has been cut in half; this is one pillow that can combine the uses of many other pillow types, such as the lumbar pillow, knee pillow, and hip pillow, all in one.
You can use the Halfmoon pillow behind your neck, in the lumbar area, between your legs, and arms, or even to sleep on; the benefits are endless;
Effective Support – The Half-moon pillow ensures a more relaxed and neutral spinal alignment when you sleep on your side and place it between your legs, preventing knee and hip pain. For effective lower back support, you can use the Half-moon pillow as a lumbar pillow, or for neck support, place it behind your neck, sitting up, or lying down.
Pain Relief – The Half-moon Pillow used for various body areas for support can effectively relieve pain in that specific area.
Slim And Lightweight – The design of this pillow is very slim and lightweight, making it portable, which is another unique advantage.
Better Sleep – You can enjoy a better sleep in general, and because of the support and pain relief, you will likewise have a better and more comfortable sleeping experience.
---
What to Look for in a Good Half Moon Pillow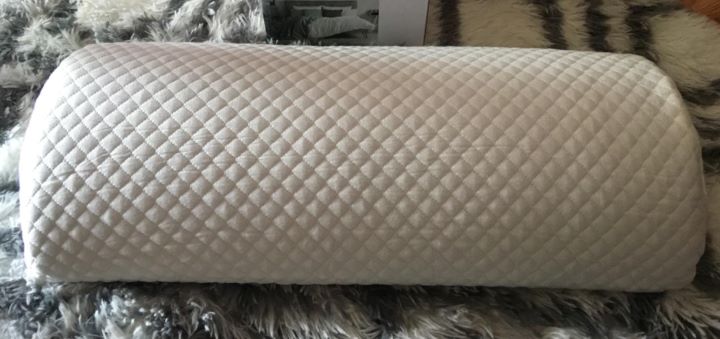 A genuine Half Moon pillow is shaped like a cut through the middle Bolter pillow, which is usually the only shape for what it looks like. Yet the Half-moon Pillow can be found in different sizes, though the dimensions should not be extensively large or small; otherwise, it will not be deemed as effective.
Fill such as memory foam with cooling gel is always the best choice in this type of pillow, though other foams, latex, and memory foam alone can be just as effective.
Always look for a cover that you can wash and remove, preferably from a natural fiber such as Bamboo or Cotton, which are also cooling and breathable Hypoallergenic fibers.
---
Related Articles on Bolster Pillows
---
Features of a Good Half moon Pillow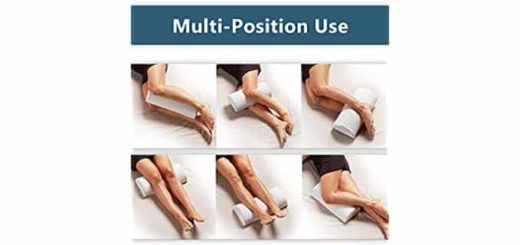 Organic or natural cotton or bamboo cover is removable and washable in your washing machine.
Secure zipper closure on the cover.
A Bamboo, Natural cotton, Microfiber, or Polyester cover design.
It is filled with either Certi-Pur Certified premium solid memory foam or a high-density synthetic or memory foam that offers firm to medium support.
Lightweight and portable design that is easy and comfortable to use.
The right size and shape to fit your body and provide ultimate comfort and support.
---
Reviews: The Best Half moon Pillows
Here are our top choices for Half-moon Pillows;
We hope you love the products we recommend!
So that you know, We may collect a share of sales or other compensation from the links on this page.
---
1
---
2
We have the 4-Position Half Moon Pillow from Coop Home Goods with plush memory foam.
A sleeping, Halfmoon, Bolster, and Wedge Pillow all in one for versatile comfort and pain relief.
Filled with premium and plush memory foam and has a firm feel.
Uniquely adjustable features for the right amount of support.
Signature Lulla fabric and Certi-PUR Certified.
---
3
One of my favorites is the ComfiLife Halfmoon and Bolster pillow for pain relief and therapeutic comfort.
Supports your back, legs, knees, and neck effectively in any position.
It is filled with premium hypoallergenic memory foam that will not flatten.
Multifunctional for all sleep positions.
A breathable soft cover prevents overheating and can be removed and machine-washed.
This design offers exceptional back support and pain relief as a lumbar pillow when seated or behind your neck for neck pain.
Use this pillow between your knees when sleeping for better posture and leg and hip pain relief.
---
4
The Skyzonal Memory foam HalfMoon Pillow ensures optimal ergonomic support and comfort.
Ergonomical design and support for a healthy posture.
Ideal design for individuals who work long hours behind a desk.
Comfortable memory foam base from high-quality memory foam.
Offers superb neck, hip, leg, and lumbar support,
Very easy to clean and maintain, and the cover is machine washable.
---
5
The Abco Tech Halfmoon memory foam-filled pillow will provide optimal comfort and stress relief.
Perfect for all sleeping positions and even seated support ensuring a more relaxed spinal alignment and comfort.
It helps to relieve pain and discomfort and reduces stress.
It can be used as a lumbar pillow behind your neck to support your lower back, as a pillow placed between the legs for knee and hip support, or as a leg-elevating pillow for better blood circulation.
Comfortable and hypoallergenic design with a washable zipper cover and filled with premium memory foam.
It Will stay in place firmly, and the loft will not flatten with time.
---
6
From CushyForm, we have their 15 Inch comfort and support Halfmoon pillow.
It offers practical support and more relaxed and natural spinal alignment when you sleep on your side or back.
It helps to relieve pain in all areas of the body.
Hygenic and comfortable design with a washable and zippered cover.
It is filled with premium memory foam that will not flatten and offers firm support.
Ideal as a lumbar pillow, leg elevation pillow, neck supporting pillow, or even an in-between-the-knees comfort and pain relief pillow.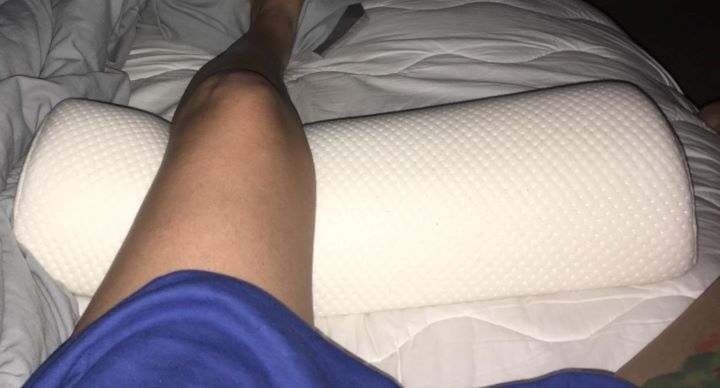 ---
7
A premium, firm, supportive Halfmoon Bolster pillow is filled with comfortable and contouring memory foam.
It is covered with a natural, breathable, removable, washable bamboo cover available in various color selections.
It offers ideal back and lumbar support, neck support, or leg elevation.
Multi-purpose uses and portable design.
---
8
A therapeutic Half Moon Bolster Pillow with versatile uses.
It is ideal for Lumbar or neck support and well-leg elevation.
A firm feels that it is comfortable and supportive.
Covered with a breathable and durable cover that you can remove and that is machine washable.
---
9
A comfortable, firm, supportive Half Moon Bolster Pillow for leg elevation and Lumbar support.
It is covered with a Non-Slip, removable, and machine-washable pillowcase.
You can carry around the portable size with you.
It offers firm and comfortable support.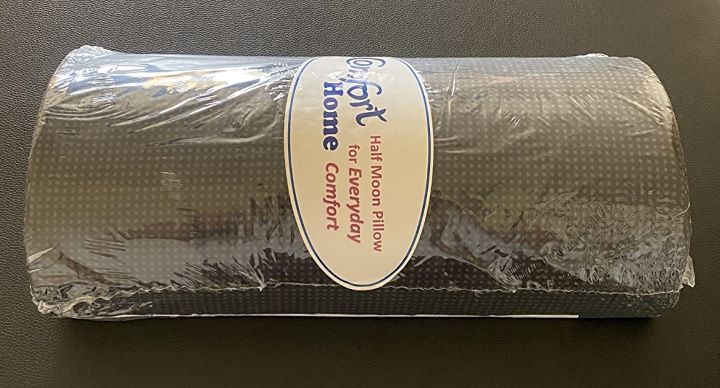 ---
10
This half-moon pillow comes in a soft cover made with 40% Cotton and 60% Polyester.
Its ergonomic shape optimally contours the legs and knees to maximize comfort and support.
The extra elastic strap makes it possible for neck support and ensures that it stays in place.
It is made with 3 inches of high-density base support memory foam and 1.6 inches of gel-infused outer layer for added comfort.
---
Index Table: Top Rated Halfmoon Pillows
---
---