The digital demands of the modern world have diminishing effects on our health and well-being.
Many people are not aware that spine health is crucial to maintaining an overall pain-free status quo inside our bodies.
The lower lumbar region of the back correlates to the rest of the spine, hips, neck, and shoulders.
In case you already experience pain in any of these areas, you should consider buying yourself the best lumbar pillow to suit your needs.
Knowing what the Best Lumbar Support Pillows are will help you to avoid or minimize the results of chronic back problems, which are growing rapidly in numbers every day.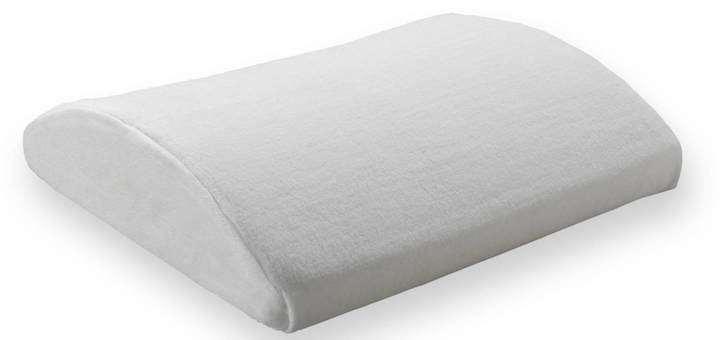 ---
Causes of Chronic Back Problems
Mostly, the causes of chronic back pains or problems lie within how we posture ourselves in our day to day lives.
Sitting at a desk the entire time or driving for hours to deliver your work, is tasking on your back and often you are too busy to be aware that your spine is folding in on itself.
The spine is made up of many vertebrae, which are essentially stacked discs on top of one another.
If one disc is dislodged from it's positioning, the structure of your back will start to cause you pain and not just in the lumbar region.
Having a problem in the lumbar region lets off a chain reaction usually, that affects the upper spine, followed by the neck and how you balance your head and shoulders.
It also affects your hips, possibly causing them to go out of alignment and adding to unwanted pains.
What's worse is letting a back problem continue for extended periods of time without treatment, your muscles will begin to adapt and grow over the new position the bones are assuming.
This makes it longer, more costly to treat and intensifies the pain which will continue to build on a daily basis!
Why Lumbar Pillows Will Benefit Your Body
All the above occurrences can be minimized with a good quality lumbar pillow, if not avoided entirely if you don't have a back problem presently.
By supporting your lower back with the best lumbar pillow for your needs, you can relax about keeping your posture healthy, which will decrease already existing back pains.
Lumbar Pillows should impart an extra element of comfort to promote a better quality of life. They will not only help you manage back pain but will provide the support that improves the way in which one breathes and sleeps.
Getting enough oxygen, sleeping deeply and not being subject to physical stresses (like pain) promotes a healthy immune system and adds to optimal health & well-being.
---
Anatomy of a Good Lumbar Support Pillow
The features of the best lumbar pillow for your unique needs is entirely dependent upon your back condition.
If you suffer from chronic back conditions, like sciatica or multiple sclerosis, you may wish to consult a medical professional on what the best lumbar pillow for your condition is.
If you want to reduce the risk or are only just becoming aware of back pains, usually a lumbar pillow with a rounded shape to match your lumbar region will suffice.
You need a pillow that can provide you with optimal support while taking into consideration the level of comfort you require.
A softer pillow can be recommended for those with spine injuries in the lumbar region, as pressure would be too painful.
---
Reviews: Top Lumbar Support Pillows
Here is our top selection of good lumbar pillows that will ease your back pain:
---
This is a fantastic and affordable solution for somebody looking to reduce the beginnings of chronic back pain symptoms.

The Therm-a-Rest is self-inflatable, giving you full control over comfort and support to best match your unique needs.

This inflation is controlled by a valve that can be operated easily with only one hand, by reaching down at your side.

Optimized for ultimate back support, this lumbar pillow was crafted from die-cut foam and incorporates Pressure Mapping Technology to promote comfort all throughout the day and night!

Compact in size, this pillow is also ideal for car or air travel and can deflate to take up as little space as possible.

---
2
This Lumbar Pillow intends to allow you to have Perfect Posture while being able to relax your back.

This doctor-endorsed product is the ideal solution for you if you suffer from chronic back pain and are not sure where to turn.

Reasonably priced, you can use this Lumbar to support your back while in any seated position.

It's unique design cushions your lower back gently while still giving you enough support to keep your posture perfect, healthy and radiant.

Unlike other pillows on the market, it's made from a natural material and allows your skin to breath just as freely as you will after you buy one!

---
3
Specifically designed with the intent to maximize comfort while working at a desk.

Desk Jockey is a soft option for somebody who demands only the most luxurious support for their lower backs.

Indicated for many back disorders, like sciatica, herniated discs, and disc-related disorders, the Desk Jockey will just allow you to fall in while reducing your pain levels significantly.

The curvature of the pillow promotes healthy spin posture and the material used imprints your unique body shape, adding the valuable degree of comfort you need!

Desk Jockey can be taken anywhere and is portable.

Complete with no toxic chemical additives, this pillow could provide you with the best of both comfort and support.

---
4
If you are going to buy a lumbar pillow, you may wish to buy a beautiful cover to personalize its nature.

This 12 x 18 inch Lumbar pillow cover will add vibrancy to your pillow, as well as allow for it to be used inside or outside.

If you like to sit outside or are a nature lover, this is something you will need to use to prop yourself and pillow up against a tree or nature wall.

This cover will also add some extra protection to your lumbar pillow, especially if you can inflate the pillow. You are certainly less likely to receive punctures with this pillowcase around it.

---
5
Improve your spine health today with this highly portable, cylindrical lumbar support pillow.

The reputations of Original Mckenzie Lumbar Rolls and other products precede themselves and has helped thousands to liberate themselves from lower back pains.

Wedge the pillow exactly where you need support and allow it to ease up your breathing as well as posture.

This product comes equipped with a strap for car seats, chair backs, airplane seats or just simply around your waist.

It can be adapted to suit more than just one function; Use it as a neck pillow or to aid you with sleep at night too!

---
6
A comfortable Lumbar pillow that I ideal for reading or watching television in bed or on your favorite chair.
Memory foam fill.

Firm yet comfortable support.

Backrest design for optimal support.

Customizable design.

---
7
A multifunctional Lumbar pillow from Everlasting Comfort.
Filled with 100% pure memory foam.

Super soft and breathable cover.Orthopedic pain relief design.

Multi-Functional as a lumbar pillow or sleeping pillow.

---
8
The perfect Lumbar pillow for your car set or an office chair.
Extended strap for fitting to wider seats.

A memory foam fill and a soft and comfortable cover.

Improves your posture.

Firm and effective support.

---
Summary Table: Best Lumbar Support Pillows
---
---