You've probably heard a thing or two about memory foam pillows and have now decided to look for one.
On this page, we will discuss all you need to know about memory foam from it's benefits and best features to things you should consider before purchase.
We have also made it very easy by putting together a list of the best king-sized memory foam pillows available for immediate online order. Happy hunting!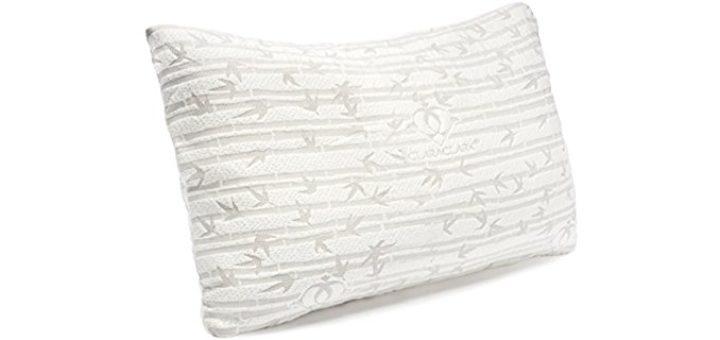 ---
Benefit of a Large Memory Foam Pillow
Having a memory foam pillow will change your life by allowing you to get the sleep you deserve every night. It is one of the best materials that your pillow or even your mattress can be made from.
Memory foam responds to your body heat which causes it to sink in slightly when your head rests on it. The pillow does not let you sink far before it holds your shape perfectly. This provides your neck with the best possible support – that alone will make sleep feel a lot more comfortable!
Many people do not realize that posture is everything. If you sit or stand in an incorrect posture day in and day out, you will probably have back pain and problems. When sleeping in bed, lousy sleeping posture translates into the same, with the added issue of poor sleep quality. By using a memory foam pillow, your spine will be appropriately aligned, and you can rest deeply with ease.
---
Memory Foam Pillow Buying Considerations
Buying a memory foam pillow can be a bit of a hit and miss affair if you don't understand these buying considerations beforehand.
Heat Resistance – Many foam products overheat during the night. This is why it is essential to get either shredded or ventilated memory foam or cooling gel-infused memory foam. Either of these options will ensure that you don't overheat in the night, giving you the best possible sleep.
Breathability – Make sure that you get a breathable cover for your memory foam pillow. Using the pillow on its own may cause unnecessary perspiration. Cotton or rayon (bamboo) are traditionally the best materials to use for a pillow cover.
Sizing – Size is very important! Not all memory foam pillows are the perfect king size. The majority of memory foam pillows only come in standard sizes or smaller. Make sure you get the size you need to fit your bedspread (and your head) perfectly.
---
Features of a Good King Size Memory Foam Pillow
These are some of the best features a king-sized memory foam pillow can have!
Fully Adjustable Thickness – In the case of some shredded memory foam pillows, you can open them to add or remove tufts of shredded foam. This makes them fully adjustable, allowing you to choose at what height you'd like to sleep at.
Dust Mite Resistant – Keep your eyes peeled for dust-mite resistant pillows! Dust mites can bore into the tiniest holes, infesting both foam pillows and mattresses. Dust mite resistant foam pillow will be covered on all sides and won't allow for them to get inside.
Removable Zippered Cover – If you get a pillow that comes with a luxurious cover, make sure you can remove the cover and toss it in the wash. This makes using the pillow more convenient and last longer.
Travel Bag – If you like to travel a lot, then having a travel bag for your favorite pillow is a must!
CertiPUR-US Certified – A memory foam pillow that has CertiPUR-US certification ensures that it is free from a variety of toxic chemicals. Foam manufacturers have to use flame retardants and a few other chemicals to comply with safety standards, however, some are highly destructive to your health. This ensures you avoid them.
---
Reviews: Best King Size Memory Foam Pillows
Here is a top list of king sized memory foam pillows, just waiting to find a new home!
---
This king-sized shredded memory foam pillow is fully adjustable with a removable cover that allows you to insert or take out the stuffing as desired.

The cover is made from breathable bamboo rayon and has a modern geometric contoured design on it, which will aid ventilation of the pillow.

Suitable for those with duck down feather allergies or sensitivities, being 100% hypoallergenic.

Made properly in the USA with the best quality memory foam materials.

This product has been CertiPUR-US certified free of harmful chemicals such as PBDEs, TDCPP, TCEPs and more.

If you're not satisfied, have all your money back within 30-days, no questions asked!

---
2
Snuggle-Pedic prides themselves in making soft pillows that you can truly cuddle up to at night.

This king-sized memory foam pillow is luxurious, providing the right neck and back support without ever falling flat!

Kool-flow technology ensures that this pillow always remains cool, never overheating in the night.

Certified as being Eco-friendly and free of harmful toxins by both Eco-Friendly Biogreen and CertiPUR-US.

Comes with a confident 20-year warranty, because this pillow is guaranteed to last you a lifetime.

Dust mite resistant, hypoallergenic and perfect for anyone who needs a fantastic night of rest, this pillow has it all.

Includes a removable zippered cover.

---
3
This shredded gel-infused memory foam pillow is ultra thick with a pristine cotton cover for maximum breathability.

Support your neck while indulging in superb comfort, as the shredded memory foam takes on your unique shape.

The shredded memory foam encourages ventilation but also is infused with cooling gel and gel beads for optimal heat dispersion.

The cover is removable, hypoallergenic and machine washable for ease of cleaning and comfort.

The pillow will never go flat and can be fluffed up time and time again, lasting you a decent length of time.

Comes with a 3-year warranty.

---
4
This soft memory foam pillow is made from two layers of superb memory foam materials that have both been infused with cooling gel.

The outer layer is made from a thick gel dough that will keep your head and neck cool as you dream away on your pillow.

The inside of the pillow is pure shredded memory foam, lofty with maximum thickness for optimal head support.

The outside is made from a very soft bamboo velour that can be removed and washed in the washing machine.

This pillow is ideal for back and side sleepers, keeping you in your most comfortable position with fantastic posture all night long.

---
5
This very plush king sized pillow is stuffed with the finest shredded memory foam for maximum air flow, ensuring a cool night of sleep.

The cover is zippered and removable, made from a smooth bamboo microfiber that is sure to make you feel as though you are on a cloud!

The pillow comes with its very own travel bag, allowing you to take it with you wherever you go and never miss out on a great night's sleep.

Antibacterial, hypoallergenic and dust mite resistant, you never have to worry about your pillow getting ruined by any infestation.

Supports natural back alignment and perfect posture, making it ideal for those who suffer from back conditions or back pain.

---
6
A King Sized Pillow with Cooling Gel Memory foam and airflow channels for breathability.
Hypoallergenic and dust mite resistant memory foam and cover.

Cooling Gel, technology with an Airflow design.

A removable and washable knit cover with premium stretch fabric that is hotel quality.

Durable and supportive.

---
7
The Plixio is a firm supportive Gel Memory Foam Pillow available in a King size option.
A washable and hypoallergenic Bamboo cover.

Filled with shredded memory foam andCooling Gel.

Helps to alleviate common sleep ailments, and back and neck pain.

Excellent for all sleeping positions.

---
8
A well ventilated and Cooling Gel Memory Foam fill pillow ideal for sleeping in on weekends.
Soft and supportive and CentiPUR-US certified foam.

Offers superb pressure relief.

Filled with premium memory foam and cooling Gel.

A removable cover that is machine washable.

Available in King size and other size options.

---
Index Table: Top King-Size Memory Foam Pillows
---
---