Some of the links in this post are affiliate links. This means if you click on the link and purchase the item, I will receive an affiliate commission at no extra cost to you. All opinions remain my own.
Memory Foam is one of the top Pillow fills used today in many Pillow types and technologies.
However, the right Pillowcase for your Memory foam Pillow can be just as good an investment; furthermore, you can also opt for a Memory Foam Pillow Case with technology today.
---
Memory Foam and Its Benefits
Memory foam is a great and versatile material that has proven its benefits for comfort and support in many items, including pillows, mattresses, and even Pillow Cases.
Memory foam has the unique ability to mold to the shape of your head and body and to respond to heat and pressure, thus evenly distributing body weight and creating the most comfortable and customized sleeping space.
Memory Foam Pillows and Pillowcases have so many benefits, here are only a few;
Improves Sleep – Because Memory foam molds to your shape, it creates the most comfortable and relaxing position for you to sleep in, which improves your sleep quality.
Pressure and Pain Relief – Memory foam reduces pressure points by evenly distributing weight and creating less impact and pressure points. Memory foam also helps to reduce pain and discomfort in your head and neck area.
Skin Health – Because of the pliable and moldable capabilities of memory foam, there is less pressure and friction in your skin, which prevents skin conditions and wrinkles from developing.
temperature Regulating – Memory foam works with your body heat to become softer and more pliable; unfortunately, it can become quite warm during the night. Many memory foam pillows and pillowcases are infused with a Gel film, which dissipates the heat away from your body. Memory Foam Pillow Case options include cotton and bamboo, breathability, and temperature regulation.
---
The Memory Foam Pillowcase
Not a very easy thing to get your hands on; however, there are one or two options in Pillowcases with a thin layer of memory foam.
Other than that, you can opt for a set with a Memory Foam Pillow along with its matching cover designed to fit the Pillow like a glove and made from cooling, breathable, and comfortable materials.
---
Features of a Good Memory Foam Pillow Case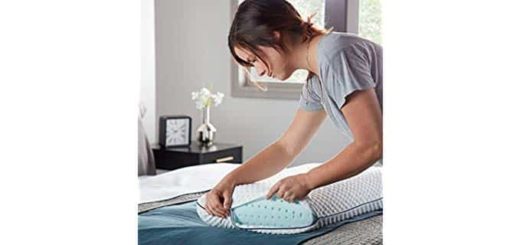 Breathable – The Memory foam Pillow, Pillow Case needs to be cooling, comfortable, and breathable with excellent ventilation properties as memory foam tends to heat up.
Memory Foam or Fits Memory Foam Pillows – There is either a Memory Foam Pillow Case or Pillowcases designed to fit specific memory foam Pillow Brands, shapes, or models.
Memory Foam Pillow and Pillowcase Set – Some Pillows and Pillow Cases in Memory foam come in a set that perfectly matches and complements each other.
Cooling Technology – Cooling technology such as Gel is used in many memory foam pillows and pillowcases because memory foam tends to become warmer with your body heat.
---
Reviews: The Best Memory Foam Pillow Case
Below are some of the most wanted and comfortable Memory Foam Pillow Cases.
We hope you love the memory pillows we recommend!
So that you know, We may collect a share of sales or other compensation from the links on this page.
---
1
---
2
A standard-sized memory foam pillowcase from Bedelite that is lightweight and breathable.
This is a standard-sized pillowcase that is ideal for memory foam pillow.
It consists of natural bamboo materials with cooling technology.
It will prevent overheating from your memory foam pillow.
You get a set of two pillowcases with your purchase.
---
3
From Zisa Dreams, the Cotton and Memory Foma Pillow Case is an absolute must and available in a few ideal size options.
It comes in a Queen, Large, Medium, or small and standard size selection to easily fit most memory foam pillow types.
It is made from 400 thread count cotton with the highest standard and luxury quality for added softness and durability.
It fits most standard-shaped and even necks pillow designs.\a unique and zipper-free envelope closure and machine-washable design.
---
4
These pillowcases' pure mulberry silk fabric is exceptionally smooth and gentle on your skin and hair.
It is so smooth that your facial skin and hair will glide through the pillow while sleeping and leave behind refreshed, fatigue-free skin.
It also keeps your skin hydrated, unlike absorbing cotton moisture off your skin.
These silk pillowcases are also helpful for people dealing with Asthma and allergies.
The hidden zipper closure at the bottom adds to its aesthetics.
---
5
The Bedsure Luxury Pillowcase set comes in four different sizes and package options to choose from.
It comes in standard size options and many colors in a set of two pillowcases.
The Pillowcase is ideal to use on a standard memory foam pillow.
The 100% Pure Bamboo cover is hypoallergenic, breathable, and absorbs moisture to keep you dry and cool.
A very durable design and crafted to last very long.
---
6
From Eucoz, we have a premium pillowcase for contoured memory foam pillows.
The Pillowcase is designed especially for contoured memory foam pillows.
There are a few color options and striped options available.
The Pillowcase consists of soft brushed cotton.
There are also two size options available.
---
7
The Ideal cover for your memory foam pillow.
Soft velvet pillowcase.
Comes in different size and quantity options.
Removable and machine-washable design.
---
8
A Zip-Up closure design removable pillowcase for Memory Foam Pillows.
It is made from naturally soft and breathable rayon.
Thick, durable, and comfortable.
Available in different Pillow size options to choose from.
---
9
A soft and breathable pillowcase for your memory foam pillow.
An Oeko-Tex certified Luultra bamboo-derived Vicso fabric is used blended with soft polyester.
Luxury and soft satiny feel against the skin.
All-season breathable pillowcase that is completely noiseless.
---
10
This Pillowcase is specially designed for contour pillows, including memory foam pillows.
It is made using 100% Polyester and high-quality Rayon fabric.
The cover comes embellished with golden thread and is designed to be thick and durable, with an additional zipper for convenience.
It is wrinkle and crease-resistant, as well as breathable.
---
Index Table: Top Rated Memory Foam Pillow Case
---
---