Memory Foam is one of the top Pillow fills used today in so many Pillow types and technologies.
However, the right pillowcase for your Memory foam Pillow can be just as good an investment; furthermore, with technology today; you can also opt for a Memory Foam Pillow Case.
---
Memory Foam and Its Benefits
Memory foam is a wonderful and versatile material that has proven its benefits for comfort and support in many items, including Pillows, mattresses, and even Pillow Cases.
Memory foam has the unique ability to mold to the shape of your head and body and to respond to heat and pressure, thus evenly distributing body weight and creating the most comfortable and customized sleeping space.
Mero Foam Pillows and Pillowcases have so many wonderful benefits, here are only a few;
Improves Sleep – Because Memory foam molds to your shape, it creates the most comfortable and relaxing position for you to sleep in, which improves your sleep quality.
Pressure and Pain Relief – Memory foam reduces pressure points by evenly distributing weight and creating less impact and pressure points. Memory foam also helps to reduce pain and discomfort in your head and neck area.
Skin Health – Because of the pliable and moldable capabilities of memory foam, there is less pressure and friction in your skin, which prevents skin conditions and wrinkles from developing.
temperature Regulating – Memory foam works with your body heat to become softer and more pliable; unfortunately, it can become quite warm during the night. Many memory foam pillows and pillowcases are infused with a Gel film, which dissipates the heat away from your body. Memory Foam Pillow Case options also include cotton and bamboo, which are breathable and temperature regulating.
---
The Memory Foam Pillowcase
Not a very easy thing to get your hands on; however, there are one or two options in Pillowcases with a thin layer of memory foam.
Other than that, you can opt for a set with a Memory Foam Pillow along with its matching cover designed to fit the pillow like a glove and made from cooling, breathable, and comfortable materials.
---
Features of a Good Memory Foam Pillowcases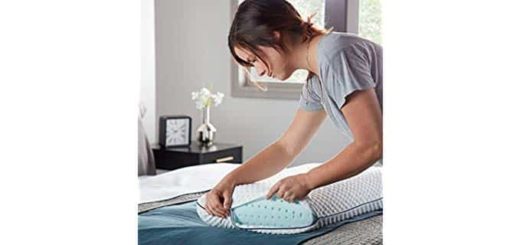 Breathable – The Memory foam Pillow Pillow Case needs to be cooling, comfortable and breathable with excellent ventilation properties as memory foam tends to heat up.
Memory Foam or Fits Memory Foam Pillows – There is either a Memory Foam Pillow Case or Pillowcases designed to fit specific memory foam Pillow Brands, shapes, or models.
Memory Foam Pillow and Pillowcase Set – Some Pillows and Pillow Cases in Memory foam come in a set that perfectly matches and complements each other.
Cooling Technology – Cooling technology such as Gel is used in many memory foam pillows and pillowcases because memory foam tends to become warmer with your body heat.
---
Reviews: The Best Memory Foam Pillowcases
Below are some of the most wanted and comfortable Memory Foam Pillowcases;
---
The Gotcha Memory Foam Pillow Case has a slightly contoured design and a smooth and silky finish.
A combination of 100% combed cotton woven into a 310 percale for a crisp and clean feel.
It is a smooth and hand-finished design that offers a luxury satiny feel.
Available in neutral color selections to make coordinating much easier.
It fits most Medium Neck Temprupedic and standard memory foam pillows.
---
2
A standard-sized memory foam pillowcase from Polar Sleep that is lightweight and breathable.
Skin-friendly blended cotton and memory foam that keeps you cool and comfortable at night.
Eco-Friendly design and construction with safe and non-toxic materials.
The perfect standard size that fits most standard-sized and memory foam pillow types.
Excellent quality and craftsmanship with long-lasting durability.
Score:
98.8
By Daniel Max
---
3
From Zisa Dreams, the Cotton and Memory Foma Pillow Case is an absolute must and available in a few ideal size options.
It comes in a Queen, Large, Medium, or small and standard size selection to easily fit most memory foam pillow types.
It is made from 400 thread count cotton with the highest standard and luxury quality for added softness and durability.
It fits most standard-shaped and even necks pillow designs.\a unique and zipper-free envelope closure and machine-washable design.
Score:
98.5
By Daniel Max
---
4
The Casapre Pillow and Pillowcase is the perfect memory foam duo you will find, complete with a breathable and comfortable pillowcase.
The Casapre pillow is designed with specific decompression materials that help to improve sleep patterns.
The pillowcase consists of
The fill can be replaced or reduces for complete adjustability.
It offers an ergonomic and contoured shape for optimal support and comfort.
Filled with premium Memory Latex Foam, Which is breathable and moldable.
Score:
98.2
By Daniel Max
---
5
The Royal therapy Luxury Memory Foam Pillow and Pillowcase set comes in four different sizes and package options to choose from.
It comes in either a Queen or King size with the choice of only two or an extra pillowcase.
Adjustable memory foam-filled pillow that is ideal for all sleeping positions and offers an excellent spinal alignment.
The 100% Pure Bamboo cover is hypoallergenic, breathable, and absorbs moisture to keep you dry and cool.
Very durable design and crafted to last very long.
Score:
97.7
By Daniel Max
---
6
From Weekender, we have the premium Memory foam pillow complete with a cooling pillow case.
Available in a standard, queen, or king-sized size selection to choose from.
A soft and supportive Certi-Pur Certified Memory Foam pillow for excellent support and pressure relief.
It is covered with a breathable and cooling cover that is also machine washable and removable.
The pillow is likewise infused with cooling Gel to regulate temperatures and keep you cool at night.
Score:
97.4
By Daniel Max
---
7
The Ideal cover for your memory foam pillow.
Soft velvet pillowcase.
Comes in different size and quantity options.
Removable andmachine washable design.
Score:
97.1
By Daniel Max
---
8
A Zip-Up closure design removable pillowcase for Memory Foam Pillows.
It is made from naturally soft and breathable rayon.
Thick, durable, and comfortable.
Available in different Pillow size options to choose from.
Score:
96.6
By Daniel Max
---
9
A soft and breathable pillowcase for your memory foam pillow.
An Oeko-Tex certified Luultra bamboo-derived Vicso fabric is used blended with soft polyester.
Luxury and soft satiny feel against the skin.
All-season breathable pillowcase that is completely noiseless.
Score:
96.3
By Daniel Max
---
10
This pillowcase is specially designed for contour pillows, including memory foam pillows.
It is made using 100% Polyester and high-quality Rayon fabric.
The cover comes embellished with golden thread and is designed to be thick and durable, with an additional zipper for convenience.
It is wrinkle and crease-resistant, as well as breathable.
Score:
95.8
By Daniel Max
---
Index Table: Top Rated Memory Foam Pillowcases
---
---