Do you suffer from acne on your face? Did you know that your pillowcase could be making your acne worse? If so, you know how frustrating it can be to find a solution that works. Here's some good news: there are steps you can take to help reduce breakouts. One of those is using a special pillowcase designed for acne-prone skin.
We will also discuss the effects of your pillowcase, specifically on your acne, how it can aggravate your acne, and how to prevent it.
---
---
Common Skin Problems Related to Pillowcase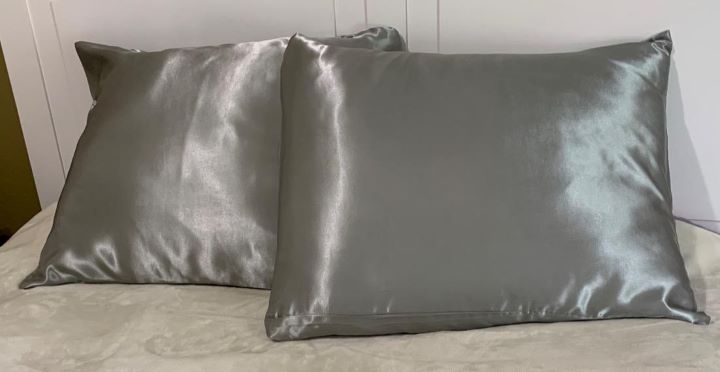 You can face the following problems due to dirty pillowcases –

Acne Breakout – One of the most common skin problems people experience is an acne breakout. Washing your face regularly can help, but you're just re-infecting yourself if you don't change your pillowcase. Pillowcases collect oil and dirt from your hair and skin, so it's important to wash them frequently. If you don't, you could end up with a nasty breakout.
Dry Skin – Another issue that dirty pillowcases can cause is dry skin. When your skin doesn't get enough moisture, it can become dry and flaky. This is especially true in the winter when the air is colder and drier. If you're using a fabric softener on your sheets, ensure it's also gentle enough for your skin. You might want to try using a hypoallergenic pillowcase to see if that makes a difference.
Allergies – Do you suffer from allergies? If so, you might want to consider switching to a hypoallergenic pillowcase. Dust mites are one of the most common allergens, and they love to live in pillows. If you're allergic to them, you could have watery eyes, a runny nose, and sneezing fits every time you lay down on your pillow. A hypoallergenic pillowcase will help keep the dust mites away so you can sleep in peace.
Wrinkles – Have you ever noticed more wrinkles on one side of your face than the other? It's not just your imagination. Sleeping on a wrinkled pillowcase can cause wrinkles. The fabric can bunch up and create lines in your skin, eventually turning into permanent wrinkles. If you want to avoid this, smooth out your pillowcase before bed.
Pillowcases are important to keeping your skin healthy, so don't neglect them! Washing them frequently and using a hypoallergenic option if you have allergies will help keep your skin looking its best. And if you're worried about wrinkles, try using a silk pillowcase to minimize the risk.
---
Pillow Cases Materials That May Aggravate Acne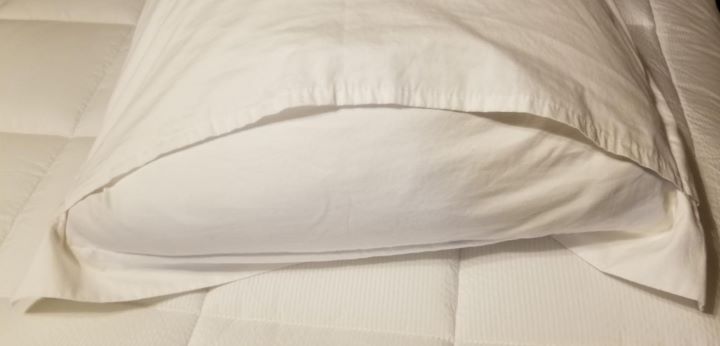 Some Pillowcase designs and Materials can aggravate your Acne;
Microfiber – Microfiber is a cheap synthetic material used quite a lot in bedding and pillowcases. The material has a soft feel but is not absorbent and will keep dirt and oils trapped on the pillowcase's top layers, which can aggravate your acne.
Polyester – Polyester pillowcases come in many forms, with different technology types, and are sometimes blended with Cotton. Though polyester blends can help with acne, most polyesters do not breathe well and are not absorbent.
Abrasive designs – Any pillow case with abrasive materials, ridges, frills, or decorations can scratch your face and, in turn, aggravate spots and acne on your face.
Also, there are
high-quality copper pillows
as well that have copper infused in them that help prevents acne. Take out some to check them out as well.
---
Related Articles on Pillow Cases
---
Suitable Pillow Case Materials That Prevents Acne


I have found four types of pillowcases that are not only excellent for your skin and hair in general but that likewise prevent acne and reduce further exacerbation;
Silk Pillowcase – Silk helps absorb oil while retaining our skin's natural moisture; it also acts as an antibacterial remedy and is likewise hypoallergenic and non-chafing or irritating.
Synthetic Silk – Synthetic silk manufactured from Poly-cotton and microfiber weaved to feel like silk is similarly hypoallergenic and aids in c absorbing oil and being non-irritating to the skin.
Silver Ions – Silver ions provide a natural antimicrobial effect reducing blemish-causing bacteria, and are equally hypoallergenic, non-toxic, and non-irritating.
Copper Oxide – Copper oxide is a mineral that aids in boosting collagen and elastin, the two key ingredients in skin rejuvenation and restoration. Hypoallergenic and moisturizing, it is also much softer against the skin.
Bamboo – Bamboo is naturally hypoallergenic, antibacterial, and resists dust mites, mold, and mildew. Bamboo has a soft texture against the skin and is all-natural and temperature regulating, which helps because sweating can cause acne breakouts.
---
Reviews: The Best Anti-Acne Pillow Cases
We hope you love the products we recommend!
So that you know, We may collect a share of sales or other compensation from the links on this page.
---
1
---
2
The Silver Ions are an excellent choice in pillow Case materials to prevent acne breakouts and similarly fight acne.
Manufactured from ionic silver embedded in a pure and natural cotton blend, which stays soft, fresh, and crisp against the skin.
The Silver Ionic Pillowcase from Hygiene is explicitly designed to target acne and be non-allergenic, preventing further breakouts.
This pillowcase will ensure you the maximum protection against odors and pollutant collections.
It is hypoallergenic as the construction prevents the build-up of allergens, a perfect pillow for toddlers and adults.
The Ionic silver will prevent the growth of bacteria and germs, which may cause acne and irritation.
This pillow will stay fresh and clean wash after wash, quality guaranteed.
---
3
The pillowcase is a premium beauty product made with Tencel lyocell that feels like silk against the skin and prevents clamminess and irritation.
This Eucalyptus cooling pillowcase is highly breathable and wicks away moisture while you sleep at night.
And this is not only the best pillowcase for acne but is also eco-friendly as all the materials used are ethically sourced and recyclable.
This premium beauty pillowcase prevents acne and flare-ups while you sleep at night.
---
4
The Mulberry Alaska Bear is a silk pillowcase for acne; it is all-natural and will help absorb oil from your skin while retaining natural moisture not to dry out the skin. Not only is this pillowcase ideal for acne, but it also wrinkles and preserves your skin's natural beauty.
This fine-quality Mulberry silk pillowcase is available in a large variety of rich and fabulous color options for you to choose from.
A 600 thread count 100% silk pillowcase is satiny smooth, strong, and durable.
Hypoallergenic and completely breathable to keep you fresh and comfortable all night.
Assist in controlling and absorbing excess oil while keeping your skin naturally moisturized.
Chemical-free, with no synthetic colors, and hand-made with top-quality craftsmanship to fit most queen-sized pillows.
It Envokes a deep and restorative sleep, good for your hair, skin, and emotional well-being.
---
5
Bamboo is naturally hypoallergenic and antibacterial and, therefore, an outstanding option in a pillowcase when you suffer from acne or even just allergies in the Cosy House, Premium collection.
This pillowcase is breathable and will stay crisp and cool all night.
Thermal regulating abilities that ideally balance your body heat as you sleep.
Bamboo is naturally antibacterial and hypoallergenic, making this pillowcase perfect for acne and allergies.
The bamboo and microfiber blend makes this pillowcase extremely strong and durable and will not tear or shrink with washing.
Completely wear and tear-resistant and fully machine washable.
The pillowcase is available in a set with many attractive color options for you to choose from.
---
6
When you look at skincare products to regenerate and boost your skin, collagen and elastin are the prime ingredients of the Copper oxide in the NewMeil. Wan pillowcase not only stimulates collagen and elastin production in your skin but is likewise anti-bacterial. So, in the end, you have an anti-acne and anti-aging remedy in one pillowcase.
Cooper oxide naturally boosts elastin and collagen production, which has exceptional regenerative and restorative properties for your skin and hair.
The copper ions in the pillowcase are antibacterial and will prevent bacteria and odor in your pillow.
The copper entering your body through this pillowcase is fully metabolized and safe.
The copper is infused into each thread of the pillow not to wash it out.
This pillowcase likewise features a natural bacteriostatic environment ideal for sleeping acne-prone skin.
---
7
Not entirely silk, but close enough. This pillowcase is easier on the pocket but still provides outstanding results. The synthetic silk is similarly antibacterial and hypoallergenic while being less harsh and abrasive on your skin and hair.
It is made from a premium mix of polyester and microfiber with a special weave to give it a satin finish.
Dermatologically recommended for allergies and acne-prone skin, and clear pimples and acne.
It is very easy to wash, and air dry rather than tumble dry will retain its shape and long-lasting comfort.
Throughout the year, you can enjoy this pillowcase as it offers excellent temperature control with the luxury feel of a satin pillowcase.
Completely hypoallergenic and offers exceptional anti-bacterial benefits while controlling excess oil on your face.
Another excellent feature is that it controls your hair's frizzing so you can wake up with a smooth and manageable hairdo every morning.
---
8
This Amazon's Choice product is designed to elevate your beauty sleep as it is ideal for preventing wrinkles, fine lines, and acne.
Its revolutionary fabric keeps your skin hydrated and does not tug on your hair follicles while you sleep.
These best pillowcases for acne are super soft, luxurious, and ideal for a restful night's sleep.
And the high-quality Satin is sturdier, more durable than silk, and machine-washable.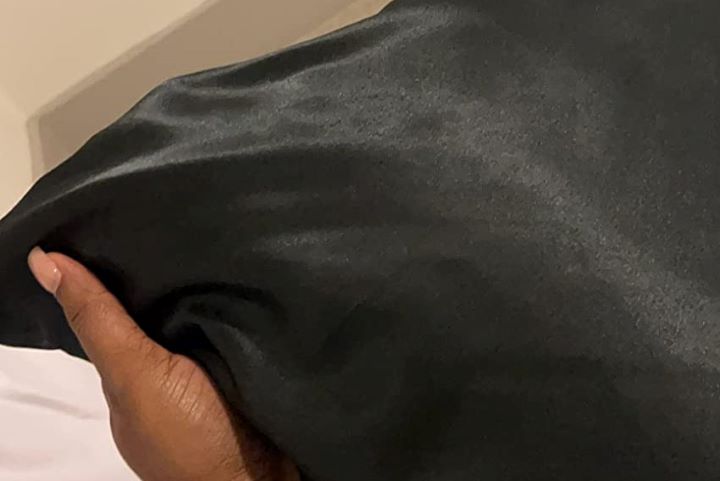 ---
9
The MMLK Anti Acne Pillowcase is made with a safe level of silver and prevents acne.
The fabric is made with the highest quality materials and has been rigorously tested in independent laboratory research.
Besides, this pillowcase is made of 96% soft, renewable A-grade bamboo fabric and 4% Pure Silver fiber.
Moreover, this Amazon's Choice product is made of bamboo fiber, a high-quality, breathable, and natural material. Therefore, the pillow is ultra-soft and environment-friendly.
---
10
The Ravmix is made from pure mulberry silk with excellent skin health benefits.
Breathable and hypoallergenic Mulberry silk from the purest grade.
Ultra-soft and smooth against the skin.
Silk is, likewise, a natural temperature regulator.
There is a hidden zipper closure.
---
11
A two-pack signature pillowcase offers superb friction resistance, which is ideal for acne.
It is made from Polyester satin, which has reduced friction.
Easy care and machine washable pillowcase.
It fits most standard pillow styles.
Made in the USA.
---
12
Egyptian Cotton is one of the most luxurious and purest forms of Cotton you will find, and with the 1000 thread count, the touch is silly and premium.
The Highest Quality Egyptian cotton is used to make the pillowcase.
The Pillowcase has a 1000 thread count and a sateen weave for a soft and silky feel.
There are a few colors available from which you can choose.
Cotton is the ideal breathable and non-aggravating material for acne and helps prevent fine lines and wrinkles.
---
13
The 400Thread count natural cotton pillowcase is ideal for acne, as it is breathable and soft against the skin.
The pillowcase has a 400-thread Count weave that is dense and soft.
The Pillowcase is free from all harsh chemicals and additives.
Only natural Cotton is used to make the pillowcase.
You can choose from various colors and some size options available in the cotton pillowcase.
---
In Conclusion
As you can see, I have chosen the best Pillowcase from each material type, all with incomparable benefits for the health of your skin, as well as acne clearing and prevention advantages.
These are the top brands with superior results in each of their classes, the type of pillowcase you require is up to you. Each comes with unique features, and all are excellent choices for Acne management.
---
Index Table: Top Pillow Cases for Acne Prone Skin
What Causes Acne & What Aggravates it
Acne is a skin condition that occurs when the hair follicles on your skin become clogged with oil and dead skin cells, causing a pimple, whitehead, and sometimes, a blackhead to form. This usually appears on your face, chest, back, or shoulders.
---
Although whiteheads and blackheads tend to occur because of excess oil and dirt on the skin, Acne, which is often larger pimples or cysts, can develop from other reasons unrelated to skincare or health.
Acne can be present in teenagers and adults; some adults may never outgrow this condition; however, there are many treatments and similar cures for this condition, even in its most extreme case.
Causes
Excess Oil Production.
Clogged hair follicles.
Bacteria.
Excess hormone production (androgens).
It is genetically inherited.
Hormonal Changes.
PMS in women.
Friction or pressure from pillows, cell phones, clothing.
Greasy substances or facial products that you may be allergic to.
Stress.
---
---