Elevating Your legs can have many health benefits, particularly if you suffer from an injury or condition where this is necessary.
The right Pillow can make a huge difference in the comfort, support and healing process for elevating your legs.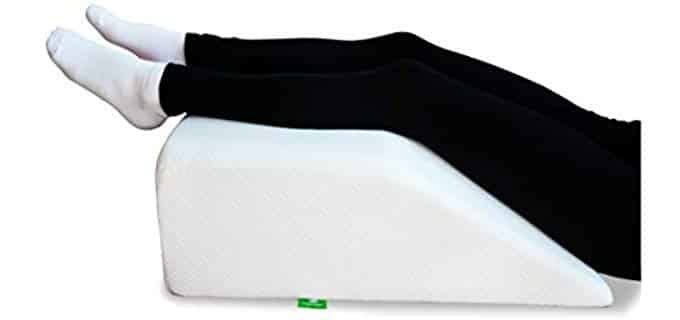 ---
Benefits of Leg Elevation
Elevating your legs, even just for 6 to 12 inches above the heart takes the pressure of the leg veins and improves blood flow through the veins in your legs, and throughout the rest of your body.
Other than that sleeping with your legs, elevated may just feel amazing and more relaxing.

Injury HealingElevating your legs may be necessary if you have an injury as it speeds up the healing process and takes the pressure of the injured areas.

Post Surgery – After Leg surgery, your legs will need to stay elevated for blood flow, to prevent clots and speed up healing.

Feels Comfortable – Elevating your legs when relaxing or sleeping feels comfortable and relaxing all in itself.

Pain Relief – You can sooth back, leg and even foot pain just by elevating your legs.

Insomia Cure – Elevating Your Legs when sleeping may just be the cure you are looking for for that dreaded insomnia.

Healthy – Elevating your legs has been proven to improve blood circulation and reduce strain which is excellent and beneficial for your entire body's well being.

---
Some Leg Elevation Don't's and Tips
Many physicians have chosen elevation as an effective method to treat veins, blood flow issues, as well and pain and swelling. This is a simple and affordable treatment, yet it should still be performed with proper care and techniques for the best health benefits;
Not Using a Support or Pillow – Not using a soft and supportive pillow, and just opting for the armrest of the couch, a hard chair or wall, actually places strain on your legs and causes blood to pool rather than to circulate.

Medical Conditions – Conditions such as Congestive Heat failure and Peripheral Arterial disease may prohibit you from elevating your legs as this could cause further harm.

Bad Habit Replacement – Never use the benefits of Elevating your legs to relace bad habits that cause poor circulation and pain in the first place. These bad habits may include, smoking, no exercise, unhealthy eating habits, and wearing high heels and improper footwear.

Not Elevating Long Enough – You need to elevate your legs for at least 15-20 minutes, uninterrupted at a time to reap any benefits at all, otherwise you are just wasting your time.

Lying on a Short Surface – You need to lie down on a surface that allows you to extend your entire body fully to reap the full benefits of elevating your legs, so therefore a couch may not always be as effective.

Proper Positioning – Before elevating your legs make sure that you have a proper posture laying down, and that you are not twisting your neck and back. Your back neck and head should be properly aligned and flat.

Straight Legs – Never keep your legs completely straight when elevated, the need to be slightly bent. And on the contrary, do not bend the excessively.

The Right Pillow – Unfortunately a regular pillow just is not as effective, you need a proper pillow for leg elevation that is the right size and shape for your body.

---
Features of a Good Leg Elevation Pillow
Filled with durable and comfortable Memory Foam, or foam.

A bamboo or cotton, removable and washable cover.

Shaped to support your legs fully and the correct size.

Filed with firm high density foams.

Non-Toxic and Hypoallergenic materails.

---
Reviews: The Best Leg Elevation Pillows
Below are listed our top choices in Leg Elevation Pillows;
---
1
The Hermell Zero Gravity Leg Elevation Pillow is ideal for use post surgery and for sore and uncomfortable legs and feet.
Offers exceptional pain relieving Zero Gravity alignment, maintaining the correct posture for your lower back and spine.

A wide circumference for a more comfortable platform for your legs to rest on.

Made from durable high grade polyurethane foam with a cotton blended cover.

The cover is removable and machine washable.

---
2
A comfortable memory foam leg wedge and elevation pillow with a washable natural cover.
Filled with layers of premium memory foam that molds to the shape of your body for ideal support and comfort.

Offers superb back, leg and hip pain relief and is ideal to use post surgery or injury.

Greatly improves blood circulation and keeps your body in an optimal position.

The memory foam used has a high density for firmer support.

There is a comfortable natural breathable and removable cover that can be machine washed.

---
3
The Restorology Elevating leg Pillow is filled with plush foam and helps to improve circulation.
The ideal height for effective support and pain relief, while giving to more natural spinal alignment.

The dense luxury foam will not flatten and lose its shape with time.

There is an extra wide platform for you to comfortably place your legs on.

Also comes with a removable and machine washable cover.

---
4
A perfectly natural Bamboo and foam wedge Leg Elevation Pillow from Zen.
A durable, removable and machine washable blended Bamboo and microfiber cover.

Ideal height for spinal alignment and pain relief.

Larger platform for better legs and foot placement.

Very high density and durable foam filling that will not flatten.

---
5
A comfortable and supportive memory foam filled Leg Elevation Pillow from ComforLife.
Offers the perfect height to improve blood circulation, relieve pain and give you a more natural posture.

Filled with the finest quality high density memory foam.

The density of the foam keeps its shape and has a firmer loft for better support.

Arger platform for a comfortable space for your feet.

The durable cover is removable and machine washable.

---
6
From MonMed we have the orthopedically designed post surgery Leg Elevation Pillow and foam wedge design.
Designed specifically as a medical recovery and pain relief device for individuals recovering from injury or surgery.

Reduces swelling of the legs and feet as well as water retention and ensures much better blood circulation.

The pillow is very user friendly and offers a comfortably sized platform to rest your legs and feet on.

Filled with premium high density foam that will keep its shape.

A durable and hypoallergenic cover that is removable and can be washed in your washing machine.

---
Index Table: Top Rated Leg Elevation Pillows
---
---