Anyone using a CPAP machine to improve their breathing and sleep apnea during the night knows the struggles of getting comfortable. You have a mask pressing on your face causing painful indentations, and similarly the risk of tubes getting caught, and mask leaks.
Therefore choosing the right pillow, that will accommodate all the fittings and trimmings of your CPAP machine, will make all the difference in giving you a comfortable and good night's rest.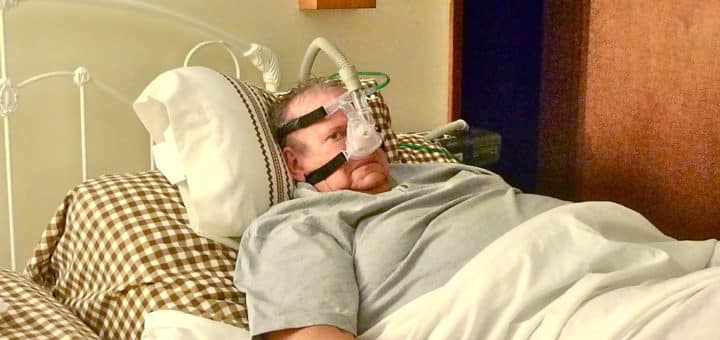 ---
CPAP Uses and Components
A CPAP mask and air pump deliver mild air pressure to your upper airways while you are sleeping.
Depending on the machine the air pressure may be constant or variable there is likewise an automatic version, the APAP that have built-in algorithm to deliver variable air pressure tailored to an individual's needs.
The function of a CPAP machine is to provide constant or variable air pressure to your upper airways, in order to prevent it from collapsing, which in turn allows you to breathe normally when sleeping.
---
CPAP Effectiveness
CPAP is the most effective non-surgical treatment available today that aids in obstructive sleep apnea.
This is a widely used choice of treatment for sleep apnea, that is overall very effective in managing obstructive sleep apnea, and similarly snoring.
---
Pillow for CPAP Accomodation
Not only for CPAP users but likewise, those who use a BiPAP, or APAP, a high-quality pillow that accommodates the machinery without obstructing your sleep routine is absolutely imperative.
There is nothing as bad as sleeping uncomfortable, and this can also affect your daily duties and routines, as lack of sleep will leave you lethargic and unresponsive.
A suitable CPAP pillow should allow you freedom of movement, as well as accommodation comfortable sleep in multiple positions, such as your back, sides, and stomach.
A good quality memory foam pillow that is contoured, supporting both your sleep posture and likewise the CPAP machine, is precisely what you should be looking for.
Look for some of these features;

Memory foam, shredded memory foam, or a poly fiber blend fill.

Adjustable loft design.

Comfortable in all positions of sleep.

Variable loft positions.

Available in different size options.

A waterproof and washable cover is a good idea, but optional.

---
Reviews: The Best Pillows to Use with a CPAP
Here are some of our top choices when it comes to CPAP pillow.

---
1
The Hermell Softeze is designed specifically to provide a comfortable and supportive nights rest for both CPAP and BiPAP users.
It has a ergonomic design ideal for sleeping in multiple positions that will offer you the best support, and accommodation for your CPAP machine.
Ergonomically design that supports and contours your body while giving ample room for CPAP equipment.

CPAP compliant.

Covered in a high-quality material that is comfortable and wicks away moisture to keep you cool, while controlling heat.

Hand filled with polyester fiber that has been siliconized to offer you the best loft and prevents allergen build up.

The pure cotton cover is removable and hand-washable for even more convenient use.

---
2
The memory foam filled Endurimed has a sloped design allowing you to easily sleep with a facial or nasal mask, including tubing, while offering you plenty of room to move freely.
Contains fewer pressure points that can cause pressure or leaks, in order for you to breathe easily and get a good night's rest.

Soft enough to be comfortable, yet firm enough to support your head, neck, and spine correctly.

This pillow is compliant with CPAP, BiPAP and APAP machines.

This pillow similarly enables you to sleep in any position, on your back, side or stomach.

The Endurimed memory foam pillow offers you the highest quality and most innovative design in CPAP pillows.

---
3
The CPAP Max from Contour Products is yet another exceptional CPAP compliant pillow, with all the trimmings that you could require for a comfortable and fuss-free sleeping position of your choice.
A dual-sided memory foam pillow allowing you to choose a pillow type of your requirement.

Pressure free cut-out zones that will not interfere with your CPAP equipment and tubes.

The ergonomic design contours to position you into you the perfect alignment while sleeping.

A concave center gently cradles your head while supporting your neck and shoulders.

The dense foam layer offers excellent firm support while the charcoal-infused high resilience foam layer neutralizes odors.

Finally, you have an extended hose tether for improved hose control.

---
4
This is an excellent choice for a side sleeping pillow for CPAP users that prevent pressure point soreness and likewise leaks from pillow interference.
Quilted side panels create a distinct edge that allows your mask to hang comfortably over the sides of your pillow, to prevent uncomfortable pressure points.

This pillow works wonders with all nasal, full face or nasal pillow style masks.

Offers excellent, durable support for your head and neck that improves the overall alignment of your spine.

Ideal for side sleeping on both sides, and even for stomach sleeping.

You can choose between a 3, 4 or 5-inch thickness option, just make sure to check your choice when placing your order online.

Included is a washable and removable fitted pillow case.

---
5
For the tosser and turner, the Carex CPAP pillow allows you so much more freedom of movement, with less hassle.
This pillow gives you much more room to move while sleeping and lessens the discomfort of changing sleeping positions.

Constructed uniquely with an appropriate and comfortable angle, to be ideal for preventing mask leaks.

Accommodates a hose and mask easily without tube interference.

The cover is removable and washable for your convenience.

This pillow fully supports your head and neck, aiding in sleep enhancement and comfort.

---
6
A versatile and highly supportive wedge p[illow for the most comfortable night's rest.
A slightly elevated wedge design with an additional arm resting area and accommodates CPAP machines and equipment.

With this pillow, you get the benefit of two pillows in one with a cutout armrest.

The zippered cover is removable and fully washable.

---
7
Not your average CPAP pillow but well a versatile design that is large and accommodative enough to ensure a comfortable nights rest with your CPAP machine.
Large surface area wedge design that is slightly elevated.

Versatile to use for sleeping, sitting up or even as a body pillow under your legs or hips.

Filled with high-density foam for a firm loft.

Covered in a smooth and breathable cover that is removable and washable.

---
8
A perfect design to contour to the curves of your body while offering excellent space and accommodating features for CPAP users.
Filled with high-density firm support memory foam.

A contoured design that cradles your head and neck, and accommodates your CPAP machine accessories and prats.

A fully washable, smooth and breathable soft cover.

Highly durable and resilient design.

Perfect for side and back sleepers.

---
Concluding
These are some of the top choices in Pillows that you will find to accommodate a CPAP machine and reduce pressure points. some of these models likewise, offer superior comfort and support features that are vital for maintaining the alignment of your spine.
Gone are the nights of uncomfortable sleep, pressure indents on your face, and mask leaks.
---
Index Table: Best CPAP Pillows
---
Please Rate this Article:
---
---