Pressure Relief Seat Cushion comes in many shapes, sizes, and designs with the specific aim of relieving pressure from high-pressure areas in your body under strain.
Painful areas in the body or under constant strain, such as the back, neck, and buttocks from sitting or laying down, can be supported using the correct Pressure Relieving Pillow.
---
Benefits of Pressure Relief Seat Cushion and Who Needs It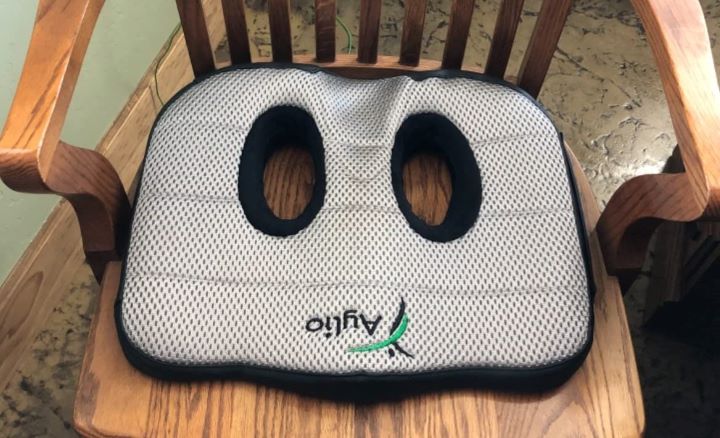 Ideally, the Pressure relief Pillow will have the most significant advantage for people who sit or lie down in a position for a very long time and are at risk of pressure sores and ulcers or muscles becoming tense and painful.
Pressure relief Cushions do just that; they provide soft and comfortable relief of pressure from harder objects against the body and muscles and provide soothing relief.
Some Benefits of the these Cushions May Include:
Prevent Pressure Ulcers and Sores – When someone needs to be seated or lying down in a specific position for long periods, certain body areas can become pressure points that may cause pain, discomfort, and even result in Ulcers. A Pressure relief cushion can relieve the pressure on these specific areas. Areas may include the back, neck, and even tailbone or coccyx.
WheelChair Users – Because individuals in wheelchairs spend most of their time in the wheelchair, pressure sores and pain or discomfort can develop after a while. A good seat cushion can help prevent this and make the seat of the wheelchair softer and much more comfortable.
Car Seats – Car Seats can become extremely uncomfortable, particularly with long drives, a good lumbar, neck, and seat cushion. These can help relieve the pressure on these critical areas, which usually suffer the most.
Post Injury or Surgery – Pressure Relief cushions are also used many times after surgeries or injuries to relieve pressure off areas that may be more sensitive and painful to any form of pressure.
---
Types of Pressure Relief Seat Cushion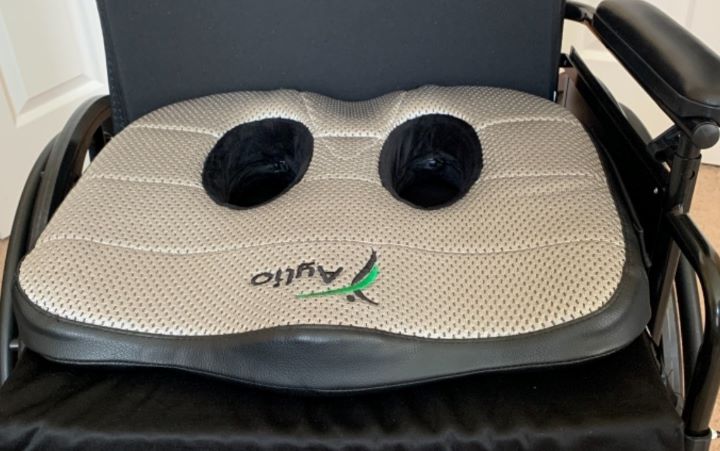 Pressure Relief Cushions come in many shapes, sizes, and types, each with a specific purpose or area for which it is designed.

Seat Cushion – relieves pressure from the tailbone and coccyx area. It is ideal for people who need to sit for long periods, have back issues, or have undergone surgeries in the perineal area.
Neck Cushion – provides pressure relief in the neck area when seated or lying down
Lumbar Cushion – provides back pressure relief.
The seat cushion can likewise be used in wheelchairs and pressure cushions designed specifically for wheelchairs.
They also differ based on risk ratings and materials. Here's how.

Risk Ratings – Medical Grade Pressure Cushions come in different levels of support, usually aimed at individuals at risk of developing pressure sores, which are High, Low, and Medium risk. They also help improve blood circulation in patients depending on the materials used.
Material Types – Gel and memory foam are the best fill used in Seat Cushions for pressure relief and are deemed the most effective. Foam cushions with an Egg Crate design are also highly sought for pressure relief, and inflatable air cushions, surprisingly, provide excellent pressure relief.
---
Buying Considerations for Pressure Relief Seat Cushion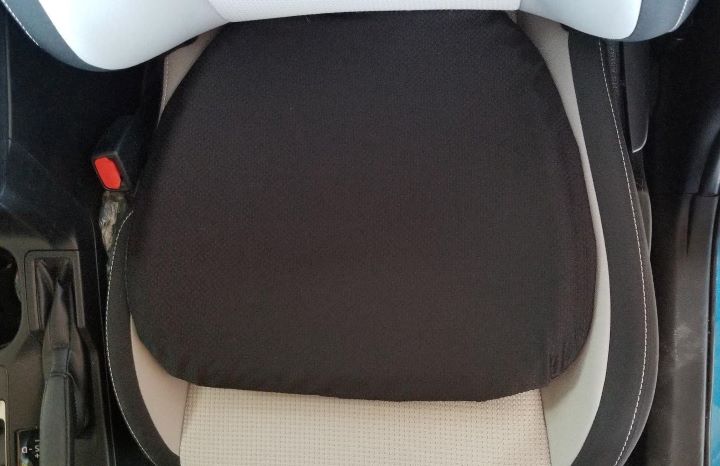 Size – Make sure to measure your sitting surface before you buy a cushion! If it is used mostly for desk or table use, figure out how high of an angle this furniture has.
Weight Capacity – The weight they can safely accommodate ranges from 225 pounds up to 350+ lbs., but you must check with the manufacturer before purchasing one so there won't be any problems when using them.
Material – Most pressure relief cushions are made from different types of foam, gel or air-filled pockets. These materials provide different kinds of support.
Maintenance – Ensure that the cushions you buy are easy to maintain. If not, you can always get some protective covers to extend your life.
---
Reviews: The Best Pressure Relief Seat Cushion Reviews
Here you will find some of the most comfortable and sought-after Pressure Relief Cushions.
We hope you love the products we recommend!
So that you know, We may collect a share of sales or other compensation from the links on this page.
---
1
---
2
The Avolio Socket seat is a cushion for optimal pressure relief in the buttock and coccyx area.
It takes the pressure off the back, tailbone, and coccyx when you are in a steady position.
It is made with high-density memory foam and 3D spacer mesh with a breathable mesh cover.
The two holes cut in the buttock area relieve pressure, and the ergonomic contours provide optimal support and comfort,
Portable design with a built-in carry handle and ideal for use in a car or wheelchair.
---
3
This pillow eliminates high-pressure hotspots that create pressure sores.
Ideal for wheelchairs, recliners, car seats, and many other chair types.
Clinically tested 3D flotation technology is used.
Outperform has a cooling gel layer, and the interior is foam and air.
---
4
From Everlasting Comfort, the Seat cushion for car seats and office chairs is one of the top choices for long sitting periods.
A seat cushion that offers optimal tailbone and coccyx pressure and pain relief.
Made from heat-responsive memory foam that contours and cradles your natural shape.
Orthopedic design and quality with a unique U shape for ideal support.
It is versatile and can be used on an office chair, car seat, or wheelchair.
It comes with a Lifetime Replacement guarantee for quality.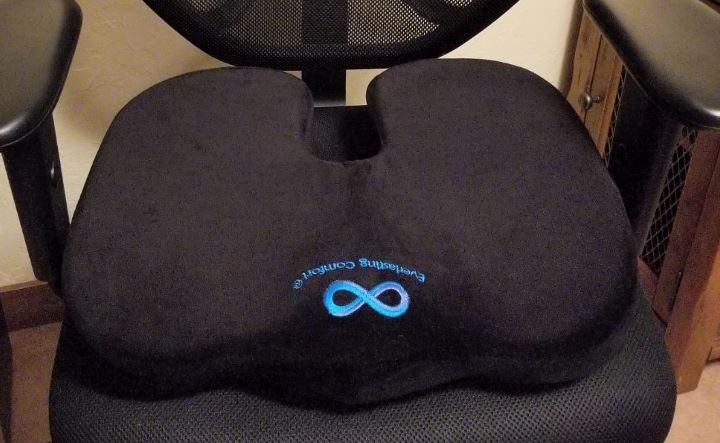 ---
5
The Medicare Pressure Relief Cushion is ideal for a wheelchair offering sublime comfort and pressure relief.
It comes in different size options to fit different chair and wheelchair sizes and types.
An Inflatable cushion that is battery-operated and safe to use.
There are six alternating pressure cells inside the cushion and five low air loss cells with ten low air loss holes.
It is designed for mobility chairs, wheelchairs, scooters, and Geri Cars.
Easy touch screen pump control for adjustable therapy.
---
6
The Lebogner Car Headrest Pillow can be used as a neck or lumbar support and pressure relief pillow.
It is made from high-quality memory foam with an ergonomic shape to offer excellent support for the neck or lumbar area when seated.
It is ideal for an office chair or car seat, amongst other seat types.
Cradles and supports your neck in optimal alignment and pressure-relieving position.
It has an adjustable elastic strap for easy fitting on most seat types.
---
7
A comfortable pain and pressure relief pillow.
It uses Comunm-Buckling technology that disperses your bodyweight evenly and prevents high-pressure points.
Made from a resilient medical-grade gel, which keeps its original shape,
Portable with carrying handles and can be used on most chair types.
It comes with a washable zip closure cover.
---
8
Maximum pain and pressure relief and comfort.
A premium memory foam layer cushion with a gel coverage layer for cooling comfort.
Highly durable medical-grade memory foam and gel combinations are used,
Ergonomic design promotes better posture and healthy weight distribution.
---
9
DMI is a soft, pressure-relieving foam Egg Crate design Pillow for your chair or wheelchair that offers full-body comfort and support.
Sculpted Egg Crate design foam.
Medical Grade Egg Crate foam helps with pressure sores and takes the weight off sensitive areas.
A full design pillow fits an entire chair, seat, or wheelchair.
It improves circulation and offers excellent pain relief.
---
10
This pressure relief seat cushion is designed especially for Wheelchairs.
It is designed to relieve pressure sores in wheelchair users. They lack the pressure relief provided by the alternating pneumatic airflow that allows for circulation and stimulation of the muscles.
This cushion is easily portable and offers convenient functionality.
It offers two modes, Static for firm pressure or Alternate for stimulating air pressure, with five comfort levels and three levels of cycle time.
This cushion provides a thick foam support base that is non-slip and breathable, along with a rechargeable battery.
---
11
This ergonomically designed seat cushion provides comfort and support while reducing pressure.
It is a portable Memory foam pillow that you can use for office chairs, wheelchairs while watching tv, or doing an activity while sitting down.
The pillow also helps recover from lower back problems, sciatica pain, tailbone injuries, and hip problems.
It comes with a zippered Velour cover that is machine washable and breathable.
---
12
This modified double-get seat cushion is designed to relieve pressure while sitting down.
It comes in a honeycomb design that provides maximum support and comfort and reduces stress simultaneously.
It combines soft sitting with stable support by evenly absorbing and dissipating pressure.
The soft and elastic gel material makes it flexible and retains its original shape.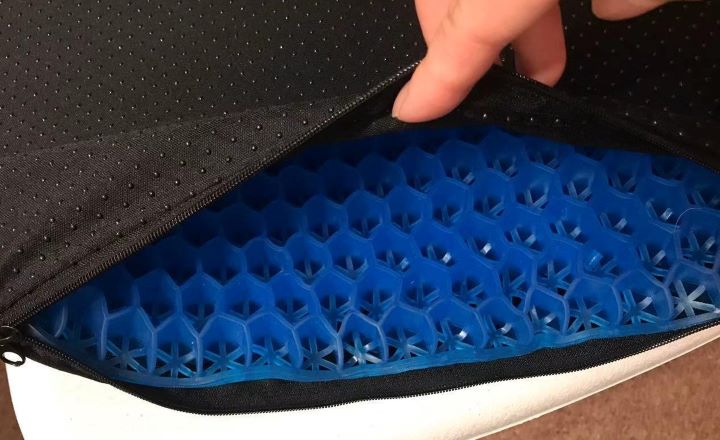 ---
13
This donut cushion is designed for the sole purpose of relieving pressure and pain when sitting down.
It is made with high-quality, heat-responsive memory foam that absorbs and dissipates pressure evenly.
The design offers a central hole with contoured edges to raise you from the seat surface.
It comes large, measuring 18.5 x 15 x 2.5 inches, and is lightweight for easy portability.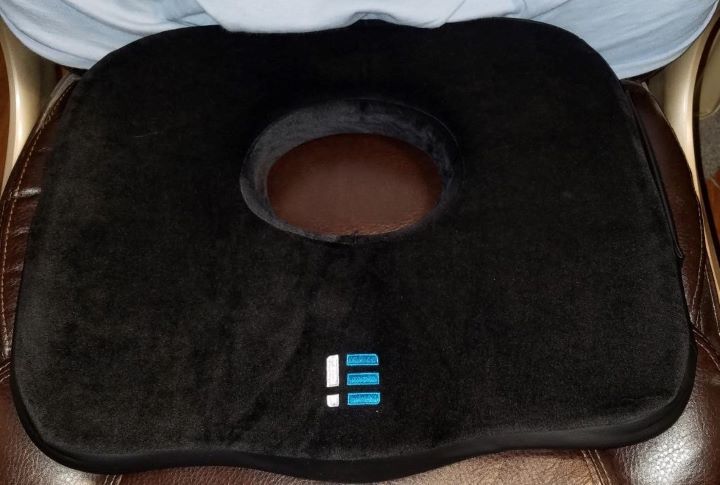 ---
Index Table: Top Rated Pressure Relief Seat Cushions
---
---