Pressure Relief Cushions come in many shapes, sizes, and designs with the specific aim of relieving pressure from high-pressure areas in your body, which are under strain.
Painful areas in the body or areas under constant strain, such as the back, neck, and buttocks from sitting or laying down positions, can be supported by using the correct Pressure Relieving Pillow.
---
The Pressure Relief Cushion and Who Needs It
Ideally, the Pressure relief Pillow will have the greatest advantage to people who sit or lie down in a position for very long periods of time and are at risk of pressure sores and ulcers, or muscles are becoming tense and painful.
Pressure relief Cushions do just that; they provide soft and comfortable relief of pressure from harder objects against the body and muscles and provide soothing relief.
Some Benefits of the Pressure Relief Cushion May Include
Prevent Pressure Ulcers and Sores – When someone needs to be seated or lying down in a specific position for long periods of time, certain areas of the body can become pressure points that may cause pain, discomfort, and even result in Ulcers. A Pressure relief cushion can relieve the pressure on these specific areas. Areas may include the back, neck, and even tailbone or coccyx.
WheelChair Users – Because individuals in wheelchairs spend most of their time in the wheelchair, pressure sores and pain or discomfort can develop after a while. A good Pressure Relief seat Cushion can help to prevent this and make the seat of the wheelchair softer and much more comfortable.
Car Seats – Car Seats can become extremely uncomfortable, particularly with long drives, a good lumbar, neck, and seat cushion. These can help relieve the pressure of these key areas, which usually suffer the most.
Post Injury or Surgery – Pressure Relief cushions are also used many times after surgeries or injuries to relieve pressure off those specific areas that may be more sensitive and painful to any form of pressure.
---
Pressure Relief Cushion Types
Pressure Relief Cushion Types – Pressure relief Cushions, as I have mentioned before, come in many shapes, sizes, and types, each with a specific purpose or area for which it is designed. The Seat design Pressure cushion relieves pressure from the tailbone and coccyx area. It is ideal for people who need to sit for long periods of time, or who have back issues, or who may have undergone surgeries in the perineal area. The Neck Cushion provides pressure relief in the neck area when seated or lying down, and similarly, a lumbar cushioned provides back pressure relief. The seat cushion can likewise also be used in wheelchairs along with pressure cushions designed specifically for wheelchairs.
Risk Ratings – Medical grade Pressure Cushions come in different levels of support, usually aimed at individuals at risk of developing pressure sores, which are High, Low, and Medium risk. Pressure relief Cushions also help to improve blood circulation in patients depending on the materials used.
Material Types – Gel and memory foam are the two best fills used in pressure Relief Cushions that have been deemed the most effective. Foam cushions with an Egg Crate design are also highly sought after for pressure relief and inflatable air cushions, surprisingly providing excellent pressure relief.
---
Features of a Good Pressure Relief Cushion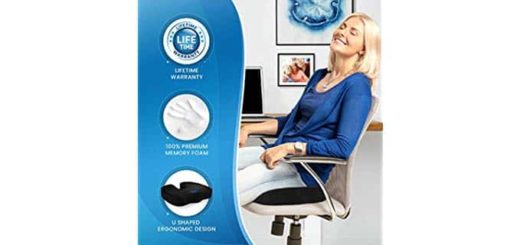 Strong and sturdy design that can handle high weight capacities.
Breathable and hypoallergenic cover that is washable and removable.
It is filled with Gel, Air, or memory foam.
Anti Microbial treated or agents for hygiene.
Inflation design that is battery or electricity operated.
---
Reviews: The Best Pressure Relief Cushions
Here you will find some of the most comfortable and sought-after Pressure Relief Cushions
---
---
---
---
---
---
---
---
---
---
---
---
---
---
Index Table: Top Rated Pressure Relief Cushions
---
---