Those who suffer from hemorrhoids surely know that almost every aspect of being comfortable is admonished by this dreaded condition.
So if there is just the faintest hope of relief, it is never in vain. That is why a comfortable pillow that takes off the pressure is such a sought-after jewel by many who suffer from this unpleasant state.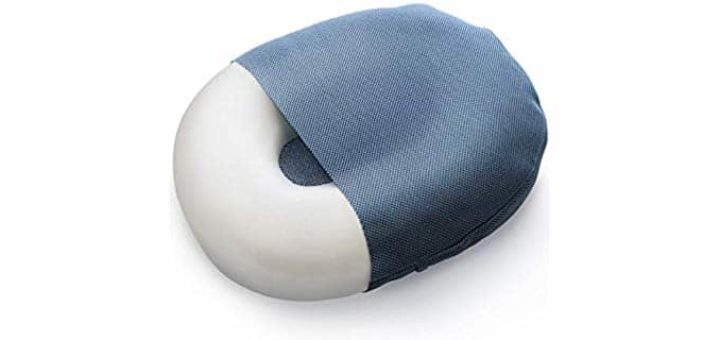 ---
What are Haemorrhoids
Hemorrhoids, also known as pile occur when the veins in your anus and lower rectum becomes swollen, and result in painful little protrusions that may bleed.
Among many other causes the most obvious is a result from straining during bowel movements, and similarly increased pressure to these veins during pregnancy.
You may find that these protrusions are either inside your rectum or under the skin around the anus, either way, they are uncomfortable and painful.
Hemorrhoids are most common, and affect almost three out of four adults somewhere in their lifetime, if you are lucky they will not cause many symptoms, otherwise, you may be plagued by some itching, pain, and bleeding.
Fortunately there is always hope, besides getting help from a physician, there are plenty over the counter, and likewise, home remedies that can help or even treat hemorrhoids.
from symptoms with home treatments and lifestyle changes.

---
The Donut Cushion
When it comes to pillows for hemorrhoids, there is absolutely nothing that beats the donut cushion.
As the name suggests it this is a pillow that is a round shape, with a hole in it, exactly like a donut.
The hole in the middle removes all pressure from your anus and rectum, to prevent pain and further aggravation, while the rest of the pillow provides comfortable support.
A few additional benefits of the donut cushion are;
It elevates the back of your rear for the best in pressure relief.

You are offered better balance for when you need to rotate or reach for something.

It improves your posture that increases blood flow for better circulation.

Reduces pressure on your legs, joints, upper thighs, and rear.

Easy to take along anywhere you go.

---
What to Look for in a Hemorrhoid Cushion or Pilllow
Well, I would regard a donut cushion or pillow as your first and best option, although there are one or two other designs that are just as effective.
Look for something that either has the donut shape or a contoured shape that reduces pressure on your rear. Similarly, you can look at gel or memory foam fill that has a cooling effect, or even an inflatable option.
A cotton cover is your most natural and breathable option in pillow covering, and should similarly be washable.
---
Reviews: Best Hemorrhoid Pillows and Cushions
1
AnboCare brings you the Donut seat Cushion, a premium hemorrhoid pillow with an additional cooling gel that will provide intense relief and comfort when you need it the most.
This pillow is ideal not only for hemorrhoids but likewise for Pregnancy, prostate, sciatica, and bedsores.

The top cool gel layer will make sure that you do not get hot and sweaty and will not flatten over time.

This orthopedic donut cushion will fit on almost any chair, whether it is your sofa, car, or even an airplane.

Premium quality, with memory foam and a contoured design that offers just the right amount of support, while reducing pressure on the area.

The cover is removable and machine washable.

---
2
The Milliard Foam Donut Pillow offers excellent pressure relief for hemorrhoids, Coccyx, and even the Sciatic nerve.
A ring shape with 3D mesh fabric that is breathable for maximum airflow and cooling.

Inside it is filled with firm foam that will contour to your body and aid to relieve pain.

Included is a durable and removable cover that can be washed in a washing machine easily.

The perfect choice for home and the office.

---
3
If you are looking for something that is portable and easy to store when not needed, why not opt for an inflatable pillow.
The Carex Inflatable Donut is one of the top choices, when it comes to customer satisfaction, in hemorrhoid cushions.
This pillow contains natural durable rubber that conforms and contours to the unique shape of your body.

The heavy gauge cushion is durable and easy to clean with a damp cloth.

Offers excellent tailbone pain relief, hemorrhoid pain relief as well as pregnancy discomfort relief.

Whether for the post or pre-surgery, this pillow is the answer to give you the relief and comfort that you so much need!

Easy to inflate, and just as easy to deflate and store away for future use, without taking up much space.

---
4
The DMI Donut Pillow offers you the best support and pain relief for conditions such as hemorrhoids, prostate, surgery pain relief and for pregnancy alike.
This pillow reduces pressure on your back and tailbone and conforms to the natural contours of your body.

The polyester cotton cover is removable and washable, for even more convenience.

The inner high-density foam offers soft and adjustable comfort, yet will not lose its shape.

The center hole of this donut is covered by fabric, making it much more discreet, so you will not feel ashamed being seen in public with your pillow.

---
5
Comfeezy Tailbone Donut; for all the comfort and pain relief that you may require for a range of conditions, pre, and post-surgery, as well as pregnancy.
Ergonomic design with comfortable contours offers you the best in comfort and support, by evenly distributing the weight when you are sitting down.

Portable and lightweight, so you can take it with you wherever you need to go.

The pure memory foam inside offers exceptional comfort and resiliency.

you can rely on the exceptional comfort and support that The Comfeezy Tailbone Donut Pillow guarantees.

---
6
The Donut Luxury Seat Pillow is designed to offer relief from coccyx pain and painful hemorrhoids.
Extremely comfortable offering superb pressure relief.

A Donut design with ergonomic curves and contours, for full support and comfort.

Features a built-in carrying handle for portability and an easy cleaning zippered cover.

Filled with high-density memory foam and 3D spacer mesh which is durable and soft.
---
7
The Pillow Palace Donut Pillow is another excellent innovation to relieve pain and pressure related to conditions such as pressure sores and hemorrhoids.
Relives pain and prevents pressure for ultimate comfort.

A lightweight and easily portable design that can be used anywhere.

The cover is machine washable and removable.

Filled with high-quality contouring soft memory foam that is high density for a frim loft.

Recommended by doctors and chiropractors.

---
8
The ROYI Memory foam seat cushion is the ideal cushion to relieve pain and pressure when you suffer from hemorrhoids.
Filled with premium memory foam in a U-Shaped cut out the ergonomic shape.

Assists to relieve pressure from your Coccyx and helps to restore the spine natural alignment.

Will not flatten over time.

Covered with washable and soft cover for comfort.

---
To Conclude
Whatever the reason may be, whether hemorrhoids, Sciatic nerve issues, prostate issues, pregnancy or even post and pre-surgery, the right pillow will offer you so much comfort and pain relief in the time that you are suffering the worst discomforts.
You can surely trust any one of these exceptional models, they come from high quality and top rated brands.
---
Index Table: The Best Pillows for Hemorrhoids
---
Please Rate this Article:
---
---