Some of the links in this post are affiliate links. This means if you click on the link and purchase the item, I will receive an affiliate commission at no extra cost to you. All opinions remain my own.
Snoring can occur due to many different health reasons. Snoring is also not a condition that can be easily cured, depending on the snoring cause.
It takes a multi-pronged approach to tackle snoring, which is complicated in most cases. One can start by looking at how one sleeps and the best quick snore remedies.
---
What are Some Causes of Snoring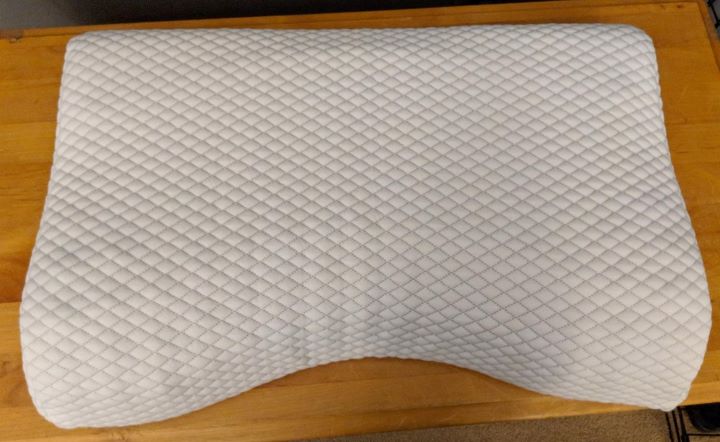 Causes of snoring are usually connected with cut-off breathing into the lungs, either due to inflammation or overproduction of mucus in the nose, mouth, or throat. Snoring is a sound produced by this blockage to the airways and can keep others awake and result in undesirable symptoms for the snorer. Alternatively, snoring can also be caused by gasses moving from the stomach past the vocal cords and is sometimes linked to acid reflux and indigestion.
Sleep apnea is when one wakes up continuously from a cut-off of the air supply. Other causes of snoring are obesity, allergies, asthma, sinusitis, bronchitis, nose, throat, and chest irritations, and eating foods that cause high mucus or inflammation in the body.
---
Snoring Cures, Effective Remedies & Ways to Stop Snoring
According to medical experts, the first thing one should do to stop snoring is to sleep on one side during the night. If this still fails you, getting an orthopedic snoring pillow to aid good posture will help tremendously. When your spine is in perfect alignment, you can breathe properly, which may rule out the cause of the snoring entirely.
A wedge pillow is also an effective snore remedy, especially if you suffer from excess fluids in your lungs. Sleeping on an incline at an elevated angle will help the fluids to drain away and free up your breathing while still supporting your posture for a good night's sleep.
Other excellent snoring remedies include anything that can clear your respiratory system. Mint and tea trees are well-known ways to stop snoring that have worked for individuals. Inhale the essential oil or steam your face over a bowl of hot water, steeped herbs, and a towel over your head. Mint tea is perfect for opening your chest and aiding digestion and gastric reflux.
---
What Makes the Best Type of Sleeping Pillow For Snorers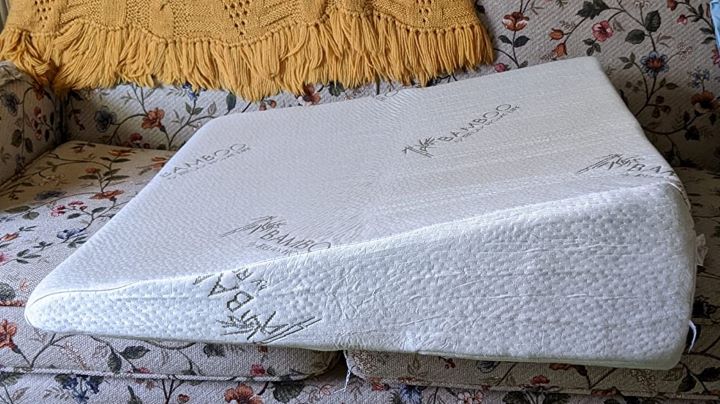 The best sleeping pillows for snoring usually support your back and neck, promoting proper breathing and circulation. A reclining pillow is advised if you gasp a lot or have respiratory problems related to mucous. Being elevated while you sleep can also aid in preventing acid reflux.
Memory foam is the best material for a snoring sleeping pillow. It contours your exact shape, impressing you into the pillow and supporting you no matter what position you switch to at night. Memory foam has the added advantage of keeping your spine aligned and incredibly comfortable. Shredded memory foam, latex, and foam alternatives are excellent materials for orthopedic pillows to aid snoring.
---
Reviews: Best Sleeping Pillows for Snoring
Below are reviewed some of the best available pillows to aid in curing and reducing snoring;
We hope you love the products we recommend!
So that you know, We may collect a share of sales or other compensation from the links on this page.
---
1
---
2
The Therapeutica Large Sleeping Pillow is suitable for all sizes; this large orthopedic pillow can help to snore by keeping your posture correct and opening your airways.
Made 100% from a very supportive foam, intended to provide back support to side sleepers and back sleepers.
Also available in average to medium and extra-large sizes.
It allows you to change sleeping positions during the night and for your spine to be supported in all sleeping positions.
It provides comfort by alleviating all pressure off your spine and back.
Wake up feeling refreshed every single day!
---
3
This special pillow is designed to reduce snoring and improve sleep quality.
It is made with high-quality memory foam that provides optimum support.
The pillow is 100% ventilated for maximum airflow and is designed using advanced technology.
It conforms to the body's shape and aligns the jaw for comfort.
---
4
The Intevision Foam wedge pillow aids you with indigestion, acid reflux, and body fluids that block breathing and breathing in general.
It comes with an excellent quality cover that is machine washable.
It has an incredibly comfortable design consisting of two layers: one layer of responsive memory foam and firmer latex foam for extra support.
Memory foam is hypoallergenic, anti-bacterial, anti-dust mites, anti-fungal, and more. Exceptionally hygienic for the discerning buyer.
Recline and enjoy a good night's sleep with less snoring!
---
5
The AERIS Memory Foam Bed Wedge Pillow is designed with a specialized curvature for aiding snorers and providing acid reflux relief.
Memory foam is impressionable and responds to body heat, contouring your shape as you sink in and relax.
It gives you the best possible sleeping support and comfort you desire.
Ideal for more than sleeping, reading in bed, watching tv, or reclining and relaxing.
It provides back pain relief as well and allows you to breathe better.
The cover is eco-friendly, made from bamboo fibers, and machine washable.
---
6
The Leachco Snoogle Total Body Pillow is a Full body contour pillow that holds your shape perfectly inside its innovative twisting design.
It is a neck pillow, stomach pillow, and knee pillow all in one.
It provides the ultimate back, neck, hip, and stomach support and is ideal for pregnant women.
It comes in four colors: green, brown, white, and pink.
The cover is removable and can be conveniently washed in your machine and the rest of the laundry.
It relieves snorers by keeping you on your side so you don't move around during the night.
---
7
The Plixio Bamboo Pillow with cooling and anti-snoring technology is hypoallergenic and designed to give you the most comfortable sleeping position.
Plixio brings you the plush queen-sized, shredded memory foam pillow with a hypoallergenic, pure, and natural Bamboo casing.
Filled with premium memory foam that is shredded and adjustable for the perfect loft.
A cooling and hypoallergenic Bamboo cover that alleviates allergies and breathing issues.
Offers firm and pliable support.
Well known to reduce pain and tension and help with snoring and insomnia.
---
8
The Relax Home Life Pillow is a wedge design pillow for sleeping that prevents acid reflux and snoring.
A unique wedge design that prevents snoring and acid reflux while supporting your body fully.
It is covered in a Bamboo and Polyester cover that is durable and washable.
A soft memory foam top layer and a firmer bottom layer so that you can choose the support you need.
The casing is highly breathable and hypoallergenic.
---
9
The Nursal Foam Pillow consists of premium memory foam and a bamboo cover, with a firm and unique design to prevent snoring.
Features a unique orthopedic design that ensures optimal pain relief and preventing snoring and acid reflux.
Filled with high-density memory foam that is hypoallergenic and dust mite resistant.
Offer firm and comfortable support.
A breathable and durable cover that is hypoallergenic and soft to the touch.
---
Snoring can significantly affect the quality of your sleep and that of your partner. Make sure to invest in a good quality pillow with all the required features to reduce or eliminate snoring and give you a more comfortable night's rest.
---
Index Table: Top Rated Anti Snore Pillows
---
---