Whether adults or children, most individuals may suffer from headaches now and again, mostly mild and fleeting.
Although some suffer from more chronic and severe headaches, called migraines, and even more often than usual.
In this case, you can reduce how often or severe the pain is by your efforts, which we will discuss, a Migraine Relief Pillow.
---
How a Good Pillow Helps for Migraines
I would recommend that you also seek medical advice to address the problem of chronic and very severe Migraines or Headaches.
There may be many reasons why you suffer from Migraines; it could be tension, your diet, stress, along with other factors or conditions.
Choosing the right sleeping aids and products can most definitely make a difference by providing pain relief and comfort. When it comes to Migraines caused by stress and Tension, a good and supportive pillow can help a great deal.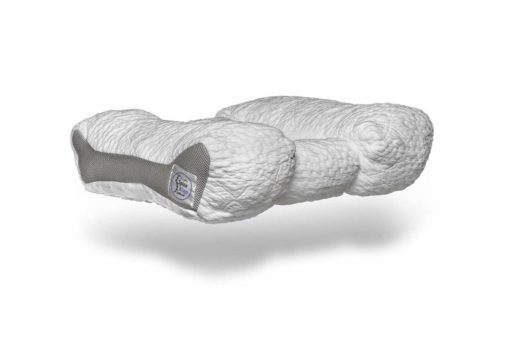 Headaches, Migraines, and even snoring are mainly symptoms that worsen when there is poor blood circulation or oxygen deficiency.
The right pillow can improve your overall sleep posture, supporting your cervical alignment, giving you a peaceful and restful sleep.
The Pillow you choose should properly support your body and align your spine in the specific position you sleep in.
Some pillows offer better support in certain sleeping positions, while there are a few that cater for all sleeping positions.
When you are sleeping, your head and neck relationship is critical as it supports the gateway between your spine and your brain, where your central nervous system carries all pain responses.
Thus, your head and neck's healthy position when you sleep allows better blood flow and healing, along with better brain functioning and activity, so you can eliminate pain easier.
---
Sleep Positioning for Migraines and Headaches
As I have mentioned, you must support your head and neck ideally to get the best spinal alignment to respond to pain in a better way and support healing and alleviation.
Your sleep position during the night needs to support your head and neck about the rest of your body, offering the best spinal alignment for effective rest and pain relief.
Therefore, to come back to my point, the right pillow for your sleeping position is crucial!
Back Sleepers require a Lower Profile Pillow so that their head is level with their shoulders.
Stomach Sleepers place much strain on their body with this position, thus a soft, and very Low Profile, or Even No pillow at all, is ideal.
Side Sleepers which, is the most common sleep position, requires good neck and head support for proper spinal alignment, and consequently need a much firmer and higher profile pillow.
---
Choosing a Good Pillow for Migraines
When choosing the right pillow that offers you the best support and proper Migraine relief, you must always first consider your sleeping position and the pillow type related to that position.
Here are some Characteristics to look out for in a good Migraine relief pillow
Look for filling such as memory foam or latex in a firm option, feather, buckwheat, or microbeads in a softer and more adjustable option.
Ensure that the pillowcase or cover is durable and breathable; a natural cotton is always a good option.
The pillow's loft will depend on your sleeping positions, whether you need a high, medium, or low profile pillow.
If you sleep in different positions, look for a more adjustable and moldable pillow or design to offer support for your required sleep positions.
Make sure that the pillow is comfortable, first and foremost.
---
Reviews: The Best Pillows for Migraine Relief
We hope you love the products we recommend!
Just so you know, We may collect a share of sales or other compensation from the links on this page.
---
1
This pillow is ideal for all sleeping positions and provides you with the best head, neck, and cervical support, for a proper spinal alignment that aids in more peaceful sleep and better pain relief.
Manufactured from premium quality soft Tencel Blended fabric and mesh for super breathability.
Completely chemical-free construction that is much better for your health.
Offer excellent cervical, neck, and head support in all sleeping positions to relieve pain and tension in the muscles.
Completely adjustable CertiPUR-US shredded internal fill with a zip closure for your convenience.
---
2
Tempur is a well-known name when it comes to quality and supportive pillow brands. I have chosen the Medium specifically for its ideal support and alignment promotion for back and side sleepers.
It features an ergonomic shape developed by doctors for superior alignment and support.
Allows your neck and shoulder muscles to relax completely, to relieve Migraines, neck, back, and shoulder pain.
It has a firm fill and is a medium loft ideal for back and side sleepers.
This pillow may require a bit of break-in time to feel completely comfortable.
---
3
You are sure to love this pillow; it is an exceptional Down fill top with moldable memory foam in the center.
An excellent choice for stomach and back sleepers.
Features a down feather-filled cover with a luxury cradling support memory foam center.
Less heat retention and much softer, lighter, and conforming to your ideal body shape.
The durable 500 thread count cotton cover is highly breathable and easily washable.
Ideal for pain and tension relief while you sleep peacefully.
---
4
Natural is always better, and therefore I would highly recommend the Buckwheat fill cotton-covered Zen Chi Organic pillow.
Great for stomach and back sleepers, offers super adjustability.
Features 100% Organic Buckwheat for filling and an all-natural cotton cover.
Highly breathable with natural cooling comfort.
Completely refillable so that you can adjust the size and firmness of the pillow.
It offers superior headache and migraine relief, as well as relief to sore and tense muscles.
An excellent choice for individuals with allergies, as this pillow is completely hypoallergenic.
---
5
The Epabo Contoured Memory Foam Pillow is a slightly firm yet moldable pillow ideal for all sleeping positions, although I would mostly recommend it for side and back sleepers.
Ensures therapeutic pain and tension relief with premium cooling fabric to keep you comfortable all night.
An ergonomically contoured design aligns your head, shoulders, and neck properly for better support.
Breathable memory foam is filling for better circulation and a hypoallergenic polyester/rayon cover.
This pillow offers firm and higher profile support ideal for back and side sleepers.
---
6
A premium Memory foam-filled pillow that offers ideal support that will help relieve migraines.
Filled with premium memory foam.
Certi-PUR certified memory foam.
Washable cover.
Ideal neck and shoulder support.
Migraine relief and comfort.
---
7
The Mkicesky pillow offers superb comfort and pressure relief, which is ideal for migraines.
A low rebound memory foam contoured pillow.
It is filled with premium memory foam.
Designed or optimal support and comfort,
Cervical contoured shape.
---
8
The adjustable memory foam fill and the cooling bamboo cover are sure to keep those migraines at bay.
It comes in packs of two or four with different size options.
Premium shredded memory foam fill that is adjustable.
Washable and cooling bamboo cover.
Super soft and breathable.
---
9
A quality memory Foam filled pillow with a durable and breathable bamboo cover.
Full adjustability and contoured comfort with the heat moldable memory foam.
Excellent pressure and tension relief to Prevent Migraines and provide comfort.
Safe and Certi-Pur Certified with a Greenguard Gold certificate of approval.
---
10
Offers support specific to your needs and requirements.
Comfortable, offering medium support and less tension.
Reduces migraines and neck pain effectively.
Made with a patented interlocked fill and comes with a machine washable cover.
---
11
A Low rebound memory Foam fills from 100% pure Certi-Pur standard Memory foam.
Contoured design for optimal support and tension relief.
No pressure on the neck or years with the gap design.
Excellent neck and shoulder support and pain relief.
Cervical contours that support the natural curves with a medium-firm density for comfort.
---
12
A pain-relieving Eyemask Pillow that is perfect for migraines and tension pain.
Massaging Ergo beads provide a gentle and soothing massaging effect around the eyes, while the patented stitching design alleviates direct pressure on your eyes.
A compression design that can relieve pain and swelling can be chilled.
Light blocking design is beneficial when you struggle to sleep or have migraines.
---
13
An ergonomic design memory foam pillow that molds and contours the natural shape of your body.
Offers exceptional neck and shoulder support to relieve pressure and tension.
It comes with and breathable and washable Bamboo cover that is cooling breathable.
Memory foam pillows are noiseless and comfortable to the unique shape of your body for optimal support.
---
14
A unique design ergonomic shape pillow that offers pain and tension relief to prevent Migraines.
Excellent neck, back, and shoulder support for optimal spinal alignment and sleeping posture.
It is made from premium chemical-free and hypoallergenic materials.
A memory foam fill and Certi-Pur and Oeko tex certified materials and construction.
---
To Conclude
When you keep your focus on spinal alignment and getting the best support for your head, neck, and shoulder while sleeping, you will automatically notice a reduction in pain and tension and have a much better sleeping pattern.
Choosing the right pillow for your sleeping position that offers good support and a proper alignment is key when it comes to Migraine relief and tension relief.
---
Index Table: Top Rated Pillows for Migraine Relief
---
---