You may wonder what allergies and asthma have in common besides making you miserable. A lot, as it turns out. Allergies and asthma often occur together.
Asthma is ideally triggered by an allergic reaction. And the sons and symptoms of asthma can be similar to that of allergies.
Did you know that your pillow may be the cause of your allergies and your asthma? And this article, I would like to explain to you how your pillow could cause your allergies to asthma, and how to choose the best allergy and asthma pillows to reduce the symptoms and prevent an asthma attack.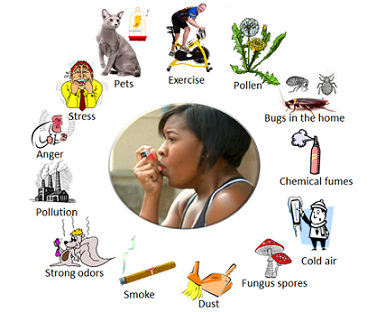 ---
Asthma and Allergies
You may have allergies, or you may have allergic tab asthma. Having allergies such as hay fever and other types of allergies can increase your risk of getting asthma.
Though not all types of asthma are caused by allergic reactions, they are some types that have different triggers as. Asthma can be triggered by exercise infections, cold air, and even reflux in stress. Many people have different asthma triggers. However, most asthma triggers are allergies.
When you have asthma or allergies, you must know all the triggers of your asthma or your allergies, so that you can leverage your exposure to them to maintain the symptoms. You will have allergic reactions and fewer asthma attacks if you can limit your triggers. One of these triggers that we will be discussing today is your pillow, which can have a few factors that can cause asthma and allergic reactions.
---
Asthma and allergy Triggers Inside Your Pillow
Here are a few triggers inside your pillow, or the cover of your pillow, which can cause an asthma attack or allergy.

Dust Mites – One of the most common asthma triggers or allergic reactions is dust mites. Typically, a runny nose sniffles, and many allergic reactions can be caused by dust mites, pet dander, or mold. An allergic reaction leading to asthma can also be caused by these triggers, which are usually 75 to 80% of the time. Dust Mites can infest any type of Pillow, whether it's a down feather, microfibre, or even polyester pillow, which means that nobody is immune to it. The best option would be to get a dust-mite-proof pillow or a dust-mud-proof cover. All in all, one of the biggest triggers that are in your pillows is dust mites. This is one of the main causes of asthma and allergies. In most people, that is related to their pillows.
Feather Pillows – Then again, many individuals may be allergic to feathers. You may have an allergic reaction or an asthma attack from feathers or birds. However, this is very unlikely, but for the rare case, it is ideal that you avoid feathered pillows if you. are allergic to birds,
Dust – Dust generally can cause allergy and even an asthma attack for many individuals. Dust, over time, can get trapped in your pillow or your pillow cover. So it is advised to regularly wash or dust your pillows and your pillow covers.
Pollen – Pollen is another big allergy trigger for many individuals. Poland can even trigger asthma attacks. Your hair and your skin and clothing can attract pollen when you go outside, which then in turn can get transferred onto your pillow.
Mold and Fungi – Pillows and pillow covers that are not dried properly or washed properly, can grow mold and fungus, which are also allergy and asthma triggers.
---
Features of a Good Allergies and Asthma Pillow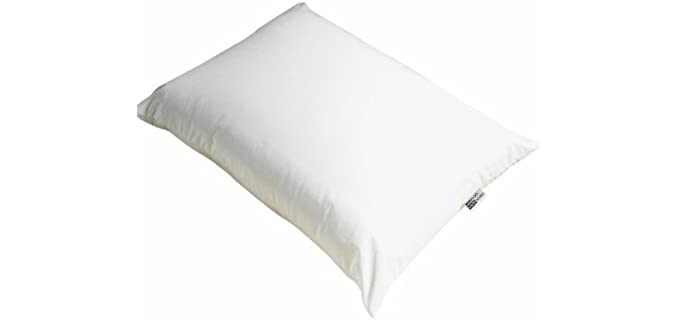 Cover – One of your best defenses regarding your pillow in terms of allergies and asthma attacks is a proper pillow cover. First of all, I want to advise bamboo is one of the best choices for a pillow cover, as bamboo is naturally pest resistant, thus much resistant and antibacterial. Bamba is breathable and moisture-wicking, which means it will also not grow fungus or mold. Other breathable natural materials such as cotton are also ideal if you have allergies. Your pillow cover will help to protect you from irritants that may be trapped inside your pillow.
Materials – If you enjoy a feather pillow, I would advise that you look for an alternative downfall, which is a synthetic down that feels similar to feathers, but it traps less thus much, and it will also help if you have feather allergies. Look for pillows that have materials that are certified to show that they limit off-gassing of chemicals which can also irritate. Pillows such as memory foam and Latex, or much less likely to cause allergies than many other false, such as synthetic false and feather fills.
---
Reviews: The Best Allergies and Asthma Pillows
Below, you will find some of the best pillows with the best covers for allergies and asthma;
---
1
The Tempur-Pedic Cloud Breeze is a hypoallergenic pillow for asthma and allergies.
It has a cooling Memory foam fill for comfort and a natural cotton cover.
The medium loft is ideal for all sleep positions.
The washable cover protects you from allergens.
---
2
The Casper Sleep essential Pillow is a King sized pillow.
It has a hypoallergenic cotton outer shell and a three-chamber pillow design.
The pillow is soft and supportive.
It is ideal for all sleeping positions.
---
3
The Fern and Willow pillow is fully hypoallergenic.
It is a cooling Gel and memory foam pillow.
The filling is adjustable with a zip closure cover.
The cover prevents the dispersion of allergens.
---
4
From Coop Home goods we have a Greenguard Certi-Pur certified pillow for asthma and allergies.
The pillow is excellent quality and hypoallergenic.
It is adjustable for your comfort, with safe materials.
There are no chemicals or smells, and it has a breathable cover.
---
5
The Mission Pillow is designed specifically for allergies.
It is a Premium Microfiber pillow that is a medical-grade design to block dust mites and allergens.
It is soft with a tight weave shell and air and water-vapor permeable design.
There is a ComfortFill for a firmer loft, and a dust mite-resistant cover.
---
6
I have chosen the bamboo cover pillow.
Bamboo is naturally antibacterial, dust mite, and pest resistant, as well as hypoallergenic.
The pillow has a soft and relaxed fill with shredded memory foam.
The cover is a removable design, in natural bamboo.
---
Index Table: Top Rated Allergies and Asthma Pillows
---
---