Full Body pillows are all the rage these days.
They come in many variations to cater to the different requirements of different people. Cooling Body pillows are one such variation.
Scroll down below to find out more about Cooling Body pillows and the best ones that are available in the market.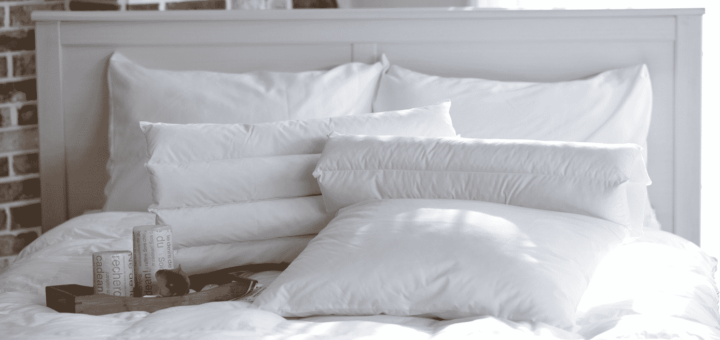 ---
What are Cooling Pillows
Cooling Pillow – Any pillow that offers temperature neutrality and does not absorb heat. They are nicknamed "Chillows," meaning they never get hot.

Variety in Cooling Pillows – Cooling pillows may be made using different materials from memory foam to Latex. There are numerous cooling technologies in the market that are employed to make cooling pillows.

Cooling Pillow Cases – In some varieties, it's actually the pillowcase that is breathable and cooling. Cases are most commonly made of Bamboo and Polyester.

---
Types of Cooling Pillows
Breathable Foam – Some cooling pillows are made with breathable foam. Open-cell foams are breathable and allow more air to pass through, making it breathable. They are very soft and flexible.

Cooling Gel – Cooling gel foam is specially designed to absorb heat and draw it away from the sleeper. It contains small gel beads to serve this purpose. It works much like a gel ice pack.

Shredded Memory Foam – Memory foam is designed especially to be sensitive to temperature and pressure. They mold themselves to the shape of the body. When shredded, memory foam offers more moldability because of the movement of the individual pieces of foam.

Bamboo Covers – A bamboo pillow comes with a bamboo viscose outer shell with a filling of memory foam inside. Bamboo covers offer excellent breathability and greater support. They are naturally hypoallergenic and antimicrobial.

Phase Change Covers – Phase Change Materials have been in use in insulation products for a while now. When the temperature rises, they absorb heat and melt when warmed up. This causes the surroundings to cool. The opposite happens when the temperature falls.

---
Benefits of Cooling Body Pillows
Ideal for Hot Weather – It is difficult to have a peaceful sleep when you are all hot and bothered. Cooling body pillows are excellent for hot weather. They provide a cooling sensation to the whole body.

Helps in Falling Asleep – According to science, the ideal temperature to sleep in is on the cooler side of the scale. Therefore, as most cooling body pillows absorb heat to offer a cooling sensation, the sleeping conditions become ideal.

May Help with Insomnia – People with Insomnia have sleep breaks and find it difficult to fall back asleep. A cooling body pillow may help with that. It helps to relax the body by providing complete support as well as helps it calmly because of the cooling sensation it provides.

Improves Mental Health – A good night's sleep is an essential requirement for a fit mind and body. A night of uninterrupted and restful sleep leaves you feeling refreshed and well-rested so you can target the challenges of the next day head-on!

---
Reviews: Best Cooling Body Pillow
The below list consists of the best cooling body pillows available in the market for a full night of restful sleep.
---
1
The number 1 rated pillow comes with a shredded style combination Memory Foam Body Pillow.

This sturdy pillow is durable and does not go flat.

The Kool-flow technology allows this pillow to provide a cooling feeling for a restful sleep.

It is soft, luxurious and comes with an extra-breathable micro-vented cover.

The pillow cover is made with Viscose of Bamboo as well as polyester.

It is made using eco-friendly Biogreen and Certipur-US Certified foam.

The orthopedic pillow conforms to the shape of the body to provide maximum support.

Snuggle-Pedic foam is free of ozone depleters, PBDE flame retardants, Mercury, Lead and other heavy metals, as well as Formaldehyde and Phthalates.

Score:
98.8
By Daniel Max
---
2
This full body pillow provides a cooling sensation and a comforting night of sleep.

The pillow cover is made of a washable and breathable combination of ventilated Bamboo and Polyester blend fabric.

Five Diamond Collection full body pillow allows for maximum comfort and support to the body.

It comes with an exclusive mix of six different shredded memory foam mix that makes sure the pillow does not go flat.

This hypoallergenic product is made in the USA.

Score:
98.1
By Daniel Max
---
3
This soft and large body pillow keeps you cool and comfortable.

The pillow comes with a soft bamboo cover fabric with an invisible zipper for easy use.

It is suitable for machine wash and is easy to clean.

The cooling pillow creates ideal support for any position, be it sleeping, reading, or nursing.

The adjustable memory fiber filling keeps the pillow sturdy while still being soft.

Score:
97.6
By Daniel Max
---
4
This soft pillow offers the perfect hugging experience.

It offers comfort to the whole body by contouring to the shape of the body.

The pillow offers support to the back, neck, and legs and reduces knee and spine pressure.

Goldenlinens full body pillow is filled with shredded memory foam that helps to reduce snoring, Insomnia as well as neck and back pain.

The zippered pillow cover is made with a unique blend of Bamboo and Polyester.

Put this pillow in the dryer for 8 minutes before first use.

Score:
96.4
By Daniel Max
---
5
Milliard's adjustable pillow is stuffed with genuine shredded memory foam for maximum support.

It contours to the body to provide a soft place for a night of long and restful sleep.

The outer cover is made with machine-washable Jacquard Bamboo and comes with an invisible zipper.

This long pillow covers a standard full-size mattress from end to end.

It offers relaxation, full-body support and elevates the back, legs, or arms for pressure relief.

Score:
95.8
By Daniel Max
---
6
This body pillow is designed to be soft with medium fullness and maximum support.

The large and soft pillow is stuffed with memory fiber with a viscoelastic effect that keeps the body comfortable in every position by contouring to its shape.

It comes with a zippered pillow cover is made by combining Viscose of Bamboo, Polyester, and Lycra.

Decroom's pillow is multi-purpose and provides full-body support, whether you are sleeping, reading, or nursing.

The pillow cover is made of bamboo fabric with a removable zipper.

Both pillow and cover are machine washable and easy to clean.

Score:
94.2
By Daniel Max
---
Index Table: Top-Rated Cooling Body Pillow
---
---