Some of the links in this post are affiliate links. This means if you click on the link and purchase the item, I will receive an affiliate commission at no extra cost to you. All opinions remain my own.
Your pillow forms an essential part of your sleep routine, and it can either have you tossing or turning all night or drifting away effortlessly and comfortably into dreamland.
Choosing a high-quality, well-crafted USA-made pillow is one of the best routes; you will never be disappointed by supporting a brand you believe in from a top industry leader.
---
---
Why Invest in Pillows Made in the USA?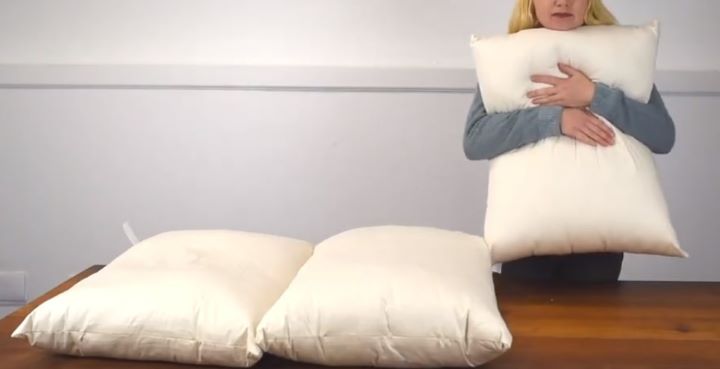 Whatever your reasons may be for choosing an American brand name for the pillow, here are a few other reasons why it is such an excellent consideration to follow;

You are supporting an American business that will provide jobs for many future generations of Americans to come, creating a better, stronger, and more educated nation.
Furthermore, you are promoting the independence of America as a whole by supporting local businesses.
Likewise, supporting a local or agricultural business and investing in the USA will ensure you do your part to contribute to the environment. Which, in turn, will preserve the environment for future generations.
You also boost opportunities for American investors, thus advancing the country's economic status.
Lastly, you are guaranteed a quality product with genuine and fine craftsmanship.
---
What Are the Quality Standards of Pillows Made in America?


The USA-made products, in this case, pillows, are persistent in providing long-lasting quality as per our extensive research and testing. Although the heritage and quality of most US pillow brands remain the same, certain brands may be cheaper as they run better sales.
---
Features of an America Made Pillow
If you're selecting a good quality American brand pillow, first and foremost, you must look for a well-known USA pillow manufacturer.
Here are some tips for finding a pillow that is the right fit for you;
Fill – You can choose from various fills such as polyester, memory foam, microfiber, more natural latex, feather and down, or even buckwheat.
Cover – The pillowcase can be any material, though I recommend pure cotton, bamboo, and memory foam pillowcase for breathable and cooling properties.
Size – Lastly, the size, from standard to kingsize, is up to you!
Weight – Not all pillows have the same material or build quality, so you must check for this. The weight of the pillow also affects sleep quality.
Purpose – Some pillows are designed for specific users, such as those suffering from neck pain, insomnia, backache, etc. Please be sure to look out for pillows that meet your needs.
---
How We Test and Score Pillows Made in USA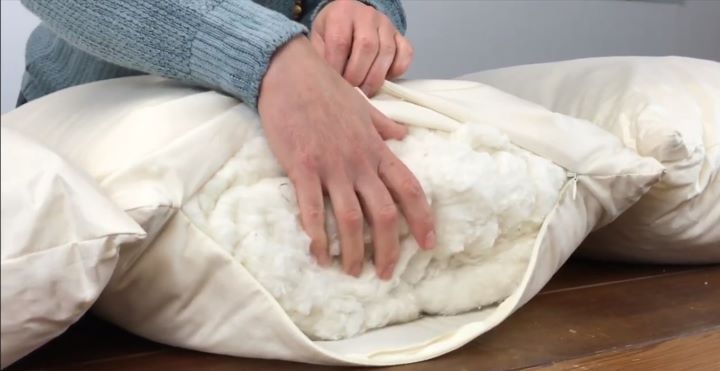 These reviews are based on intense research, analysis, and feedback from our experts and real users from different digital platforms.
We spent 31 hours trying, testing, and scoring these Pillows Made in the USA for different key parameters and then shortlisted the best products in the market, saving you time and effort.
We used the following parameters for our tests and analysis.
Quality – We researched how long users can use the pillows without any reported changes in the quality or design.
Support – We checked how well the pillows support the user's body and help maintain better alignment.
Hypoallergenic – We observed how the pillows likely trigger an allergic reaction.
Adjustability – We tested the pillow's adjustability to check whether it can be used in any sleep position.
Price – We checked the pillow's affordability having good quality.
---
Frequently Asked Questions (FAQ) About Pillows Made in USA
---
Reviews: The Best USA Manufactured Pillows
Here are our Top American Brand Pillows.
We hope you love the USA-manufactured pillows we recommend!
We may collect a share of sales or other compensation from the links on this page.

---
1
---
2
Here's a pillow for amazing comfort from the American pillow brand Coop Home Goods.
The pillow features 60% Polyester and 40% Bamboo-derived Viscose Rayon materials.
It's an adjustable pillow that confines your neck and body contours.
The memory foam fill makes it an ideal pillow for all sleepers – side, back, or stomach.
Besides, this pillow is CERTIPUR-US and Green Guard Gold certified.
It is also Vegan & Cruelty-Free.
The cover of the Coop pillow is made from Lulltra fabric with a unique blend of bamboo-derived viscose rayon and polyester. The fabric is quite breathable.
| Rating Category | Weight % | Score |
| --- | --- | --- |
| Quality | 25% | 100 |
| Support | 25% | 100 |
| Hypoallergenic | 20% | 90 |
| Adjustability | 20% | 95 |
| Price | 10% | 90 |
| Total Score | 100% | 96 |
---
3
The Snuggle Pedic is one of my favorites for so many reasons, but in this instance, particularly because it is one of the top American brands.
It is filled with high-quality shredded memory foam that will never lose shape.
The bamboo and viscose cover is hypoallergenic, keeps you cool, and is well-ventilated at night.
The memory foam used in this pillow is USA CertiPur certified and eco-friendly.
A zipper allows you to refill or remove memory foam to adjust the pillow's firmness.
The cover is washable and removable.
| Rating Category | Weight % | Score |
| --- | --- | --- |
| Quality | 25% | 100 |
| Support | 25% | 95 |
| Hypoallergenic | 20% | 90 |
| Adjustability | 20% | 95 |
| Price | 10% | 90 |
| Total Score | 100% | 94.75 |
---
4
Latex-filled pillows offer 97% more pressure relief than leading memory foam pillows.
This pillow has no harmful petroleum chemical off-gassing.
You can adjust the pillow's filling at your convenience, as you can unzip the inner lining to add or remove the filling.
Besides, the blend of natural latex and poly silk fiberfill makes a plush pillow, while the cover is removable and can be machine-washed.
And this product is OKEO-TEX 100 certified.
---
5
This pillow is an Amazon's Choice product with down alternative filling.
Beckham Luxury Gel Pillow is encased in a 250 thread count cover, and these can be machine-washed and tumble-dried.
Moreover, the gel filling keeps you cool while you sleep and makes the pillow breathable.
And these bed pillows are manufactured in an OEKO-TEX Standard 100 factory that ensures products meet high safety and environmental standards.
Its plush bounce-back design will shape your favorite position.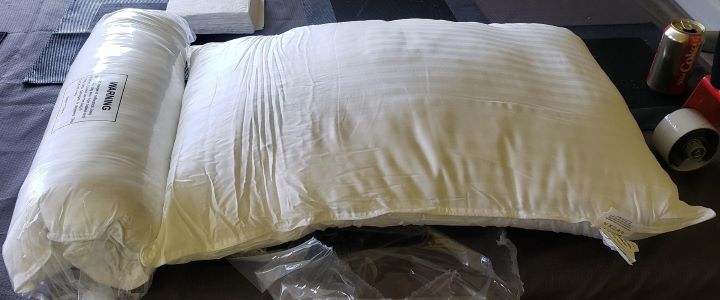 ---
6
The Purple Harmony Pillow is an award-winning pillow that has proven its mettle in delivering great comfort.
Top-rated premium pillows made in the USA.
It features a moisture-wicking, breathable mesh for advanced cooling comfort for all sleepers.
The Premium Talalay Latex Core ensures sufficient ventilation and durability of this pillow, so it will last you for years to come.
The supportive Grid Hex contains a gel-like material with 2,000 open-air channels that are smartly designed to conform to the contours of your head, neck, or body.
This hypoallergenic pillow is also available in more size options.
---
7
The Zoey Sleep Side pillows are an excellent choice to help reduce pain caused by poor sleep.
This shredded memory foam filling is fully adjustable. Thus, you can easily add or remove the filling to contour the pillow to your needs.
Moreover, its ergonomic design makes this pillow suitable for people who experience discomfort or pain while they sleep.
And the pillow's bamboo cover provides a luxurious feel and superior breathability.
These pillows are CertiPUR-US and OEKO Certified.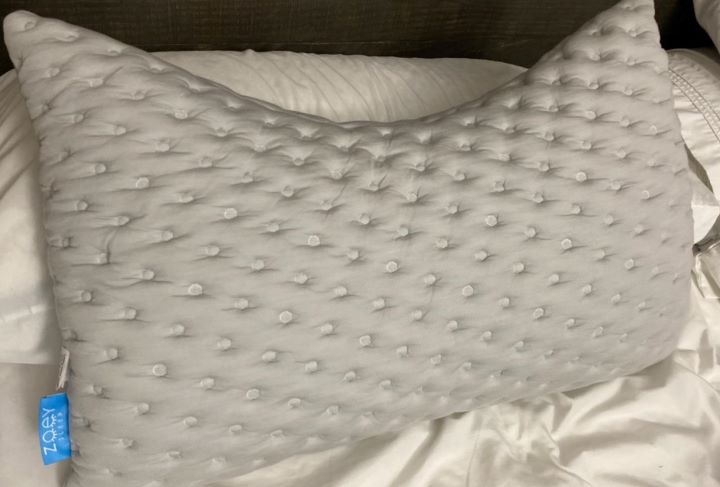 ---
8
An Orthopedic Support Cervical pillow made right in the USA.
Chiropractors and Orthopedic Doctors are recommended for neck and spinal support.
Excellent for side and back sleepers.
Orthopedic design cervical pillow.
Firm and comfortable support.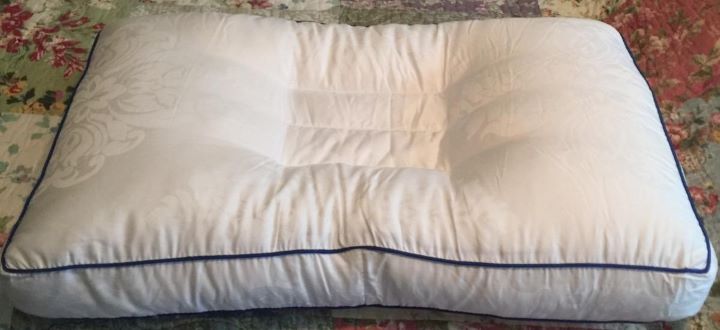 ---
9
These pillows made in the USA have high-quality materials.
These pillows by Tempur Pedic are designed with comfort in mind.
It supports your back, neck, head, and shoulders.
It features a low profile making it an ideal pillow for all types of sleepers – side, back, or stomach.
Moreover, the materials are adaptive, making this made in US pillow a long-lasting one.
It can be compressed if you need to pack it for a trip.
The cover can be removed and washed easily, and while it's on, it keeps your skin soft and breathable.
---
10
This pillowcase is made with 100% Organic Cotton.
It offers a luxurious feel and sateen finish, with a 500 Thread count.
This organic Natural Kapok pillow is soft and firm at the same time to provide optimum comfort and support.
It is made in the USA.
---
11
Form Digital Décor we have a set of two luxurious down alternative, American-made pillows.
Ready for superb comfort with its hotel-quality craftsmanship.
It is covered in 100% cotton fabric that is completely hypoallergenic.
There is a set of two pillows included with each order.
It is filled with a plush and comfortable down alternative, consisting of hypoallergenic virgin polyester.
The cotton cover features a high thread count of 100% cotton.
---
12
The Xtreme Comforts Adjustable Pillow is made for sleeping; no matter how rough or active you are during the night, this pillow is fully adjustable and
comfortable enough for any sleeper.
Top-rated premium pillows made in the USA.
Deluxe memory foam filling that is shredded to perfection offers a superbly adjustable pillow.
It contours to the shape of your body and offers the best support and comfort all night.
The bamboo cover's micro-vented cool flow technology ensures excellent breathability and temperature control.
Hypoallergenic, dust mite resistant, and completely machine-washable.
---
13
These pillows made in the USA have high-quality materials.
This classic pillow provides comfort and firm support for all sleeping positions.
Moreover, Cozy One uses hollow siliconized soft-down alternative fiber filling to make their pillows super plush.
And the pillow cover is 100% brushed microfiber polyester and can be machine-washed and tumble-dried.
You can use this pillow without worries, as Cozy One follows Zero Waste Production policies to make eco-friendly products.
---
In the End
It does not matter what the reason is; there is nothing like a good American brand. The same goes for your pillow; these brands are exceptional American brand pillows that offer only the best in quality and craftsmanship.
---
Index Table: Top Rated Pillows Made in USA
---
---