Your pillow forms such an important part of your sleep routine, and it can either have you tossing or turning all night or drifting away effortlessly and comfortably into dreamland.
Choosing a high-quality, well-crafted USA-made pillow is one of the best routes you can go; by supporting a brand that you believe in from a top industry leader, you will never be disappointed.
---
Why Buy a USA Brand
Whatever your reasons may be for choosing an American brand name in the pillow, here are a few other reasons why it is such a good consideration to follow;

You are supporting an American business that will provide jobs for many future generations of Americans to come, which in turn creates a better, stronger, and more educated nation.
You are furthermore promoting the independence of America as a whole by supporting local businesses.
Likewise, supporting a local or agricultural business and investing in the USA will ensure that you are doing your part to contribute to the environment. This, in turn, preserving the environment for future generations.
You are also boosting opportunities for American investors, thus aiding in advancing the country's economic status.
Last and most importantly, you are guaranteed a good quality product with genuine and fine craftsmanship.
---
USA Made Brand Quality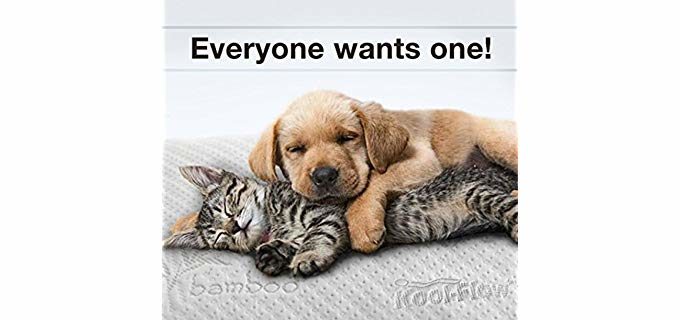 The USA-made products, in this case, pillows, are persistent in providing long-lasting quality, by using extensive research. Certain brands may be cheaper as they run better sales, although the brand's heritage and quality remain the same.
---
Qualities of an America Made Pillow
Selecting a good quality American brand pillow, first and foremost, you will need to look for a well-known USA pillow manufacturer company.
Here are some tips for finding a pillow that is the right fit for you;
You can choose from an array of fills such as polyester, memory foam, microfiber, or more natural latex, feather and down, or even buckwheat.
The pillow's cover can be any material, though I would recommend pure cotton or bamboo for its breathable and cooling properties.
Lastly, the size, from standard to kingsize, the choice is up to you!.
Not forgetting a solid or adjustable fill, where the difference is in the inner fill being shredded for adjustability.
---
Reviews: The Best USA Manufactured Pillows
Here are our Top American Brand Pillows;
---
1
Nothing beats the square Pillow from Moonrest when it comes to being hypoallergenic, as well as soft comfort.
A square-shaped pillow that is manufactured in the heart of the USA.
Filled with 100% soft and plush polyester fiberfill and lined with cotton and polyester fabric as a protective cover.
This pillow not only sleeps comfortably but will also look very elegant in a decorative pillow cover.
It finished off with 5 thread overlock stitched for durability.
Machine washable and easy to maintain.
---
2
Form Digital Décor we have a set of two luxurious down alternative, American-made pillows.
Ready for superb comfort with its hotel-quality craftsmanship.
It is covered in 100% cotton fabric that is completely hypoallergenic.
There is a set of two pillows included with each order.
It is filled with a plush and comfortable down alternative filling, consisting of hypoallergenic virgin polyester.
The cotton cover features a high thread count of 100% cotton.
---
3
The Snuggle Pedic is one of my favorites for so many reasons, but in this instance, particularly because it is one of the top American brands.
It is filled with high-quality shredded memory foam that will never lose its shape.
The bamboo and viscose cover is super hypoallergenic and will keep you cool and well ventilated during the night.
The memory foam used in this pillow is USA CertiPur certified and eco-friendly.
A zipper allows you to refill or remove some of the memory foam to adjust the pillow's firmness.
The cover is washable and removable.
---
4
Queen Anne is an American company that prides itself in producing products of royal and luxury quality for plush and deluxe comfort. The Heavenly Down Pillow is simply that, a down pillow that feels like it has been made in heaven.
A medium-size pillow with a firm to soft support, filled with premium down feathers and absolutely no chemicals.
Unlike most feather and down pillows, this pillow is non-allergenic and will not irritate individuals with sensitive skin or asthma and hay fever issues.
Free from chemicals, toxins and flame retardants.
Likewise will prevent dust mites and other allergens from settling in.
---
5
This is a name that you might have heard before; Homfy offers you a premium set of Queen sized pillows in medium softness. This American brand offers the best in soft, supportive, and comfortable pillows.
There is a characteristic long-staple cotton fiber cover, which is highly durable.
The filling is made from an exceedingly resilient microfiber that is plush and soft.
The medium firmness of this pillow will not cause any neck or back pain issues.
An anti-drilling surface that is both durable and comfortable.
Similarly, this premium pillow is hypoallergenic and has no crisp noise that may irritate your ears, such as with other cotton covers.
Suitable for any sleeper in any position.
---
6
The Xtreme Comforts Adjustable Pillow is made for sleeping; no matter how rough or active you are during the night, this pillow is fully adjustable and comfortable enough for any sleeper.
A top-rated premium pillow manufactured in the USA.
Deluxe memory foam filling that is shredded to perfection offers a superbly adjustable pillow.
It contours to the shape of your body and offers the best support and comfort all night.
Micro-vented cool flow technology in the bamboo cover ensures excellent breathability and temperature control.
Hypoallergenic, dust mite resistant, and completely machine washable.
---
7
The Milemont is a USA-made pillow filled with USA Certi-PUR certified memory foam.
Medium firms offer excellent neck support for side sleepers.
Double sides for all seasons with a double pillowcase.
Durable and long-lasting materials and pillowcase.
Premium memory foam fill.
---
8
An Orthopedic Support Cervical pillow made right in the USA.
Chiropractor and Orthopedic Doctor recommended for neck and spinal support.
Excellent for side and back sleepers.
Orthopedic design cervical pillow.
Firm and comfortable support.
---
9
This pillow is made in Talalay in the USA with quality natural Latex fill.
High-quality natural latex fill.
It offers a large and firm support loft.
King size option.
It keeps its shape and is fully moldable.
Cooling and comfortable.
---
10
This pillowcase is made with 100% Organic Cotton.
It offers a luxurious feel and sateen finish, with a 500 Thread count.
This organic Natural Kapok pillow is soft and firm at the same time to provide optimum comfort and support.
It is made in the USA.
---
In the End
It does not matter what the reason; there is nothing like a good American brand. The same goes for your pillow; these brands are exceptional American brand pillows that offer only the best in quality and craftsmanship.
---
Index Table: Top Rated USA Brand Pillows
---
---