The microbead body pillow is the perfect way to cuddle up for a good night's sleep. Microbead fillings help with the heat retention issue and are much more pliable and adjustable if you are looking for a soft and comfy pillow.
So what makes the microbead body pillow so unique? Well, it has all kinds of different uses! It can be used as a pillow while you sleep on your side, but it also works great as a neck roll or lumbar support when you're working at your desk or watching TV. Keep reading to check the best choices available in the market.
Moreover, if you are an avid reader, check out some of the best reading pillows to save yourself from neck pain.
---
Microbeads in Your Body Pillow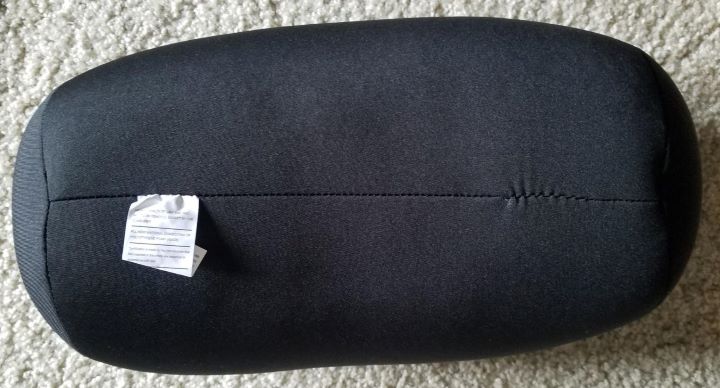 A body pillow, in general terms, is just a more significant or oversized pillow that you use to provide either full-body comfort or back, neck, shoulder, and other body area support, rather than just for your head and neck.
It would help if you had a comfortable and supportive pillow overall to get a good night to rest. However, a body pillow can provide relief in tension areas and ensure that extra touch of comfort.
Microbeads are a fill used in many pillows, consisting of small polystyrene beads, usually found in most bean bags and neck travel pillows. Microbeads provide excellent airflow and easily conform to the shape of your neck and head, almost like memory foam, just much more adjustable and soft.
Though rare in body pillows, Microbeads can offer you exemplary comfort in this type of pillow, and Microbeads are fast becoming a much more popular fill in most body pillows these days.
---
Advantages of Microbeads in Your Body Pillow
The Video features one of the best Microbead Pillow Brands, The Squishy Deluxe, and gives some great general information on a Microbead Pillow.
Microbeads are durable. They won't wear out easily or lose their shape.
You can easily wash a Micro beaded pillow in the washing machine as it won't damage these beads.
They provide the perfect soft and adjustable support in a body pillow.
Microbeads are antibacterial, antimicrobial, and dust-free and do not absorb sweat or odors.
Microbead pillows are super lightweight and very easy to travel with.
You might also want to try some
realistic body pillows
. We have reviewed the best ones for you.
---
Related Articles on Body Pillows
---
Features of a Microbead Body Pillow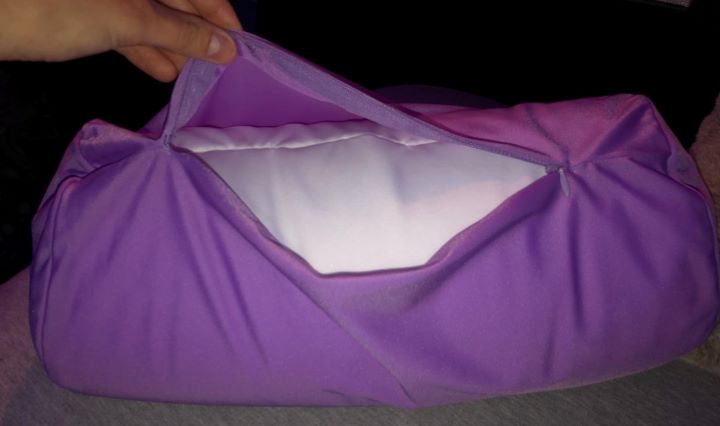 Make sure the Microbeads in your pillow are premium food grade to provide extra cushioned comfort.
Most Microbead Body Pillows come with a soft and durable cover; some have replaceable covers.
These pillows ensure excellent support for pregnant women.
Body Pillows have different size options, all offering unique support options.
Microbeads are hypoallergenic, antibacterial, and antimicrobial, with excellent breathability options.
---
Reviews: The Best Available Microbead Body Pillows
As Microbead Body Pillows are Still new to the market, I have concentrated mostly on the Squishy Deluxe brand, as they are one of the most popular brands in Microbead Pillows.
I have added a few Bolster Pillows, making excellent body pillow alternatives.
We hope you love the products we recommend!
So that you know, We may collect a share of sales or other compensation from the links on this page.
---
1
---
2
A soft and huggable Microbead pillow from Squishy Deluxe for full-body comfort.
It offers soft full-body support that is completely moldable.
A silky smooth removable cover in a Royal Blue color.
Hypoallergenic materials and breathable design.
Excellent long-lasting quality.
---
3
A small and comfortable bed pillow is hypoallergenic and filled with moldable microbeads.
100% Nylon for infinite quality and comfort.
It is filled to the brim with microbeads.
Therapeutic comfort and support.
A sizable and convenient shape Cloud Pillow.
---
4
Wrapped in a Spandex nylon cover, this microbead pillow will adjust to your body like magic.
Features a unique food-grade Microbead fill for full-body cushioned comfort.
A silky feel smooth Spandex and nylon blend cover is removable and washable with a zippered closure.
Ideal for use as a maternity pillow for full-body support and can double up as a nursing pillow.
And also for side sleepers with lower back and hip pain.
Long-lasting quality and durability, and the covers are replaceable.
Completely hypoallergenic, antimicrobial, antibacterial, and dust mite and allergen resistant.
It is also available in many more color choices.
---
5
The remedy Microbead Body Pillow has a unique design to offer cradled support to the contours of your neck, head, and shoulder, offering better spinal alignment and body support. It is not a full-body pillow, although it provides good support to benefit your entire body.
It is filled with premium-quality Microbeads that provide exceptional support and adjustable comfort.
Cradles and supports the natural contours of your neck.
Excellent for pregnant women and ideal for side sleepers.
A comfortable and durable, fully washable cover and design.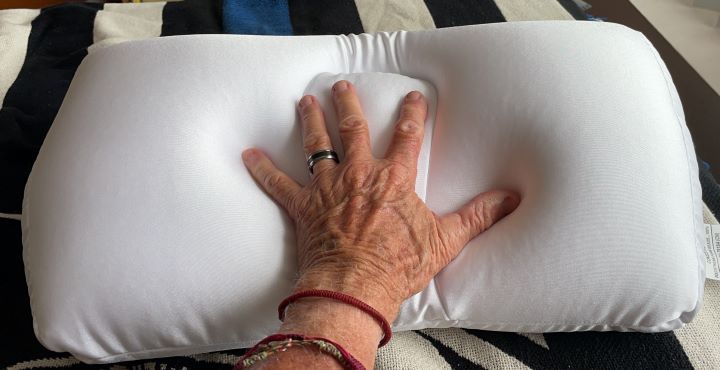 ---
6
The Evolve is a highly sought-after brand in Microbead Pillows with a Spandex/Nylon cover. I have added a review on their replacement covers for the Squishy Deluxe Body Pillow Model in the vent that you may need a new cover or are just looking for another color option in covers.
The cover is manufactured from soft and comfortable Spandex, and Nylon blended fabric with a soft and smooth surface feel.
Highly durable, removable, and easily washable in your washing machine.
Available in a few bright and neutral options.
This cover is likewise 100% hypoallergenic.
---
7
Another outstanding product from Squishy Deluxe, this time, I am considering their smaller bolster pillow version, specifically for travel and convenience features.
This pillow is ideal for taking with you on trips, using in your office, or even a lounge chair, for providing support and comfort to all body areas in need.
Excellent to use as an arm or back pillow when seated or to read in bed, watch television, and for other purposes requiring similar support.
Completely Hypoallergenic, antibacterial, dust and allergen resistant.
It is covered with a soft and smooth nylon/Spandex cover.
These tube pillows are lightweight, small, and easy to travel with, featuring the same comfort and durability features as the full-body pillow from Squishy Deluxe.
Available in a few bright color options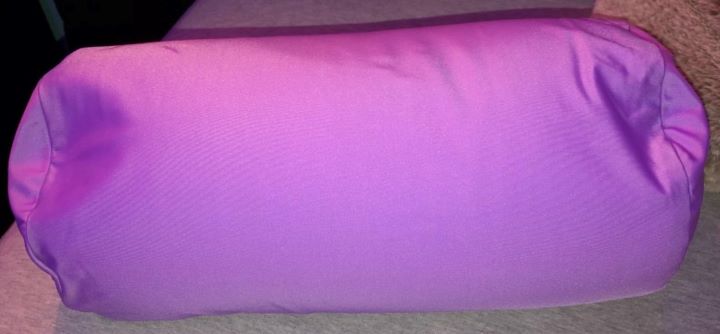 ---
8
Cooling and movement absorbing Microbeads.
Unique shape that contours to the head, neck, and shoulders.
Cover made from Spandex and Polyester.
Durable and quality design.
---
9
This body pillow comes in a unique U-shape design to support the neck and shoulders while you are in an upright position.
It comes filled with microbeads that adjust according to the body's contours and allow for compression and rebound without any issue in case of traveling.
The cover is made with smooth and stretchable Nylon to give you maximum comfort and a luxurious feeling.
It is designed to provide Cervical support to kids and adults and is travel-friendly.
---
10
This bolster-shaped squishy pillow filled with Microbeads gives you maximum support and comfort.
It comes enclosed in a Nylon and Spandex cover for flexibility and luxury feeling.
The cover is Hypoallergenic, moisture-wicking, dust-mite-resistant as well as bacteria-resistant.
It also contains Polyester for some firmness and support and measures 7 x 12 inches in size.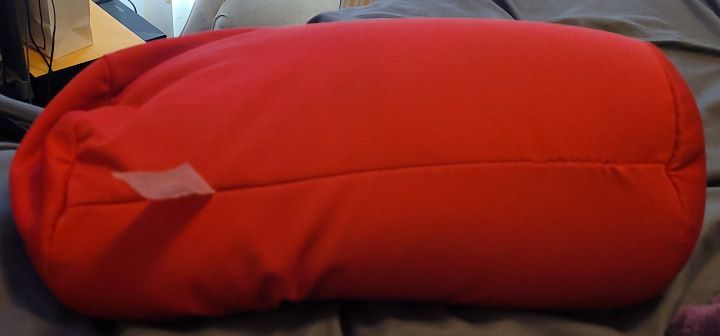 ---
In Conclusion
Microbead pillows, often known as a read or Squishy, are as durable and hypoallergenic as they are comfortable.
Having a Microbead-filled body pillow can be idyllic and offer support and comfort in all areas of your body.
---
Index Table: Top Rated Microbead Body Pillows
---
---