Trying to get a goods night's to rest when you are all hot and bothered, covered in your own sweat, is downright impossible.
What if I told you that just a small and affordable investment could help in this regard.
The right Pillowcase can help to keep you cool and comfortable throughout the night, and here is how:
---
How The Cooling Pillowcase Helps
There are so many reasons as to why you experience overheating at night; despite just hot weather, it may be aging, hormonal changes, medical conditions, or even the atmosphere inside your room.
Sweating, in turn, can aggravate overheating, and so the cycle goes. Besides this, the wrong pillow and Pillowcase can make it so much worse, not to mention most memory foam pillow, which tends to overheat if not used with the right Pillowcase.
So here is how a good Pillowcase can help to keep you cool, dry, and comfortable;

Breathable – Breathability and ventilation are key to allow for proper airflow, which in turn keeps you cool and dry.
Cooling Technology – Many Pillowcases have specific fibers or technologies that naturally cool you down and regulates temperatures.
Lightweight – Lightweight and airy woven fabric allow for much better ventilation.
Absorbent – Many Fiber types actually absorb and repel moisture away from your head, and boy, keeping warm sweat and vapor away to keep you dry and cool.
---
Best Cooling Pillow Case Materials
So we have discussed how the Cooling Pillow Case works; well, here are some Pillowcase fibers and materials that are ideal for keeping you cool at night;
Cotton – The most common and versatile material and fiber usually used in most bed linens are cotton, and rightfully so. Pure natural cotton is breathable, absorbent, and very durable. But you need to consider a loose weave or cotton percale pillowcase to get the best results.
Technologies -Technologies such as CoolMax,NanoTex,Cool Fiber in the material help to dissipate heat and offers excellent cooling solutions.
Polyester – The right Polyester blend with cooling technology is an excellent option for a cooling Pillowcase that is soft, comfortable, and also highly durable.
Tencel – Tencel is a fiber derived from the Eucalyptus tree that is all-natural, hypoallergenic, and of course, cooling. Though quite rare and expensive, it is one of your best natural cooling options in Pilow Cases.
Bamboo – Bamboo is another excellent selection in Cooling Pillowcases. It is super absorbent and naturally cooling, not to mention that it is an all-natural and durable fiber.
Cooling Gel – Some materials and pillowcases are infused with cooling gel, which helps dissipate heat away from your head and body.
---
Features of a Good Cooling Pillowcases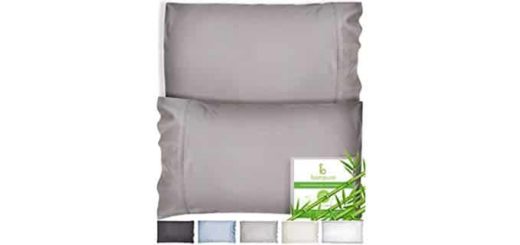 Fibers such as Bamboo, Cotton, or cooling technology Polyester are breathable and have cooling or absorption properties.
Durable and breathable with quality construction and finishings.
Various colors and sizes that you can choose from.
Gel or Cooling technology fibers help to dissipate heat and regulate temperatures.
---
Reviews: The Best Cooling Pillowcases
Here is our selection of the top favorite Cooling Pillowcases available today;
We hope you love the products we recommend!
So that you know, We may collect a share of sales or other compensation from the links on this page.
---
1
The Luxear Double-sided Cooling Pillowcase is high quality and breathable cotton pillowcase.
A double-sided design pillowcase that is ideal for all seasons with a cooler side and a warmer side.
It is made from 100% pure and breathable cotton with a Sateen weave on the one side and a brushed long-staple fiber on the other side.
There is a concealed zipper for easy access, and the Pillowcase is machine washable.
It comes in either a standard or queen-sized casing option for you to choose from.
---
2
The Bampure Pillowcase is an absorbent and cooling Bamboo pillowcase that is available in many color selections to choose from.
Made from 100% natural and organic Bamboo viscose, which is grown in a completely chemical-free environment.
Bamboo is naturally cooling, breathable, antibacterial, and absorbent.
Features a luxury and soft silky sateen weave for your comfort and comes in many colors that you can choose from.
It comes in a set of two premium envelope pillowcases.
---
3
This cooling pillowcase is enhanced with a high-quality Satin weave for a luxury feel.
It also employs 100% Polyester for a smooth texture.
The Pillowcase is anti-allergic, anti-acne, and designed to prevent frizzy hair.
It is suitable for machine wash for easy cleaning.
---
4
From MR&HM, we have soft and cooling silky pillowcases available in many color selections for your perusal.
Made from 100% pure and durable Polyester with COOL FIBER technology that absorbs heat and reduces surface temperatures.
A no zipper envelope closure design is available in many color options.
Breathable and washable design that is safe and comfortable.
Highly durable and long-lasting Pillowcase.
---
5
The Sleep Zone Pure Silk Silk Pillowcase is another exceptional cooling option in pillowcases.
It is made from 100% Polyester Satin fabric that is hair and skin-friendly, causing less irritation and anti-aging and anti-acne properties.
The NANOTEX cool comfort technology balances head temperatures and keeps you cooler and more comfortable.
Silky soft texture against the skin yet still extremely durable and machine washable.
A few color options are available to select from.
---
6
Kool-Flow Technology Pillow Case that is extra breathable and micro ventilated.
Made in the USA with premium Bamboo and Viscose, blended with Polyester,
The 6 percent added Lycar aids in keeping you cool all night.
A zipper closure that is removable and washable.
---
7
A soft and breathable cooling Bamboo pillowcase.
Bamboo is naturally moisture and odor resistant and breathes easily.
An envelope closure design with enhanced protection.
Highly woven viscose Bamboo is used.
---
8
A Multi-use cooling pillowcase with two sides for summer and winter.
One side is silky for summer, and the other is soft, warm cotton for winter.
Highly breathable design that keeps you cool all night.
The closure has a zipper, and the Pillowcase is fully washable.
---
Index Table: Top Rated Cooling Pillowcases
---
---