If your pillow is giving you problems such as mold, allergies or housing bed bugs, then you've come to the right page!
Read more below on all you need to know about pillow protectors as well as where you can purchase the best of the best.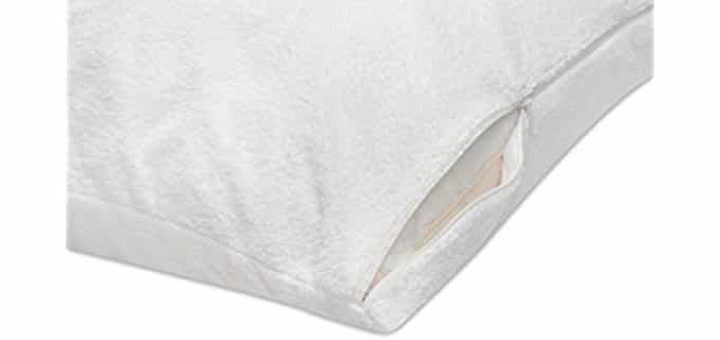 ---
Best Materials of Pillow Protectors
It's important to choose the material of your pillow protectors wisely. The difference can result in losing out on much-needed sleep or sleeping deeper than you ever have before!
Pure Cotton – Pure cotton protectors are made from 100% natural fibers from the cotton plant. If many long threads of cotton are used, the result is a very smooth, soft and breathable material. Cotton is often put in combination with polyester to prevent it from shrinking in the wash. However, this can cause allergies for some people. If you want a pure cotton pillow protector, wash it delicately with cold water.
Cotton Terry – Cotton terry is cotton which can be pure or a blend. The main difference from ordinary cotton is that terry cloth is looped, which gives it the appearance of being ultra fluffy! It confers all the same positive benefits of cotton fabric, being breathable, moisture-wicking, cool and comfortable.
Bamboo – Bamboo is another alternative to cotton that is regarded as more eco-friendly. This is because cotton is known to be quite a thirsty crop whereas bamboo needs far fewer resources to grow. Bamboo fibers are just as soft and breathable as cotton fibers, and in rare cases, they're also preferred by those who are allergic to cotton.
---
Pillow Protector Buying Precautions
Make sure to heed these buyer's precautions before purchasing a pillow protector.
Zipper – If the pillow protector does not have a zipper, then it won't be bed bug or dust mite resistant. At the same time, if the zipper is made too large, the bed bugs can crawl through the teeth of the zipper. Opt for a zippered pillow protector that has very fine-grain teeth which seal very well.
Vinyl – Some waterproof pillows are covered with a layer of vinyl, latex or PVC to make them waterproof. Not only is this difficult to launder, but it also makes for very hot and uncomfortable sleeping. The best option is to get a pillow protector that has a breathable covering and a waterproof lining made from polyurethane or something similar. This way, the lining will not touch your skin, your pillow will be protected, and you get to sleep deeply without overheating.
Chemicals – Chemically treated pillow protectors are a health hazard. Avoid phthalates, fire retardants or other toxic chemicals which are often used to lengthen the lifespan of a pillow.
---
Features of a Good Pillow Protector
These are the features that everyone wants in their pillow protectors to keep their pillows fresh and bug-free!
Bed Bug Proof – Not all pillow protectors guard against dust mites or bed bugs, which can both cause nasty bites, allergic reactions and sleep deprivation. Make sure the pillow has a high thread count and a fine mesh zipper to block these critters.
Waterproof – If your pillow protector is waterproof, it means that you can spill anything, perspire, or mess any fluids onto the cover without damaging your pillow.
Hypoallergenic – A hypoallergenic protector will prevent allergies and improve the quality of your sleep.
Anti-Microbial – Anti-microbial pillow protectors fend off mold and other bacteria that like to inhabit dark, moist places, such as the inside of your pillow.
Lifetime Warranty – The warranty usually tells you if the pillow protector is durable and for how long it lasts. A lifetime warranty is naturally the best as it shows the manufacturer means business!
---
Reviews: Best Pillow Protector
Below is a top selection of pillow protector reviews, chosen for their effectiveness and popularity.
---
The sleep defense system by Hospitology aims to tackle pillow problems from all angles with this pack of two pillow protectors.

You'll never need to wash the inside of your pillow again once switching to these, as they prevent any fluids or liquids from penetrating past the top layer.

An extra fine mesh zipper on the one side in combination with a super soft polyester knit fabric ensures that bed bugs cannot get through.

Say goodbye to any pillow allergies or respiratory problems such as asthma and rest assured on this hypoallergenic pillow protector.

Comes included with a 2-year warranty.

---
2
SureGuard pillow protectors will last you a minimum of 10 years and help to effectively remove all obstacles between you and a good night of sleep.

Choose between terry cotton or pure cotton and indulge in the softest sleeping experience of your whole life!

Invisi-Zip technology ensures that the pillow is entirely fortified against bed bugs or dust mites.

The surface of the pillow protector remains cold, silent and wicks away moisture too so that you don't have to lie in it.

Free from harmful chemicals such as flame retardants and vinyl, making sure your health is at it's best.

100% waterproof and machine-washable.

---
3
This set of 2 pillow protectors will revolutionize your life by removing all allergens, bed bugs or mold from your pillow inner.

The protector is 100% waterproof, allowing for messes, sweat or any other fluids to spill without damaging your pillows.

The ultra-thin fabric feels soft, comfortable and does not make a noise when you move in bed.

Free from phthalates and other harmful toxins such as PVC.

Zippered and protected from bed bugs.

Includes a lifetime warranty, meaning that you only ever need to purchase this once – any damage or wear and tear will be replaced with a new set!

---
4
Get yourself a premium pillow protector with SYT Home Comfort today and never again worry about dust mites or stains.

The pillow protector is waterproof and prevents any spillage from reaching the pillow inner.

Stop worrying about dander, dandruff, allergens, mold or bacterial growth inside your pillow and start to enjoy bed rest again!

Sleep deeper without being pestered by bed bugs or dust mites thanks to the tight-knit surface and impenetrable zipper.

Pillow protectors are machine washable and can be put in the tumble drier at a delicate setting.

---
5
Ideal for sensitive individuals, these cotton terry pillow protectors are the best when it comes down to fending off those allergens.

Made from a very soft and almost spongy terry cotton material, these protectors fulfill the legacy that the brand name suggests, offering you everlasting comfort!

Completely keeps bed bugs out of your pillows and lets you enjoy resting without getting bitten.

Prevent any allergens, bacteria and more from infesting your pillow, keeping it clean, fresh and in mint condition.

Comes included with a lifetime warranty, so you only need to make your purchase once.

---
6
A Set of Two Hypoallergenic safeguarding pillow protectors available in standard, king, and queen size, as well as a size for toddler pillows.
Completely waterproof and bug proof design.

Hypoallergenic and durable as well as dust mite and allergen resistant.

Ideal for children and adults.

Comes in a variety of size options.

---
7
The Ruvanti Pillow Protectors comes in a convenient pack of two, and are highly breathable and soft.
A 400 thread count Cotton , pillow case that is breathable and hypoallergenic.

Durable zip closure.

Elegant color and fine stitching details.

Offers full protection.

Can be washed and will not shrink.

---
8
The Calm Nite set of two pillow protectors are highly durable and protective, as well as hypoallergenic.
Blocks and prevents Dust Mites and Bed Bugs from entering your pillow.

Made from silky soft Polyester with a high thread count.

A breathable design with a waterproof membrane.

High quality and carefully crafted from the finest materials.

---
Index Table: Top Rated Pillow Protectors
---
---