One of the few things you can do to reduce dust Mites and allergens effectively is using a dust-mite-resistant pillow cover and bed cover. Your pillow and mattress can have anywhere from hundreds to thousands of dust mites living in them, which may cause severe to mild allergic reactions.
Dust Mites love dark and damp places, which is why your pillows and bed are such an ideal breeding ground for allergy-causing dust mites.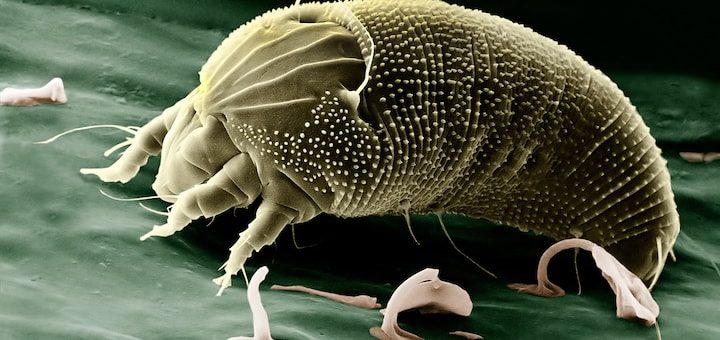 ---
What are Dust Mites and How do they Affect You
Dust Mites are small living insets that are microscopic and not visible, which breed in dark, damp, and dusty areas of your home.
Your bed and pillows are a particular favorite breeding ground for Dust Mites because it is dark and damp.
Dust mites are close relatives to ticks and spiders and eat the skin cells you shed; therefore, they are present in most upholstered furniture such as sofas, beds, carpeting, and bedding. Dust Mites can cause allergic reactions in many individuals, whether they are dead or alive. Besides this, even just the idea of a tiny little parasite living in your bed or on your pillow is enough to be quite creepy and disturbing.
Besides this, Dust mites' main issue is that they can aggravate asthma and eczema conditions and can cause moderate to severe ALLERGIC reactions.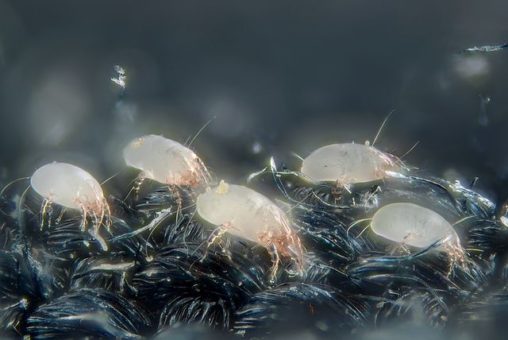 Eye Irritation and Infection – Dust Mites can cause red, itchy, and watery eyes and irritate and damage your eyes. They can likewise be the cause of swollen and blue-colored skin under your eyes.
Nasal Congestion – Dust mites can affect your sinuses, causing a runny or congested nose and sinuses as well as sneezing and breathing issues.
Asthma – individuals who have Asthma may get a severe Asthma attack or struggle to breathe due to dust mites.
Hayfever and Allergies – in general, dust mites can cause hayfever and allergic reactions such as sneezing, coughing, itching, a runny nose, itchy throat, and skin itching.
Trouble Sleeping – all the symptoms caused by dust mite will most definitely interrupt your sleep.
Eczema – individuals suffering from eczema may experience itching and breakouts due to dust mites.
In Children – you may notice that your child is continually rubbing their nose when sleeping, which is one of the main symptoms of Dust Mite allergies.
---
How a Dust Mite Resistant Pillow Cover Works and its Benefits
A dust Mite Pillow and mattress cover can be a savior in preventing the build-up and breeding of dust mites, as well as other allergens. In this article, however, we concentrate on a Dust Mite resistant Pillow Case as a start.
A dust Mite resistant pillow Case or Cover serves three basic purposes;
Other benefits of a Dust Mite Resistant Pillow may Include;

Keeps Dust Mites Away from Their Food Source – the Dust Mite resistant Pillow cover keeps dust mites away from your skin, and in turn, away from their main source of food which is your dead skin cells and dander. This, in turn, leads to them starving to death, and then it can easily eliminate them.
Keeps Dust Mites and Feces Out of The Air – Every time you toss and turn Dust Mites, dead and alive, as well as their feces, are dispersed into the air, and you end up breathing them in and getting these particles on your skin and in your eyes. The Dust Mite resistant Cover for your pillow keeps already there dust Mites and their feces trapped and away from your face.
Cleaner – having a cover on your pillow that absorbs moisture, sweat, and oils that you can wash regularly is much safer and better for your health in general. In turn, the dust mite-resistant cover also keeps dust mites OUT so that they cannot further enter your pillow and are easily washed away when you wash your pillowcase and the cover.
---
Features of a Good Dust Mite Resistant Pillow Covers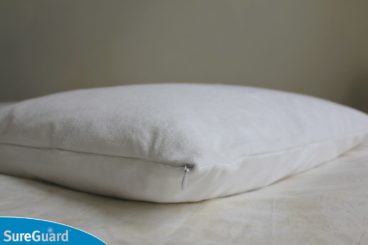 Keeps dust and dust mites out.
It is made of lightweight and breathable materials.
It absorbs sweat and moisture and keeps us cool at night.
It is made from hypoallergenic materials.
Antibacterial treated.
Easily removable and washable design.
---
Reviews: The Best Dust Mite Resistant Pillow Coverss
Below I have listed the Top rated Dust Mite rresistant Pillow cases available today;
---
1
The SureGuard Dust Mite Pillow protector is a waterproof pillow protective cover that you place underneath your pillowcase to protect you against allergens and dust mites.
It comes in a set of two standard waterproof pillow protector covers with zip closures.
Completely bed bug proof and dust mite resistant and seals off your pillow to prevent contact with allergens.
Gives a hypoallergenic blocking from dust mites, allergens, and bacteria, as well as mold and mildew protection.
Very soft and noiseless design that has a 1005 cotton terry surface.
Score:
99.1
By Daniel Max
---
2
Allersoft is a top brand in hypoallergenic, waterproof, and dust mite resistant pillow and mattress protectors of the finest quality and craftsmanship.
Made from durable and breathable cotton that allows moisture vapor tout to keep you dry and cool.
A breathable allergen and dust mite barrier with small pore sizes keeps particles in and vapor out.
High-quality design with a durable zipper closure that completely seals all allergens and bugs in.
It comes in standard, queen, and king-size options; I have features the queen-sized option to review.
Score:
98.7
By Daniel Max
---
3
The Mission: Allergy Pillowcase is a soft and comfortable Microfiber pillowcase that is breathable and dust mite, and allergen resistant.
Designed by a Board Certified Allergists and recommended by leading Allergy Specialists.
Medical Grade design blocks Dust Mites, allergens, and dander 100% while remaining breathable.
It is manufactured from soft, tightly woven microfiber and polyester that is air and water vapor permeable, though still dust mite resistant and water repellent.
High-quality construction and sewing with zipper flaps and quality zipper closures.
Score:
98.3
By Daniel Max
---
4
The Organic Cotton pillowcase from The Allergy Store is naturally hypoallergenic, dust mite, and allergen resistant and breathable and cooling against the skin.
Made from 100% GOTS certified Organic Cotton.
There are no added chemicals or harsh treatments used in the manufacturing process.
Cotton is soft, cool, and breathable.
Tightly woven cotton fibers block allergens and dust mites and keep them at bay.
There are heavy gauge nylon zipper closures with rust-proof metal zippers.
Score:
97.9
By Daniel Max
---
5
High-quality pillow protectors from Home Fashion design come in a handy pack of four allergen-proof, waterproof, and dust mite resistant pillow protective covers.
They are made from 100% natural cotton with a very tight weave to block bed bugs, dust mites, and other allergens while allowing air and vapors to pass through.
Antibacterial design and stain and wear and tear resistance.
Easy allergy control, And great to use on feather pillows if you are allergic.
High-quality waterproof design with a cotton terry top that absorbs moisture effectively.
It comes in a variety of sizes and packaging options.
Score:
97.5
By Daniel Max
---
6
A premium Dust Mite resistant Pillow Protector.
It allows for optimal airflow and cooling and provides liquid and allergen protection.
Hypoallergenic, waterproof, and highly breathable materials.
Completely machine is washable with a zipper closure system.
Score:
97.2
By Daniel Max
---
7
A German Engineered and award-winning Evolon Cover with one microfiltration using microfilament technology for a better barrier against allergens.
Completely allergen and dust mite resistant.
Absorbent and quick-drying materials.
Highly breathable and not coated, containing no PVC materials,
A sleep-safe zip cover closure.
Score:
96.8
By Daniel Max
---
8
A set of two dust mite-resistant and waterproof pillow covers.
A zippered closure design.
It is made from soft close-knit polyester fabric with a breathable waterproof membrane.
Available in different pillow size options.
Score:
96.4
By Daniel Max
---
9
This pillowcase is designed to be Hypoallergenic as well as anti-dust mite to protect you from germs.
It is made using high-quality, breathable fabric that allows heat to escape to keep you cool.
The cover comes equipped with a zipper for easy insertion and removal.
It is suitable for machine wash and tumble drying.
Score:
95.8
By Daniel Max
---
10
It is made using premium quality Polyester for a soft and smooth finish.
This pillowcase is dust-mite resistant, hypoallergenic, and waterproof to prevent damage from fluids and spills.
The vinyl-free material of this cover comes embellished with a zippered closure for complete protection and convenience.
It works as a reliable barrier against bed bugs, germs, and other allergens and is safe for machine wash.
Score:
95.5
By Daniel Max
---
Index Table: Top Rated Dust Mite Pillow Covers
---
---