Wedge pillows are excellent remedies for acid reflux.
Not only do they soothe burning, cramps, and indigestion-related symptoms, but some can provide you with full body support and back pain relief.
Knowing what wedge pillow to buy for acid reflux can save you time and money.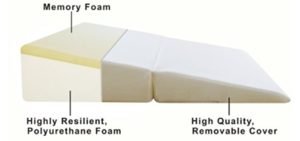 ---
Causes and Symptoms of Acid Reflux
Acid Reflux can result in unpleasant feelings of nausea, warmth, and discomfort in the stomach.
Sharp pains, gas, and inflammation in the gut can add to these symptoms, as well as lead to mild regurgitation in the back of the throat or heartburn.
Heartburn is that burning sensation we feel when stomach acids decide to come back up. It can be felt all the way from the stomach to the top of the throat. Eating too much or too quickly can result in acid reflux.
In sensitive individuals, acid reflux can be caused by eating spicy foods or foods that are too acidic for the stomach to handle, resulting in indigestion.
Allergies can also create acid reflux symptoms if eaten in large quantities, such as a dairy-intolerant person drinking a glass of milk.
In some very special medical disorders where the stomach valve is not capable of closing properly, acid reflux can be experienced non-stop. Eating foods that create less gas and inflammation in the body can help immensely in these cases.
How Sleeping on an Incline Helps Acid Reflux, Indigestion and More
Sleeping on an incline or angle of elevation helps to treat acid reflux, sometimes remedying it all together! Sleeping on a wedge pillow allows all stomach acids, gasses and other fluids that may be creating pain to move with gravity. This means instead of moving up; they move down, the way they should move.
Wedge pillows will also help you if you snore or suffer from allergies that create blockages in your sinus and lungs. Often the cause of snoring is something blocking your airways. Sleeping at an angle allows these fluids to drain once again, resulting in better breathing at night during sleep and better sleep in general!
If you have an injury and are afraid of moving from side to side as a side sleeper, some wedge pillows will help you stay in one place. Additionally, they will help you maintain a proper sleeping posture, minimizing the pain from injury or your back, neck, and shoulders. Wedge pillows can also help babies who have acid reflux after eating or burping.
Features of a Good Wedge Pillow to Remedy Acid Reflux
The best wedge pillow for sleeping with acid reflux ultimately depends on your needs.
The angle of elevation is an important aspect to take into account.
A very steep wedge pillow is better for somebody who can't breathe due to fluids pooling in the lungs, such as snorers or people with allergies. Look for a wedge pillow of this kind that doesn't allow you to slip off if you need a steep wedge pillow!
Side sleepers with mild gastric reflux would want just enough of an incline to help the stomach soothe itself, somewhere between 0-45 degrees.
Pillow firmness is also a feature to keep in mind. The best wedge pillows tend to be very firm, made from either memory foam or latex for ultimate weight support.
Memory foam contours your exact body shape, ideal if you want to maintain a good posture. Very beneficial for side sleepers who suffer from neck and back pain!
Side or stomach sleepers will require a full body wedge pillow that they can put their arms under.
---
Reviews: Best Wedge Pillow for Acid Reflux
Acid Reflux can be extremely uncomfortable particularly while you are trying to sleep. Investing in a good pillow with characteristics that help reduce and remedy Acid reflux could be just the answer that you are looking for.
We have researched and selected some of the best available options in Wedge Pillows that will help with Acid Reflux;
---
1
The MedCline Acid Reflux Relief and Night Time Heartburn Relief Wedge Pillow is clinically tested and proven to improve the quality of sleep, where 95% of test participants reported back this result.

The incline of the pillow and size aid you to rest at 45 degrees, effectively allowing stomach acid to move down and remedy heartburn.

Medically endorsed by physicians for acid reflux, indigestion or heartburn symptoms as an excellent solution.

Support your spine at the same time with perfect posture.

Breath well while you sleep and let your arm rest naturally under the pillow without worrying about circulation loss.

Scientifically shown to last five times longer than the average wedge pillow.

---
2
The InteVision Wedge Pillow has a two-layer design, with a top layer of memory foam and an underlayer of firm foam to give you the best back support.

The top layer of memory foam holds true to your exact shape, allowing you to change sleeping positions throughout the night as a side sleeper.

This foldable foam wedge pillow is foldable and comes with a portable carrier travel case

It comes with a luxurious pillowcase made from prized Egyptian cotton with a 400 thread count.

The very acute narrow incline gently eases your acid reflux or indigestion symptoms, allowing all burning and sensations of pain to fade away.

Ideal for snorers who need gentle wedge support.

A very long wedge pillow to allow anybody size to sleep comfortably.

---
3
Never suffer a sleepless night again because of acid reflux. The Drive Medical Folding Bed Wedge Pillow is anti-acid reflux, using gravity to your advantage.

Fold this unique wedge pillow up and use to bolster yourself for reading in bed.

Remedies back pain and neck problems as well as aiding in the treatment of respiratory problems.

Perfect for side and back sleepers who snore or show signs and symptoms of any of the above problems.

Hypoallergenic and made firm enough to support the backs of sensitive individuals.

Its ability to be folded up makes it easy to store and portable.

---
4
The Drive Medical Italian Bed Wedge Pillow helps you to breathe better and sleep better, allowing you to wake up feeling ready to face the new day!

Wedge pillow made from memory foam for a superior sleeping experience.

The size of this wedge pillow is large enough to ensure that everyone can use it.

An excellent way to alleviate pains for side and back sleepers.

Memory foam contours your exact shape and provides your spine with the perfect back support it needs.

Doctors medically endorse this pillow.

---
5
The Original Bamboo Bed Wedge is manufactured from the best quality memory foam that is ideal for sleeping positions, watching television, pregnancy pains, stretching, neck pain, & helping acid reflux & heartburn

Recommended by doctors to improve breathing and eliminate acid reflux.

The Classical Bamboo cover is hypoallergenic and has cooling properties.

A comfortable design that relieves neck, back and leg pain as well.

A natural remedy for heartburn that is comfortable and easy to use.

---
6
The DMI wedge pillow is a highly supportive sleeping or reading pillow.
A full upper body pillow that elevates your head to prevent back and shoulder pain as well as ease snoring and respiratory issues.

Likewise offers lower body leg and foot support as another versatile option.

Filled with High density Foam.

Guaranteed to hold its shape for a long time.

---
7
The Relax Pillow from Home life is the ideal Wedge pillow for back and neck support, as well as helping to prevent Acid Reflux.
A soft and durable bamboo and polyester cover.

Cooling and breathable design.

Ideal to prevent snoring and acid reflux, as well as to support your back neck and shoulders while sitting or sleeping.

---
8
The LuxeLift Support Pillow is a multipurpose adjustable wedge pillow with stay cool Gel infused Memory foam.
Features a Memory Foam center and a Gel infused top and bottom layer.

Cooling and breathable offering firm support.

An excellent option for sinus problems, snoring, GERD and back or neck pain.

A soft quileted, Hypoallergenic, and washable cover.

---
Index Table: Top-Rated Wedge Pillows for Acid Reflux
---
Please Rate this Article:
---
---