Some of the links in this post are affiliate links. This means if you click on the link and purchase the item, I will receive an affiliate commission at no extra cost to you. All opinions remain my own.
Did you know that your nostrils play a vital role in your ability to breathe well? Your two nostrils can be different sizes. A normal nostril and nasal cavity are divided into two halves, called your nasal septum. Ideally, this separation is usually equal. However, in 80% of the population, the nasal halves are not divided equally.
When someone has a nasal cavity that is bigger than the other, we call it a deviated septum. Having a deviated septum could cause issues while you sleep, which can make breathing difficult, and which may also lead to certain cold symptoms.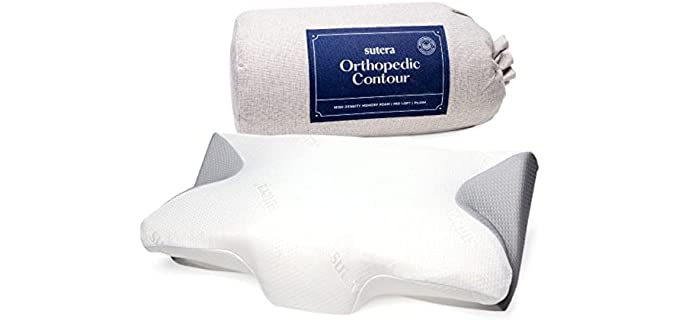 ---
---
Deviated Septum Causes and Complications
The deviated septum occurs when the thin walls between your nasal passages, called the nasal septum, become displaced to one side of the nose, making the septum of your nose off-center.
This may not sound very bad to you; however, in more severe cases of a deviated septum, it can block one side of the nose or reduce airflow, which causes many difficulties in breathing, especially while you are sleeping.
Symptoms – A deviated septum can obstruct one or both of your nostrils. And the blockage may cause it to become difficult to breathe for you, especially. Breathing can be exceptionally difficult, especially when you have a cold or an allergy reaction. The surface of your septum can also become dry when you have a deviated septum, which may lead to nosebleeds. Thou not very likely they have been some complaints that a deviated septum can cause pain in your face. Your nose may develop a cycle alternating between obstruction in one slide and then changing the obstruction to the other side of the nose, called a nasal cycle. Your breathing may be difficult and quite noisy while you sleep, and a deviated septum can often lead to snoring.
Causes – We have explained exactly what causes a deviated septum. However, there are a few reasons you may get a deviated septum. Firstly, the condition may be hereditary and present at birth. Then again, you may have suffered an injury to your nose that has caused the septum to deviate or move out of position.
Risk Factors – For the most part, a deviated septum can be caused by an injury. So it is advised that when you play contact sports, you wear the proper protective gear, and when driving in a car, you wear your seat belt.
Complications – When you have a severely deviated septum, it can cause nasal blockage, which may cause your mouth to become dry and chronic mouth breathing. It can also cause pressure or congestion based on your nasal passages, disturbing your sleep due to your inability to breathe. A deviated septum may also cause you to snore, irritating your partner sleeping next to you or, if loud enough, the rest of the household.
Prevention – If you do not have a hereditary deviated septum, I suggest you follow these measures. It would be best if you protected your nose. So when you play any contact sport, always wear a helmet to protect your nose. When you drive in a motorized vehicle, always wear a seat belt.
---
Sleeping with a Deviated Septum
When you have a deviated septum, sleeping on one side of your body is usually much easier than on the other or your back. It can cause you to breathe loudly and snore when you sleep on your side. Sleeping on your back is also usually favored in individuals with a deviated symptom. These sleeping positions make it easier for them to breathe during the night.
Sometimes in more severe cases of a deviated septum, your doctor may prescribe a CPAP mask or a full face moss to help you breathe easier while sleeping. In this case, you would need a specialized pillow to accommodate the facial mask or the CPAP machine.
When looking at the best pillow for a deviated septum, I suggest that you look at pillows that are ideally suited for slipping on your side or your back. Support your head and neck, which are slightly firmer in their lofts. Cervical and contoured pillows, ideal as they provide good support when sleeping on your back or side, will make breathing much easier.
The last thing you want when you have a deviated symptom is an allergic reaction. I also recommend looking for a pillow that has a hypoallergenic cover.
---
Features of a Good Pillow for A Deviated Septum
Type – As I've mentioned, the cervical or contoured pillow is your best option when you have a deviated septum. Look for Orthopedic style pillows that support your neck and your head properly.
Firmness – The pillow should be firm or medium firm. I would not go for a very soft pillar. Look for pillows that have either memory foam or a latex full. You can also look for a pillow with a gel-infused memory firm or a gel layer with a cooling effect.
Loft – Look for a pillow not as high as sleeping on your back; your side generally requires a medium to soft pillow. Sleeping on your back requires a much lower pillow than sleeping on your side.
Cover – Make sure your pillow cover is removable and washable to prevent the bold up of dust mites and allergens. Look for breathable covers and moisture-wicking, such as natural cotton or bamboo covers.
---
Reviews: The Best Pillows for A Deviated Septum
---
1
The Lundberg is a CPAP pillow for when you need to use a CPAP machine for a deviated septum.
It is an adjustable memory foam pillow suitable for all sleeping positions.
It reduces air leaks and pressure while sleeping with a CPAP machine.
The pillow has a cooling fabric cover.
---
2
The Aeris Wedge pillow will keep you in a more upright position to improve your breathing.
It is a memory foam wedge-style pillow.
The pillow has a comfortable and washable bamboo cover.
It is also ideal for acid reflux.
---
3
The Ikstar pillow is also a CPAP machine pillow that can be used with a CPAP machine or facial mask for a deviated Septum.
It has a firmer memory foam fill and a durable cover.
The pillow offers mid-firmness and has a breathable and washable cover.
It is compatible with any CPAP face mask.
---
4
The ElviroaCervical Pillow is also ideal for a Deviated septum.
It has a supportive and contoured design that offers good neck support to improve breathing.
The pillow is ideal for side, back, and stomach sleepers.
It has a memory foam fill and a removable cover.
---
5
From Relax Home Life, I have chosen another wedge-style pillow for support when you have a deviated septum.
The pillow has a cool bamboo viscose cover.
It allows you to sleep in a more comfortable position.
The fill is a softer shredded memory foam.
---
"6″
The Cushion Lab Pillow is an ergonomically contoured pillow ideal for a deviated Septum.
It has Cloud support, softer cushioning, and an anti-aging pillowcase.
The pillow has a cervical shape for gentle neck and head support.
It supports your shoulders and your spine.
[/super_list]
---
Index Table: Top Rated Pillows for A Deviated Septum
---
---