You may think that an ergonomic pillow is just another gimmick.
Well, I am here to tell you that that is not entirely true. The best ergonomic pillows are designed using scientific strategies and calculations to create a pillow that fully supports your head and neck and helps to align your spine properly for your specific sleeping position.
They are designed to offer therapeutic relief and better sleep by enhancing the position that you sleep into a more optimal natural position, without any pressure points or strains.

---
What is and Ergonomic Pillow
Ergonomic pillows are curved, shaped, or contain materials such as memory foam that provide optimal support and comfort for your sleeping position.
A few ergonomic pillows have unique benefits, yet all with the same principle.
The main aim of an ergonomic pillow is to complete your normal sleeping position by cradling and contouring your body into proper position and alignment, cutting down on tension from sleeping ai n a single position at a time.
An ergonomic pillow supports your neck, no matter your sleeping position. Your neck is usually the area in which most pillows lack support.
---
Benefits of and Ergonomic Pillow
So let me get a bit more into the many benefits of using an Ergonomic Pillow for sleeping;
Contoured Neck Support – The memory foam pillow usually has a contoured ergonomic design with a curve at the ends raised and a dip in the middle for your head. This type of ergonomic pillow supports your neck and head properly. It is ideal for back and side sleepers.
Cervical and Spinal Alignment – Your Cervical spine is the delicate area where your neck connects to your upper spine and vertebrae of your back. This is also where your spinal cord lies. When you are sleeping, it is crucial to keep the natural alignment of your spine and the curve at the back of your neck in place. The best way to ensure this is to use a pillow that fully supports your neck.
Increased Blood Circulation – Because an ergonomic pillow incorporates the perfect firmness to softness ratio, you do not have a pillow that is so hard. It restricts blood flow or is so soft that you sink into it. The medium softness of memory foam or latex fill pillow undealt supports your body for optimal circulation.
The Pillow Fits the Person – Most ergonomic pillows have a latex or memory foam fill that ideally molds to your unique shape to offer a more customized fit. You can also adjust some ergonomic pillows that have shredded fills or layered fills to get the perfect eight.
Less Tossing and Turning – Ergonomic pillows are comfortable and stable because they ideally support your head and your neck. Thus, they may prevent you from tossing and turning all night, and even if your partner is tossing and turning, you will feel it.
Antibacterial Protection – Most ergonomic pillows, more of a luxury pillow, will come with memory foam, charcoal-infused memory foam, and other antimicrobial agents. They usually have bamboo or antimicrobial cover protecting against allergens and microbes.
Prevents Headaches and Migraines – When your head and your neck are properly aligned, there is less tension, and you are less likely to suffer from headaches and migraines caused by tension.
Keep in mind that even though a pillow has an ergonomic shape, it is generally not advised to sleep on your stomach at all, as this is an extremely unhealthy position for your spine, as well as internal organs. For stomach sleepers, a very flat pillow is required.
---
Features of a Good Ergonomic Pillow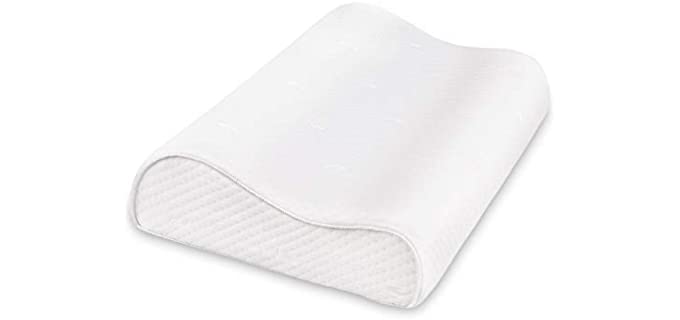 Fill – Ergonomic pillows will usually have a moldable foam fill such as memory foam, latex or air foam.
Cover – The cover will be durable and sometimes removable for washing. Bamboo or cotton are the best choices for a natural and breathable cover.
Design – Ergonomic pillows come in standard, contoured or cervical designs.
Options – You may be able to choose from a few size options in the specific ergonomic pillow model.
---
Reviews: The Best Ergonomic Pillows
These are some of the best available ergonomic pillow brands and models;
We hope you love the products we recommend!
So that you know, We may collect a share of sales or other compensation from the links on this page.
---
1
---
2
The Royal therapy Memory foam pillows are also the perfect orthopedic comfort ergonomic pillow.
It is a contoured support pillow with raised edges.
The pillow has a memory foam fill and a moisture-wicking bamboo cover that is removable.
It is ideal for side and back sleeping positions.
---
3
The Elviros Cervical pillow is also a great ergonomic pillow option.
The Cervical design provides optimal support for the cervical area in your neck and back.
It has a memory foam fill and contoured support.
You can get the pillow in two different height options for side and back sleeping.
It also comes with a breathable and durable cover.
---
4
Here we have a basic contoured ergonomic pillow
It has a moldable memory foam full and offers contoured and cervical neck support,
The pillow has a double pillowcase cover that is removable and washable.
The high-density memory foam is ideal, and there are contoured technologies for support.
---
5
The Micesky is an ergonomic pillow specially designed for side sleepers.
It has a contoured design and Orthopedic functions.
The pillow has a memory foam fill and a washable, hypoallergenic pillowcase.
It also offers effective relief of neck pain.
---
6
The AM Aeromax is a contoured ergonomic pillow.
The pillow is filled with memory foam and has a cervical neck support design.
It has a washable and durable pillowcase and is well ventilated.
The pillow is ideal for all sleeping positions, as it will fully support your neck and head either way.
---
Index Table: Top Rated Ergonomic Pillows
---
---