There is nothing more pleasing than lying your head down in a crisp, clean, and comfortable pillowcase after a long and hard day.
But what may seem a convenience can become quite an irritation when during the night, your pillow slips out of its fold-over or envelope closure, pillowcase, or you might even roll onto a hard and uncomfortable button closure.
Luckily there is a quick and easy remedy to this; the zip closure pillowcase, protective, hassle-free, and it will never slip off.
---
Besides the Zipper Some Other Pillow Case Features
Protection – Your Pillow Case is about just as important as the pillow itself; this piece of fabric is what comes into contact with your face and head at night and protects your pillow against dirt and debris.
Fabric Contenet – Most pillowcases are manufactured from natural cotton, cool and absorbent, Polyester, or a Polycotton blend, which is a bit softer but less absorbent. Then there are more luxury fabrics such as Linen made from Flax, Satin, Silk, or even Nylon.
Thread Count – The Thread Count of the fabric in your pillowcases expresses how dense, and soft the material is, with a higher thread count, always being the better option.
Closure Type – Most pillowcases come with either the fold-over closure, envelope fold, or a buttoned closure. However, today we are looking at the benefits of a zip closure, which is quite rare but highly efficient and beneficial in many stances.
---
Zipper Vs Non-Zipper Pillowcase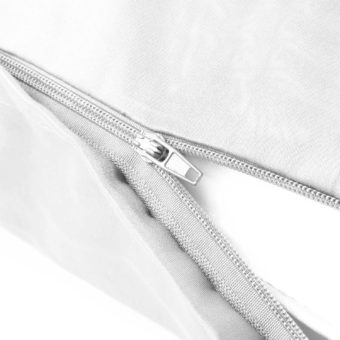 The only negative about a zip closure is that it may irritate and scratch either you or your bed linen during the night.
other than that, here are some great benefits;
Most zippered pillowcases, well, those of good quality, in turn, have a small slit into which the zip goes to be out of the way.
If you take good care of the zipper closure and follow the washing instructions, it should also last very long and not break easily if you are worried about that.
A pillowcase with a zipper does not have the inclination to slip off, or for the pillow to bulge out during the night, your pillow is also must better protected and will thus last much longer.
In the end, a zipper closure pillowcase is something that you may not find very easily, even though it has so many benefits, as most manufacturers stay with the old-fashioned, tried, and trusted fold-over closure method.
---
Features of A Good Zipper Pillow
Concentrating on zipper function alone in a pillowcase, keeping in mind the utmost importance of quality, here are a few things to make sure of;
Durability – Ensure that the zip used is very high quality and durable material.
Stitching – Double hemmed stitching is a must for durability and protection against dust mites and other allergens.
Smooth Operation – Try the zipper out; it should be noiseless and run smoothly without getting stuck anywhere.
Metal Zipper – Look for good quality and sturdy zipper, preferably metal.
Hidden Design – Make sure that there is a slot to hide the zipper so that it is out of the way when it is zipped up.
---
Reviews: Best Pillow Cases with Zip Enclosures
Down Below are given some of the top zip closure pillowcases that you can order for yourself. Also, we like to inform you that for every purchase that you make through the given links, we may get some credit for the purchase.
---
---
---
---
---
---
---
---
---
---
---
---
---
---
In a Nutshell
As you can see, there are many benefits to zippered Pillow Cases, particularly when it comes to protection against allergens. Cotton, zip closure, the pillowcase is just a much cleaner and safer option in many ways.
---
Index Table: The Best Zip Closure Pillow Cases
---
---