Some of the links in this post are affiliate links. This means if you click on the link and purchase the item, I will receive an affiliate commission at no extra cost to you. All opinions remain my own.
There is nothing more pleasing than lying your head down in a crisp, clean, and comfortable pillowcase after a long and hard day.
But what may seem a convenience can become quite an irritation when your pillow slips out of its fold-over or envelope closure pillowcase during the night, or you might even roll onto a hard and uncomfortable button closure.
Luckily, there is a quick and easy remedy to this; the zip closure pillowcase is hassle-free and will never slip off.
---
Besides the Zipper Some Other Pillow Case Features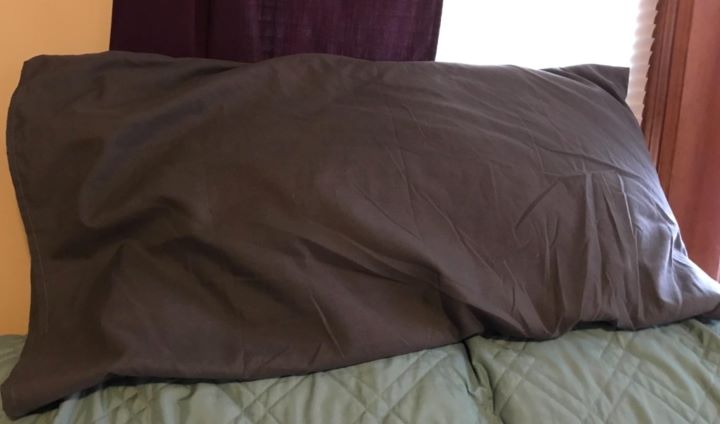 Protection – Your Pillow Case is about just as important as the pillow itself; this fabric comes into contact with your face and head at night and protects your pillow against dirt and debris.
Fabric Contenet – Most pillowcases are manufactured from natural cotton, cool and absorbent, Polyester, or a Polycotton blend, which is a bit softer but less absorbent. Then there are more luxury fabrics such as Linen made from Flax, Satin, Silk, or even Nylon.
Thread Count – The Thread Count of the fabric in your pillowcases expresses how dense, and soft the material is, with a higher thread count, always being the better option.
Closure Type – Most pillowcases come with either the fold-over closure, envelope fold, or a buttoned closure. However, today we are looking at the benefits of a zip closure, which is rare but highly efficient and beneficial in many stances.
---
Zipper Vs Non-Zipper Pillowcase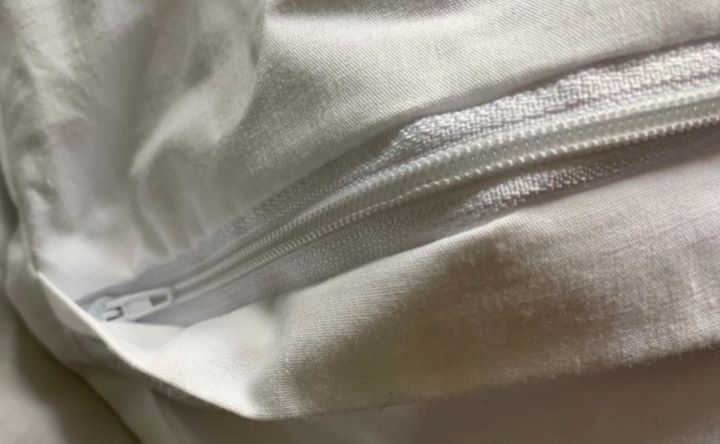 The only negative about a zip closure is that it may irritate and scratch either you or your bed linen during the night.
other than that, here are some great benefits;
Most zippered pillowcases, well, those of good quality, have a small slit into which the zip goes to be out of the way.
If you take good care of the zipper closure and follow the washing instructions, it should also last very long and not break easily if you are worried about that.
A pillowcase with a zipper does not have the inclination to slip off or for the pillow to bulge out during the night, your pillow is better protected and will thus last much longer.
In the end, a zipper closure pillowcase is something you may not find very easily, even though it has many benefits, as most manufacturers stay with the old-fashioned, tried, and trusted fold-over closure method.
---
Features of A Good Zipper Pillow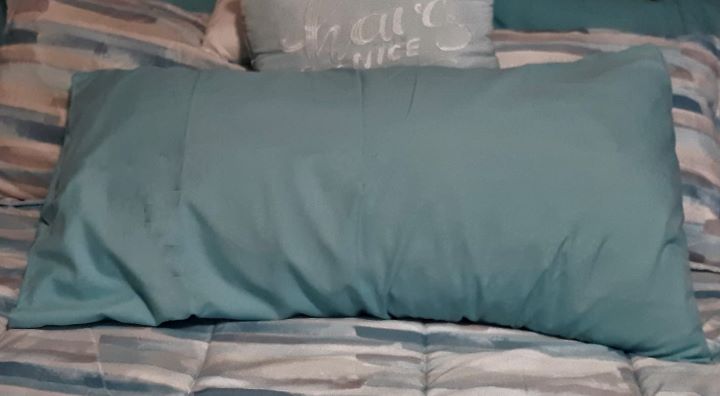 Concentrating on zipper function alone in a pillowcase, keeping in mind the utmost importance of quality, here are a few things to make sure of;
Durability – Ensure that the zip used is very high quality and durable material.
Stitching – Double hemmed stitching is a must for durability and protection against dust mites and other allergens.
Smooth Operation – Try the zipper out; it should be noiseless and run smoothly without getting stuck anywhere.
Metal Zipper – Look for good quality and sturdy zipper, preferably metal.
Hidden Design – Make sure that there is a slot to hide the zipper so that it is out of the way when it is zipped up.
Moreover, you can also consider the
best grounding and earthing pillow case
while deciding to buy some new pillowcase. These are not only good in looks but also provide many health benefits. Do check them out!
---
Reviews: Best Pillow Cases with Zip Enclosures
Below are some top zip closure pillowcases you can order for yourself.
We hope you love the zippered pillowcases we recommend!
So that you know, We may collect a share of sales or other compensation from the links on this page.
---
1
---
2
The White Classic is another superb Hotel Quality Pillow Case set in Crisp White Polycotton with a durable Zippered Closure system.
Available in different pillow size options for your specific needs.
Easy to wash and care for, fully machine washable.
A breathable and temperature control design will likewise not rustle or make any noise when you move around in your sleep.
The zipper is of superior quality and has a double hemmed stitch to keep out mold, mites, and allergens.
Tightly woven superior quality cotton and polyester blend fabric.
Very durable and has a high-quality design and zipper closure.
---
3
Satin has the unique ability to be good for your hair and skin and not mess up your hairdo during the night. The Unique Satin Pillowcases come in a pack of two with three attractive color options for you to choose from.
It is manufactured from high-quality Microfiber Polyester in a soft, sheen satin finish.
The durable zipper closure at the side does not cause any irritation.
Satin is ideal for your hair and skin while providing a good night's rest.
This will make a perfect gift for any occasion.
Available and sheen light blue, silver grey, or rose pink color options for you to choose from.
---
4
The Niagara Sleep Solution zip pillowcase is 100% cotton and gives you a relaxed sleep.
The pillowcase is easy to wash and does not shrink after machine washing.
No phthalates, PVCs, toxic chemicals, or vinyl coat the pillowcase.
Tightly woven with a pore size of 3-4 microns provides extra comfort.
---
5
Built with 100% microfiber fabric and is wrinkle and stain-resistant.
There are many color variants, all built with premium quality.
The pillowcase is skin-friendly and ensures high-quality sleep.
The smooth texture of the pillowcase makes it usable through all 12 months of the year.
---
6
One of the most versatile Zippered Pillow Case options I have seen so far, offering you many sizes, quantities, fabric, and protection type options to choose from, the ideal pillowcase selection for a large family or to use in the hospitality industry.
Pillowcases are manufactured from 400 thread count high-quality cotton, with a hypoallergenic sateen feel for a clean sleeping environment.
A natural sateen high thread weave ensures maximum allergen and bacteria protection.
The cotton is highly breathable and keeps you cool and comfortable all night.
Completely machine washable.
It features a durable and double-stitched zipper closure for added protection.
It comes in some gorgeous designs in a soft and comfortable sateen style.
It is available in standard, queen, and king size options in packs of up to 12 pillowcases for hotel and hospitality use.
Likewise available with or without a protective bamboo cover or in a hypoallergenic or normal fabric type.
---
7
A Fully zipped protective Pillowcase with an auto-locking system.
Comfortable and soft all-cotton pillowcases are available in different color and size options.
The pillowcase is an anti-allergen and dust mite resistant 3-4 micron fiber weave.
Highly breathable and cooling design.
---
8
Comfortable pillowcases with a smooth hidden zip.
It is made from 100% durable and breathable cotton.
Completely stain, fade, and wrinkle-resistant.
The zip is sturdy and highly durable.
Available in different pillow size options.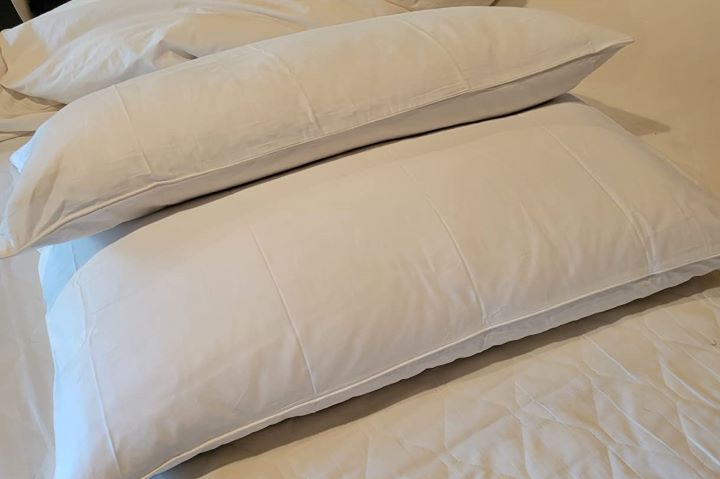 ---
9
The polyester satin fabric used in its making gives it a lustrous and distinctive appearance.
The pillowcase is perfect for people having curly hair, as it is completely moisture-free.
The pillowcase's slip and smooth feel help you get a soothing sleep.
The envelope closure pattern ensures that your pillow does not slip and gets a perfect fit.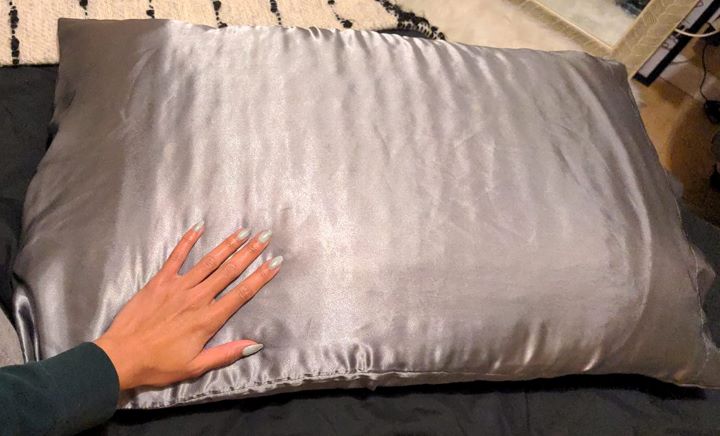 ---
10
Feel the luxury of the hotel with the ultrasoft texture of the pillow.
The pillowcase is exquisitely designed using microfiber yarns that keep the allergens out.
Easy to wash and stays away from wrinkles.
This Bare Home pillowcase is stain-resistant and does not fade away from sunlight and extensive washing.
---
Index Table: The Best Zip Closure Pillow Cases
---
---