Many people find it difficult to sleep on their side because they have trouble keeping their arms in one place. If you're one of these people, a pillow with an armhole may be the solution you've been looking for. This type of pillow can help you maintain better alignment while you sleep and reduce your shoulder or arm's chances of developing pain.
Here are some of the benefits a pillow with an armhole can offer side sleepers. Also, we have listed the best side sleeper pillow with an armhole for you.
---
Benefits of Side Sleeper Pillow with Arm Hole
Like every other sleeping position, sleeping on your side has both its bad and good points.

Aches and Pains -Side sleepers with neck problems may wake up with aches and pains the next morning since they do not get the proper support during the night. In addition, side sleepers may experience pain in their hips since they are not getting the proper alignment.
Numbness – Individuals may like to rest their arm beneath their pillow, which can strain their shoulder and lead to numbness and itching in that arm. Sleeping posture might be the cause of numbness while sleeping. If you're using the pillow for a side sleeper, you may spend a significant amount of time resting directly on a nerve in your arm or leg. You awaken with the feeling of pins and needles in your arm, hands, or feet.
Helps Acid Reflux – A side sleeper pillow may provide some relief if you are struggling with acid reflux. Stomach acid is more likely to come up through the esophagus when you sleep on your right side. Sleeping on your left side can also help pregnant women reduce heartburn and GERD symptoms. By keeping the stomach below the esophageal sphincter, gravity helps keep food and acids where they belong—in your stomach.
Aids Sleep Apnea – Aside from a side sleeper pillow with an armhole, sleeping pillows for snoring are also recommended for reducing snoring and improving blood flow while sleeping.
---
On Which Side Should You Sleep?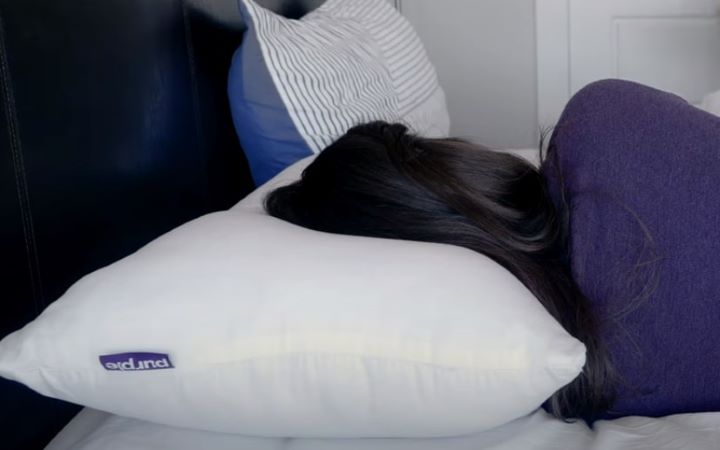 You should most definitely be mindful of which side you sleep on, as there is a better side for side sleeping.
Always try to sleep on your LEFT side!

This all has to do with the position of your inner organs. By sleeping on your left side, your body naturally sets into a comfortable position, which will aid with digestive issues such as heartburn, GERD, acid reflux, and help with sleep apnea.
Keep in mind that your stomach is better positioned when you are sleeping on your left side, which in turn will diminish the likelihood of gastrointestinal discomforts, which is great for side sleepers who use a pillow with an armhole to level off their bodies and align their spine and neck.
---
Characteristics of a Good Arm Pillow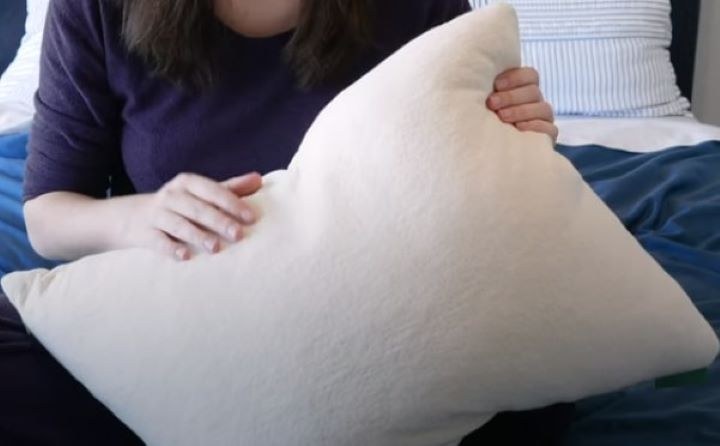 When considering the best options in a pillow that accommodates your arm and shoulders for side sleeping, here are a few factors to look at;
Arm support such as an arm pocket or side panel to rest your arm on.
Good contoured support for neck and shoulder.
Butterfly shapes with various heights can similarly be a good choice.
Neck and arm supporting wings or angles.
A horseshoe-shaped contoured pillow.
A thicker, designed pillow that allows for a gap between your head.
A pillow shaped or stacked with various heights.
---
How We Test and Score Side Sleeper Pillows with Arm Hole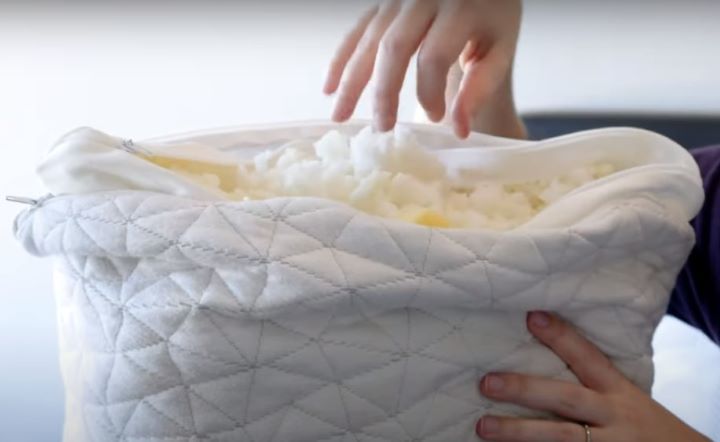 These reviews are based on intense research, analysis, and feedback from our experts and real users from different digital platforms.
We spent 22 hours trying, testing, and scoring these Side Sleeper Pillows with Arm Hole, for different key parameters and then shortlisted the best products in the market, saving you time and effort.
We used the following parameters for our tests and analysis.
Design – We analyzed the design of the pillows to see if it is soft and comfortable to use.
Pain-Free – We checked how extremely effective the pillows are at soothing skin and minimizing pain while sleeping.
Breathability – We checked if the fabric of the pillows was breathable or whether it caused any sweating.
Support – We checked how good the pillows provide support to the user's body and help maintain better alignment.
Adjustability – We tested the pillow's adjustability to check whether it is allowed to use in any sleep position.
---
Frequently Asked Questions (FAQ) Regarding Side Sleeper Pillow with Arm Hole
---
Reviews: The Best Arm Sleeper Pillows
Here is a list of the best pillow for arm sleepers to help you find one that suits your needs.
We hope you love the arm sleeper pillows we recommend!
So that you know, We may collect a share of sales or other compensation from the links on this page.

---
1
The MedCline Pillow is ideal for arm sleeping and similarly for medical conditions such as acid reflux and GERD.
This pillow is clinically proven to reduce heartburn effectively, acid reflux, coughing, choking, and nausea, all symptoms of GERD.
The bediCline pillow features a convenient arm pocket, which aids in relieving pressure from your arm and shoulder that you are lying on.
This pillow with an arm tunnel is ideal for almost any sleeping position.
This pillow is available in three sizes to fit any body size and shape.
It is covered in a washable and removable pure cotton casing.
| Rating Category | Weight % | Score |
| --- | --- | --- |
| Design | 25% | 100 |
| Pain-Free | 25% | 100 |
| Breathability | 20% | 95 |
| Support | 15% | 90 |
| Adjustability | 15% | 95 |
| Total Score | 100% | 96.75 |
---
2
The Better Sleep Pillow is a soft Goose Down Fill Pillow with a comfortable arm tunnel for side sleepers.
The side sleeper pillow with an armhole has two arm tunnels with a thick layer of padding over them for more room to burrow your arms in.
The pillow's ergonomic design is ideal for relieving back and neck pain and improving spinal alignment.
The fill consists of soft goose-down feathers, and there is a comfortable and natural cover.
Aside from side sleepers, this design is ideal for back and neck pain.
The design is ideal for side sleepers.
| Rating Category | Weight % | Score |
| --- | --- | --- |
| Design | 25% | 100 |
| Pain-Free | 25% | 95 |
| Breathability | 20% | 95 |
| Support | 15% | 90 |
| Adjustability | 15% | 95 |
| Total Score | 100% | 95.5 |
---
3
The Coisum Cervical Pillow is ideal for neck and shoulder pain, as it offers excellent support and alignment while reducing pressure on your arm and shoulder.
Offers exceptional orthopedic relief for side sleepers in particular.
Will stop numbness and tingling in the arm you are laying on and keep your head from rolling out of a stable position.
Unique butterfly shape for even better head and cervical support.
The pillowcase is removable and takes only a few minutes to wash the pillow.
It is completely hypoallergenic so that it won't make itchiness or any discomfort feeling.
Centipur-US certified materials are used for filling the Coisum pillow for arm sleepers, ensuring the durability and longevity of the product.
| Rating Category | Weight % | Score |
| --- | --- | --- |
| Design | 25% | 100 |
| Pain-Free | 25% | 95 |
| Breathability | 20% | 95 |
| Support | 15% | 90 |
| Adjustability | 15% | 90 |
| Total Score | 100% | 94.75 |
---
4
An excellent choice of portable and contoured pillow, you can soundly sleep in almost any position with Remedy Contour.
Features a design that will not pressure the arm you are sleeping on.
A small contoured pillow with an additional ear hole for individuals who suffer from ear pain.
This pillow is the perfect size for traveling.
Enjoy full-body comfort and support for a sound sleeping experience all night long.
---
5
Zoey Sleep pillow is designed to reduce pains caused by sleeping on the sides.
Moreover, the pillow is adjustable, as you can add or remove the foam to contour the pillow to your neck and shoulder structure.
The pillow is plush and provides a luxurious feel while you sleep. And these pillows are CertiPUR-US, and OEKO certified.
Plus, the pillow's fabric is very breathable and doesn't let you get hot and sweaty at night.
---
6
The MedCline Side Sleeping Pillow has a unique design to accommodate your arms, keeping them comfortable and free from excess pressure.
A wedge pillow that is ideal for neck and shoulder pain.
Offers a slight incline position for sleeping and seating.
There is a handy arm hole to rest your arm to prevent you from sliding down and reduce pressure on your arms.
Firm and comfortable support, made from durable and hypoallergenic materials.
---
7
A firm, solid foam pillow for optimal support with a handy arms rest area from Therapeutica.
A therapeutic pressure and pain-relieving firm pillow.
It is filled with high-density solid foam.
An exceptional ergonomic design that supports your head, neck, shoulders, and arms.
This product is endorsed by medical practitioners for its excellent spin health-promoting capabilities.
---
8
A very versatile and supportive wedge-style pillow that offers therapeutic support and relief to your entire body.
Ideal for pain and pressure relief, as well as improving spinal alignment.
It is filled with high-density foam and a smooth, washable zippered cover.
The design allows the optimal side and back sleeping with an arm resting space and slightly elevated design.
Ideal if you have health issues as well as for CPAP users.
---
9
A unique hollow designed a contoured arm pillow for side sleeping.
Elviros Cervical Memory Foam Pillow with Contour Design is designed to provide the best comfort and support. It provides an ideal sleep posture by aligning your head, neck, shoulder, and back.
Moreover, it is a bestseller product with an excellent design to reduce cervical vertebra and spine stress.
And the ergonomic design follows the curve of your body to keep air passages clear and reduce snoring.
Besides, the pillow core is made of dense memory foam to provide the ultimate support and comfort.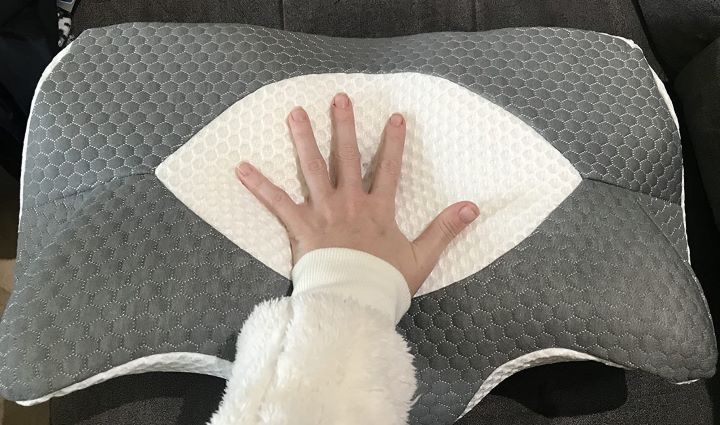 ---
10
This pillow has a contoured shape that is ideal for arm sleeping offering optimal support.
The Best option for side sleeping with a contoured design to support your arms.
Full neck, head, and back support and pain relief.
It is made from Hypoallergenic natural materials.
Machine washable and premium quality.
---
11
The pillow is the best pillow with an arm tunnel and is also excellent to use by couples.
The Pillow has a memory foam fill that molds and contours your shape.
There is an arm tunnel for placing your arm in.
The cover is removable and washable.
This pillow is also ideal for use by couples sleeping together.
---
12
The Sleep Yoga Pillow is an arm support pillow with a comfortable cooling cover.
The Pillow consists of 80% cotton for a soft and comfortable fill.
The arm support design provides comfort, and the pillow fully supports the neck and shoulders.
The ergonomic design allows you to sleep on either of your sides comfortably without straining your shoulders.
The Cover consists of breathable and cooling Cotton Cool Max technology blends.
---
13
This pillow for side sleepers with armholes from Locyop has a unique tunnel design and a memory foam inner.
There is a 100% Polyurethane core, an Ice Sile Cover, and an ABS plastic steel frame in the design.
The fill is memory foam in a high density for a better rebound.
The design offers a comfortable armhole for sleeping and other multiple uses.
The cover is also machine washable.
---
Index Table: Arm Sleeper Pillows
---
---