Are you tired of waking up in the middle of the night feeling like you have a dead arm, numb, and not to mention the tingles that come after?
Still, you do not want to give up tucking your arm comfortably under your pillow.
Well, you can fix this with the right arm pillow—no more numb and tingly arms during the night.
---
Is Side Sleeping on Your Arm good or Bad For You?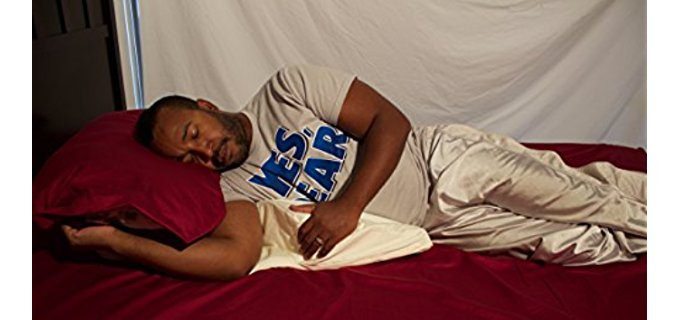 Many people enjoy sleeping on their side, and plenty of times, they use an arm pillow to place their arm underneath it.
Like every other sleeping position sleeping on your side has both its bad points and good points.
Side sleepers with neck problems may wake up with aches and pains the next morning since they do not get the proper support during the night. I believe we are all familiar with when sleeping on your side is the pressure on your arm and shoulder.
Many individuals like to place their arm under their pillow, which then carries the weight of your head; this can cause numbness and tingle in that arm, which may disrupt your sleep during the night. Similarly, there is pressure placed on your shoulder when sleeping on your side that can cause aches and pains and a stiff shoulder and neck in the morning.
On the other hand, there are also many positive benefits to sleeping on your side. Sleeping on your side can help alleviate GERD and acid reflux symptoms, such as nausea and coughing. On the contrary, sleeping on your side, with the correct sleeping materials and alignment, is good for neck pain and shoulder pain. Then there is similarly, sleep apnea, this can be cured by sleeping on your side.
---
Should You Sleep on a Particular Side
You should most definitely be mindful of which side you sleep on, as there is a better side for side sleeping.
Always try to sleep on your LEFT side!
This all has to do with the position of your inner organs. By sleeping on your left side, your body naturally sets into a comfortable position, which will aid with digestive issues such as heartburn, GERD, and acid reflux, as well as helping with sleep apnea.
Keep in mind that your stomach is better positioned when you are sleeping on your left side, which in turn will diminish the likelihood of gastrointestinal discomforts. This is great for side sleepers who use a pillow with an armhole to level off their bodies and align their spine and neck.
---
Features of a Good Arm Pillow
When considering the best options in a pillow that accommodates your arm and shoulders for side sleeping, here are a few factors to look at;
Arm support such as an arm pocket or side panel to rest your arm on.
Good contoured support for neck and shoulder.
Butterfly shape with various heights can similarly be a good choice.
Neck and arm supporting wings or angles.
A horseshoe-shaped contoured pillow.
A thicker, designed pillow that allows for a gap between your head.
A pillow shaped or stacked with various heights.
---
Reviews: The Best Arm Sleeper Pillows
---
---
---
---
---
---
---
---
---
---
---
---
---
---
---
Index Table: Arm Sleeper Pillows
---
---