Are you tired of waking up in the middle of the night feeling like you have a dead arm, numb, and not to mention the tingles that come after?
Still, you do not want to give up tucking your arm comfortably under your pillow.
Well, you can fix this with the right arm pillow, no more numb and tingly arms during the night.
---
Is Side Sleeping on Your Arm good or Bad For You?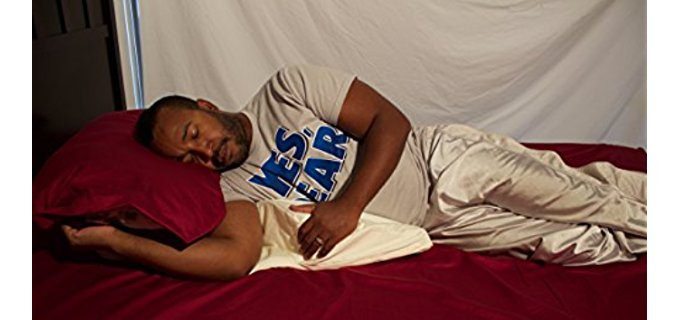 Many people enjoy sleeping on their side, and plenty of times, they use an arm pillow to place their arm underneath it.
Like every other sleeping position sleeping on your side has both its bad points as well as good points.
Side sleepers with neck problems may wake up with aches and pains the next morning since they do not get the proper support during the night. Another issue I believe we are all familiar with when sleeping on your side is the pressure on your arm and shoulder.
Many individuals like to place their arm under their pillow, which then carries the weight of your head; this can cause numbness and tingle in that arm, which may disrupt your sleep during the night. Similarly, there is pressure placed on your shoulder when sleeping on your side that can cause aches and pains, and likewise, a stiff shoulder and neck in the morning.
On the other hand, there are also many positive benefits to sleeping on your side. Sleeping on your side can help to alleviate symptoms related to GERD and acid reflux, such as nausea and coughing. On the contrary, sleeping on your side, that is with the correct sleeping materials and alignment, is good for neck pain and shoulder pain. Then there is similarly, sleep apnea, this can be cured by sleeping on your side.
---
Should You Sleep on a Particular Side
You should most definitely be mindful of which side you sleep on, as there is a better side for side sleeping.
Always try to sleep on your LEFT side!
This all has to do with the position of your inner organs. By sleeping on your left side, your body naturally sets into a comfortable position, which will aid with digestive issues such as heartburn, GERD, and acid reflux, as well as helping with sleep apnea.
Keep in mind that your stomach is better positioned when you are sleeping on your left side, which in turn will diminish the likelihood of gastrointestinal discomforts. This is great for side sleepers that use a pillow with arm hole to level off their body and align their spine and neck.
---
Features of a Good Arm Pillow
When considering the best options in a pillow that accommodates your arm and shoulders for side sleeping, here are a few factors to look at;
Arm support such as an arm pocket or side panel to rest your arm on.
Good contoured support for neck and shoulder.
Butterfly shape with various heights can similarly be a good choice.
Neck and arm supporting wings or angles.
A horseshoe-shaped contoured pillow.
A thicker, designed pillow that allows for a gap between your head.
A pillow shaped or stacked with various heights.
---
Reviews: The Best Arm Sleeper Pillows
---
---
2
While the Drift Side and Tummy sleeper pillow is incredibly soft, it likewise provides excellent support and spine alignment.
The pillow has a discreetly hidden zipper, allowing you to add or remove the fill to adjust the pillow to your liking.
Filled with 100% Centipur-US certified virgin gel and foam, created to support and relieve pressure.
The unique curvature of the pillow supports your neck and shoulders and will not place pressure on your arm that you are sleeping on.
While offering superior neck and shoulder alignment, the pillow is similarly softer and more comfortable than any other pillow in the world.
---
3
The Coisum Cervical Pillow is ideal for neck and shoulder pain, as it offers excellent support and alignment, while reducing pressure on your arm and shoulder.
Offers exceptional orthopedic relief for side sleepers in particular.
Will stop numbness and tingling in the arm that you are lying on, as well as keep your head from rolling out of a stable position.
Unique butterfly shape for the even better head and cervical support.
The pillow case is removable, washable and completely hypoallergenic.
Centipur-US certified materials are used for filling the Coisum pillow.
---
4
An excellent choice in portable and contoured pillow, you can soundly sleep in almost any position with Remedy Contour.
Features a design that will not place pressure on the arm you are sleeping on.
A small contoured pillow with an additional ear hole for individuals who suffer from ear pain.
This pillow is the perfect size for travelling.
Enjoy full-body comfort and support for a sound sleeping experience all night long.
---
5
The Coisum is another excellent choice for arm sleepers. An orthopedic pillow with contoured memory foam for optimal comfort and pain relief.
The memory foam fill of the cervical pillow offers excellent pressure relief and adjustable comfort.
Being high density, the memory foam in the pillow will retain its shape.
Features organic and natural three-dimensional contours to adapt to your different sleeping positions.
A patented butterfly design that cradles your head, neck, and shoulders.
Likewise provides a soft and luxurious feel that is customary in a high-end pillow.
---
6
The MedCline Side Sleeping Pillow has a unique design to accommodate your arms, keeping them comfortable and free from excess pressure.
A wedge pillow that is ideal for neck and shoulder pain.
Offers a slight incline position for sleeping and seating.
There is a handy arm hole, where you can rest your arm to prevent you from sliding down and reduce pressure on your arms.
Firm and comfortable support, made from durable and hypoallergenic materials.
---
7
A firm and solid foam pillow for optimal support with a handy arms rest area, from Therapeutica.
A therapeutic pressure and pain-relieving firm pillow.
It is filled with high-density solid foam.
An exceptional ergonomic design that supports your head, neck, and shoulders as well as your arms.
This product is endorsed by medical practitioners for its excellent spin health-promoting capabilities.
---
8
A very versatile and supportive wedge-style pillow that offers therapeutic support and relief to your entire body.
Ideal for pain and pressure relief, as well as improving spinal alignment.
It is filled with high-density foam and a smooth, washable zippered cover.
The design allows the optimal side and back sleeping with an arm resting space and slightly elevated design.
Ideal if you have health issues as well as for CPAP users.
---
9
A unique hollow designed a contoured arm pillow for side sleeping.
Multi-functions as a neck and shoulder support, and hollow design for arm support.
Help to reduce pressure points.
It is designed for better circulation, working with your boy heat.
Padded cotton and foam fill.
---
10
This pillow has a contoured shape that is ideal for arm sleeping offering optimal support.
The Best option for side sleeping with a contoured design to support your arms.
Full neck head and back support and pain relief.
It is made from Hypoallergenic natural materials.
Machine washable and premium quality.
---
11
This is a U-Shaped firm pillow that gives you space for pacing your arms when sleeping on your side.
The Contoured U-Shape is ideal for side sleeping on your arms.
It offers excellent neck, shoulder, and back support, and pain relief.
It has a firm and comfortable loft.
A smooth silk cover that is breathable and cooling.
---
Index Table: Arm Sleeper Pillows
---
---