The position that you sleep in has a significant effect on your quality of sleep as well as your overall health.
A poor sleeping posture can result in back and neck pain, sleep apnea as well as fatigue and cramping.
In this article, I will be discussing the many benefits of sleeping on your side and which side is proven to be the best side to sleep on. Side sleeping is one of the most slept in positions and, therefore, worthy of some research and background.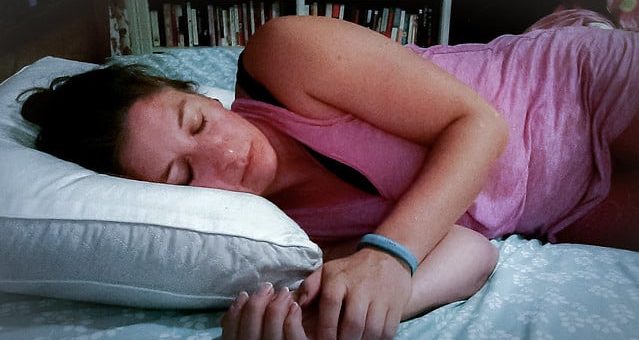 ---
Sleeping on Your Side
Let's face the facts, sleeping is a vital and substantial part of your life, and your sleeping position and sleeping aids can affect your body, health, and sleep patterns.
The aim is to get a comfortable and deep sleep in a sleep position that keeps a proper posture to prevent pain and fatigue.
Every sleep position has its benefits as well as downfalls, though the side sleeping position seems to be the most promising and most frequent sleeping position used.
Sleeping on your side is most definitely the most common and healthy position, although if you are going to sleep on your side, make sure you sleep on your LEFT side.
The Video below shows how to sleep on your side correctly

---
Is Sleeping on Your Side Better Than Other Positions
As it all turns out, sleeping on your side is quite healthy and good for you, although each side has its profits. I would not go as far as saying sleeping on your side is the best sleeping position, the most common, yes. Your sleeping position will depend on your body type, weight, and health issues, so the sleeping position best for you can not be generalized. Although sleeping on your side has many benefits overall as a sleeping position for the general healthy individual.
This is the agreement that you do sleep on your LEFT side, though!
However here are a few of the great advantages of sleeping on your side;
Heartburn and Acid Reflux Relief – Sleeping on your LEFT side is one of the best positions to relieve heartburn and prevent and reduce acid reflux effectively.

Improved Circulation – The Left side sleeping position likewise improves Lymph node drainage and circulation as well as helping your brain and body to filter out toxins.

Digestion – Because of the location of your organs when sleeping on your left side, you will have much better digestion.

Better Breating – Sleeping on your side helps to open up airways for much easier breathing and similarly prevents sleep apnea.

Improved Spinal Alignment – Sleeping on your side with the correct sleeping aids aligns your spine and pelvis in the perfect position and posture.

Reduced Snoring – Snoring is greatly reduced when sleeping on your side. Sleeping on your back is the most likely position for snoring.

Pregnancy – During pregnancy sleeping on your side is the most comfortable if not the only position that you can sleep in, and there are some excellent options in Pregnancy Body pillows for this position.

A good tip when you prefer sleeping on your side is to make sure to choose a good supportive pillow to avoid back and neck pain.
---
Issues Related to Side Sleepers
There are not too many cons related to side sleeping, depending on your health conditions and the quality of sleeping aids that you use. The most noted problem with side sleeping is neck and back, and shoulder pain, which is usually a result of using and incorrect pillow.
Another factor noted from side sleeping is that you are sleeping directly on your face, similar to side sleeping which can cause friction and wrinkles in the long run, for this I would recommend an appropriate fabric in pillowcases such as a Silk pillowcase, copper-infused or pure cotton pillowcase.
---
What Type of Pillow Works Well for Sleeping on Your Side
When it comes to the perfect pillow for side sleeping, keep in mind the factors at hand, back, neck, and shoulder pain, as well as sleeping directly with your face on the pillow. For this reason, we will look at pillows that offer the best support and pillowcases that are skin-friendly.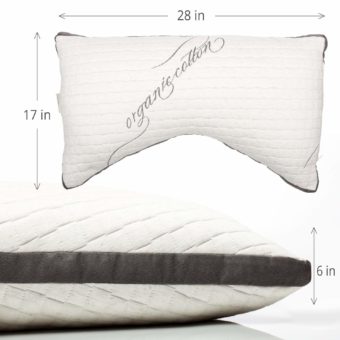 Most side sleepers prefer a pillow that has a fuller shape and no contours with soft and conforming materials to alleviate pressure points.
Here are afew options that you should consider;
Full Loft – Look for a pillow with a medium to firm, and full loft or higher profile and try to avoid contoured or very flat pillows.

Fill Materials – Shredded or solid memory foam and Buckwheat pillows are your best options as they offer a firmer loft and are moldable into a pressure alleviating position and loft. Other options include latex, where I would rather recommend shredded latex, as latex is very firm, or down and feather pillows with a firmer loft. Buckwheat is another superb and adjustable fill that is perfect for side sleepers.

Pillowcases – Look for healthy option pillowcases from mostly natural fibers such as 100% pure organic cotton. Other great options for your skin and hair include silk and copper-infused pillowcases.

Adjustability – Adjustability for a side sleeper is vital, so look for a pillow which gives you the option to remove or refill the loft.

Feel – The firmness or height of the pillow should always be an in-between, a medium soft loft and middle height are perfect, nothing too high or too firm, and especially not low or soft.

Feather and Down Fill – I like down, and feather fills because of its moldability and the fact that you can adjust the loft, although this option should not be considered if you have allergies, and you should go for a firm option here.

---
Reviews: The Best Head Pillow in General for a Side Sleeper
I have gone through many reviews and recommendations to find the one overall PERFECT pillow for side sleepers and have found this one to be the most sought after and popular;
---
The Brookstone BioSense side sleeper pillow by far is the best pillow for side sleeping as it covers all the ticks when it comes to side sleeping issues and requirements for these issues.
This pillow provides effective neck and shoulder support to prevent neck, back, and shoulder pain, which are the main issues with side sleeping.

Additionally, there is a space to place your arm, which is another concern for side sleepers.

The BioSense 2 in 1 has a lightweight and breathable design with a medium loft foam fill, which is moldable and pliable to get the perfect contours for your specific body type.

The BioSense pillow is also made with three natural ingredients that control odor and is antibacterial; green tea, charcoal and seed oils, coming back to the wrinkle issue these components will likewise aid with that in turn.

The pillow comes in a large queen size, ideal for side sleeping with a washable microfiber pillowcase that is soft and gentle on your skin.

---
Besides just a general head pillow, to get the perfect posture and better pain relief when sleeping on your side, I would recommend a pillow that you can hold between your knees such as a full body pillow or knee pillow which helps to elevate your hips for a more comfortable and supportive sleeping position.
You can also have a look at our "Best Pillows for Side and Black Sleepers" article, for some more options on good side sleeping pillows.
---
To Conclude
The bottom line is that you should sleep in a position that is most comfortable for you personally. The right sleeping aids, such as your pillow and mattress, could also affect your health and sleeping quality. Side sleeping is a comfortable and most common sleeping position with many benefits, granted that you have the right pillow and sleeping aids.
Index Table: Best Side Sleeping Pillows
---
---