The position that you sleep in has a significant effect on your quality of sleep and your overall health.
A poor sleeping posture can result in back and neck pain, sleep apnea, fatigue, and cramping.
In this article, I will be discussing the many benefits of sleeping on your side and which side is proven to be the best side to sleep on. Side sleeping is one of the most slept-in positions and, therefore, worthy of some research and background.
---
---
Sleeping on Your Side
Let's face the facts, sleeping is a vital and substantial part of your life, and your sleeping position and aids can affect your body, health, and sleep patterns.
The aim is to get a comfortable and deep sleep in a position that keeps a proper posture to prevent pain and fatigue.
Every sleep position has its benefits and downfalls, though the side sleeping position is the most promising and most frequent sleeping position used.
Sleeping on your side is the most common and healthy position, although if you are going to sleep on your side, make sure you sleep on your LEFT side.
The Video below shows how to sleep on your side correctly
---
Is Sleeping on Your Side Better Than Other Positions
As it turns out, sleeping on your side is healthy and good for you, although each side has profits. Sleeping on your side is not the best sleeping position; the most common, yes. Your sleeping position will depend on your body type, weight, and health issues, so the best sleeping position for you can not be generalized. However, sleeping on your side has many benefits as a sleeping position for the general healthy individual.
This is the agreement that you do sleep on your LEFT side, though!
However, here are a few of the great advantages of sleeping on your side;
Heartburn and Acid Reflux Relief – Sleeping on your LEFT side is one of the best positions to relieve heartburn and prevent and reduce acid reflux effectively. You may also use an under mattress bed wedge for acid reflux.
Improved Circulation – The Left side sleeping position likewise improves Lymph node drainage and circulation as well as helping your brain and body to filter out toxins.
Digestion – Because of the location of your organs when sleeping on your left side, you will have much better digestion.
Better Breating – Sleeping on your side helps open up airways for much easier breathing and similarly prevents sleep apnea.
Improved Spinal Alignment – Sleeping on your side with the correct sleeping aids aligns your spine and pelvis in the perfect position and posture.
Reduced Snoring – Snoring is greatly reduced when sleeping on your side. Sleeping on your back is the most likely position for snoring.
Pregnancy – During pregnancy sleeping on your side is the most comfortable if not the only position that you can sleep in, and there are some excellent options in Pregnancy Body pillows for this position.
A good tip when you prefer sleeping on your side is to choose a good supportive pillow to avoid back and neck pain.
---
Issues Related to Side Sleepers
There are not too many cons related to side sleeping, depending on your health conditions and the quality of the sleeping aids you use. The most noted problem with side sleeping is neck, back, and shoulder pain, usually resulting from using an incorrect pillow.
Another factor noted from side sleeping is that you are sleeping directly on your face, similar to side sleeping which can cause friction and wrinkles in the long run; for this, I would recommend an appropriate fabric in pillowcases such as a Silk pillowcase, copper-infused or pure cotton pillowcase.
---
What Type of Pillow Works Well for Sleeping on Your Side
Regarding the perfect pillow for side sleeping, remember the factors at hand, back, neck, and shoulder pain, and sleeping directly with your face on the pillow. For this reason, we will look at pillows that offer the best support and skin-friendly pillowcases.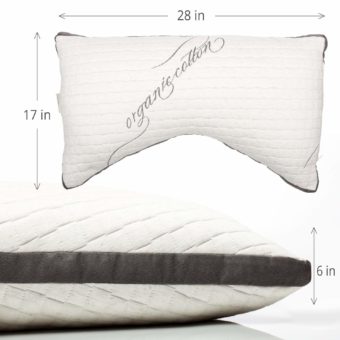 Most side sleepers prefer a pillow with a fuller shape and no contours with soft and conforming materials to alleviate pressure points.
Here are a few options that you should consider;
Full Loft – Look for a pillow with a medium to firm and full loft or higher profile and try to avoid contoured or very flat pillows.
Fill Materials – Shredded or solid memory foam and Buckwheat pillows are your best options as they offer a firmer loft and are moldable into a pressure alleviating position and loft. Other options include latex, where I would rather recommend shredded latex, as latex is very firm, or down and feather pillows with a firmer loft. Buckwheat is another superb and adjustable fill that is perfect for side sleepers.
Pillowcases – Look for healthy option pillowcases from mostly natural fibers such as 100% pure organic cotton. Other great options for your skin and hair include silk and copper-infused pillowcases.
Adjustability – Adjustability for a side sleeper is vital, so look for a pillow to remove or refill the loft.
Feel – The firmness or height of the pillow should always be an in-between; a medium soft loft and middle height are perfect, nothing too high or too firm, and especially not low or soft.
Feather and Down Fill – I like down and feather fills because of their moldability and the fact that you can adjust the loft, although you should not consider this option as having allergies, and you should go for a firm option here.
---
Reviews: The Best Head Pillow in General for a Side Sleeper
I have gone through many reviews and recommendations to find the overall perfect pillow for side sleepers and have found this one to be the most sought after sought-after and popular;
We hope you love the products we recommend!
We may collect a share of sales or other compensation from the links on this page.
---
1
---
2
This pillow is designed especially for side sleepers with a contoured style to prevent pain.
It is made with rebound memory foam to provide softness and firmness while relieving pressure points.
The side sleeper pillow allows the neck and shoulder muscles to relax due to its contoured shape and offers alignment to the back.
The memory foam used is CertiPUR Certified, and the cervical contour cradles the natural curve of the neck and shoulder, which helps reduce snoring.
It comes with a breathable and washable high-quality pillowcase that is also Hypoallergenic.
---
3
These premium quality pillows are filled with Poly Gel Fiber, whereas the enclosure is made of Microfiber.
It employs the technique of Ultrasonic three-dimensional embossing, a double-sided stitch, and accessorized with blue piping for a posh look.
The filling comprises high-quality, 60% 2.5D fiber and 40% 7D fiber to create the unique no-shift construction.
It provides support while ensuring softness, preventing neck and shoulder pain, and relieving pressure points.
This pillow is suitable for machine wash and rebounds at a minimum time.
---
4
This curved pillow design is made especially for side sleepers to provide them with maximum support and comfort and can also be used by stomach and back sleepers.
The cover is made with Organic Cotton, Polyester, as well as hemp and is hypoallergenic.
It also contains Oeko Tex 100 Certified Natural Latex, which is dust-mite-resistant, bed-bug-resistant, and non-toxic.
The contoured pillow provides relief from neck pain and relieves pressure points in the neck and shoulder areas to help you get a restful sleep.
---
5
This Orthopedic pillow is designed to prevent and relieve sore neck and shoulders, reduce snoring as well as relieve painful pressure points so you can get a full night's sleep in comfort.
It offers soft to medium firmness and is made with a special contoured design using high-density memory foam, making it ideal for side sleepers.
The foam is temperature-sensitive, meaning it adjusts to the body's heat and weight and adjusts accordingly to maximize support and comfort.
It provides a 7-Inch Cervical support area that cradles the neck and keeps the spine aligned with the head to reduce pain and injuries.
The pillow comes with a luxurious outer mesh cover, whereas the inner cover is mite-resistant and Hypoallergenic.
---
6
This Contour pillow is made using high-quality, slow-rebound, odorless memory foam that adjusts to the shape of the head to maximize support.
It also helps to optimize spinal alignment, and the cutaways on the bottom edge of the pillow are designed to fit the shoulders and relieve tension on the lower neck.
The unique shape of this pillow makes it perfect for side sleepers and helps relieve pressure points, improve circulation, and eliminate pain in the neck and shoulder areas caused by improper sleeping.
It comes with a breathable pillowcase that dissipates heat and allows for air circulation to keep you cool throughout the night.
---
7
This unique cradling pillow is designed in a U-shape and provides support to the whole body.
It supports the head, neck, arms, and body due to its big size and ergonomic design.
The special feature designed especially for side sleepers is a cooling ear pocket that prevents the ear from being squished.
It comes in a cooling, cotton blend pillowcase that is easy-to-clean, anti-allergen, anti-dust mites, and germ-resistant.
---
8
This pillow, designed especially for people that sleep on their side, is filled with soft and airy Kapok fibers, made from the seed pods of Kapok trees and memory foam.
The all-natural Kapok fiber filling is fluffy in texture and free of pesticides or other harmful chemicals.
Whereas the premium quality, reactive memory foam provides support and firmness to keep the neck and head aligned with the spine.
The cover is woven with CuTEC, a copper-infused yarn, to improve hygiene quality, reduce odors, as well as remove dead skin cells and replenish the skin.
It is adjustable as the cover comes with a zipper to allow you to take out or put in more filling as required.
---
Besides just a general head pillow, to get the perfect posture and better pain relief when sleeping on your side, I would recommend a pillow that you can hold between your knees, such as a full body pillow or knee pillow, which helps to elevate your hips for a more comfortable and supportive sleeping position.
You can also have a look at our "Best Pillows for Side and Black Sleepers" article, for some more options on good side sleeping pillows.
---
Index Table: Best Side Sleeping Pillows
---
---