Flaxseed Pillows are the latest innovation in the heating and cooling pain relief pillows with a natural design that is much healthier and safer for you and the environment.
A Flaxseed Pillow evenly distributes warmth or coolness no matter how you move or adjust your pillow for all-night comfort.

---
---
The Flax Seed Pillow
The flaxseed pillow comprises a Pillow cover filler with Flax Seeds. Flax Seeds are grown naturally and contain around 30-40% oil. Flax seeds can be heated or cooled to relieve pain and comfort.
Because of the shape and design of Flaxseeds, they move around comfortably inside your pillow and can be easily adjusted and shaped. Flax Seeds are likewise quite easy to come by and replace when yours become old and worn out.
The only very important factor to remember when you have a Flaxseed pillow is to NEVER WET THE FLAXSEEDS, AS THEY WILL BECOME SOGGY AND GEL LIKE, THUS UNUSABLE.
If you want a long-lasting and effective natural healing and cooling pillow, I recommend a Flaxseed Pillow.
---
Benefits of a Flax Seed Pillow
Warmth – You can repeatedly heat your flaxseed pillow to create warmth or use it to retain your body heat when it gets cold.
Cooling – Flax seeds can be frozen or refrigerated to create a cooling effect. Thus, you can have the soothing pain relief of a cooling pillow.
Pain Relief – Because of the heating and cooling functions of the Flaxseeds in your Flaxseed pillow, a Flaxseed pillow is an effective and inexpensive pain relieving tool.
Moist Heat – Flaxseeds provide very gentle, moist heat, which has some amazing healing and soothing properties, and they can retain their heat for more than an hour after heating.
No Odor – Other than Buckwheat and other grains used as pillow fillings, flaxseed fillings do not have a distinctive and disturbing smell.
Lightweight – A Flaxseed Pillow is much more lightweight and comfortable than other types of grain fills.
Adjustable – The Flaxseed pillow can be shaped and adjusted without clumping or discomfort while evenly spreading the heat or cooling effect.
Natural – Flaxseeds are a natural fill that is safer, hypoallergenic, and environmentally friendly compared to other synthetic heating and cooling pillow fills.
---
Features of a Good Flax Seed Pillow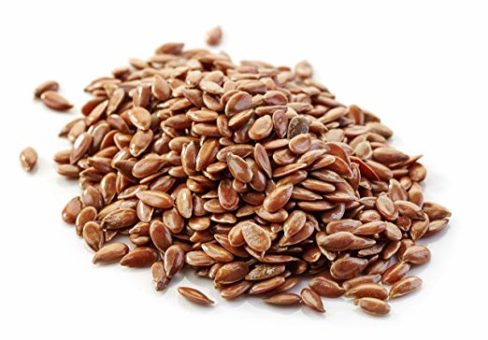 Cover – Make sure the cover is strong and durable; the best materials for a Good flax seed pillow are cotton, fleece, mink, flannel, ticking, or denim materials and fabrics. Could you ensure the cover can be removed for refilling and washing?
Fill – The fill should be adjustable and consist of pure and natural Flax Seeds.
Durability – Durable stitching and design with a cover that will not tear or become unstitched at the seams.
---
Reviews: The Best Flax Seed Pillows
Some of the best Flaxseed Neck, Eye and Body Pillows;
We hope you love the products we recommend!
We may collect a share of sales or other compensation from the links on this page.
---
1
---
2
The pillow is a highly versatile organic from Sacksy Thyme that can be used in any area of your body for heating or cooling therapy with organic Flaxseeds.
It is covered in a natural and breathable cotton fleece cover.
It is filled with premium unscented organic Flax seeds.
Flaxseeds retain moist heat to soothe and comfort stressed muscles and painful joints.
There is a double-sided cover for more durability.
Easy, portable, small design.
---
3
OnIt is one of the most comfortable and versatile neck pillows, filled with premium flax seeds and soft beads for comfort.
A natural U-shaped pillow for optimal support and comfort.
It is filled with high-quality flaxseeds and cotton and covered with a cotton-polyester cover.
Portable and easy to travel with.
Easily heatable and retains its heat for a long time.
---
4
The pillow is not quite a body pillow but a small eye pillow filled with unscented flaxseeds. The benefits are likewise very desirable for headache relief, reduction in swelling, and anti-aging benefits.
This eye bag can be frozen or heated for hot or cold therapy on your head and eyes.
It relieves headaches and tension and aids in sleeping better.
Anti-aging and skin benefit properties include facial tightening, disappearing, and the prevention of wrinkles and puffiness in the eyes.
IdeaIt is ideal for preventing and treating allergies, sinus pain, congestion, and dry eyes.
Blocks out light likewise to help create a better sleeping environment.
Completely unscented and hypoallergenic.
---
5
The microwaveable and freezable Love Wrap is a comfortable and large versatile flax seed-filled pillow that you can use for any area of your body and any purpose desired.
A 6X 23 with a 3-inch cell design helps distribute heat and cold evenly.
Microwaveable and freezable for hot or cold therapy.
It is filled with 100% natural quality Flaxsseds harvested in the USA with no added aromas.
Soothes muscles and ensures effective and targeted pain relief in any body area.
Wraps easily around body parts such as the neck, shoulders, back, or legs.
---
6
A hot and cold Therapy Flaxseed Filled Pillow.
Small shape for eye and neck pain and discomfort relief.
Long-lasting, durable design and materials.
It offers excellent headache, pressure, and neck pain relief.
---
7
The ideal eye pad Pillow filled with premium Flaxseeds.
A soft and silky fabric cover is gentle on the face and eyes.
Lavender infused for calming comfort and tension relief.
Washable design and cover.
---
8
A weighted Flaxseed spa eye pillow infused with calming Lavender.
The soft flannel cover is available in a few color selections.
The cover is removable and machine washable.
Ideal for aromatherapy treatments and yoga practices.
---
9
This silk eye pillow is designed to adjust to the shape of the face for maximum comfort and light blocking.
It comes filled with Flax Seed to provide the calming benefits of Acupressure.
This special pillow provides three-fold benefits as it can also be used as a hot therapy pad to reduce tightness in the neck, shoulders, and other such areas.
The third benefit is its usage as a cold compress for migraine relief, eye inflammation, and puffy eyes and hot flashes if chilled in the freezer.
---
10
This special pillow is dual-sided, with a Flaxseed filling to provide relief in numerous ways.
The Rayon velour side uses 65% Bamboo Rayon, 25% Cotton, and 10% Polyester, whereas the Rayon jersey side is made with 95% Bamboo Viscose and 5% Spandex.
It is designed for breastfeeding women to provide relief and comfort to sore nipples and breasts by chilling them in the freezer or warming them up in the microwave.
You can use the cold compress to ease the pain of nipple engorgement, chafing, and discomfort from teething or weaning.
The warmth can ease the discomfort, caused by plugged ducts and mastitis and stimulate let-down.
---
Index Table: Top Rated Flax Seed Pillows
---
---