For quite some time now, something that has been around for quite some time, which I feel deserves much more praise, is the Bamboo Pillow, or Bamboo Pillow Casing and Cover.
Bamboo is an all-natural fiber with so many exceptional health benefits, and to top it off. It is an entirely vegan and cruelty-free product that is healthy not only for you but also for the environment.
---
Bamboo Pillow Benefits
Before we start, let's just set the facts straight, Bamboo Pillows are called such because their cover, not the fill of the Pillow, is manufactured from woven bamboo fibers.
The Pillow itself is usually filled with latex or memory foam, or even other natural fillings such as Buckwheat or cotton. Likewise, Bamboo Pillow Covers are more Popular and to be much more useful, as they allow you to choose your pillow option.
Here are a few superb benefits of the Bamboo Pillow
Most bamboo pillows are filled with high quality and supportive fill that provides excellent support and good back and neck alignment.
Bamboo is a natural antimicrobial and antibacterial fiber that creates a healthy environment for you to sleep on.
Bamboo is likewise hypoallergenic and ideal for individuals who suffer from allergies.
Dust mite accumulation will also be a thing of the past when it comes to bamboo pillows.
Bamboo itself is very absorbent so that it will aid in wicking away moisture from your skin.
Last but not least, bamboo pillows can control temperatures, keeping you cool in summer and warm in the wintertime.
---
Best Pillow Shapes and Sizes According to Your Sleep Position
Your sleeping position does affect your choice of Pillow in a significant way. As all bamboo Pillows only have a Bamboo casing or cover, you still need to consider the filling.
When sleeping, in whatever position is most comfortable for you, the main factor is for your head, neck, and shoulders to be entirely supported and your spine correctly aligned.
For this reason, every sleeping position requires a particular pillow type or loft.
When laying on your back, your spine is in a more neutral position, and your head needs to be kept level with your shoulders, so flatter and a less firm pillow is required.
Sleeping on your stomach is not suitable for your spine any which way, although, for the best results, a very thin and soft pillow is required keeping your head and neck as flat as possible.
Last but not least, the most common sleeping position, side sleeping. For this position, you need to keep your head, neck, and shoulders completely level for the best support; here, unlike with back and stomach sleeping, you need a more firm, contoured and thicker Pillow.
---
Bamboo Pillow Characteristics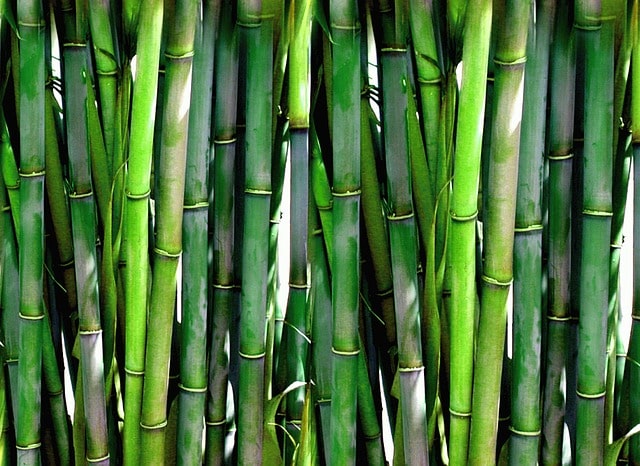 A supportive fill for your ideal sleeping position requirements.
This Pillow is a high-quality construction with pure natural bamboo fibers.
A soft and textured feel casing or cover.
---
Reviews: The Best Bamboo Pillows
Here are a few top quality and much sought after brands and models of Bamboo Pillows.
We hope you love the products we recommend!
So that you know, We may collect a share of sales or other compensation from the links on this page.
---
1
The Xtreme Comforts Bamboo Pillow has a quality Memory foam fill and features exceptional cooling technology, which allows for better ventilation and breathing properties.
A fully adjustable pillow, which is ideal for all sleeping positions.
Zipper closure allows you to open the Pillow and remove or add fill.
Filled with high quality shredded, CertiPUR-Us Certified memory foam.
Contoured design to fully support your head and neck for better spinal alignment.
Micro-Vented Kool-Flow technology for better breathability and circulation of air.
Hypoallergenic and cooling Bamboo fabric casing that is completely machine washable.
---
2
Plixio brings you the plush queen-sized, shredded memory foam pillow with a hypoallergenic, pure, and natural Bamboo casing.
Filled with fine quality shredded memory foam.
Cooling and breathable Bamboo casing that's is similarly hypoallergenic.
Alleviates pain, tension, and other ailments such as snoring and insomnia.
Completely machine washable.
The Pillow offers firm yet reliable support and comfort.
---
3
A reliable and comfortable pillow from Original Bamboo offers you superb medium support with all the health benefits of pure and natural Bamboo.
Available in a standard and queen size.
It is an Original Bamboo pillowcase that is cool, breathable, and hypoallergenic.
Filled with shredded memory foam, offering medium-firm support for all sleep positions.
Completely dust mite, mold, and bacteria resistant.
---
4
The bamboo pillows are wonderful in keeping your neck, shoulder, and back pain away.
Sleepasia made memory foam pillows provide excellent sleep quality and are ideal for all sleeping positions.
The pillows have good air circulation and prevent you from sweating.
It provides a good alignment system for the shoulders, back, and spine so that you get a high quality sleep.
---
5
The Wonder Sleep Premium offers you a Hotel-quality hypoallergenic memory foam pillow with a cooling Bamboo cover for superior comfort and support.
Bamboo Rayon blend cover that is cooling and hypoallergenic.
It is filled with shredded memory foam for personalized support and pain relief.
Completely dust mite and allergen resistant construction, for undisturbed and healthy slumber.
A zippered cover so that you can adjust the loft.
Both the cover and Pillow are machine washable.
---
6
Snuggle-Pedic is top quality and well-known brand when it comes to pillows and bedding alike. The Original Memory foam and Bamboo Pillow is one of their top models and most sought after Pillows.
Filled with CentiPur-US Certified Shredded Memory Foam that is naturally derived and Eco-Friendly.
Hypoallergenic and Dust Mite resistant, with the addition of Biogreen materials in the fill.
Completely chemical and ozone depleter free for a natural and safe alternative.
No zipper design with a natural and quality Bamboo casing with Kool-Flow technology keeps you cool and comfortable.
---
7
The Sleeps Bamboo Covered Pillow is a premium memory foam filled Pillow with a washable Bamboo cover in a King size.
Enjoy a peaceful night's rest in this comfortable and supportive Pillow that cradles and supports your head, neck, and shoulders.
Filled with quality and hypoallergenic Memory foam, shredded for a better loft.
It comes complete with a durable and hypoallergenic Bamboo cover that is removable and washable.
Ideal for all sleeping positions.
---
8
The Lianlam memory foam pillow features cooling gel and a hypoallergenic bamboo cover and cooling.
It comes in king-size with a removable and washable Bamboo Cover.
It is filled with Memory foam that is shredded and a Gel layer that helps to control temperatures.
This Pillow will keep you fresh and comfortable all night long.
The filling is also adjustable for the perfect firmness.
---
9
The RemRite Bamboo Pillow is filled with shredded memory foam and comes with a premium Bamboo cover that is cooling and washable.
The premium Bamboo cover has materials blended to keep you cool and which is hypoallergenic and moisture-wicking.
Filled with lightweight and cooling shredded memory foam that is likewise hypoallergenic.
A unique customizable styled for the perfect loft.
The Bamboo cover is removable and washable.
---
10
From Clara Clark, we have their premium model shredded memory foam and bamboo pillow.
Filled with shredded CertiPUR-certified memory foam.
It reduces neck and back pain.
It is covered with a soft and breathable bamboo cover that is removable and washable.
Hypoallergenic and very durable.
---
11
This Pillow will always keep its shape with the addition of a cooling and breathable bamboo cover.
It comes in many different size and shape options to choose from.
It is filled with premium memory foam with a high rebound that never flattens.
The bamboo cover is washable and breathable.
CertiPUR-Certified memory foam that is shredded is used for the fill.
---
12
From Diny Home and Style, we have this premium Bamboo covered memory foam filled Pillow.
Luxury comfort memory foam fill.
It has a covered pure and naturally breathable bamboo cover.
Washable and safe cover.
Ideal for all sleeping positions.
---
13
The pillow consists of an inner zip that lets you adjust the thickness of the pillow.
The density of the Pillow remains uniform as with premium quality shredded memory foam.
The bamboo cover provides air ventilation and keeps the Pillow heat-free throughout the night.
The Pillow is dust mite resistant and hypoallergenic and ensures safety from all kinds of microorganisms.
---
14
The pillow is surely value for money as it gives the best results by providing highly comfortable and sound sleep.
The bamboo built pillows help to maintain the right temperature and do not let the Pillow produce heat.
The pillow cover is easy to wash and requires no extra maintenance.
It provides relief from various sleeping disorders such as migraines, insomnia, snoring, and back pains.
---
15
The pressure relieving memory foam used does not let the pillow go flat and adjusts according to your position.
The outer cover is easily removable to set the inner thickness of the bamboo pillow.
The Pillow helps align your back in a straight position and provides you with a more comfortable sleep.
It is built with the hypoallergenic material and make sure no allergen enters its surface.
---
16
The sleeper gets therapeutic relief with the shredded memory foam used in its making.
The Pillow has a unique quality of bouncing back instantly that provides better support while sleeping.
Best to use for people having conditions like insomnia, snoring, back or shoulder pain issues.
The Pillow and the cover are both machine washable.
---
Lastly
Bamboo is a soft and comfortable material, with plenty of health benefits to improve your sleep patterns and ensure that you are cool and comfortable all night.
Clean, durable, and hypoallergenic, with superior resistance to mold, dust mites, mildew, and allergens, what more could you ask for.
---
Index Table: Top Rated Bamboo Pillows
---
---