Some of the links in this post are affiliate links. This means if you click on the link and purchase the item, I will receive an affiliate commission at no extra cost to you. All opinions remain my own.
It is generally much better for your body to sleep in cooler temperatures than very hot temperatures because when you are overheated, the hormone that regulates sleep, melatonin, is compromised, and you may feel less sleepy and toss and turn all night.
Thus, it is important to have the right bedding and sleeping tool to keep you cool and dry at night, improve sleep, and prevent overheating that could be uncomfortable.
A memory foam charcoal-infused Pillow has the main aim of dissipating heat, among many other features.
The Charcoal infused Pillow can give you a more cool and comfortable night's rest.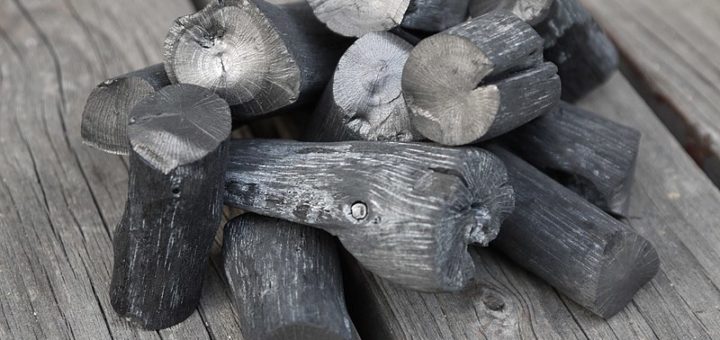 ---
Charcoal and Activated Charcoal
You may have heard of activated charcoal and regular charcoal and asked yourself what the difference between the two maybe
Well, Activated charcoal is produced using much higher temperatures, too, which in turn aid in expanding the pores of the charcoal is that it has a much larger surface area that can bind to many more elements.
Activated charcoal is much more commonly used in medicines because it is so much more porous and more effective at filtering toxins from your body.
Regular charcoal is not used in medicines and is not regularly used in charcoal-infused pillows, but rather more porous activated charcoal for its many filtering and purifying benefits.
---
Why Invest in a Charcoal Infused Pillow
So, you may have asked yourself what the big hype with Charcoal-infused pillows is and why you may need them.
Well, as you will see, most of the listed charcoal pillows are either memory foam or similar types of foam that are infused with an activated charcoal or activated carbon.
Activated charcoal, as we have said, is much more porous with a much larger surface area, which in turn is ideal for absorbing moisture, dissipating heat, and neutralizing odors.
Are Charcoal Infused Pillows any Good? – Oh yes, they are. Charcoal-infused pillows offer much better airflow is there is no heat build-up, and it wicks away sweat and absorbs bad odors. The activated charcoal acts as an excellent air filter system because of the millions of tiny pores, and They are the best pillows for hot and sweaty sleepers.
Charcoal gel Pillows – You do get gel-infused charcoal memory foam pillows. The gel layers or beads are just an extra cooling agent for very hot sleepers that helps to absorb heat.
Bamboo Charcoal Pillows – Activated Charcoal used with bamboo has some excellent health benefits as both are purifiers. Bamboo also absorbs and wicks away moisture, which helps regulate temperatures.
Is Charcoal infused Memory Foam Pillows a safe Option – Charcoal is an organic compound that is used as medication. Thus, it is completely safe. Memory foam is a volatile organic compound that can release hazardous gases. However, the pillows we have chosen have been adapted to reduce the risks.
Can Your Wash a Charcoal infused Pillow? – Most charcoal Pillows are memory foam, and neither is advised to machine wash memory foam rather than hand wash. However, these pillows come with zip sealable and removable covers that you can wash as needed.
---
Features of a Good Charcoal Infused Pillow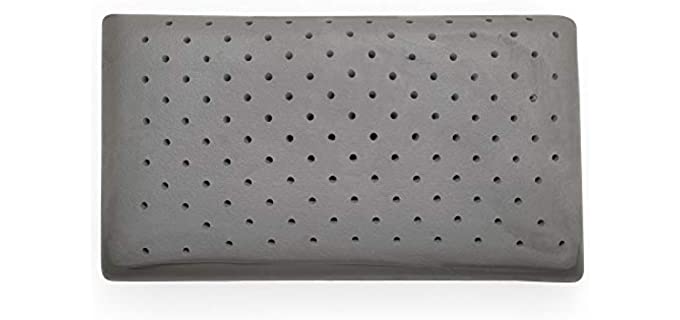 Materials – The Charcoal infused pillows mostly have memory foam or polyester fills that are infused with charcoal. They may have additional cooling gel. There will also be a cotton, polyester or bamboo cover that is removable for washing.
Design – You get standard, contoured and cervical design Charcoal infused pillows that offer different levels of support. Many options have ventilated or open cell memory foam to improve breathable and cooling.
Options -The featured pillows mostly offer standard, queen or king size options, depending on the specific brand and model.
---
Reviews: The Best Charcoal Infused Pillows
These are our top favorite pillows that are all infused with charcoal;
---
1
The BedStory Memory Foam pillow is Infused with charcoal.
It is a Neck support design cervical pillow that is ideal for side, back and stomach sleepers.
The Pillow has a memory foam fill infused with bamboo and charcoal.
The cover is highly breathable, removable, and washable.
It has a medium-firm design, with high-density memory foam with a slow rebound.
---
2
The Linenspa Charcoal Infused pillow is the ideal design.
The Pillow has a polyester and bamboo blend cover that is breathable and machine washable.
There is a Mid Loft memory foam fill that is infused with charcoal and very breathable.
The memory foam is well ventilated to keep you cool.
It offers excellent neck support and is ideal for back and side sleepers.
---
3
SensorPedic is a very popular bed and mattress brand that makes some of the best charcoal-infused pillows.
Here we have their Wellness collection charcoal-infused Memory foam bed pillow.
The Pillow has a 100% polyester cover that you can remove and machine wash.
There is a charcoal-infused memory foam fill that gas ventilated iCool technology to prevent overheating.
It is a luxury comfort pillow with the finest quality materials and construction.
---
4
The Brookstone Charcoal-infused pillow is the ideal pressure relief pillow.
The Pillow has a charcoal-infused cover and shell that is anti-bacterial and promotes skin health.
There is a pressure-relieving memory foam shell layer that supports your neck and shoulders.
Then you have a hypoallergenic soft-down fill that is perfect for all sleepers.
The Pillow is supportive, with open-cell memory foam for breathability.
---
5
The classic brands of Charcoal-infused pillows are ventilated and breathable.
Here w, we have a queen-sized pillow that is also available in a King size.
The Pillow has a charcoal-infused memory foam fill that cradles your head and neck in good alignment.
The memory foam is well ventilated to prevent overheating.
There is a polyester cover that you can remove and wash.
---
6
The SensorGel charcoal-infused Pillow has built-in iCool technology to keep you cool and dry at night.
It has a 100% polyester cover that is knit to prevent thermal build-up.
There is a Hypoallergenic SensorGel memory foam fill that offers good pressure point relief and comfort.
The charcoal infusion absorbs moisture and odor to keep your Pillow clean and fresh at all times.
---
Index Table: Top Rated Charcoal Infused Pillows
---
---