If you are looking for a hypoallergenic pillow that will last you decades, you should opt for a buckwheat pillow!
Please find below the benefits of using a buckwheat pillow, its best features, and tips for caring for them.
---
5 Good Reasons To Use A Buckwheat Pillow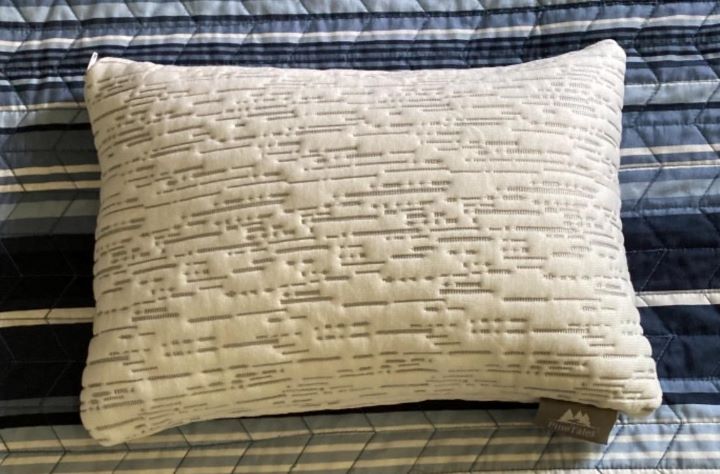 Buckwheat is a plant that produces little seeds known as buckwheat hulls or groats. A buckwheat pillow is stuffed with these little triangular hulls and has been used in high-end pillows for hundreds of years.
Aside from being one of the most natural pillow options available, here are five great reasons everyone should buy one!
Durability – Buckwheat pillows will last you a minimum of 10 years, which is a very different experience from the majority of pillows available for sale. If you look after your buckwheat pillow, it can last for a few generations. Even if you fail to look after the pillow, simply replacing the buckwheat groats can keep it in prime condition, making it the last pillow you will ever need to buy.
Perfect Support – Buckwheat hulls are firm and small, making them ideal to use for head, neck, and spine support. When you place your head on the pillow, the groats compress, keeping your head up while forming a comfortable contour around it. This results in perfect support as well as back pain relief.
Great Airflow – Buckwheat hulls repel the heat. Over and above that, they allow for air to flow through them, keeping you cool all night long.
Hypoallergenic – Buckwheat is not known to be an allergen, making it suitable for those who are looking for a hypoallergenic pillow. Other hypoallergenic materials like cotton or foam are more likely to trigger an allergic reaction in susceptible people than Buckwheat is.
Low Maintenance – Buckwheat groats don't become smelly, never sag, and do not need much maintenance. If you accidentally crush the hulls (which is difficult to do), you can replace them with more.
---
Tips For How To Take Care Of A Buckwheat Pillow
Even though a buckwheat pillow is low-maintenance, there still may be times one wants to clean the pillow.
Here are a few things you will need to know first to do so:
Buckwheat is not machine washable. Soaking buckwheat groats in water will cause them to expand and possibly even sprout. So what do you do when you want to wash your pillow? Get a separate cover and wash the cover.
Dry groats out in the sun if wet. If you spilled on your pillow and wet the groats, leave them in the sun. However, please do not leave them to dry out for too long because they will become brittle. This is not particularly a problem; it just makes them easier to crush, which will make them less effective at supporting you.
Never heat your buckwheat pillow in the dryer. Many people like to have a warm toasty pillow during winter and buy special pillows that can be heated in the dryer or by other means. Heating the hulls will dry them out too much, such as overexposing them to the sun (read the point above).
---
Features of a Good Buckwheat Pillow
Buckwheat pillows are simple yet highly sophisticated in their own right. While you can do very little to make a buckwheat pillow even better than it already is, the best features below help make them better than average.
Certified Organic – Not all buckwheat is guaranteed to be grown organically. Look out for organic certification to save yourself from dealing with harmful chemicals.
Cotton Pillow Case – An additional cotton pillowcase makes the buckwheat pillow more functional and soft to the touch. Cotton, bamboo, or silk are great options.
Zippered – Make sure the buckwheat pillow has a zip that allows you to access the buckwheat hulls on the inside. This allows you to replace hulls and allows you to adjust the loft of the pillow. Choose between a firm, medium, or soft support by using a zippered buckwheat pillow!
Carry Bag – If you like to travel a lot and tend not to sleep at home often, then a travel bag for your preferred buckwheat pillow will come in very handy.
Replacement Hulls – Some pillows come with a bag of replacement hulls, making it easy to adjust the height or replace the hulls as needed.
---
Reviews: Best Buckwheat Pillows
Below are some reviews of our favorite buckwheat hull pillows, which are just a click away from landing in your shopping cart.
We hope you love the products we recommend!
So that you know, We may collect a share of sales or other compensation from the links on this page.
---
1
---
2
Indulge yourself with a traditional Japanese Sobakawa-style buckwheat pillow crafted to hold your head in place and improve comfort while resting.
The natural buckwheat groats are covered with a zippered covering, making the pillow adjustable.
This is the perfect pillow for those who suffer from back or neck pain, as it offers medium-firm support.
The breathable cover combined with the Buckwheat inside ensures you never overheat during the night.
Included with your purchase is a LIFETIME guarantee, making sure that this pillow will be the last pillow you ever buy!
---
3
Here is a superb choice for a buckwheat pillow made by a company specializing only in buckwheat pillows.
The cover allows you to adjust the pillow and contains a hidden zipper for easy access and care.
Free from chemicals, foam, and feathers, this pillow is 100% hypoallergenic and entirely natural.
Organic cotton twill was grown and woven in the US, lending the pillow a breathable cover that is smooth to the touch.
The pillow creates a perfect contour around your head and neck, alleviating pain and pressure from the spine and encouraging deep sleep.
---
4
Get comfortable with a ComfySleep buckwheat pillow, grown and handmade in the USA.
The Buckwheat used in the pillows was not treated with chemicals or fumigants.
It is covered in an organic USA cotton case with a zipper to access the hulls inside.
Adjust the loft height of your pillow and reap the maximum benefits from using all-natural bedding.
Keep your head in proper alignment and cool all night in long-lasting comfort with one or more of these!
---
5
This organic buckwheat pillow combines the finest organic cotton and organic buckwheat groats to give you a sleeping experience you will never want to be without!
This pillow includes a free organic cotton pillowcase to cover the inner organic cotton covering.
Say goodbye to conventional materials and hello to the healthiest organic option available on the market.
Adjust the pillow's height by using the zipper on the inner covering, making it easy to replace or remove buckwheat hulls as desired.
---
6
An all-natural and safe organic Buckwheat pillow from PineTales.
Handmade for the best quality and craftsmanship.
A pure and hypoallergenic Bamboo cover.
Filled with premium organic Buckwheat Hulls.
Durable zippers and a removable cover so you can adjust your pillows to fill.
---
7
A premium Buckwheat pillow with a cooling and breathable polyester and cotton mix cover offers all-night comfort and support.
Cooling and breathable cotton and polyester cover that is removable for adjustability and washing.
It is filled with premium Buckwheat Hulls that can be removed or added for the perfect loft.
Comforts to the shape of your body and naturally cooling.
Never gets compacted or goes flat.
---
8
A highly supportive and Organic Buckwheat filled the pillow with Lavender Buds from Take-Two Pillows and called me in the morning.
Handmade and crafted to perfection with premium quality materials.
Zip closure and removable cover for washing.
Adjustable loft.
It is filled with premium Buckwheat and lavender buds for a soothing and relaxing sleep experience.
Excellent injury relief; You can freeze it and use it for pain and swelling reduction.
---
9
An adjustable Buckwheat pillow of which Buckwheat hulls can be added or removed for the perfect loft.
Offers excellent cervical support and pressure relief.
It is made with premium Buckwheat hulls and an all-natural organic cotton cover.
It keeps you cool naturally and is completely hypoallergenic.
---
10
An all-natural premium Buckwheat-filled pillow based on the Chinese Sobakawa pillow design.
It is covered with a natural cotton cover that is lightweight and breathable.
Comfortable and naturally cooling and hypoallergenic materials.
Adjustable design that never gets compacted or flat.
---
11
This pillow is available in the three main pillow size options.
It is filled with all-natural and organic Buckwheat.
The Cotton casing is also organic and GOTS-certified for purity.
Adjustable fill and a removable and washable cover.
Buckwheat and cotton are also naturally hypoallergenic.
---
12
This is a superior support pillow filled with premium quality Buckwheat.
It allows the buckwheat hulls to be molded according to the contour of your body to minimize discomfort.
The pillow offers maximum airflow due to its 3D structure and is designed to keep you cool and dry on warm nights.
It comes in a 14×23 inches size with a durable Organic Cotton Twill cover.
---
13
This Buckwheat pillow is designed especially to relieve pain in the neck and head areas and maximize comfort.
It comes in a coarse Cotton cloth cover with a soft texture, good air permeability, durability, and hypoallergenic qualities.
The pyramid-shaped, Buckwheat hull provides optimum air circulation.
It offers customization, as you can adjust the filling according to your desired height.
---
Comparison Table: Top-Rated Buckwheat Pillows
---
---