If you are looking for a more natural pillow with a soft and down-like feel, I recommend the Kapok Filled Pillow.
Kapok is a natural and vegan-friendly Filling, similar to down feathers, without the risk of allergies or cruelty related to sustaining feathers and down.
---
The Organic Kapok Pillow
Ther is nothing more plush, comfortable, and natural than an organic Kapok Pillow.
You can enjoy the comfort of a soft and moldable loft similar to that of down feathers, vegan style with all-natural organic Kapok.
Kapok is a fiber that originates from the seed pod fluff of a rainforest cotton tree, which is known as the Ceiba tree, or the Silk or Cotton tree. These Pods are harvested from the tree without damaging or harming the tree, and the very buoyant fluff from these pods is used as a loft for pillows, jackets, and many other products.
Kapok offers a medium to a firm loft and exceptional support buoyant and moldable support. A pillow stuffed with Kapok is similar to a standard [pillow, with different sized lofts; they can be fluffed and retain their shape very well. Kapok is likewise natural, hypoallergenic, and very safe.
---
Why Choose Organic Kapok
Who knows, you might even like Kapok more than feather or down pillow fillings, as it is not just similar, but much better;
Lightweight – Kapok is very lightweight and comfortable to sleep on and adjust during the night.
Adjustable Loft – You can easily adjust the loft of your pillow with Kapok to get a soft, firm, or medium feel.
Hypoallergenic – Kapok is almost completely allergy-free; that's what makes it so much better than down or feathers, and there are no chemicals or synthetic materials involved, such as with down alternatives in general.
Environmentally Freinedly – Kapok is harvested sustainably from their trees' seed Pods without harming or removing the tree. Then there is also the factor of down and feathers, which in most cases, is very cruel to these animals. In general, Kapok is a safe, environmentally friendly, and anti-cruelty option.
Plush – Kapok is one of your softest and most plush and comfortable fillings if you are looking for a cuddly and luxurious pillow fill.
Breathable – The Kapok fibers allow for better ventilation and breathability.
Mold and Mildew Resistant – Kapok is resistant to mold and mildew.
Check out more
organic and non toxic pillows
from our curated list.
---
Features of a Good Organic Kapok Pillow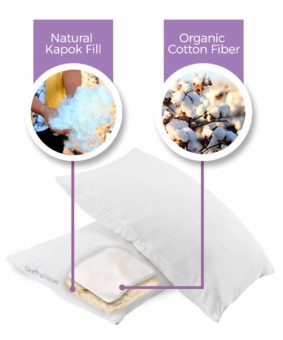 Certified Organic – Make sure that your pillow is certified organic and natural, look for GOTS or OTCO certification standards.
Loft – You can choose between a firm, soft or medium loft. Most kapok Pillows are refillable and adjustable, and you can purchase the Kapok online or from the store you bought your pillow from.
Refillable – Check for options for refills sold separately for your pillow online or the store that you bought the pillow from.
Cover – Ensure the cover is durable and washable; natural covers such as bamboo or cotton are advised; make sure it is made from a 300 to 500 thread count organic natural cotton.
Durability – Overall, good quality and durable design are desirable; most Organic Kapok pillows are handmade and sewn by individuals and not machines for better quality.
Safe – Organic Kapok pillows are made from pure organic and vegan materials with no chemicals, animal derivatives, or harsh toxins used n the manufacturing process.
---
Reviews: The Best Organic Kapok Pillows
Some of the Best available Organic Kapok Filled Pillows.
We hope you love the products we recommend!
So that you know, We may collect a share of sales or other compensation from the links on this page.
---
1
---
2
The Bean Products Organic Kapok Pillow comes with the option of a natural or white organic cotton pillowcase, as well as many size and shape variations for you to choose from.
A 500 thread count 100% organic cotton sateen finish cover available in a natural or white option.
Filled with 100% all-natural and pure Organic Kapok.
Made in the USA.
A very lightweight and silky soft pillow that offers superb support.
Completely hypoallergenic and chemical and cruelty-free construction.
It comes in standard, queen, King, Japanese, or toddler size, and a neck roll or travel-sized option.
---
3
From Magnolia Organics, we have the 100% natural organic Kapok-filled and cotton-covered pillow that is GOTS certified for purity.
Completely hypoallergenic design and materials used.
100% natural and organic Kapok fill and an organic cotton cover.
Hand-made with love in Connecticut.
Features a GOTS Certification for pure and safe materials.
Available n a standard, queen, or king-size selection.
---
4
The Naturepedic Organic Kapok pillow for toddlers is the perfect size for younger children and traveling.
Covered in a 300thread count organic cotton, cover with a luxury sateen finish.
The filling consists of a 50/50 blend of organic cotton and kapok fibers to get the perfect loft.
A lower profile and smaller pillow is perfect for children, toddlers, and even traveling.
OTCO and GOTS certified organic and non-toxic materials and construction.
---
5
Another superb addition from Bean Organics is their Organic Kapok fill, should you need some extra loft or replacement fill for your Kapok pillow.
This is a 100% certified organic Kapok Filling harvested from the Tropical Kapok tree.
Choose the amount of filling you need, 1lbs, 2lbs, 5lbs, or 20lbs.
You can use it as a replacement filling for any organic Kapok pillow or an additional filling for a firmer or higher loft.
Very light and fluffy and free from any toxins, chemicals, preservatives, or animal derivatives.
---
6
One of the top sellers and most sought-after brands in Organic Kapok pillows are the Everpillow from Infinitemoon.
This pillow is specifically designed for side and back sleepers with a unique and supportive curve.
Fully adjustable and customizable by removing or adding fill for the perfect loft and height profile.
A naturally breathable and cooling design without the Gels and chemicals.
Made from all-natural materials with 100% certified organic Kapok for the filling and an organic cotton cover.
Handmade in Colorado, USA, and comes with a 100day risk-free trial.
Kapok is naturally satiny soft, and the cotton cover helps to keep moisture out.
---
7
A 100% organic fill and covered pillow.
No chemicals or pesticides can affect your health.
Light, fluffy, and breathable pillow ideal for summer and winter.
Medium filled with premium organic cotton.
---
8
This pillow comes in many different shapes and sizes and a body pillow.
It is filled with premium organic cotton with no added chemicals and no pesticides used on the cotton.
A 100 machine washable and cotton cover.
Soft and quiet, no noise design.
---
9
This is a set of Toddler Pillow and Pillowcase, made with Purest Organic Cotton.
It is Breathable, Hypoallergenic, Allergy-free, and free of harmful chemicals.
Chiropractors' pillow comes highly recommended as it is designed to support a toddler's head, spine, and neck areas.
It is suitable for machine wash, 100 GOTS Certified, mold, mildew, and Dust-mite resistance.
---
Index Table: Top Rated Organic Kapok Pillows
---
---