As you know, pillows are one of the essential things in life. They provide comfort and support for your head and neck and can help to prevent pain in these areas. Pillows come in many different shapes and sizes, so choosing the right one for you is important.
Moreover, if you want something sturdy and long-lasting, choosing the best heavy pillow on the market will be your ideal choice.
This blog post will discuss the types of heavy pillows and how to choose the right one for you.

---
---
What is a Heavy Pillow?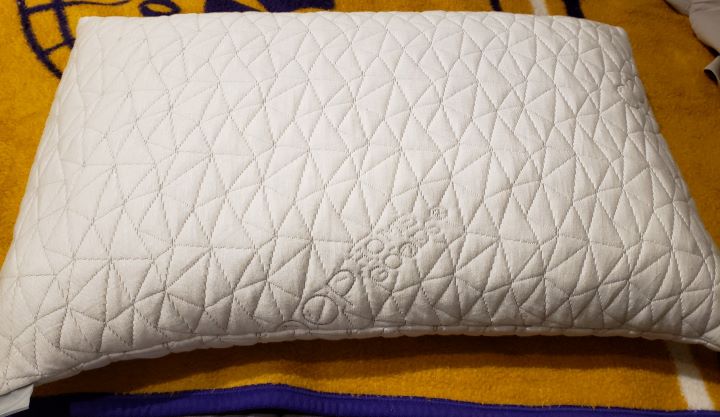 There is no classification for "Heavy pillows"; instead, just pillow fills that bear more weight than other fills.
A dense pillow tends to be more durable, bear more weight, and is much more substantial than its lighter-weight counterparts. Some of us may prefer a heavier and firmer loft p[illow, which is also a bit more heavy-duty and long-lasting.
I am a fan of a heavier, more bulky, and firm pillow loft and find that it provides me the best comfort for all sleeping positions, as to tend to sleep in all positions, especially on my side.
---
Types of Fillings for Heavy Pillow
Many types of stuffing are available for regular pillows, from memory foam to buckwheat fills. The same is the case with dense pillows; they have different stuffings. Each filling has unique benefits and drawbacks, making it crucial to learn about them before buying one.
Below I am listing some of your easy-to-find and more basic heavy-fill pillow types and why they are the best options;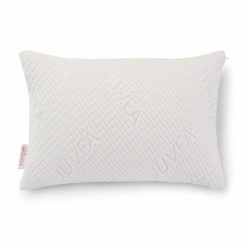 Latex Fill

We kick off with my favorite, the Latex Filled pillow, which in most cases consists of solid latex foam, and on a rare occasion, you will find shredded Latex, which is even better as a fill.
Latex is a natural, hypoallergenic substance that does not lose shape, offers firm support, and retains a soft and comfortable feel.
Latex-filled pillows are very durable and heavy-duty, carrying plenty of weight.
It is breathable, much more than memory foam, stays cool, and offers excellent support.
Although Latex is not moldable may have a slight rubbery odor as it is made from rubber trees.
It is very dense and heavy but still comfortable and soft enough to look for a dense pillow. Because of the high density of Latex, they normally have quite a high loft and are therefore not recommended for stomach sleepers, although they are great for side and back sleeping.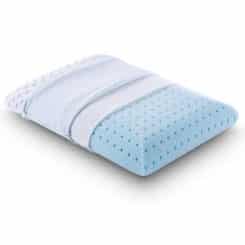 Solid Memory Foam

Memory foam is manufactured from polyurethane and some chemical parts, so it is less natural than Latex or other natural fills. Yet memory foam remains safe and hypoallergenic.
One thing about memory foam that stands out above all other pillow fills is that it is very MOLDABLE and adjustable, easily conforming to your natural shape and contours.
Memory foam returns and retains its shape after use, so there are no worries about your pillow flattening over time.
Latex memory foam is also quite heavy and very durable and heavy-duty.
Many memory foam pillows come with a hypoallergenic and natural Bamboo cover, which also has better cooling and moisture-wicking properties, as memory foam tends to retain heat.
Memory foam filling will not clump, does not require fluffing, and offers the best support for almost all sleeping positions, including stomach sleeping, where a lower loft is required.
However, because it is a solid foam, you cannot adjust the loft, and memory foam may likewise have a slight chemical odor at first.
Shredded Memory Foam

The same as memory foam, made from the same material, in this case, it is just shredded to allow you to adjust the loft and offers better ventilation than the solid foam.
Shredded memory foam is still heavy, though its solid brother is lighter.
Buckwheat Fill Pillow

Buckwheat is all-natural and hypoallergenic and gives you an adjustable loft option.
It likewise has more substance, so it is heavier than other natural grain alternatives and durable with a long life span.
Buckwheat pillows offer excellent support that is breathable, moldable, and will hold their shape.
Even better, it is constructed of all-natural and degradable materials that are safe for you and the environment.
Buckwheat pillows are ideal for side, back, and stomach sleepers so everyone can enjoy their benefits.
The only disadvantage of a Buckwheat pillow is that it is very firm and heavy, which in any case, is exactly what we are looking for in this instance.
---
Features of a Good Heavy Pillow
There are many benefits of using a heavy pillow, and a few main ones are listed below –

Provides Consistent Support – A firm cushion provides the most consistent head and neck support over time. Have you noticed that soft pillows lose their form and size with time? Firm cushions don't sag as readily as fluffy ones. The weight of the head and body contributes to the issues associated with soft cushions. Frequently sleeping on them causes them to lose their strength and firmness.
Relieves pain – Don't worry about your head when resting on firm pillows because they are made of superior materials, such as buckwheat, which promote compressibility. The hulls ensure that your head doesn't sink into the mattress. The strong and supportive firm pillows keep your head in a natural position. This helps to decrease neck discomfort, headaches, and shoulder discomfort.
Good Neck And Head Conformity – Firm pillows are exceptionally comfortable because of their firmness. They also have great neck and head conformity, so they evenly distribute the head's weight on the surface to provide maximum comfort. As a result, firm pillows help avoid back pains when you get up the following morning.
Provides Good Body Alignment – A good body alignment is essential to getting a good night's sleep. Firm pillows provide the best support for the spine and neck, encouraging good body posture. Firm pillows buffer the neck and shoulders, allowing for improved body alignment. You're less likely to experience pain in the morning with a straight back.
Weight Resistant – Firm pillows are weight resistant. Unlike soft pillows, they don't deform when you place your head on them. This is important because it maintains the pillow's shape for long-term use. Also, heavy pillows don't numb your arms.
Good For Side Sleepers – Side sleepers put added strain on their necks because of the space between their shoulders and heads. This puts strain and disrupts sleep. You can use a firm pillow to prevent neck strain since it will offer appropriate neck support at night, promoting relaxation.
---
How We Test and Score Heavy Pillows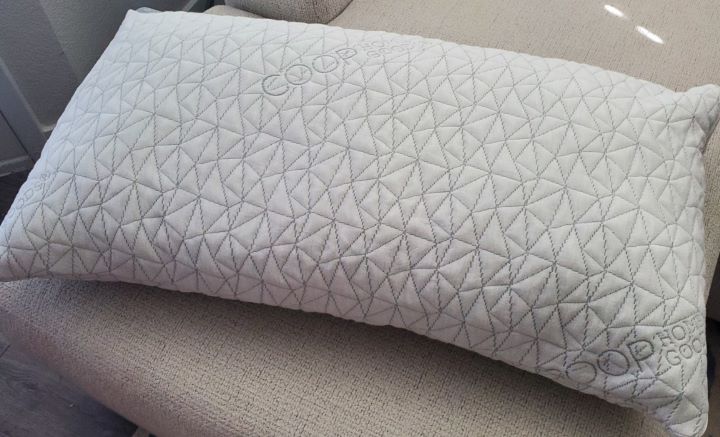 These reviews are based on intense research, analysis, and feedback from our experts and real users from different digital platforms.
We spent 37 hours trying, testing, and scoring these Heavy Pillows for different key parameters and then shortlisted the best products in the market, saving you time and effort.
We used the following parameters for our tests and analysis.
Durability – We researched how long users can use these pillows without any reported changes in their quality or design.
Support – We checked how well the pillows support the user's body and help maintain better alignment.
Pain-Free – We checked how extremely effective the pillows are at soothing skin and minimizing pain while sleeping.
Comfort – We checked how comfortable and safe the pillows were.
Budget-Friendly – We compared different pillows and found the most affordable and effective ones.
---
Frequently Asked Questions (FAQ) on Heavy Pillow
---
Reviews: The Best Heavy Pillow
Here are some of the best available dense pillows with Latex, buckwheat, or memory foam fills.
We hope you love the heavy pillows we recommend!
So that you know, We may collect a share of sales or other compensation from the links on this page.

---
1
---
2
For something a bit more pliable and softer to sleep on yet still bears some weight, I would opt for the Shredded Latex Pillow.
A 100% Gots Certified pure shredded latex pillow made from all-natural organic Latex with a certified organic cotton cover.
Latex, especially shredded Latex, is pliable and soft while maintaining its shape.
There is a double zipper cotton cover that is removable and washable included.
They are designed for maximum airflow and breathability to keep you cool and comfortable.
| Rating Category | Weight % | Score |
| --- | --- | --- |
| Durability | 30% | 100 |
| Support | 25% | 100 |
| Pain-Free | 20% | 90 |
| Comfort | 15% | 95 |
| Budget-Friendly | 10% | 90 |
| Total Score | 100% | 96.25 |
---
3
From Coop Home Goods, we have the very popular and sought-after adjustable memory foam Fill pillow that comes with additional memory foam that you can fill the pillow with for the perfect loft and profile.
Medium-firm support with shredded memory foam.
Memory foam offers some weight and a more solid loft.
Hypoallergenic and dust mite-resistant memory foam and machine washable cotton cover.
Greenguard Gold certified memory foam is used that is also CertiPUR-US certified.
Available in a King or Queen size option to choose from.
| Rating Category | Weight % | Score |
| --- | --- | --- |
| Durability | 30% | 100 |
| Support | 25% | 95 |
| Pain-Free | 20% | 90 |
| Comfort | 15% | 95 |
| Budget-Friendly | 10% | 90 |
| Total Score | 100% | 95 |
---
4
The memory foam pillow from WEEKENDER has a firm loft and heavy feel, though it is completely breathable and well-ventilated with innovative AirCell technology.
A patent-design memory foam-filled pillow with AirCell technology for better ventilation, breathability, and a breathable jersey cover.
Also, it features infused Gel for cooling effects.
A square design also accommodates stomach sleepers, making this pillow ideal for all sleeping positions.
Completely safe CentiPUR-US certified memory foam is hypoallergenic and free from toxins.
Available in different size options to choose from.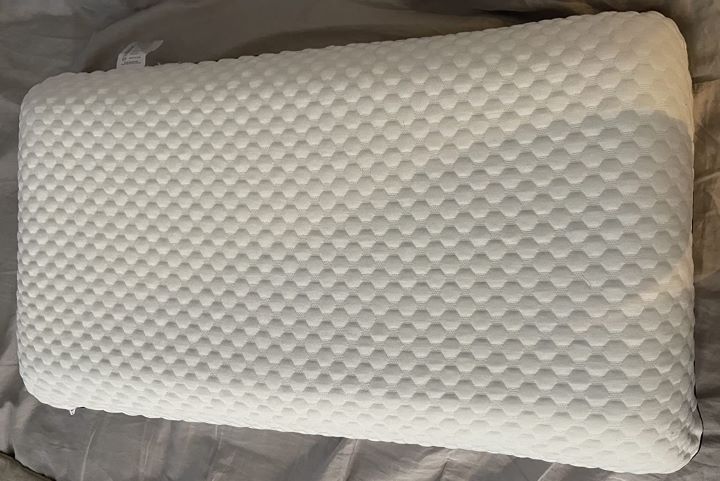 ---
5
One of the most popular and sought-after Buckwheat fill pillows is the ComfySleep. I have chosen their traditional and popular Buckwheat pillow, which comes with extra hulls so you can adjust the loft of your pillow.
Ensures superior support and comfort for restful sleep.
Completely breathable with a naturally breathable cover.
Chemical-free and all-natural Buckwheat filling comes with additional fill.
Adjustable design, so you can choose the perfect loft and profile for your pillow.
The zipper closure is invisible and highly durable.
---
6
Available in either a king or queen-sized option
Responsive memory foam fill that offers excellent ergonomic support.
Antimicrobial and dust mite-resistant memory foam and cover.
Medium-firm and plush feel.
Comes with a premium plush velour feel removable and washable pillow cover.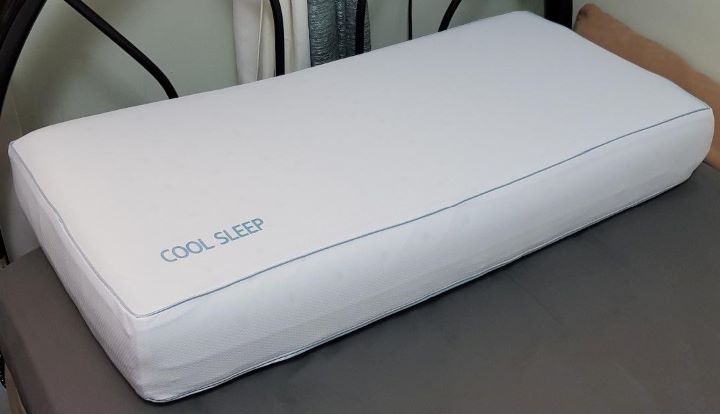 ---
7
A Latex Fill Pillow that is highly resilient and offers firm support.
It is covered with a 100% natural cotton cover.
Hypoallergenic and breathable that is also dust mite and mold resistant.
Comes in different size selections.
---
8
It is filled with premium Shredded memory foam for a plush and medium-firm feel.
It is covered with an organic bamboo cover that is breathable, cooling, and antimicrobial.
Orthopedically support the head and neck for all-night comfort.
Certi-PUR Certified memory foam and free from chemicals and flame retardants.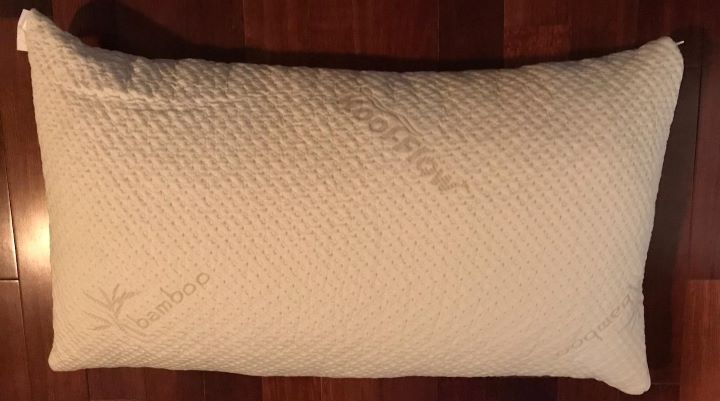 ---
9
Bean Products' pillows are truly made for everyone as these pillows are available in various sizes to provide comfort at all levels.
This heavy-weighted pillow is filled with organic buckwheat, while the cover is made of cotton, meaning it is an entirely natural product.
It provides superior support to the head, neck, and spine, and its thermodynamic design makes it highly breathable.
Besides, the organic heavy pillow filling provides firm yet comfortable support and conforms to your head's shape, making it a versatile and flexible product.
And the cover has a hidden zipper for easy removal and is machine-washable.
---
10
TEMPUR-Breeze ProHi Pillow will keep you cool as you sleep while precisely adapting to your head, neck, and shoulders.
Moreover, the exclusive TEMPUR material has a moderately soft feel and a high profile ideal for medium-sized frames and all sleep positions.
Besides, this product's cutting-edge breeze technology offers superior cooling comfort, so say goodbye to night sweats.
The exterior cover is premium-quality with 500 thread count and is removable and machine-washable.
---
11
Sealy DuoChill has reactive surface-cooling technology, which adapts according to the temperature and provides a good night's sleep.
It offers a dimensional design that provides pressure relief and relieves neck pain.
The cover is included with the pillow, and it has fibers that protect the pillow against common allergens.
Moreover, the cover is machine washable and dryable and has an easy-zip stretch-knit that helps in easy removal of the cover.
---
Index Table: Top Rated Heavy Pillows
---
---