Some of the links in this post are affiliate links. This means if you click on the link and purchase the item, I will receive an affiliate commission at no extra cost to you. All opinions remain my own.
Down Alternative is a fill material used to mimic feathers and down, made from synthetic or natural vegan materials.
A Down Alternative Pillow has one major benefit: it is completely Hypoallergenic and will not trigger allergies.
---
---
Why Choose a Down Alternative Pillow
As I have mentioned, the main reason for choosing a synthetic or natural vegan down alternative fill for your pillow is that you may be allergic to feathers or down. Nothing can replace feathers and down for the unique loft and plush comfort, although many aDown Alternative fills have come very close.
Besides being HYPOALLERGENIC, here are some more reasons why a Down Alternative Pillow may Be Better;
Budget Friendly – Feather and Down pillows are costly and a luxury item at best, whereas a Down Alternative can give you the same luxury and plush comfort at a fraction of the price.
Less Mess – Although most Down and Feather Pillows are of good quality and come with a double-layered casing or casing design to prevent feathers and quills from sticking out and escaping, there is always a chance this might happen. A Down Alternative pillow has no feathers or quills that can stick out and escape, causing irritation and allergies.
Easily Washed – Down and Feather Pillows need to be washed with care and should not be left wet or become wet at all. Depending on the fill, an alternative down pillow can be machine washed and easily tumbled dried without ruining the pillow.
More Fill Options – Different fill options, from synthetic polyester to natural cotton, mimic Down and feathers you can choose from.
---
What to Look For in a good Down Alternative Pillow
Fill – Synthetic materials such as Polyester, Gel Fibers blended cross-cut memory foam, or natural cotton can be a down-alternative fill.
Cover – The cover should be removable, washable, and made of cotton, polyester, or bamboo.
Certification – Standard OEKO-TEX or Certi-PUR certified for memory foam.
Other Additional features – Piping along the Edges; Segmented or Compartmented design, Dust Mite, and allergen resistant fibers and cover.
Size Opttions – Most Pillows come in a standard, queen, or king-sized option, and some are available in a continental large or Ero Continental selection.
---
Features of a Good Down Alternative Pillow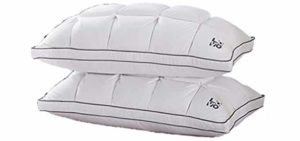 It is filled with the finest quality Gel Fiber, Cotton, Polyester, Bamboo, or other fill options.
Cotton or polyester cover that is removable and machine washable.
Piping along the edges.
Size options from standard, queen, and king.
Hypoallergenic and certified.
---
Reviews: The Best Down Alternative Pillows
Here are the best brands and models when it comes to superior and luxury Down Alternative Pillows;
We hope you love the products we recommend!
We may collect a share of sales or other compensation from the links on this page.
---
1
---
2
The Togas Eucalyptus is a Fiber Down Alternative Pillow with a medium-firm loft.
Available in a standard or king-sized selection.
Filled in a chamber design with 80% polyester and 20% lyocell rayon on the outer shell.
The cover is made of 300 thread count 100% lyocell rayon.
The model is based on eucalyptus fibers that obtain optimal moisture in the skin, and the silky surface is much more comfortable.
It can be machine washed as well as tumble dried.
---
3
We have another superb Hotel Quality down Alternative pillow option with a convenient two-pack option from Down Luxe.
Available in a standard, queen, or king-sized size option.
Cover with a breathable and washable 1005 pure cotton cover.
Oeko-tex is certified and environmentally friendly; it will not generate noise, water, or air pollution when used or made.
Ideal for all sleep positions,
Medium-firm and lower loft design.
The fill also consists of 100% premium cotton and a blend of bamboo and polyester.
Hypoallergenic and machine-washable design.
---
4
A blended down-and-down alternative hotel-quality pillow designed specifically with a shape and cover to prevent allergies.
Comes in a set of two pillow inserts with a hypoallergenic anti-drilling soft sheen cotton cover.
Filled with a blend of cotton and down.
Hypoallergenic design with double-layer covers and a tight fabric structure.
The Top Layer has a down alternative, and the inner layer has a genuine down, so you get the feel of down without the allergies.
---
5
Pillow Guy creates some of the highest quality and finest Down and Down alternative pillows.
Filled with the finest quality Gel fibers made from Poly gel, which is hypoallergenic and gives a firmer loft.
There is a 280 thread count Single Ply Long Stable 100% cotton cover with piping.
Micronone technology focuses on fabric pore sizes to stop allergens and mycotoxins, such as bed bugs and dust mites, from passing through the pillow.
A highly breathable fabric pillow with a hidden zipper so you can wash the cover and pillow.
---
6
The Digital Décor BellaResto is a Down Alternative cotton pillow and comforter set in one that is available for different bed sizes.
It is filled with 100% pure cotton and covered in an ST800 thread count cotton exterior.
A Gel Fiberfill is inside the pillow for a plush, medium loft.
Each set comes with a super soft down alternative comforter and two Gel fiber-filled pillows in a standard size.
It will keep you warm in winter and cool in summer.
---
7
An all-time favorite from Amazon, a trusted and quality brand endorsed by Amazon.
Plush and Soft down alternative fill.
It comes with a Polyester and cotton blend shell.
A synthetic polyester fill mimics the feel of a real feather and down.
Completely hypoallergenic construction that repels dust and allergens.
Available in soft, firm, medium-density, and different size options.
---
8
We have the firmer Gel fiber down alternative filled with a hypoallergenic design and a comfortable and breathable cover from fern and Willow.
A soft luxury strip design with neatly tailored piping along the edges.
Gel fiber is more supportive and moldable than original down or feather fills.
The filling is fully adjustable.
Machine washable and durable pillow.
Available in a white color selection only.
---
Index Table: Top Rated Down Alternative Pillows
---
---