Some of the links in this post are affiliate links. This means if you click on the link and purchase the item, I will receive an affiliate commission at no extra cost to you. All opinions remain my own.
Meditation is a technique or practice whereby individuals focus their minds and thoughts on achieving mental and emotional clarity and calmness.
This technique has been practiced for many years by many religions to find a path to enlightenment and self-actualization, with the benefits of relieving stress and improving overall well-being.
For meditation, a quiet and comfortable spot is crucial, where you can sit in a comfortable position with proper posture to enhance the health benefits. This is where a proper Meditation Pillow comes in!
---
Why You Need a Pillow or Cushion to Meditate
Because most forms of meditation are done in a sitting position, a good pillow can provide effective comfort and support in order to enhance the process and calmness of meditation.
The main reason behind a pillow for meditation is the fact that you need to keep a perfect posture, while still remaining comfortable enough and completely pain and strain-free. A good quality heavy pillow can be your ideal choice when buying one for meditation.
A good meditation pillow provides you with a relaxing and comfortable area to practice meditation in a correct posture, reaping all the health benefits in the comfort of your own home.
---
Meditation Cushion and Pillow Types
There are a few shapes and sizes in meditation pillows that you can consider; different fillings are likewise used, whereas Buckwheat is one of the most popular fillings;
Round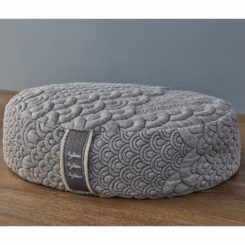 A small round or large round and flat pillow creates a comfortable spot to sit on, and is visually pleasing.
Square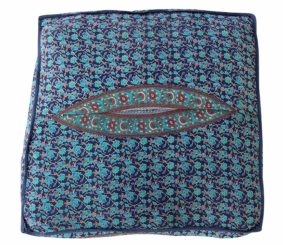 A large Square or small square Pillow likewise makes for an excellent Meditation Pillow.
Pillow With Mat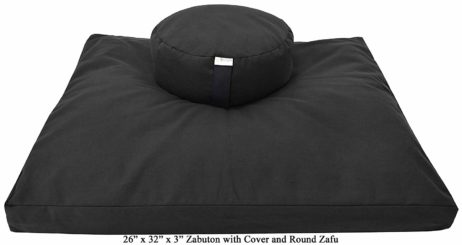 The pillow with additional Yoga mat is great to practice different forms of meditation as well as Yoga positions on.
Crescent, Heart Shape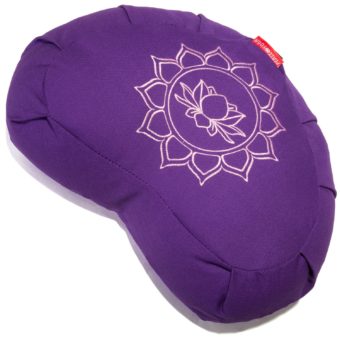 The perfect shape for ideal support and a better posture.
Filling
As I have mentioned, Buckwheat and natural filings and materials are most popular for yoga practice and meditation. Other fills such as latex, Kapok, foam, memory foam, and microbeads can also be used.
Fabric
Mediation and Yoga Practice originally leans towards colorful and texture-rich contours and fabric designs, although you can find a Meditation Pillow in any color or fabric type that you prefer. Mandala prints and rich deep colors are usually most prevalent in natural and soft textures.
---
Picking the Best Meditation Cushion or Pillow
Here are a few important considerations when picking the Perfect Meditation Pillow
Take into consideration which postures you mainly use to meditate in, and choose a size and shape pillow that will provide the maximum comfort and support for these specific positions.
Find a pillow that allows you to sit up straight and keep a proper posture.
A comfortable fill such as Memory foam, Kapok, or Buckwheat is ideal for offering good support and comfort.
Make sure the pillow is the proper density as to not interfere with your positions and to still offer good support and comfort.
Look for durable construction and materials that can you can washy, which will last with use.
---
Reviews: Best Mediation Cushions and Pillows
So now, let us see what is available out there. I have tried to include as much variety when it comes to shape, fill, size, and fabric as possible, for you to make an easy and well-informed decision.
We hope you love the products we recommend!
So that you know, We may collect a share of sales or other compensation from the links on this page.
---
1
---
2
A stunning Bolster Style, Crescent Meditation Pillow in a range of colors and designs for you to choose from.
Versatile and meticulously designed with excellent craftsmanship and durable materials.
Offers full support for sitting and lying on.
It comes with easy grab and goes handles for transportation purposes.
Ensures proper Spine support.
It is filled with all Natural Cooling Buckwheat hulls for the best balance of firmness and pliability.
Zipper access for easy cleaning and adjustability.
A crisp and natural cotton cover in a variety of color options.
---
3
Bean products offer you a highly versatile and comfortable Zafu and Zabuton set, a meditation pillow and a yoga mat in one.
Comfortable meditation position for all ages and sizes of individuals.
Offer outstanding support for proper alignment of your spine and hips, while also reducing stress on your ankles, hips, knees, and lower back.
It is manufactured from organic cotton with a Zafu Buckwheat fill and cotton batting fill.
Easily adjustable and removable cover that is machine washable.
---
4
The India Mandala Print Large meditation Pillow cover is a gorgeous design that can be used as a pillow cover on an Ottoman or Pouf for seating indoors and outdoors, as well as for meditation.
Included is one versatile large pillow cover for your Pouf or Ottoman with various stunning Mandala print options available.
Sizes at 35 X 35 Inches to fit most large meditation pillows, Ottomans, and Outdoor poufs.
Comfortable, soft, and durable for all uses, including meditation.
---
6
The Gaiam Zabuton is comfortable and supportive, allowing you the best posture and alignment in any seated position.
A soft and plush, comfortable meditation pillow designed for improved support and comfort.
Relieves pressure on your back, knees, ankles and ensures proper form and alignment during meditation.
The cover is easily machine washable.
Durable, comfortable, and of the finest quality.
---
7
A small travel-size rectangular Yoga and meditation Bolster Pillow ideal for taking to yoga and Meditation classes.
It is made with a 100% natural cotton cover and batting.
A rectangular oblong shape.
It has two carry handles and is easily portable.
It comes I rich natural color options to choose from.
---
8
Portable and comfortable mediation pillow from Gaiam.
Yoga Bolster and Meditation Pillow for relaxation and support.
It is made of natural cotton and cotton filling.
It comes with a handle strap for portability.
Machine washable removable cover.
---
9
An all-natural Organic Kapok Filled meditation pillow from My Zen Home
Organic Cotton fabric cover and organic kapok fill.
Colorful design.
Square and large-sized pillow.
Full Dhyana Meditation cushion.
---
10
This meditation pillow is designed with a 100% Buckwheat hull filling.
It comes enclosed in an organic cotton cover for Zafu meditation.
The cushion set is designed especially for all-natural yoga and comes in a size ideal for meditation.
The cover is easily removable and machine washable, as well as long-lasting.
---
In Conclusion
All in all, a Meditation helps you to keep proper posture in a comfortable position and reduces pressure on your hips, knees, back legs, and ankles.
Finding the right meditation pillow for you is highly dependent on your body shape and type, your comfort requirements as well as your mediation levels and positions.
---
Index Table: Top Rated Meditations Cushions and Pillows
---
---