Some of the links in this post are affiliate links. This means if you click on the link and purchase the item, I will receive an affiliate commission at no extra cost to you. All opinions remain my own.
Backpacking is a fun adventure with the exhilaration of hiking and the simplicity of backcountry camping. You can easily broaden your horizons and enjoy a much richer and more immersive experience with Backpacking.
The Key equipment in Backpacking is, of course, your BACKPACK, keeping in mind that you must keep all your key essentials in your backpack and carry them around with you. One of those key essentials is, of course, your trusty pillow.

---
Tips for Beginner Backpackers
First-time backpackers are in for a real treat, but there are a few pointers that I would like to share with you;
Choose an Easy Desitination – For starters, a short overnight trip or hike is best, which is also close to home should there be an emergency.
Get All your Essentials Only – Do not try to be too fancy or over-enthusiastic when buying your clothes and gear for the trip; stick to the most essentials, and try to borrow equipment where you can look for starters.
Plan Your Meals – Pack plenty of snacks and get some ready-to-eat meals, or plan where and how you will eat out or prepare your meals.
Get to Know Your Destiantion – Get the proper maps and necessary documentation, and ensure you know your destination's ins and outs.
Take an Experienced Backpacker Along With You – One of your best bets as a First Time Backpacker is, of course, to tag along with an experienced Backpacking friend on your trip.
---
Finding the Best Backpacking Pillow
In this article, my main concern is to help experienced, and beginner backpackers find the most comfortable and least space-taking pillow they can take along on the trip. Whether you will sleep in a tent outdoors or a local backpacker's hotel, taking your comfortable pillow is always your best bet. Also, you may need an alternative sleeping area.
You will need a comfortable sleeping system for sleeping outdoors; A sleeping bag, sleeping pad, or Yoga mat, and of course, your pillow, as after a long day of backpacking, a comfortable night's rest is essential to your next day to stay energized.
When it comes to pillows, there are pros and cons to every camping, Backpacking, and portable pillow type, so here are a few pillow types to consider;
Stuff Sack Pillow – This is a pillow made from your clothing, jackets, and soft materials stuffed into a sack to be used as a pillow. This is a great idea if you have good stuffing; if not, you are in for a rough night.
Inflatable Pillows – These are very lightweight, compact, and easily portable. Yet when inflated, they may become deflated during the night, and they are quite firm to sleep on.
Compressible Pillows – very comfortable and luxurious. These are usually made of shredded foam or memory foam pillows that can compress very small and expand rapidly when you take them out. They are comfortable but will add some weight to your backpack.
Hybrid Pillow – This pillow usually has an air top and some foam stuffing, making it more comfortable than the inflatable pillow yet a bit lighter than your memory foam compressible pillows.
These are only a few favorite options in Backpacking Pillows that you can consider.
---
Features of a Good Backpacking Pillow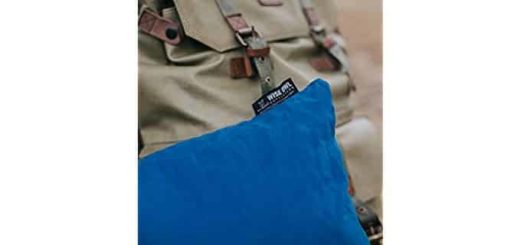 It can be compressed.
Portable in size and shape and easily fit inside your backpack.
Easily Inflatable for inflatable pillows.
Durable and washable cover design.
Compact and easy-to-store design.
---
Reviews: The Best Backpacking Pillows
We have listed our top choices in Backpacking Pillows, which is portable and very comfortable;
We hope you love the products we recommend!
So that you know, We may collect a share of sales or other compensation from the links on this page.
---
1
---
2
From Wise Owl, we have a soft and plush compressible foam model pillow that will also fit snugly in your backpack and expand when taken out.
It is filled with comfortable and plush Shredded Memory Foam of the finest quality.
It comes with a colorful cover from which you can choose.
It compresses easily and in a small compact shape to fit into your backpack and expand into a comfortable pillow when taken out.
Quite lightweight for a Compressible pillow and very durable.
---
3
The Visco Love Us Backpacking Pillow is another small and compact compressible memory foam pillow ideal for traveling.
Versatile enough to be used as a camping, car travel, Aeroplane travel, Backpacking, and hotel stay pillow.
Filled with premium lightweight memory foam and a very lightweight design.
Ergonomically shaped and offers orthopedic comfort and support.
The Microcapsules with thermic coatings and ventilation ducts in the pillow allow for better moisture management and breathability.
---
4
This is a comfortable and adjustable Hypoallergenic design shredded memory foam, compressible pillow from Coop Home Goods.
It comes with a breathable and washable cover from pure cotton.
Filled with premium shredded memory foam that compresses easily and expands again into a soft and comfortable pillow.
Completely portable and adjustable design, as well as lightweight and durable.
One of the best choices in a reliable travel companion for any trip.
---
5
The Trekology Ultralight Inflatable Pillow is another superb design ideal for Backpacking.
A hybrid design Pillow with compressible and inflatable technology.
Ergonomically contoured for optimal neck and shoulder support.
Very durable with TPU fabric and added layers of head support.
CInflates easily with the click of a button.
Available in a few color variations.
---
6
You can take a durable and compact design sports and backpacking pillow from Teton anywhere.
Available in a few color patterns and completely washable.
The pillow will loft up on its own and compress again for storage in your backpack, so there is no need for inflating.
These pillows are designed to match the interior linings of the TETON sports sleeping bag brands.
Highly durable, lightweight, and versatile for camping, Backpacking, and all travel and outdoor excursions.
---
7
A small and compact portable backpacking pillow.
Easily compresses to fit in your backpack.
It comes in many colors and prints with a polyester cover.
The foam filling expands up to 4 times when it is taken out of the backpack.
---
8
A Very lightweight and compact travel pillow for your backpack.
Versatile uses and offers excellent comfort and support.
Available in many colors to choose from with a TPU coating and elastic Polyester cover.
Ergonomical curved design for optimal support.
Highly compact and compressible.
---
9
A soft and comfortable inflatable pillow is available in different prints and color options.
Small but inflates into a comfortable size, ideal for backpacks.
They are ergonomically designed for optimal support and comfort.
Easily inflates and deflates.
---
10
This compact pillow is designed especially to be portable for camping and backpacking.
It is inflatable and lightweight, has a reliable valve that does not allow the air to escape, and is easily refillable.
The small pillow can also serve as a back pillow for car seats and office chairs.
It is easily compressible and weighs only 4Oz.
---
Index Table: Top Rated Backpacking Pillows
---
---