A combination sleeper basically uses either two or three primary sleeping positions, side, back, or stomach sleeping.
Therefore these types of sleepers require support for all these sleeping positions from their pillow.
---
Combination Sleeping
---
There are different types of combination sleepers; some sleep equally on two or three different positions, or some sleep in two or three positions but favor one of the most.
Combination sleeping is highly beneficial to individuals who have poor circulation as constant motion aids in improving blood flow. Combination sleeping has also proven quite effective against snoring and sleep apnea as some positions are just better for this than others.
Yet the Combinations of your sleeping can be beneficial; your mattress and pillow still play a major role in comfort and support during the night. Therefore finding the right pillow for your sleeping style is vital. Usually, Back and side sleeping combinations are easy to fin pillows for; only when stomach sleeping makes an appearance is that it gets a bit tricky.
---
Combination Sleeping Pillow Types
There are a few Pillow Types and Fills that work well for combination sleepers;
Memory Foam Pillow – Memory foam, particularly Shredded memory foam, has an adjustable and adaptable loft, making it ideal for almost all sleeping styles and positions. This is also a popular pillow type, and you will find models with many features and styles.
Down Alternative Pillow – Down and Feather Pillows are among the best options for stomach sleepers as they tend to be flatter and adjustable, which in turn allows them to cater for side and back sleepers as well. The Down alternative Pillow gives you the same features and the feel of a down or feather pillow without the feathers or down, which may, in some individuals, cause an allergic reaction.
Down and Feather Pillow – The Natural down or feather pillow or combination of both ensures you have a highly adjustable loft that you can plump up during the night or fill up or down for a lower or firmer feel. More ideal for side and stomach sleeping, yet also great for back sleepers.
Gel Memory Foam – Similar to the solid or shredded memory foam pillow, because memory foam can get hot with your body heat, cooling Gel is the latest technology used in these types of pillows to keep you cool and comfortable in any sleeping position.
Spring Pillow – Less ideal for stomach sleepers though still suitable, I would advise a spring or coil pillow or blended coil and foam pillow for side and back sleepers. This pillow helps to relieve strain from your spine and gives firmer support for all sleep positions.
Adjustable Pillow -Contoured and adjustable shape and sized pillows give you the option to choose your sleeping position and pillow comfort required for that position ideally. A Contoured Pillow is always the best option for combination sleepers.
---
Features of a Good Pillow for Combination Sleepers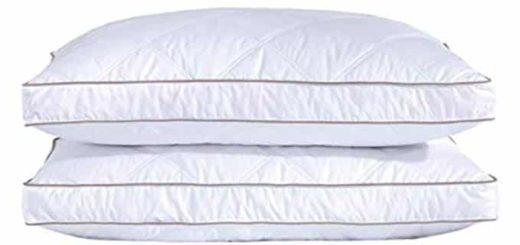 Fill – memory Foam, Foam, feather, Down, pocketed Coils;latex.
Cover – Bamboo, Cotton or synthetic materails, with a removable and washable design.
Loft – Adjustable and adaptable.
Extras – Cooling Gel infused; Down alternative Fill.
---
Reviews: The Best Pillow for Combination Sleepers
Listed Below are some exceptionally comfortable and effective pillows that are ideal for Combination Sleeping;
---
---
---
---
---
---
---
---
---
---
---
---
---
---
Index Table: Top Rated Pillow for Combination Sleepers
---
---