Some of the links in this post are affiliate links. This means if you click on the link and purchase the item, I will receive an affiliate commission at no extra cost to you. All opinions remain my own.
The best pillow for combination sleepers can be adjusted to suit your needs. Many people think they only need a thin, soft, and airy pillow, but you might find yourself tossing and turning for hours if this is the type of pillow you use.
Well, you're in luck because this guide will teach you everything you need to know about the best pillow for combination sleepers with great product choices.
---
---
Combination Sleeping
---
There are different types of combination sleepers; some sleep equally in two or three different positions, and some sleep in two or three positions but favor one of the most.
Combination sleeping is highly beneficial to individuals with poor circulation as constant motion aids in improving blood flow. Combination sleeping has also proven quite effective against snoring and sleep apnea, as some positions are better than others.
Yet the Combinations of your sleeping can be beneficial; your mattress and pillow still play a major role in comfort and support during the night. Therefore finding the right pillow for your sleeping style is vital. Usually, Back and side sleeping combinations are easy to find pillows for; only when stomach sleeping makes an appearance it gets tricky.
---
Types of Best Pillow for Combination Sleepers
There are a few Pillow Types and Fills that work well for combination sleepers;
Memory Foam Pillow – Memory foam, particularly Shredded memory foam, has an adjustable and adaptable loft, making it ideal for almost all sleeping styles and positions. This is also a popular pillow type; you will find models with many features and styles.
Down Alternative Pillow – Down and Feather Pillows are among the best options for stomach sleepers as they tend to be flatter and adjustable, allowing them to cater to side and back sleepers. The Down Alternative Pillow gives you the same features and the feel of a down or feather pillow without the feathers down, which may, in some individuals, cause an allergic reaction.
Down and Feather Pillow – The Natural down or feather pillow or combination of both ensures you have a highly adjustable loft that you can plump up during the night or fill up or down for a lower or firmer feel. More ideal for side and stomach sleeping, yet also great for back sleepers.
Gel Memory Foam – Similar to the solid or shredded memory foam pillow, because memory foam can get hot with your body heat, cooling Gel is the latest technology used in these types of pillows to keep you cool and comfortable in any sleeping position.
Spring Pillow – Less ideal for stomach sleepers though still suitable; I would advise a spring or coil or blended coil and foam pillow for side and back sleepers. This pillow helps to relieve strain from your spine and gives firmer support for all sleep positions.
Adjustable Pillow -Contoured and adjustable shape and sized pillows allow you to choose your sleeping position and the pillow comfort required, ideally. A Contoured Pillow is always the best option for combination sleepers.
---
Features of a Good Pillow for Combination Sleepers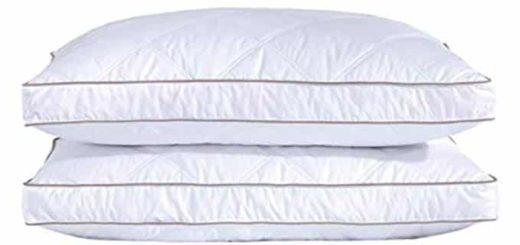 Fill is – Memory Foam, Foam, feather, Down, pocketed Coils; Latex.
Cover – Bamboo, Cotton, or synthetic materails with a removable and washable design.
Loft – Adjustable and adaptable.
Extras – Cooling Gel infused; Down alternative Fill.
---
Reviews: The Best Pillow for Combination Sleepers
Below are some exceptionally best pillows for combination sleepers that are ideal for you.
We hope you love the products we recommend!
We may collect a share of sales or other compensation from the links on this page.
---
1
---
2
Another superb down-fill pillow with an adjustable and moldable loft, perfect for any sleeping position.
It is filled with superior Hungarian White Goose down that is responsibly sourced.
A 300-count cotton cover with a striped shell.
This pillow can be plumped into a perfect, comfortable shape and loft.
Durable and fine quality designed pillow.
---
3
This pillow is designed for all kinds of sleepers- the stomach or back.
It is encased in an organic cotton cover that is skin-friendly and soft.
You can customize the adjustable latex filling according to your needs.
It is hypoallergenic, OEKO-TEX 100 Certified, and promotes spinal alignment.
---
4
Snuggle Pedic is one of the top brands that you will find in pillows. Their Ultra-Luxury model is designed for all sleeping positions.
The cover is washable and has a zipper closure design for easy adjustability.
Completely Hypoallergenic and dust mite resistant as well as Eco-friendly pillow.
It is filled with premium shredded memory foam that will never flatten.
The Kool-Flow technology ensures that you keep cool all night long.
The cover is made from natural bamboo and durable polyester.
---
5
From Puredown, another trendy brand, I have chosen their Natural Goose Down and Feather pillow, a great choice for combination sleeping, particularly stomach sleeping.
The shell consists of 100% natural cotton with a superior level of diamond lattice quilting, core piping, and a double-layer fabric to prevent discomfort from feathers sticking out.
A hypoallergenic and safe design.
Filled with premium grey goose feathers and is down for plush comfort.
The down is Responsibly harvested and certified by OXIPOWER and TWIXE AS NICE.
---
6
The UTTU Sandwich Memory Foam pillow has a removable and washable natural Bamboo Cover.
Medium-firm support for all sleeping positions.
You can easily remove one of the pillow layers to adjust the height, making it perfect for any sleeping position.
The UTTU dynamic foam fill uses high-density, quality memory foam that is CERTI-PUR Certified.
A soft and comfortable Bamboo Viscose blend cover is removable and washable.
---
7
The JA comforts Duck, and Down feather Pillow gives you the perfect balance of firm and soft comfort and an adjustable loft.
It comes with a 100% pure Cotton cover that is lightweight and durable.
Double-line technology prevents feathers from escaping and becoming an irritation.
Filled with natural grey duck feathers and down that can absorb moisture and stay breathable and fluffy.
Very easy to wash and dry.
---
8
A Bolster Pillow can support the back legs and sides when sleeping in all positions.
This multifunctional Halfmoon Bolster Pillow is filled with premium High-density memory foam and has a breathable and easily clean Pillowcase.
They are ergonomically designed to support the entire body in any sleeping position.
It comes with a Lifetime Warranty.
---
9
A comfortable combination-sleeping full body pillow.
It comes with a Rayon-derived washable bamboo cover.
Inside is Premium Shredded Memory Foam, that easily shapes and conforms to your body.
There is also unobstructed airflow for improved breathability.
---
10
A large-sized Body pillow is perfect for all sleeping positions.
It is filled with high-quality Memory Foam that is shredded for better breathability.
It offers full-body support and comfort.
The hypoallergenic pillowcase is removable and washable.
The pillow will stay cool and comfortable all night long.
---
11
The contour design of this pillow delivers brilliant support to the neck, shoulder, and back. Thus also reducing stress in those areas.
It is also a great choice for people suffering from cervical pain, side sleepers, etc.
Slow rebound memory foam is designed according to CERTIPUR US quality standards, and the pillow will retain its shape for a long time.
The facial contour also ensures smooth blood flow in the face and cochlear area.
Moreover, it is easy to clean as the 100% polyester pillow covers can be washed with ease in your regular washing machine.
---
12
This pillow comes enclosed in a 40% Viscose rayon and 60% Polyester cover.
It is filled with 80% shredded memory foam and 20% Polyester fiber for prolonged and comfortable usage.
It is breathable, hypoallergenic, and dust-mite resistant.
The soft filling makes it perfect for all kinds of sleepers, including stomach, side, and back sleepers.
---
13
The shredded memory foam pillows by ik are a delight to sleep on, thanks to their shredded memory foam filling that supports your neck, shoulder, and upper back.
You'll relax all day with the bamboo cooling pillow, specifically at the end of a hard day at work when recovering from an injury.
It also offers great air circulation and clean and comfortable sleep.
The 5" loft of these pillows conform to your body pressure and is ideal for side sleepers, back as well as stomach sleepers.
---
Index Table: Top Rated Pillow for Combination Sleepers
---
---